Ask me to name any one robe I'd love to wish into my wardrobe, and there's a good chance I'd pick one by Apilat. This independent Ukranian brand is creating some of the most breathtakingly beautiful loungewear in the industry, and they only seem to get better with each passing season.
There are few things in lingerie that I like more than lusciously-floaty robes, beautiful embroidery, and styles with a little shimmer, so I was instantly head over heels for their new collection which debuted this month. Mainly featuring robes and nightgowns, it's awash with glistening silk-blend fabric, subtly-placed sequins, and exclusive flora-and-fauna embroideries.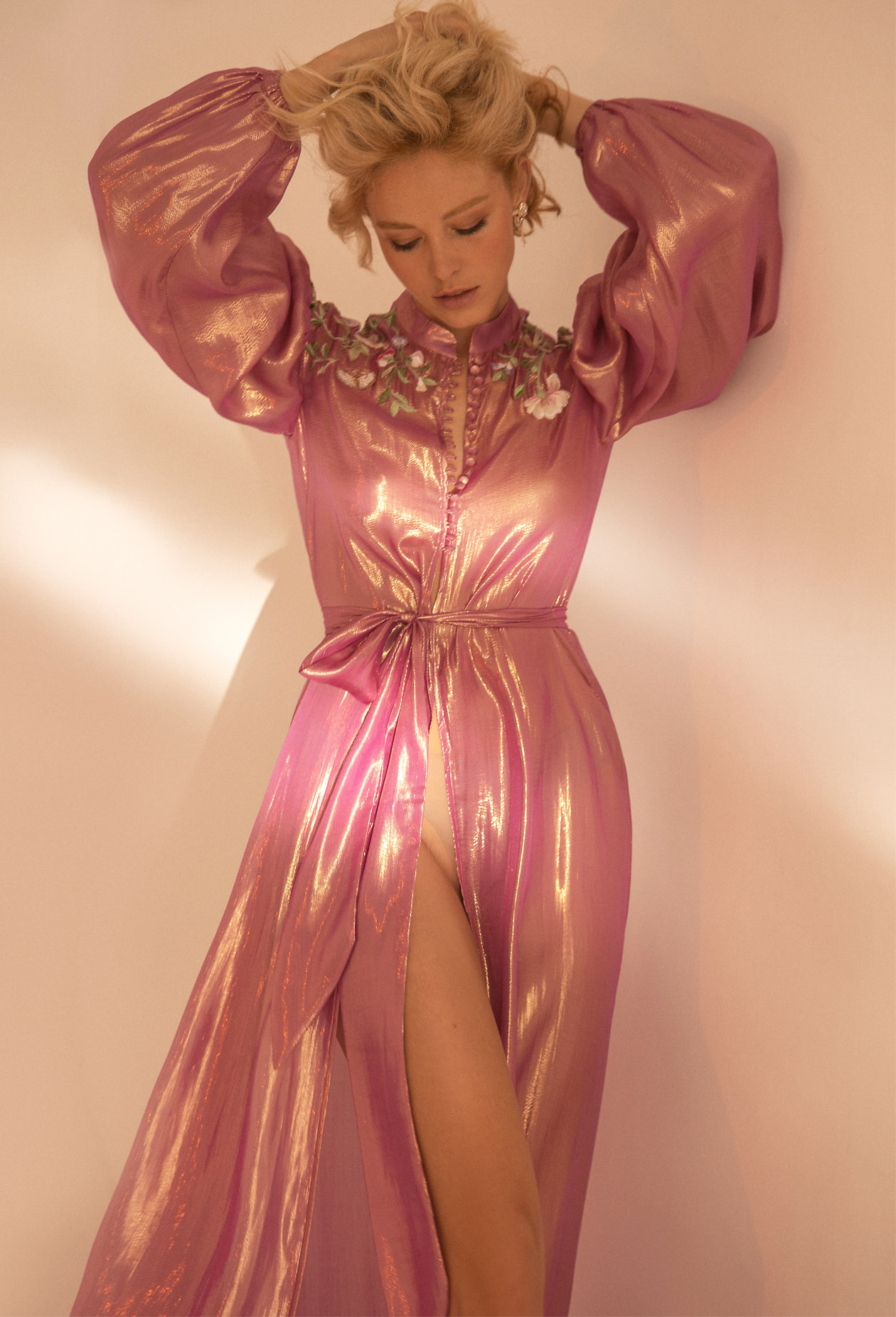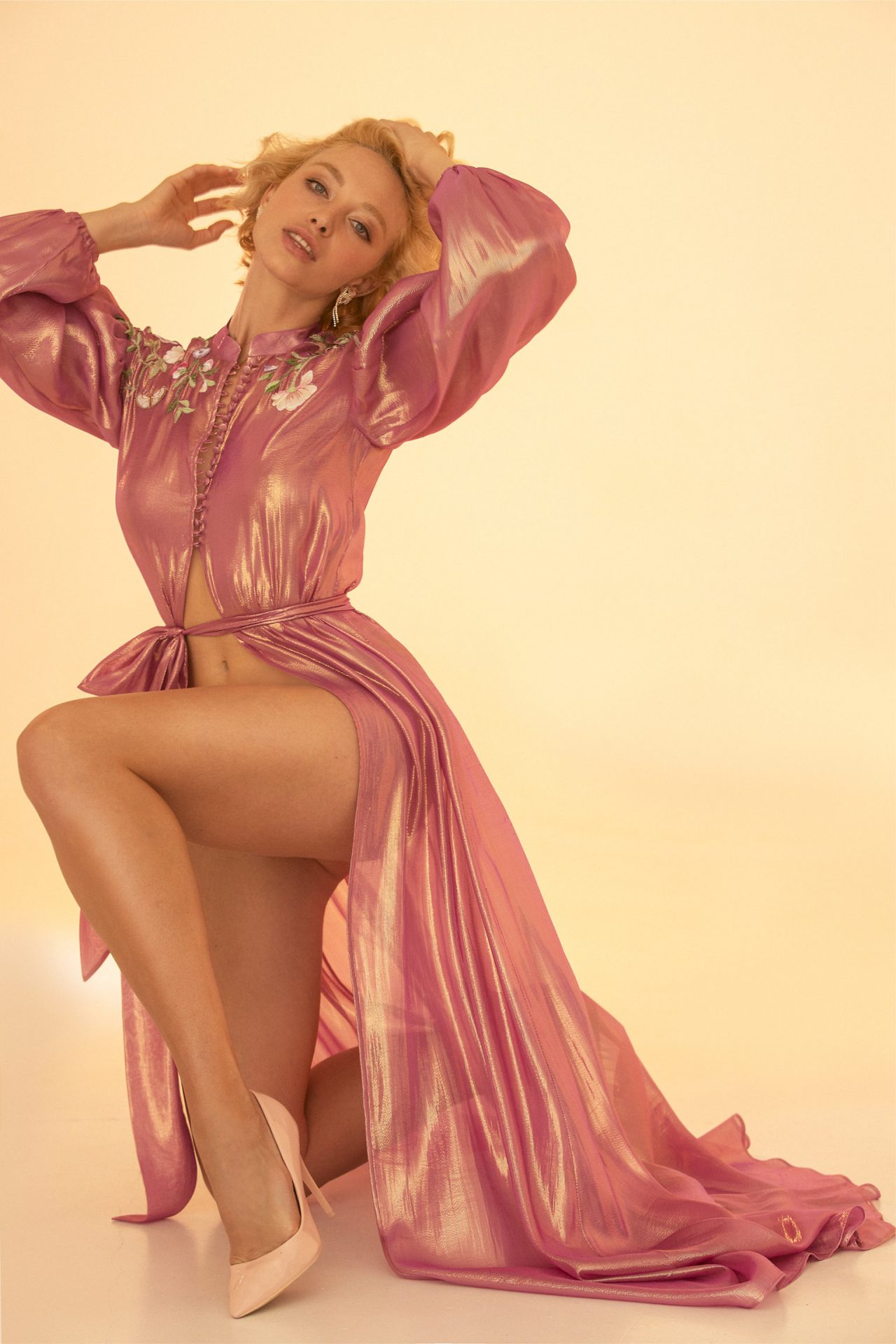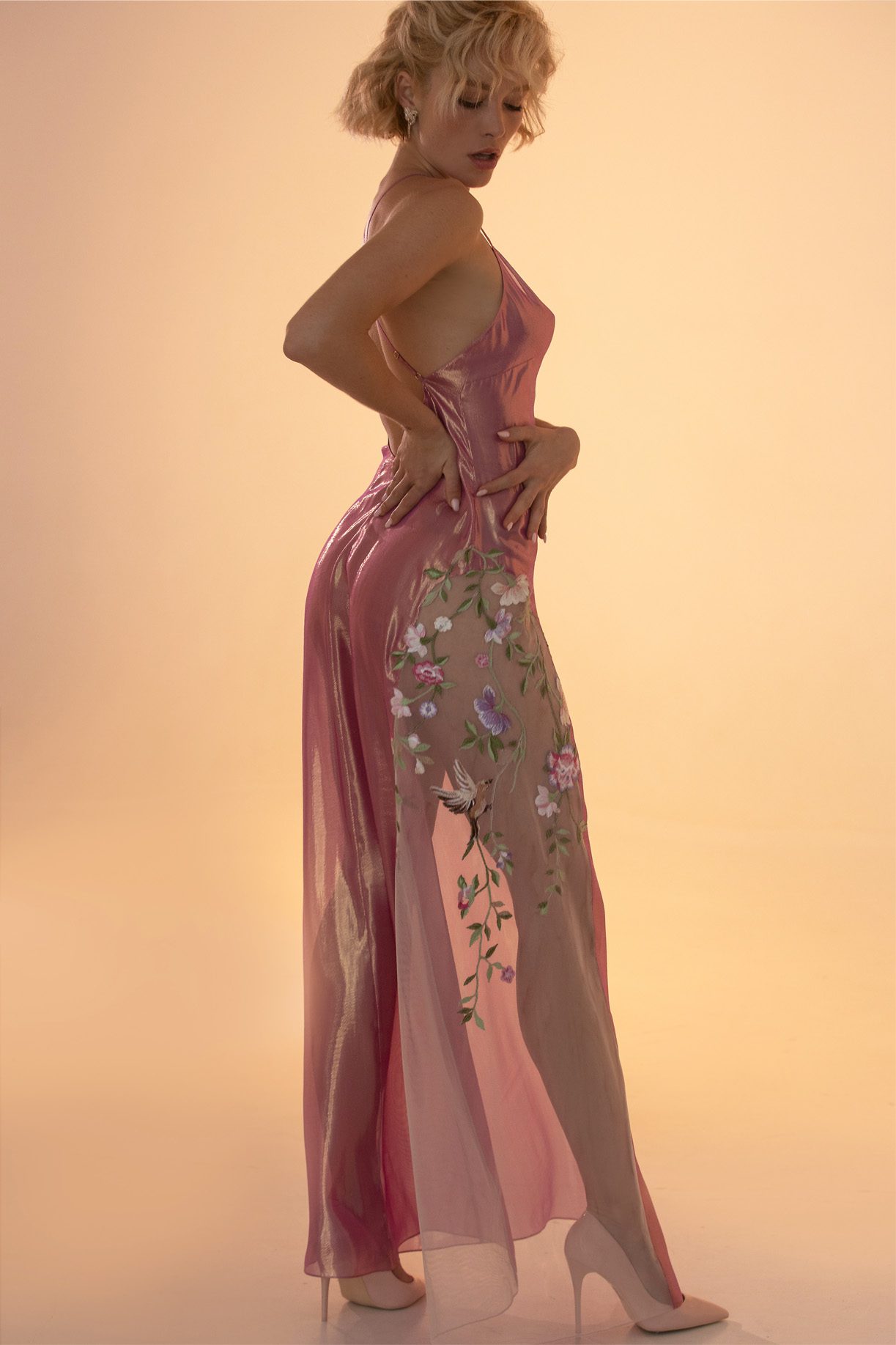 I'd wear absolutely everything in this new collection, but my favourite pieces are the ones made with the metallic silk, which appeared in their earlier creations but is introduced for the first time here in a gorgeous aqua blue. It's made with a mix of silk and metallic fibres, and radiates luxury in a way that I think you'll agree comes across even on camera.
The pink Aurora robe feels like the centrepiece of this summer 2021 collection, featuring balloon sleeves, a high neckline that fastens with a long row of silk-covered buttons, and an ultra-pretty embroidery cascading over the shoulders. But as if it wasn't enough of a statement all on its own, the backless Scarlet gown is made to match from the same pink-shimmer fabric, with a thigh-baring insert of sheer, embroidered tulle up one side. The drama!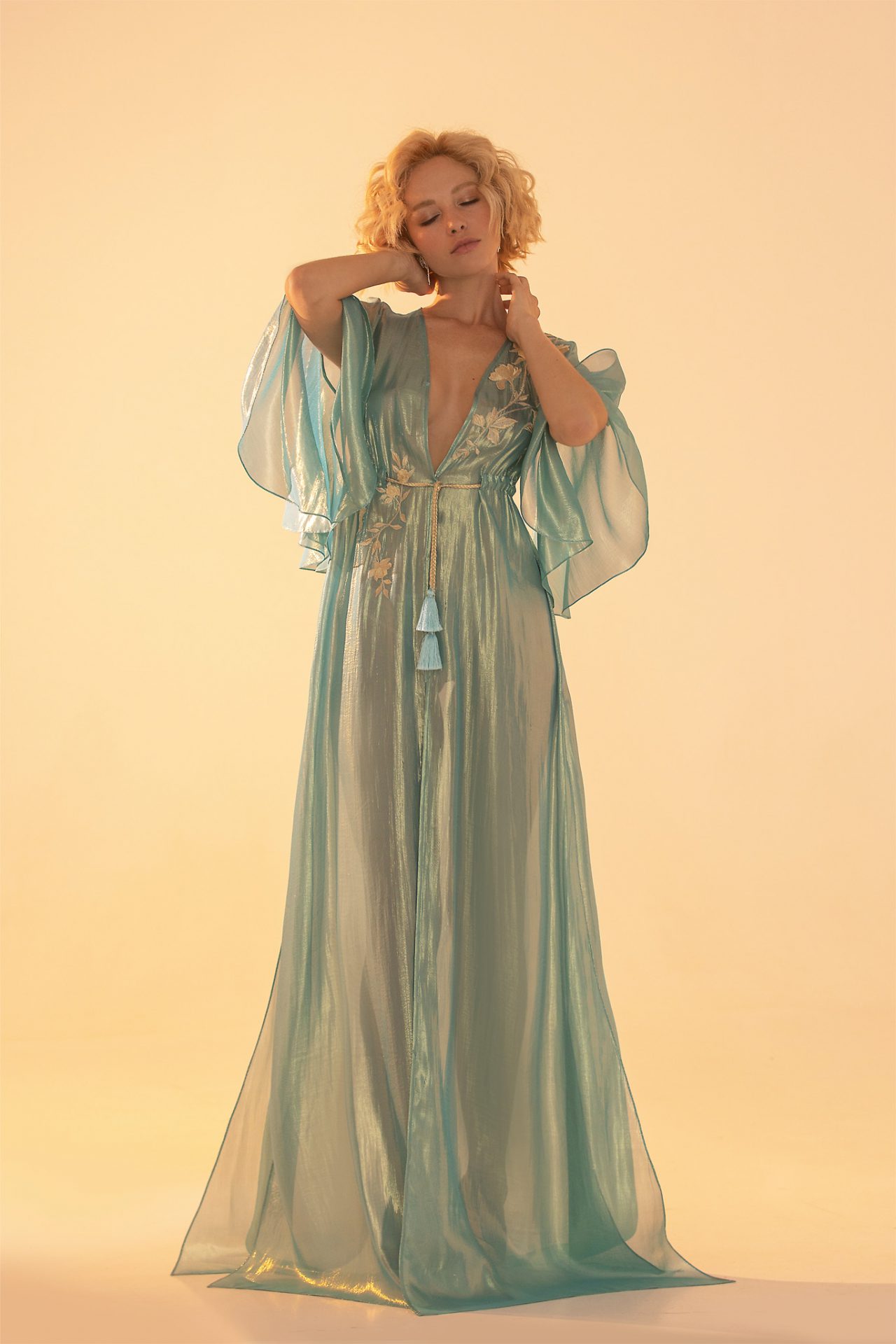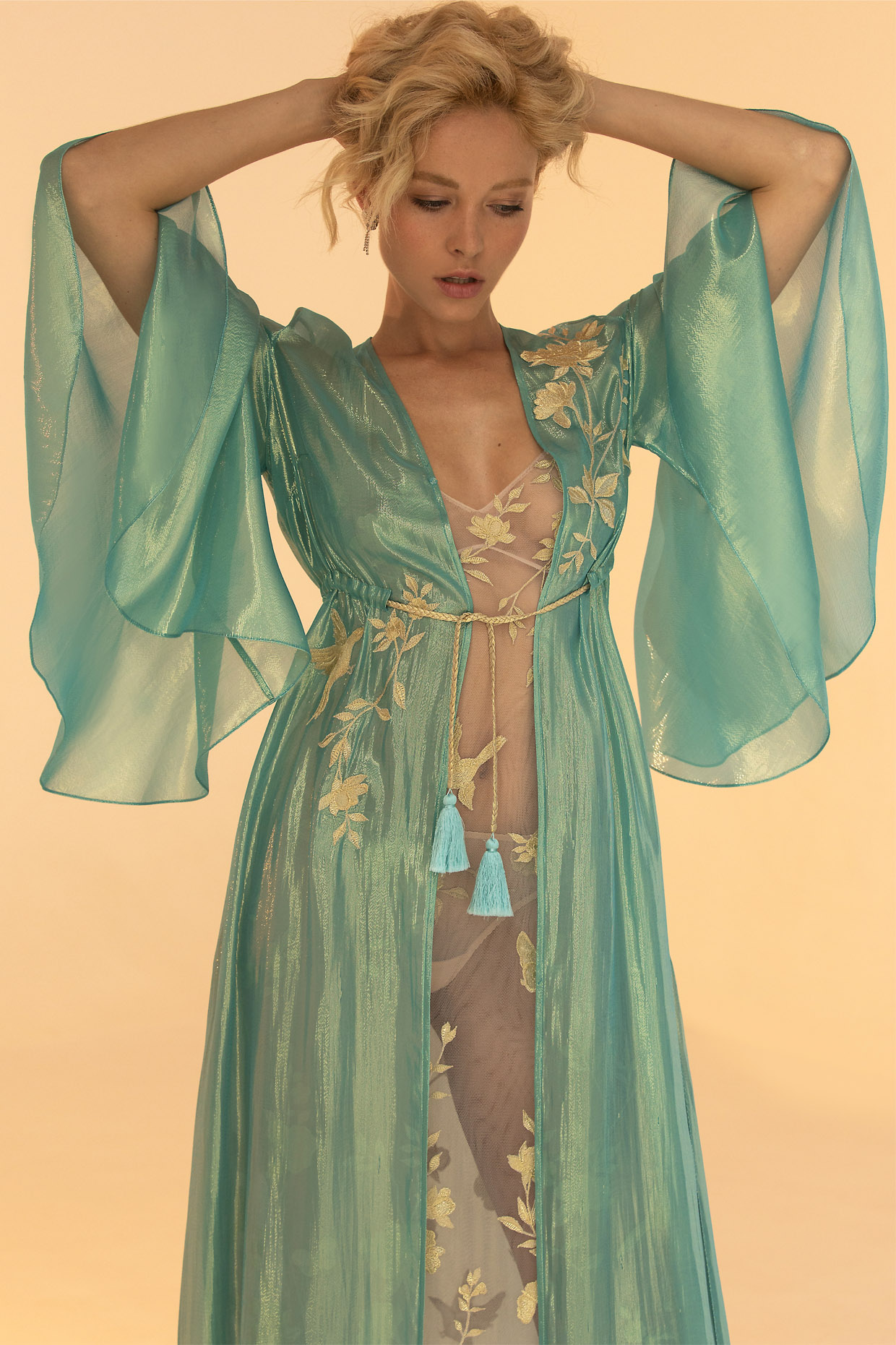 The as-yet-unnamed F66 robe meanwhile can only be described as wearable water, with a flowing fit and a fabric that sparkles like the ocean's surface under the sunlight. It features a plunge neckline and plaited belt with tassels, and is accented with asymmetrical golden embroidery. The matching F67 gown (with optional thong) makes that same embroidery its entire focus, decorated from bust to knee against a simple backdrop of sheer white tulle.
The remaining items are the most traditionally 'bridal' looking – Apilat describes itself as a wedding and honeymoon brand, and originally started out by designing wedding dresses. The Monika dress is a stunning boudoir gown that swathes you from head to toe in a cloud of floaty tulle, with embroidery all around the torso and a waistline that's highlighted in sparkling sequins.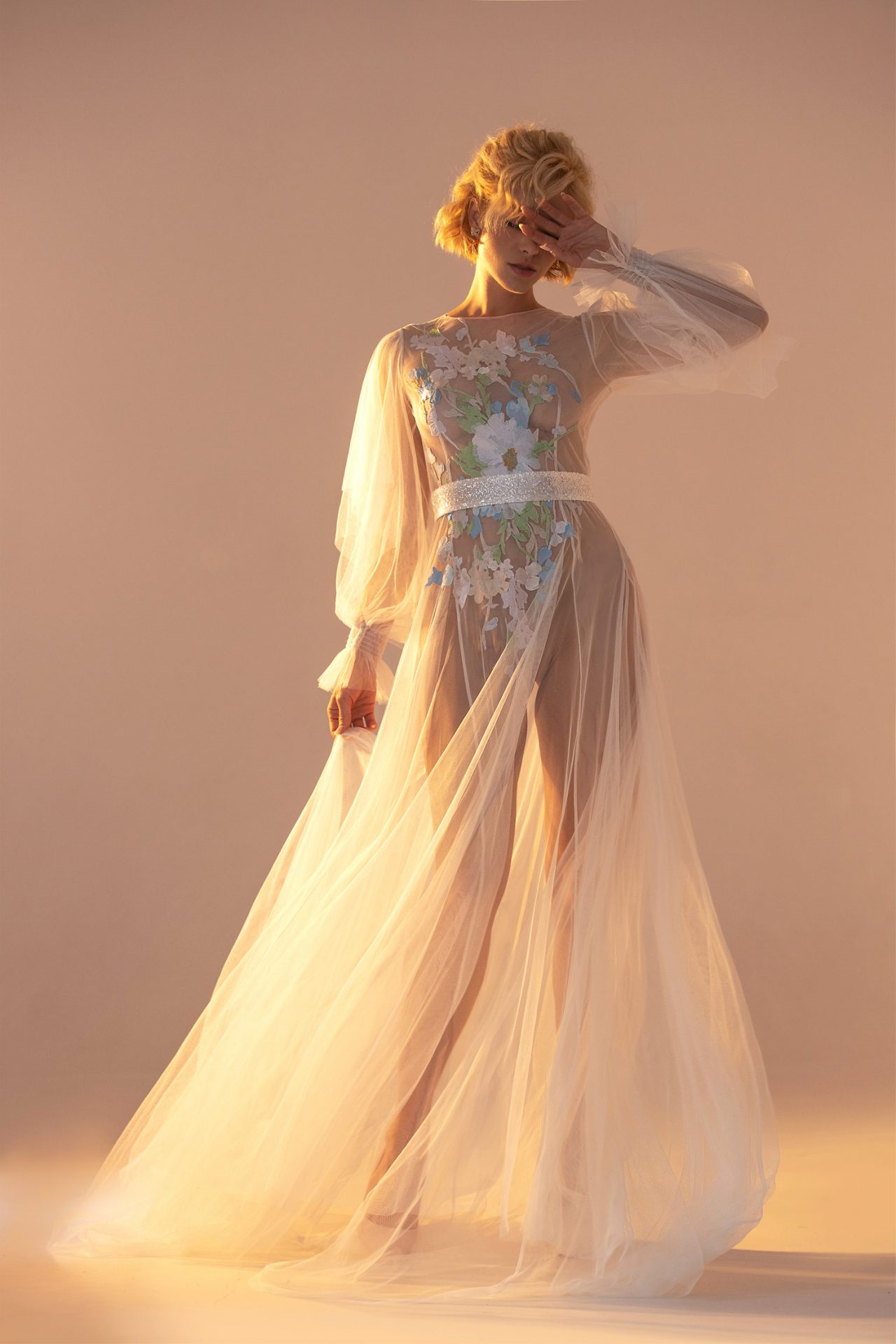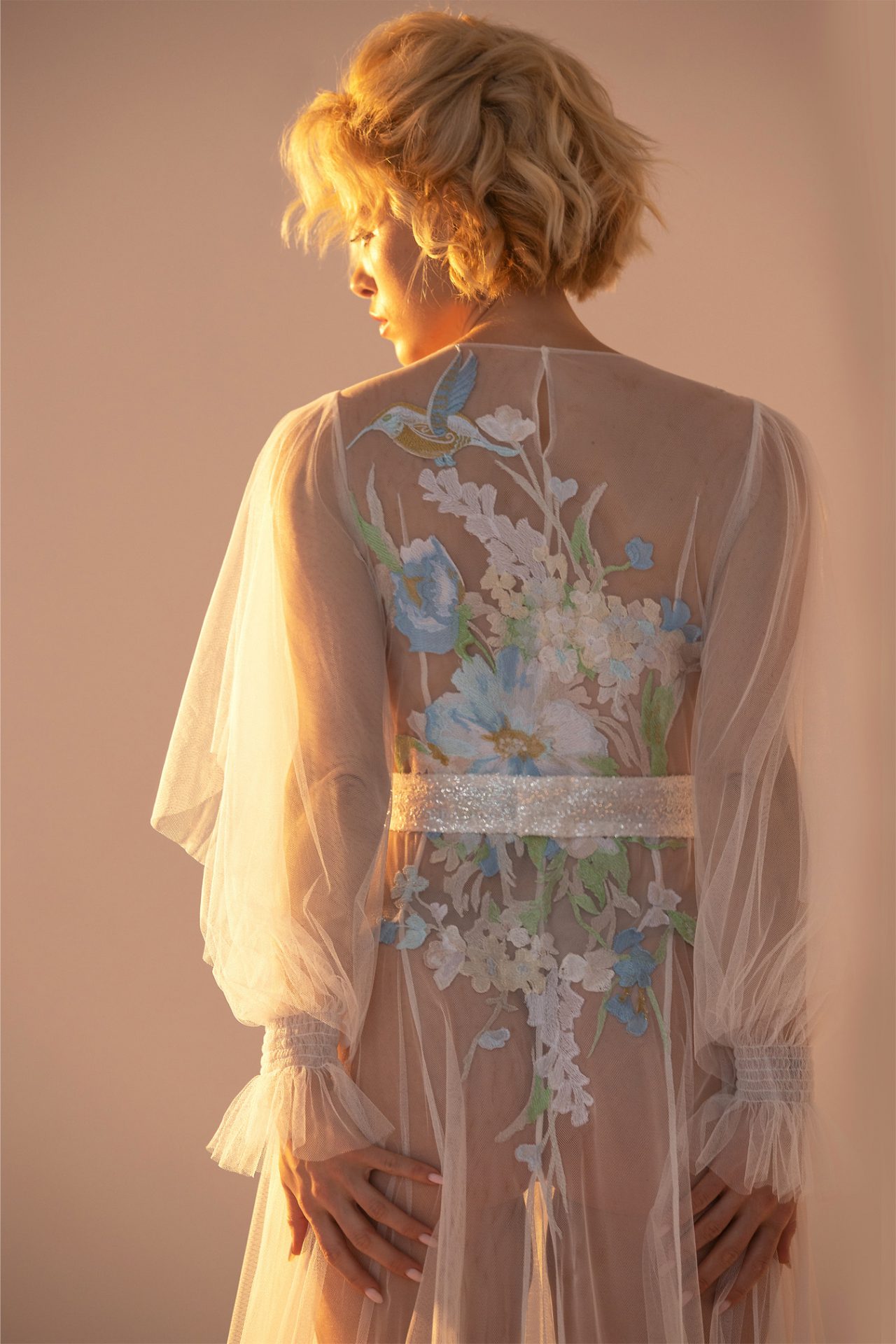 The leafy nightgown is a new design that has been created to coordinate with the a robe from a previous collection, and follows the same shape as the Scarlet gown in different fabrics. And finally there is a bralette and thong set, made from silk and mesh and adorned with tone-on-tone embroidery, covered buttons, and the most subtle of sequins.
This isn't a big collection, but every look is designed and executed perfectly, in exquisite fabrics and with extensive hand-finishing. Even the Aurora robe's numerous button loops are all sewn on by hand! Everything is made in Apilat's atelier in Ukraine, and the brand states that their garments look "equally flawless both on the front and turned inside out".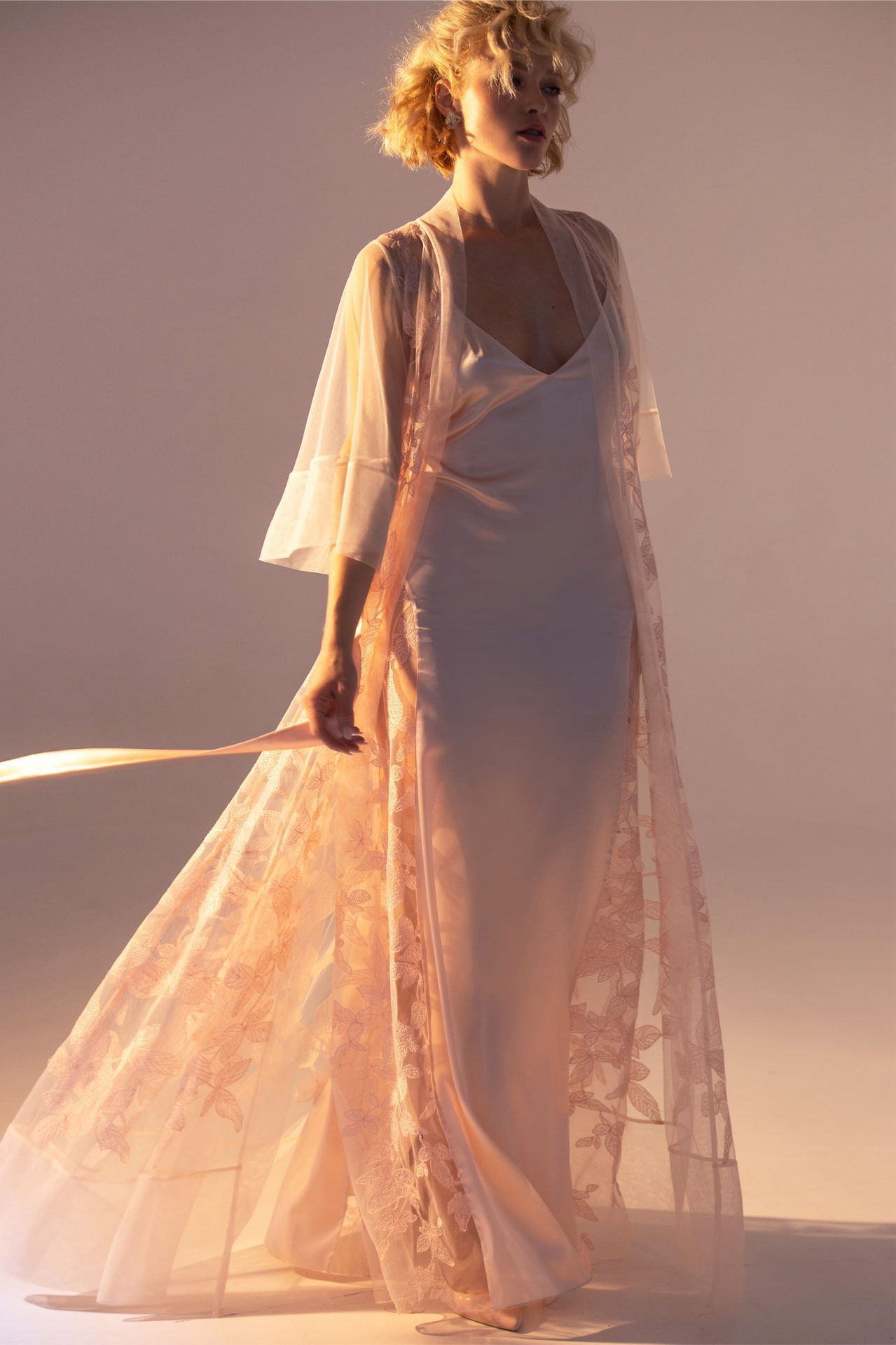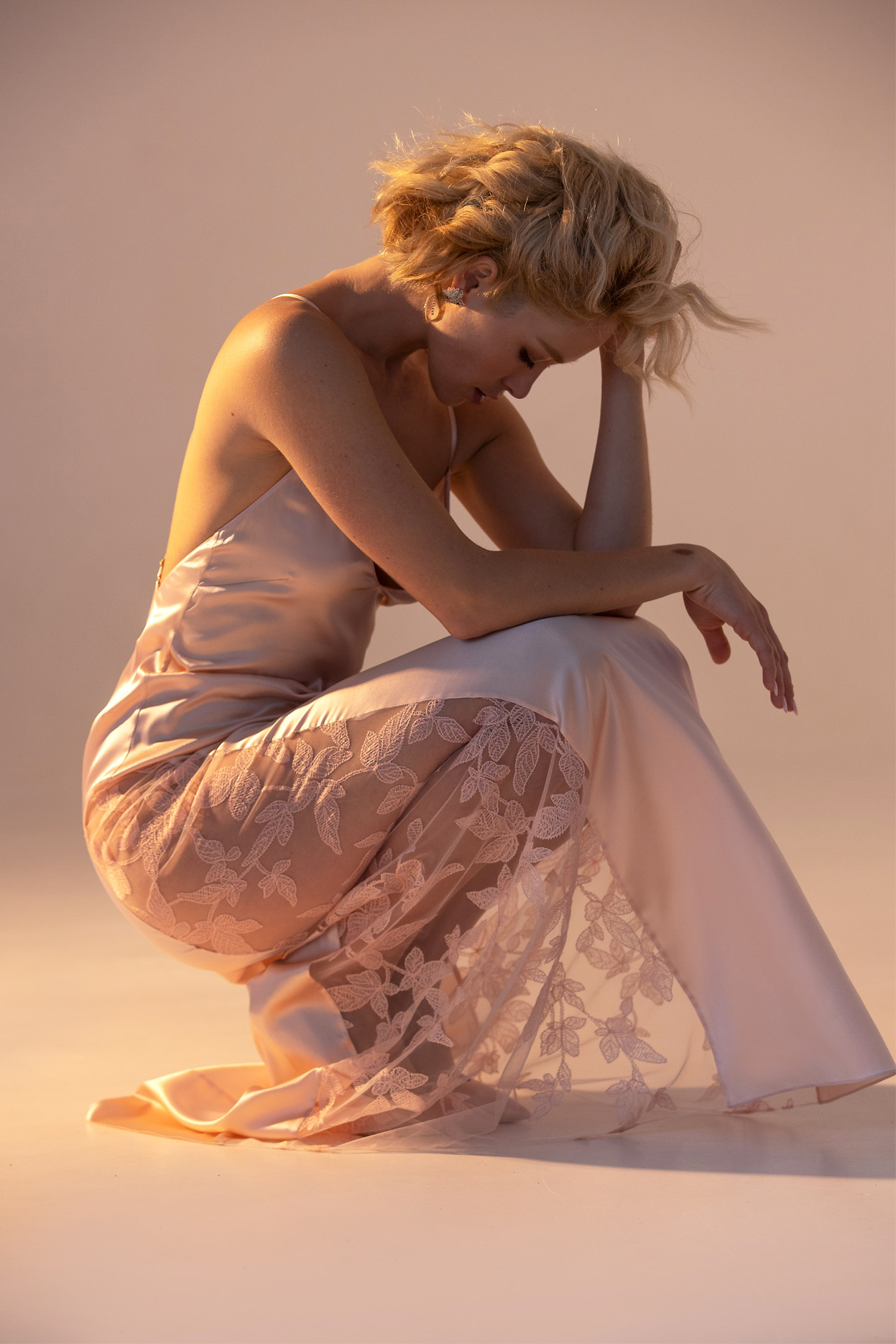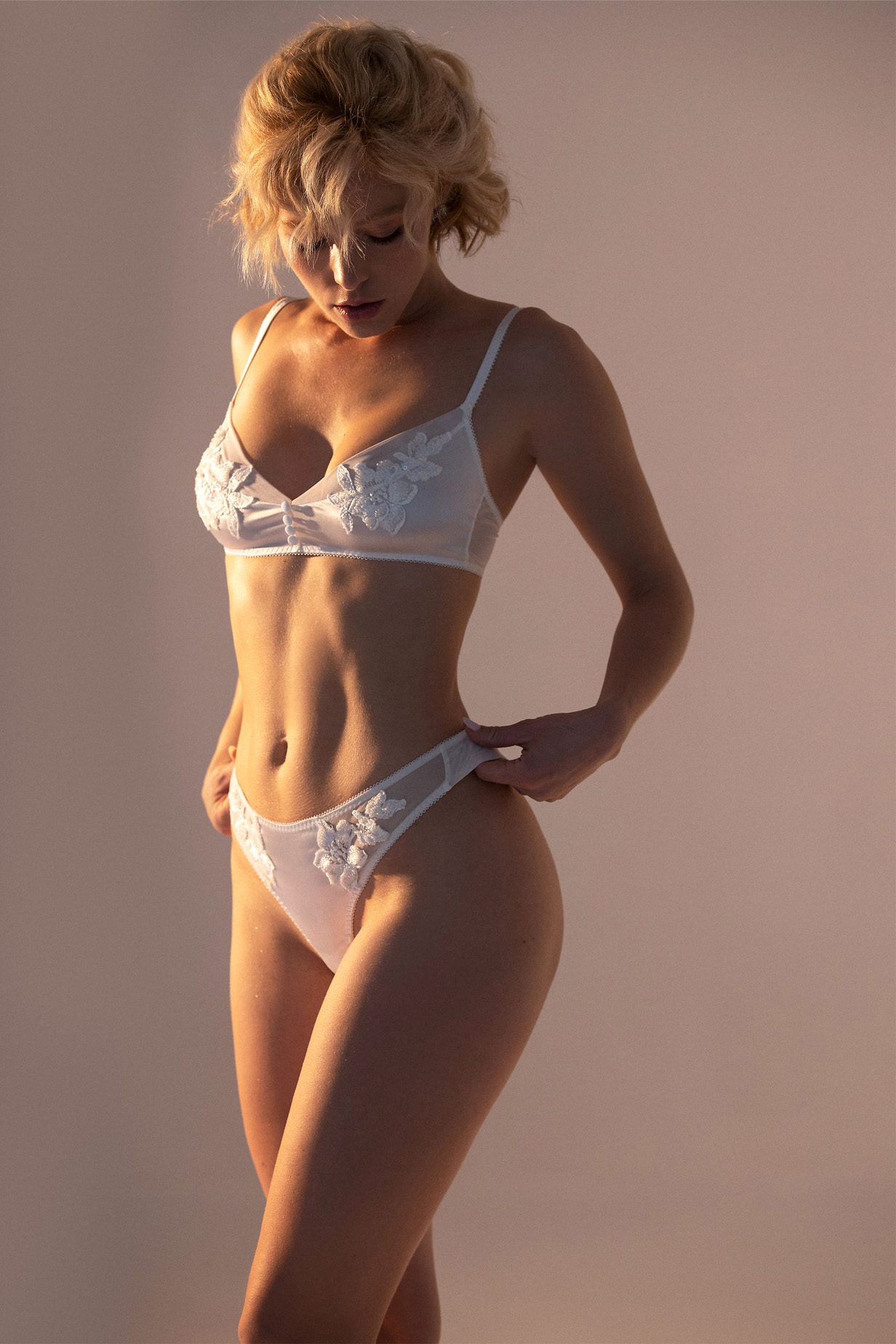 Prices run from $165 (~£118 / ~139€) for the bralette set to $900 (~£645 / ~758€) for the Aurora robe. The bralette set is available in very limited sizing – XS-M and A-C cups – but the luxury nightwear is all available in XS-XL with custom sizing also an option. The brand also has an Etsy store [affiliate link] if you prefer to shop that way, although they have yet to add this new collection there.
Which of these new Apilat designs is your favourite, and what occasion would you wear it for? I can definitely picture the Scarlet gown making an appearance on the red carpet!