Disclaimer: This blog post contains affiliate links.
This month there are some absolutely awesome lingerie finds over on eBay, which is why I've decided to up the list from the top 5 to the top 10 picks. There's vintage, there's handmade, there's designer and there's oh-so-cheap-but-pretty.
Is there anything you're tempted by?
Ayten Gasson purple silk teddy
– pictured above
Auction (currently £24.99) – ends 13/09/14 at 10:43pm
Size: Small (Medium
and Large
also available on separate auctions)
Ayten Gasson is a small, UK-based brand that specialises in silk lingerie and nightwear that I've been meaning to try for ages. This seller has a whole bunch of Ayten Gasson for sale, but my favourite is this rich purple teddy with pastel lace accents. Although no longer available on the brand's website, similar teddies retail for around £100.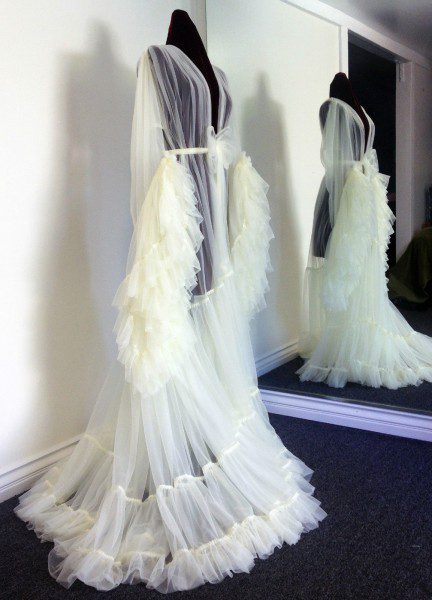 Catherine D'Lish ivory robe
Auction (currently £46.57) – ends 10/09/14 at 6:39 pm
Size: One Size
I've featured Catherine D'Lish's incredible, burlesque-inspired robes on the blog a few times already and they never cease to amaze me. There's a Buy-It-Now price of $350 (£214) on this robe too which, whilst not exactly cheap, certainly seems like a fraction of the price you'd pay for this piece at an upmarket lingerie boutique!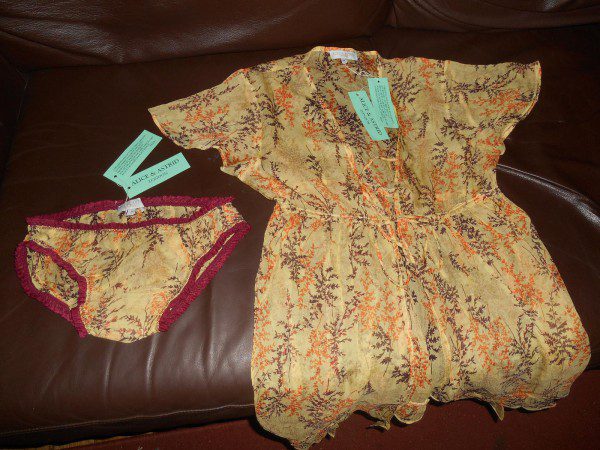 Alice & Astrid silk robe & knickers
Auction (currently £49.99) – ends 07/09/14 at 10:00 pm
Size: Small (UK 8-10) knickers and Medium (UK 10-12) robe
Alice & Astrid is not a brand I had heard of before today, but looking at their website it seems they've been featured in some pretty cool places (including Vogue and Marie Claire). This particular set is made from silk chiffon with a beautiful print that's perfect for autumn!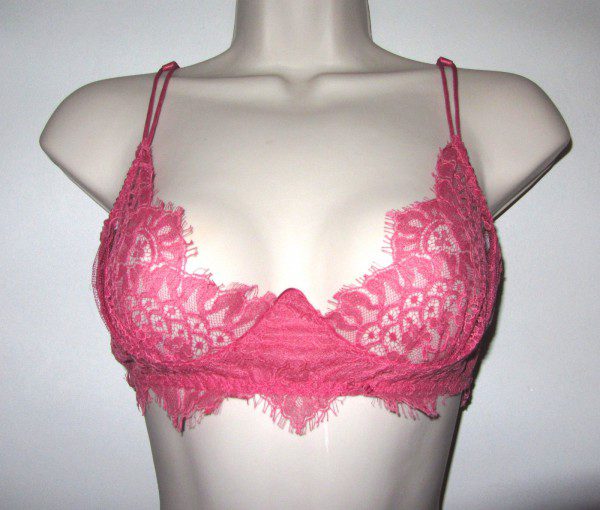 Janet Reger pink silk lace bra
Buy it now for £5
Size: 34A
What's not to love about this bra? It's got lashings of lace, it's made from silk, it has a touch of strappy detailing at the back and it only costs a fiver with free UK delivery! In case the seemingly too good to be true offer is ringing alarm bells, I've previously bought from this seller and had no problems with the transaction.
Agent Provocateur Minnie bra, knickers & thong
Auction (currently £50) – ends 08/09/14 at 9:18 pm
Size: 34B bra, size 2 knickers and size 3 thong
Looking for something sweet but sexy? Obviously inspired by a certain Disney character, this cute bra set is made from silk with delicate lace trims. It comes gift-boxed too!
Bordelle champagne suspender belt
Buy it now for £45
Size: Medium
The shape of this suspender belt is really unusual, and I love the clash between the soft champagne-pink colour and the bold black trim and strappy bits. As with all Bordelle lingerie, the metal hardware is plated with real gold – a perfect indulgent treat for under £50!
Vintage La Perla silk bra, camisole, knickers & shorts
Auction (currently £20) – ends 12/09/14 at 12:11 pm
Size: Medium / C-cup bra
The photos on this listing aren't great but from what I can see, this 4-piece lingerie and nightwear set from 1980 is made from a lovely, finely-pleated silk with lace and button details. Even if you're not comfortable buying used knickers, I think it's worth it for the camisole and bra alone. It would be worth contacting the seller if you're interested to find out more about the condition of the pieces, and the band size of the bra.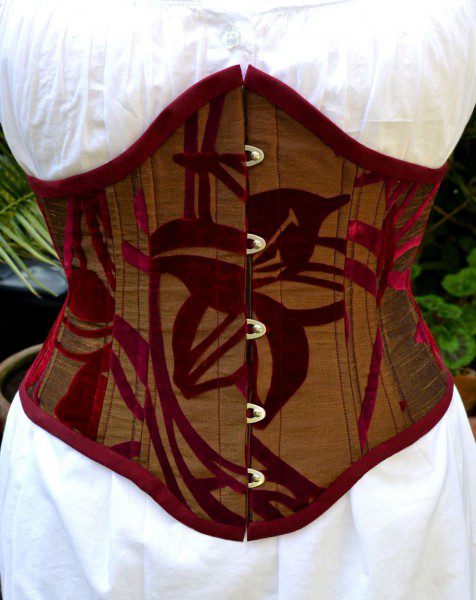 B Excell underbust corset
Buy it now for £29
Size: Approx. UK 12
Although this doesn't sound like a corset suitable for waist-reduction (the bones are 're-enforced synthetic' ones, not metal, and it's not sold by waist size), it does still sound like a good quality one from the description. It's handmade by the seller with 3 layers of fabric – Indian silk on the outside, a Calico strength layer and cotton against your skin – and a metal busk and grommets. If you're just after a fashion corset that looks expensive but are on a tight budget, this could be a great option!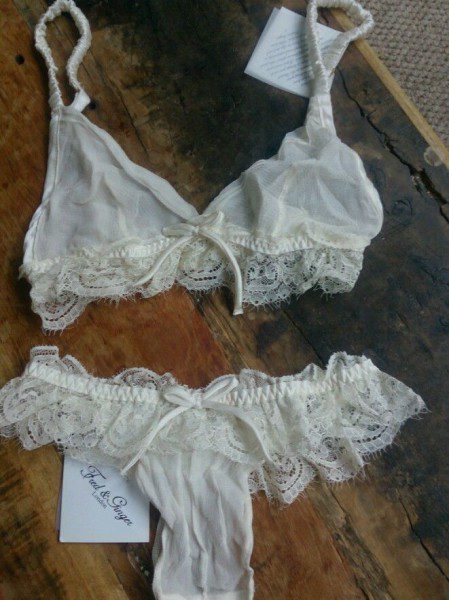 Fred & Ginger ivory lace bra & thong
Buy it now for £20
Size: Seller states sizing comes up very small and will best fit a 30A/30B and petite UK size 8
I would definitely be buying this if it were my size! Made from a semi-sheer chiffon with silk trims and wide eyelash lace, this soft cup bra and thong set is ideal as bridal lingerie. At just £20, it's incredible value for money too.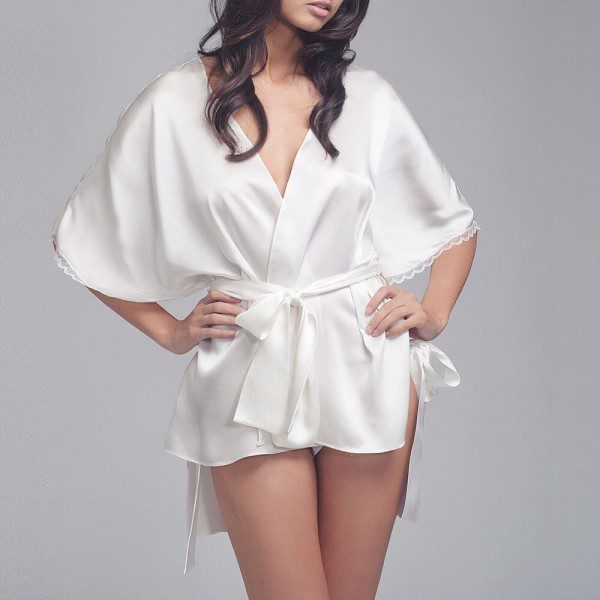 Gilda & Pearl cream silk kimono
Auction (currently £20)
Size: One size
Here's another bridal item that could be paired with the bra set above – a beautiful, pure silk robe with lace trims and a sheer lace panel at the back. Please note that this is the only item on the list (except the vintage lingerie) that has been listed as used, but the seller says it was worn once only for her wedding.
I hope you've enjoyed this month's eBay round-up, and I'd love to know which your favourite pieces are or if you've spotted any other great lingerie deals on the auction site!