Disclosure: I received this romper set free of charge by Unbound to review. All opinions are, as always, 100% honest. This blog post contains affiliate links.
Unbound is a New York based, online retailer that sells lingerie and toys, a bit like an upmarket Ann Summers for the US market. I say upmarket because they have some really lovely, premium lingerie brands available – Almeida, Belle et BonBon and Tatu Couture being my favourites.
They do however also have a wide selection of cheaper designs available, such as Cosabella, Hauty and Happy Lola. Overall their product range feels highly edited – they're going for a look, not a price range, so you can shop with them whatever your budget. There's a lot of black strapping, sheer lace and interesting cut-out detailing – pretty much sums up my personal style to be honest, which is why I agreed to review them!
Unbound also offers a subscription service (primarily for its toys and body jewellery though, rather than lingerie). I haven't tried it so can't give a first-hand review, but it's worth checking out if you like what you're seeing on the website. Subscription boxes are clearly separated from the rest of the shop so there's no confusion over what you're buying or potentially signing up for, and you'll get advance notice of what's inside with the option to pause or cancel your subscription if those products aren't for you.
Now let's talk about the Aline romper that they sent me. This comes in core and plus sizes, going up to a 3X/4X, and is made by Oh La La Cheri as part of their Spring/Summer 2016 Designer collection.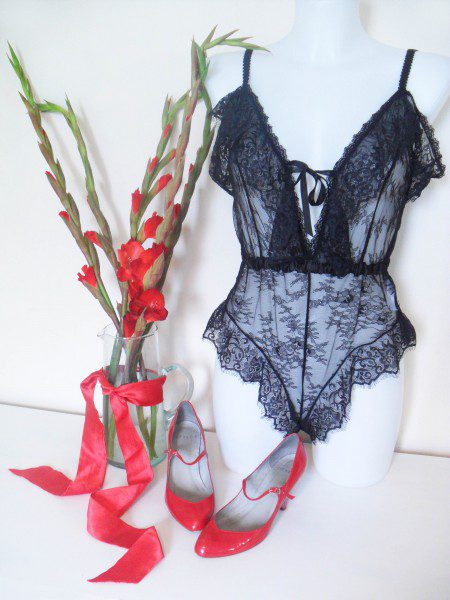 Appearance
The Aline romper is made from all-over lace in two different styles, both of which I think are really very pretty for the price point.
The hips are trimmed with scalloped, eyelash-edged lace, and a strip of this same lace also runs from the waistband up the centre, around the arm and across the back. It creates a playful, coming-undresed look, like it has just slipped off the shoulder – but of course there are thin, lacy straps too to hold the romper in place.
Verdict: 6 / 10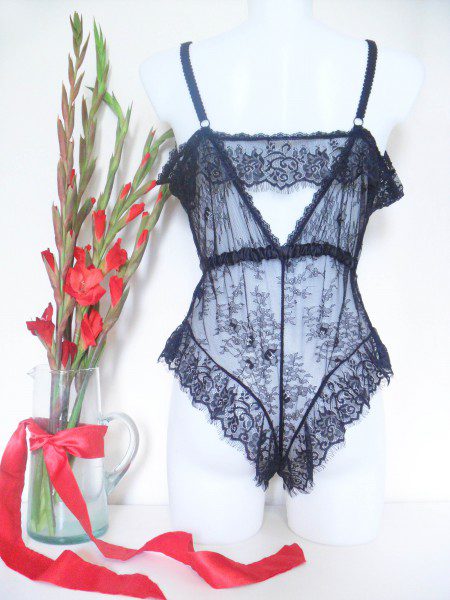 Construction
On Unbound's website it says that this romper is 95% polyester, but is actually primarily nylon according to the garment label. All of the seams are very neat, and the shoulder straps are adjustable with coated metal hardware. Overall, it's nicely made for a garment of its price point.
I do have one gripe though! The gusset has no lining, and 4 raised seams all converge here meaning its not just flat lace between your legs either. The seams are noticeable and annoying, and for this reason I didn't like wearing this romper all day long. If you're buying it as a bedroom-only piece to wear for short periods only then it's probably fine, but otherwise this could be a dealbreaker.
Verdict: 6 / 10
Fit
I chose the romper in a Small/Medium. No further sizing details are given on Unbound's website, but a bit of Googling shows that this is intended for a UK 6 through 12. I'm always a bit wary of cheap, non-adjustable lingerie that claims to work for such a wide size range, because it rarely does.
That said, there is some flexibility in this romper thanks to the adjustable straps, ribbon tie-front and elasticated waistband which I can comfortably stretch out to  34″ (36″ if I really pull on it). The off-the-shoulder sleeves are also very loose on me so there's room for someone with bigger arms. However, the lace itself is non-stretch and the length feels just right for me at 5'3 tall, so if you're at the top of that size range and/or tall I'd say go with the Medium/Large instead.
Verdict: 7 / 10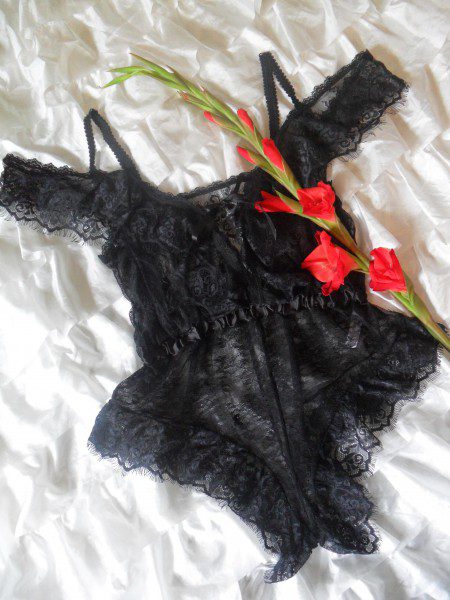 Durability
The romper's care label is confusing – on one side it has the 'machine wash up to 40 degrees' symbol, but turn it over and 'hand wash cold' is written out! I've been hand-washing it and it's still in pretty much brand new condition, though given the price point I'd be happy to throw this one in the machine provided it's in a mesh bag to protect that lace, and on a delicates setting.
Also, the lace here feels quite sturdy – I have some pieces that snag when I so much as look at them, but not this one!
Verdict: 8 / 10
Value for Money
At Unbound, the Aline romper costs $45 (~£34 / ~41€). That makes it quite an affordable little treat and, for the price, I'm very happy with the design and the quality. I just wish the gusset were lined with cotton or something as that would make it infinitely more wearable!
Verdict: 7 / 10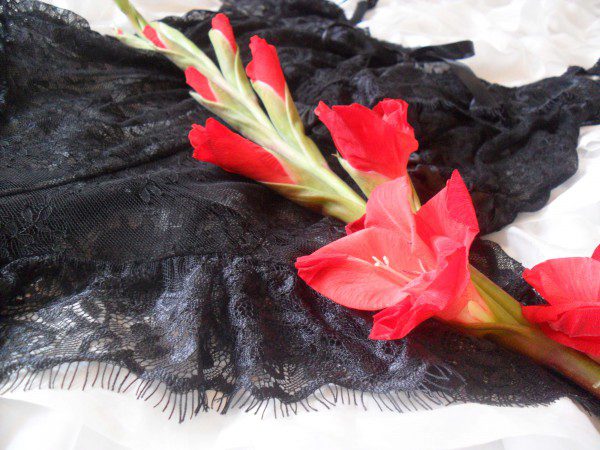 Final Thoughts
Oh La La Cheri is very much a budget brand focussing on sexy lingerie, but unlike others in this arena which often just look cheap, Oh La La Cheri has come out with a number of designs that I find pretty, romantic and unique. In fact, I'm planning another Oh La La Cheri purchase very soon! It's wonderful that this romper is available up to a 3X/4X and if you're just looking for something playful and fun for the boudoir, you can't go wrong at $45.
You can buy it here at Unbound in core sizes, and here in plus sizes. It's available at other retailers in lilac too.
Would you buy Oh La La Cheri's Aline romper? And what are your thoughts on lingerie subscription services?