Disclaimer: This blog post contains affiliate links.
The Agent Provocateur summer sale has launched! I picked up an amazing bargain in their spring flash sale (which I still haven't worn yet – corsets and pregnancy don't mix – but I plan to soon!) and now it looks like I might be adding a few more pieces to my collection as there are plenty of stunning designs at reasonable prices.
From total bargains (Agent Provocateur for less than the price of a high-street bra set? Yes please!) to pieces that are still quite pricey but oh-so worth it if you have the cash, here's my top pick of Agent Provocateur's sale lingerie and swimwear…
(You can check out the entire sale here).
Bargains Under £50
Jaccinta bra (was £75, now £20) and thong (was £55, now £20) – pictured above
Made from a sophisticated-looking fishnet, this gorgeous bra set has a unique front fastening and firey orange details, with a delicate lace trim to soften the look. At £40 for the full set, it's about the same price as you'd pay at a mid-range high-street boutique but undoubtedly more unique! The bra is only left in size 32A or 36A.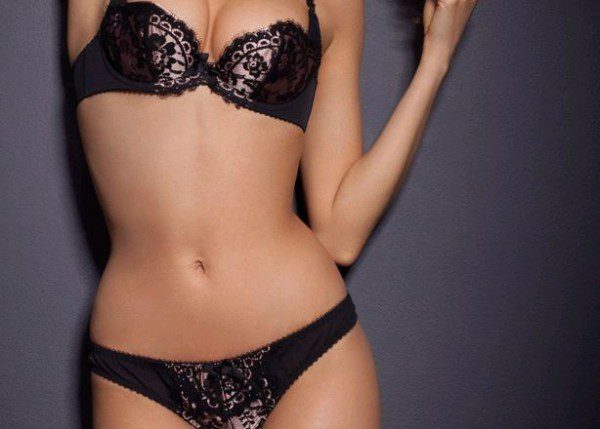 Selena bra (was £110, now £30) and thong (was £85, now £15)
Only £5 more than the Jaccinta set but originally far more expensive, the Selena bra set is covered with a deluxe French leavers lace and the cups have a rather unusual cut at the sides, which makes this a lovely special occasion set if you happen to be a 36A (the only size left for the bra).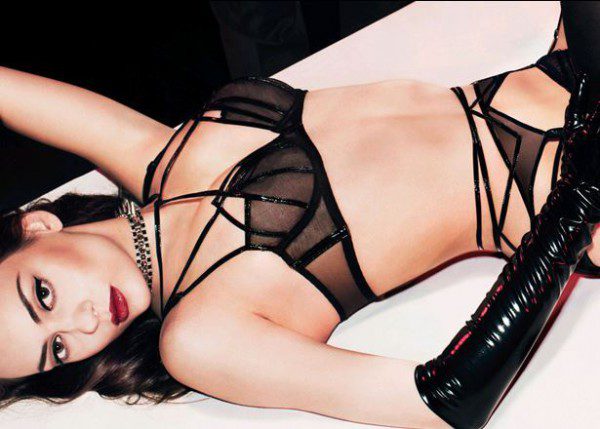 Jet bra (was £110, now £25) and thong (was £65, now £15)
This is one I really wish I'd bought for myself when my size was still available! I love the Jet bra with it's strappy style and sheer black tulle. This is PVC that looks expensive, not tacky. The thong is only left in size 5 (UK 14-16) but the bra is still available in a range of band and cup sizes and would look lovely with almost any black knickers!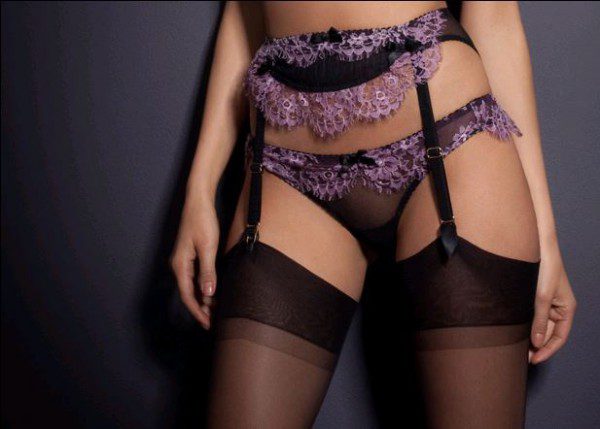 Verronika suspender belt (was £145, now £20)
I don't normally include items in my 'sale top picks' blogs where the matching items have sold out, however suspender belts are a little different because I think a lot of them can be worn with a different bra set – particularly belts with black details worn with a black bra and knickers – to dress it up, without looking mis-matched. Having bought the Verronika corset, I can absolutely vouch for the quality and beauty of this French leavers lace up close, and I love the almost apron-inspired shape that the scalloped trim gives. The fact it's £125 off doesn't hurt either… If you're an Agent Provocateur size 2 (UK 8-10) I'd snap this one up before it sells out.
Beauty Under £100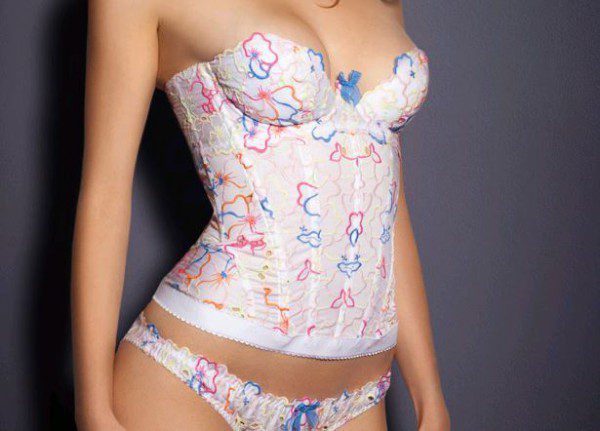 Dylan bustier (was £245, now £60) and thong (was £65, now £20)
Far from Agent Provocateur's usual 'sexy' style, this sweet and girly bustier is absolutely gorgeous with its innocent white cotton embroidered with colourful flowers. The thong is only available in suze 5 (UK 14-16) but the bustier is still available in a range of sizes. The bustier has corset-style lacing at the back and would look equally great as outerwear as it would as underwear.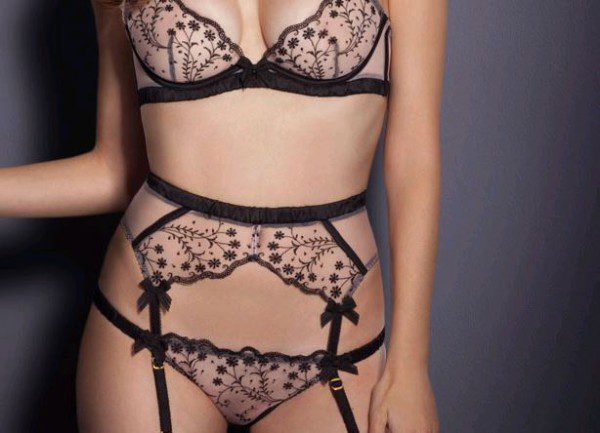 Ambrose bra (was £75, now £50) and thong (was £65, now £35) or knickers (was £75, now £40)
A lot of the better bargains that are only available in a handful of sizes are leftovers from previous sales, however this Ambrose set is a new sale addition and so is still available in most sizes from a 32A to a 36E. In the classic pale pink and black Agent Provocateur colour palette, it's a beautiful, understated bra set with Austrian embroidery and delicate guipure lace trims. If you have a bit more to spend, you can complete the look with the matching suspender belt that's on sale for £50.
Domiino bikini top (was £135, now £25) and bottoms (was £110, now £25)
Almost £200 off, this gorgeous bikini is an amazing deal – and right before beach season too! I'd definitely be buying this one myself if only I had a summer holiday planned. I love the super-sized eyelets and the straps are detachable for two looks in one. Both the bikini top and bottoms are still available in a wide range of sizes.
Fifi bra (was £95, now £50) and knickers (was £70, now £35) 
Agent Provocateur's Fifi set in red is one of my favourite lingerie sets ever created (you can see it over on Lost In Lingerie's blog, in her first ever post), and I own the set in black (review coming soon!). It's currently available in a classic Agent Provocateur black and pink combo, as well as this creamy white colour that's in the sale. One of the few Agent Provocateur designs that returns season after season in new colourways, it's clearly very popular and it's not hard to see why – it's beautiful enough for special occasions, but not so 'over the top' it would look out of place as everyday wear either. There's also a thong available in the sale and, if you're willing to spend a bit more, I'd really recommend the suspender belt with it's flouncy ruffles and open front – it's gorgeous!
Roxanne bikini top (was £135, now £30) and bottoms (was £110, now £30) 
Available in larger and smaller sizes only, this unique, khaki green bikini is clearly Bond inspired and seems like the perfect design whether you prefer your swimwear to be sexy or sporty in style. I love the leather lacing which lends a really luxurious feel to the whole design. It's close to £200 off so an amazing bargain at this price!
Luxury Over £100
Allix bra (was £395, now £200) and suspender belt (was £425, now £215) 
At £415 (£565 if you include the matching knickers), Allix is the most expensive set that's caught my eye in the sale and it's certainly not cheap, but if you can afford it I think it's worth it. Proving that leather lingerie doesn't always equal 'tacky', this deluxe, soft nappa leather set from Agent Provocateur's premium Soirée collection is adorned with dripping chains in a variety of shades. I love the cut-out detail at the centre gore too!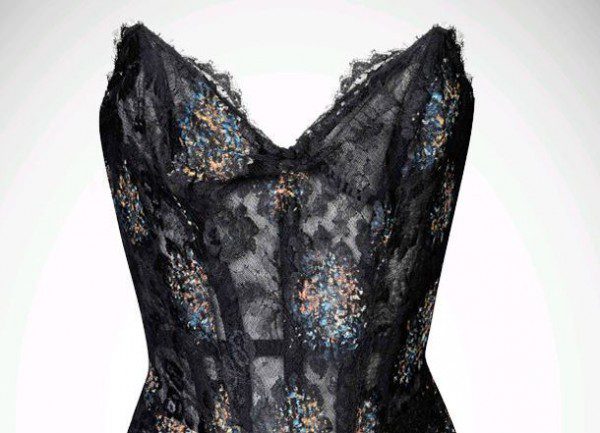 Tamarix corset (was £1,250, now £295) 
Almost a whipping £1,000 off, this beautiful corset is made from sheer lace that has been carefully hand-painted – definitely not something you see on 'off the rack' corsetry! Although Agent Provocateur's corsets tend to be suitable for lightweight shaping only, this is still a lovely investment piece that can be worn as lingerie or layered under a pencil skirt for ultra glamorous evening wear.
Gene bra (was £295, now £95) and knickers (was £295, now £95)
Like the Fifi, Agent Provocateur's Gene is one of my favourite ever lingerie creations. I wish I'd bought it when it was available in ivory for my bridal lingerie, but this aubergine-purple is just as breathtaking in the same thick, guipure lace over a silk satin backing. It's still quite pricey as lingerie goes, but in my opinion at least you'd be extremely lucky to find another bra set as beautiful and luxurious as this for £190!
Happy sale shopping, and don't forget to let me know which is your favourite design!