Links with a * are affiliate links.
A passionate yoga teacher and writer, guest author Victoria is a global traveller with a heart for people and the planet. Despite living a minimalist lifestyle, Victoria enjoys indulging in the juxtaposition between edgy streetwear and exquisite lingerie. Beyond the mat and the pen, Victoria is an advocate for sustainable living and mindful exploration.
---
When I first started practising yoga, it revolutionised my relationship with my body and movement. My practice became a nourishing routine of self-love and discovery, rather than a chore I was obligated to do to stay in shape. As my relationship with my body improved, I made a habit (or ritual, if you will) of designating time for solo practices at home. 
A few times a month I would eagerly slip into snug little shorts, bralettes, or lingerie that made me feel beautiful and indulge in an hour of quality time with myself, breathing and moving on my mat. It's a habit I can't recommend enough, no matter your level of experience with yoga asana! But if you're practising yoga in lingerie, there are a few important considerations to keep in mind when purchasing. The right lingerie can enhance your experience, providing comfort, support, and an empowering sense of inner beauty and confidence.
Below are the most important factors to consider when choosing lingerie for your yoga practice, along with the top lingerie brands for yoga practitioners and movement enthusiasts alike.
5 Key Considerations for Selecting the Perfect Yoga-Appropriate Lingerie
First and foremost, yoga is not only a form of exercise; it's a lifestyle that encompasses physical postures, ethical principles, and a mindful approach to life. When we examine its historical roots, yoga is fundamentally centred around nurturing ourselves, each other, and the world we live in.
Ahimsa is a yogic principle that means "non-harming" or "non-violence" in Sanskrit. You can think of Ahimsa as the number one rule of yoga: refrain from causing harm to yourself or other beings. This practice of non-harming extends to our clothing choices too. By making informed decisions and shopping responsibly, we can make a difference on multiple fronts as consumers.
Sustainability and Environmental Stewardship
From water pollution to carbon emissions and waste production, the fashion industry is one of the worst offenders to the health of our ecosystems. One study found that it produces more global carbon emissions than all international flights and maritime shipping combined. And our landfills are overflowing with trendy clothes, purchased for a season, then quickly discarded. The same report estimates that one garbage truck of clothes is incinerated or dumped in a landfill every second.
But in spite of these harrowing statistics, there is hope for a better future. Awareness of fast fashion's impact on our planet is growing, and many brands have chosen to take a stand for Mother Earth by using natural fabrics, implementing closed-loop production facilities, and elevating their levels of transparency with their customers. By supporting brands that are making these conscious choices, you can help move the status quo towards a greener future, while still indulging in your love of lingerie.
It can be tricky to determine if clothing brands are truly ecologically ethical or merely trying to give the impression that they are, so here's How to Identify Sustainable Lingerie (and Avoid Greenwashing). But as a general rule, buying locally-sourced natural fabrics when possible, and buying fewer items that are higher quality and made to last are great practices that will reduce your individual impact.
Human Rights and Labour Practices
To ensure that your garments are created with non-harming in mind, you'll also want to consider how workers are treated during the manufacturing process, and the overall values of the company when it comes to things like gender equality, diversity, and size inclusiveness.
The fashion industry has a notorious history of exploiting labour, with countless workers worldwide toiling in unsafe conditions for meager wages. However, the tide is turning, with an increasing number of brands committing to fair labour practices and human rights. When shopping, consider the people behind the product. Are they paid a living wage? Do they work in safe and humane conditions? Are their rights respected? Brands that prioritise ethical labour practices will provide this information transparently and in great detail. They are proud to demonstrate their commitment to the well-being of their workers.
Supporting brands that respect human rights not only aligns with the principles of yoga but also contributes to a more equitable global economy. By making conscious choices, you can ensure your lingerie is a product of love and respect, not exploitation.
Animal Wellbeing and Cruelty-Free Clothing
Another facet of Ahimsa is the consideration of our non-human cohabitants on this planet. The fashion industry often overlooks the rights and welfare of animals. However, an increasing number of brands are embracing cruelty-free practices. When choosing your yoga lingerie, look for brands that have certifications that indicate their commitment to animal welfare. Some people prefer to avoid animal products altogether and opt for synthetic alternatives. However, it's important to note that synthetic alternatives are often made with non-biodegradable plastics. Plant-based fibers such as bamboo, linen, or Tencel/Lyocell (derived from the wood pulp of trees) are neither animal-based nor synthetic.
---
Now let's talk practicality and functionality!
The Importance of Breathable Fabrics
When you're going to be sweating in your undies, breathable fabric is essential. For yoga, many prefer cotton undies for comfort, but its moisture retention can be a drawback. Other plant-based fabrics such as bamboo, hemp, and linen will allow air to circulate, keeping you cool and dry while you move. Breathable, moisture-wicking fabrics also prevent the growth of bacteria, ensuring your lingerie stays fresh and odour-free. This is especially beneficial if you plan to keep wearing it as your underwear for the rest of the day. If you lean towards moisture-wicking synthetics, opt for eco-friendly recycled versions to align your practice with sustainability.
Styles That Allow for Unrestricted Movement
When it comes to yoga, freedom of movement is paramount. Look for lingerie styles that don't restrict your movement. Seamless bras and underwear, for example, avoid the potential for seam rubbing and chafing. Similarly, wireless bras can offer adequate support without the risk of wires pinching or poking you while practising certain postures like sidebends or deep spinal twists. It's also worth taking the time to get professionally fitted or to measure yourself at home to ensure you're buying the right size if you haven't done so already.
Feeling Empowered
Yoga is about connecting with your inner self, but feeling beautiful and confident on the outside can play a significant role in motivating us to get on our mat and care for our bodies. Choose lingerie that makes you feel good about yourself. Whether it's a lace bralette or a high-waisted brief, the right lingerie can boost your confidence and inspire your yoga practice!
Top 5 Lingerie Brands for Yoga Practitioners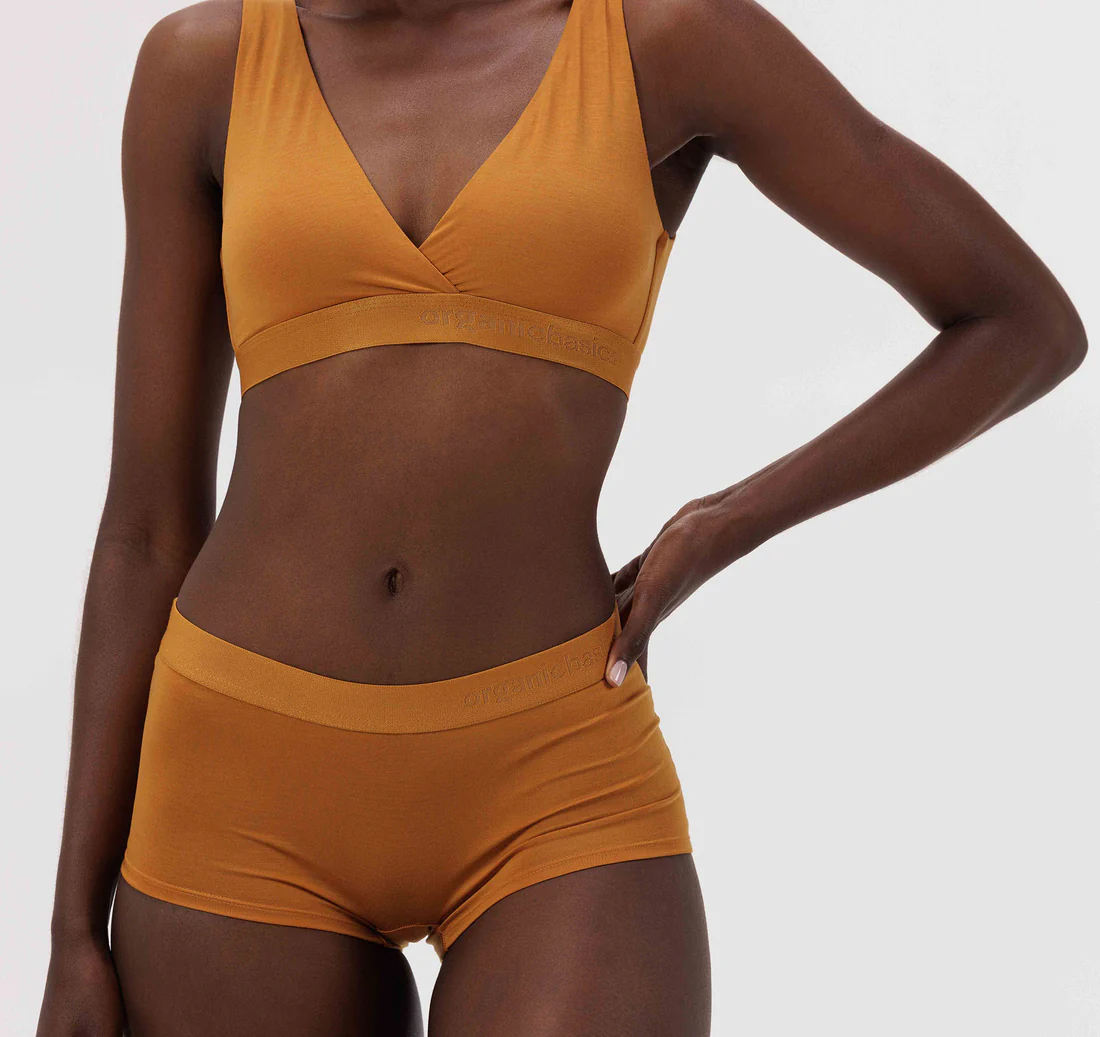 This Denmark-based brand is dedicated to creating sustainable and durable lingerie. They use eco-friendly materials such as organic cotton, recycled nylon, and Tencel/Lyocell. They also ensures fair wages and good working conditions for their workers.
Certifications: Global Organic Textile Standard, Oeko-Tex, PETA Vegan.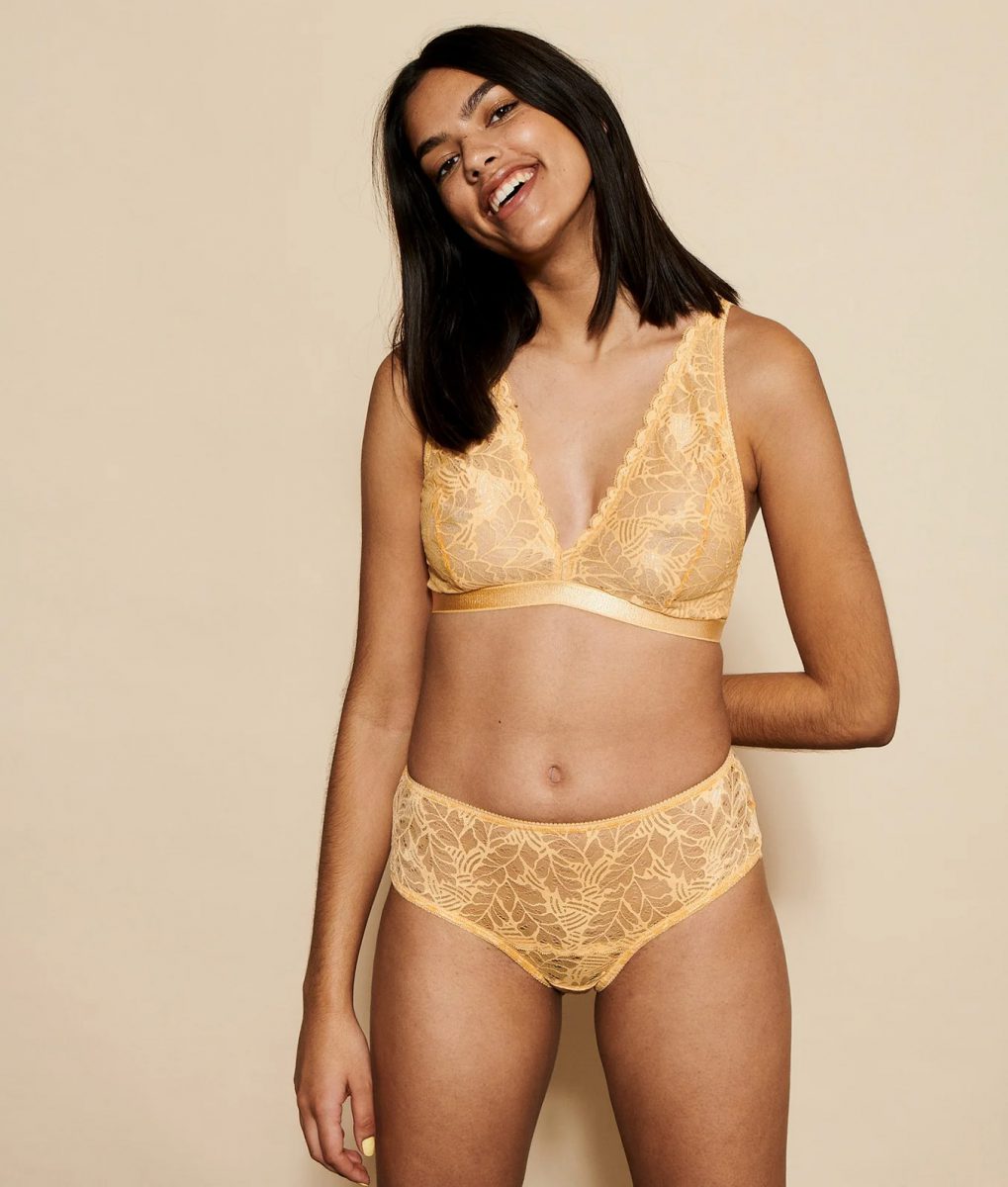 This Danish brand available on EarthHero (a vetted responsible consumer marketplace) creates fashionable, sustainable, and ethical lingerie. Underprotection uses eco-friendly materials such as recycled polyester and lyocell. They're committed to fair trade, ensuring workers receive fair wages in safe environments. Their mission is to show that ethical fashion does not have to be boring or less glamorous.
Certifications: Fair Wear Foundation, Global Organic Textile Standard, Oeko-Tex.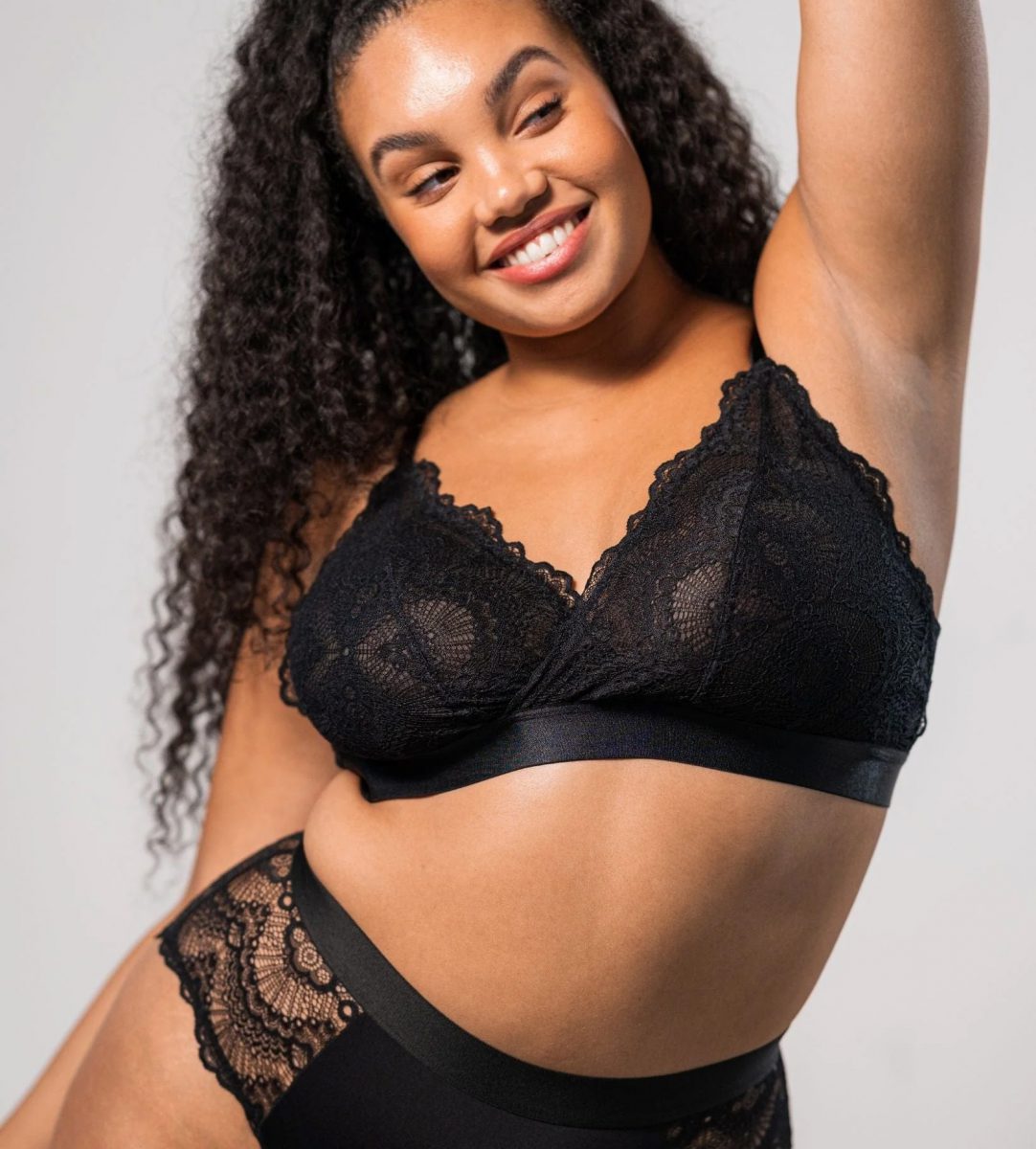 This female-founded Swedish brand focuses on high-quality, comfortable undergarments that challenge the traditional norms of the lingerie industry. Prioritising sustainability, they use organic cotton and recycled lace, promoting body acceptance by not retouching images of their models.
Boody's products are crafted from organically-grown bamboo, a highly-sustainable and renewable resource that requires less water and no harmful pesticides to grow. Their super-soft bamboo fabric is known for its natural breathability plus moisture-wicking and thermo-regulating properties. Boody also uses a unique knitting technique to produce their clothing in seamless tubes, resulting in minimal wastage when compared to traditional cut-and-sew manufacturing methods. They champion fair wages and safe working conditions.
Certifications: Ecocert Organic, OEKO-TEX Standard 100, Global Organic Textile Standard.
An Italian brand blending traditional craftsmanship with modern designs, Cosabella offers size-inclusive styles using fabrics such as cotton and modal. Collaborating with family-run Italian workshops, their products are hand-crafted by artisans, ensuring attention to detail and quality. Cosabella caters to a wide range of people and gender identities with its size-inclusive and timeless styles.
---
The right lingerie can be a wonderful addition to your self-care ritual whether that be practising yoga or other forms of movement. By choosing breathable fabrics, ensuring proper sizing, and selecting styles that allow for unrestricted movement, you can feel comfortable, supported, and radiant during your private home practices. And by choosing ethically-made lingerie that considers the well-being of people, animals, and our planet, you can align your physical yoga asana practice with the values integral to yoga.
Remember, every purchase is a vote for the kind of world you want to live in. Choose wisely, and let your yoga practice extend beyond the mat and into the world!