Disclosure: I bought this bra set myself. This blog post contains affiliate links.
Vivi2Anna is a Latvian indie lingerie brand selling on Etsy. I've not been able to find out much more than that about them, as their 'about' page is rather sparse and they don't appear to be on social media or selling elsewhere.
However, the designs are quite lovely, the prices very reasonable and the size range pretty extensive, covering XS-5XL and 32B-40E! I'd had this bra set saved in my favourites for a while and picked it up recently when it went on sale, which it still is if you're interested in it.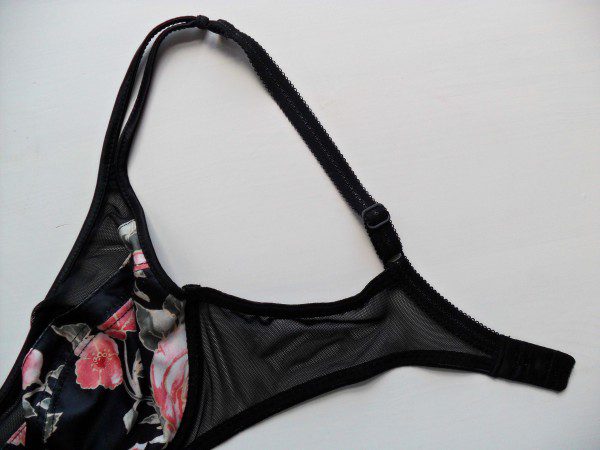 Appearance
The set is made from a lovely rose-print, jersey fabric with a slight sheen to it, and sheer black mesh panels. The bra has a little bow at the centre, decorative elastic at the back of the straps and also double straps at the front, which is a lovely little detail you wouldn't usually see at this price point.
Overall, I love that this set manages to look very pretty and feminine whilst retaining a sense of practicality and a sleek, fuss-free design.
Verdict: 6 / 10
Construction
The fabrics are really nice, right down to the satin bias binding trimming the cups, and the stitching is all very neat. The inside of the bra is unlined and I worried that the seams (pictured below) might be irritating, but as it turns out they're perfectly comfortable.
The one thing I would change about the bra if I could is the narrow band with a single-row fastening at the back. It's not a huge issue, but I imagine that for larger cup sizes this wouldn't be very supportive.
The thong doesn't have any elastic anywhere, just overlocked and folded edges. It relies on the stretch of the jersey and mesh instead, which gives it very flat edges that are invisible under clothing.
Verdict: 7 / 10
Fit
I bought a size XS thong and sister-sized to a 32DD in the bra. Custom sizes are available on request from Vivi2Anna, but as this set was on sale to clear out excess stock I only had the available sizes to choose from.
Both pieces are a really excellent fit! Both very comfortable, and the fit of the cups is spot-on. I would have preferred a 30-band and might shorten it a little, but as it is it doesn't really ride up. Overall it's one of the best-fitting lingerie sets I own right now, which is saying something.
Verdict: 10 / 10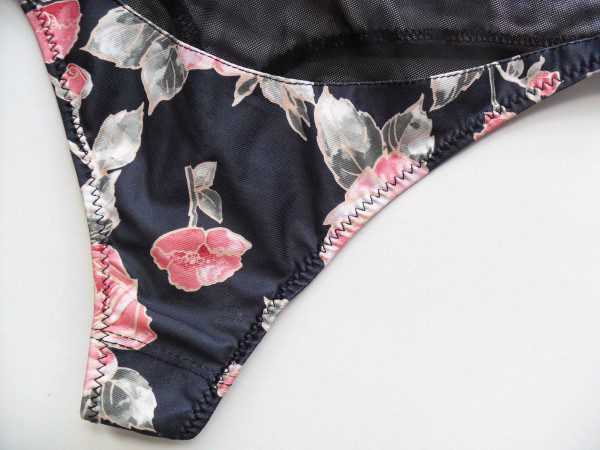 Durability
I've so far only hand-washed the set in cold water and for the most part they are still in perfect condition, though the care instructions state that they can be machine-washed at 30 degrees too.
I did however notice that the jersey fabric has started bobbling at the centre-back of the thong (pictured below), possibly where it rubs against seams on tight-fitting clothing.
Verdict: 8 / 10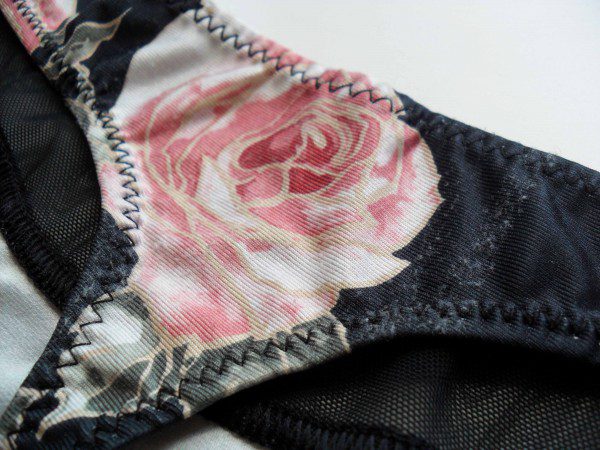 Value for Money
The bra is on sale for $20/~£13 down from $36/~£22.50 and the thong is on sale for $12/~£7.50 down from $22/~£14. To be honest, at full price I already think this is a great-value set for the level of construction, fit, comfort and of course handmade production, but at close to half price it's just fantastic value for money!
Verdict: 10 / 10
Would I recommend it?
Absolutely. This is my new 'practical' lingerie set – smooth, well-fitting, invisible under clothing, and not at all beige or boring! And whilst I feel like it's going to wear out quickly, for £20 I can't complain and I think I'll be back for more.
If the rose print isn't your thing or you want something a bit more summery, this light blue Vivi2Anna bra and thong are the same shape and also currently on sale.
What do you think of Vivi2Anna's lingerie designs? Do you prefer this bra in rose or chain print?