Please note that this sale has now ended and items are no longer available, including the unsold ones.
I washed a bunch of lingerie the other day and went to put it away, only to discover I had literally run out of drawer space for it. The summer sales have been too tempting this year!
So, I decided it was about time for another clear out. Normally I'd pop everything straight onto eBay but I thought I'd give my blog readers first dibs this time as I'm clearing out quite a few pieces I've reviewed here, as well as some new-with-tags items that just never fit me.
Delivery will be £4 in the UK, £8 in Europe or £10 international (with tracking) – that's per order, not per item – and I'm not accepting returns. If you're interested in anything here just leave a comment or email info@estylingerie.com. I can accept PayPal, credit/debit cards and bank transfers.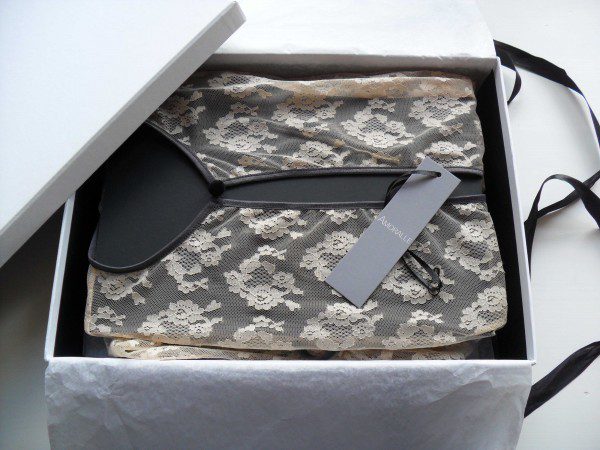 Amoralle Diamond robe, RRP ~£253
Asking price: £50 SOLD
Size: Small (approx. UK 8)
A stunning, floor-length lace robe with sheer mesh hemline, velvet trims and separate black satin-jersey sash. It's far too long for me (I'm 5'3) so I've only ever worn it twice, and it's in perfect condition. Comes with its original box. Bodysuit pictured on model is not included.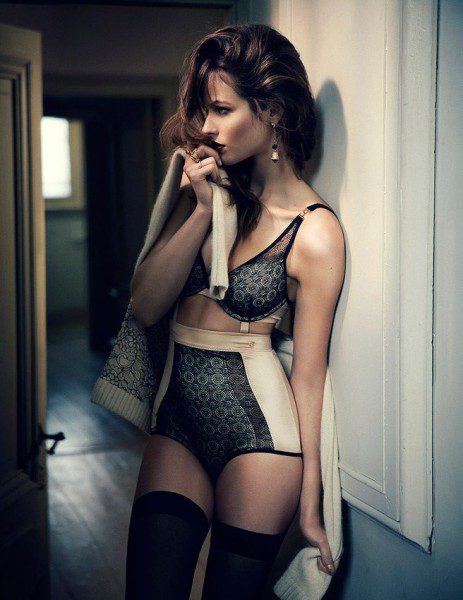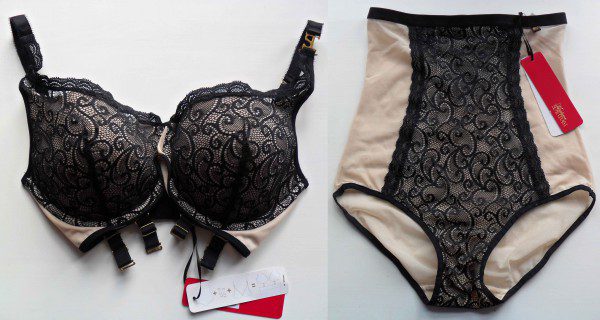 Madame Supertrash bra & knickers set, RRP £106
Asking price: £40 SOLD
Size: 32DD and XS (approx. UK 6)
Creamy-beige bra and knickers with black lace overlay. There are adjustable straps to join the two together as pictured – these straps are completely detachable if you prefer the set without. Brand new with tags.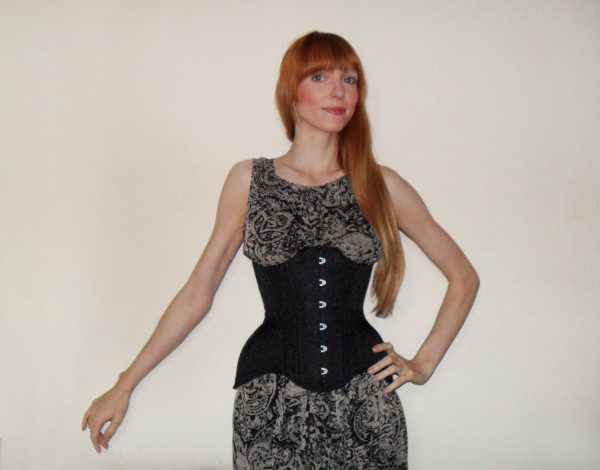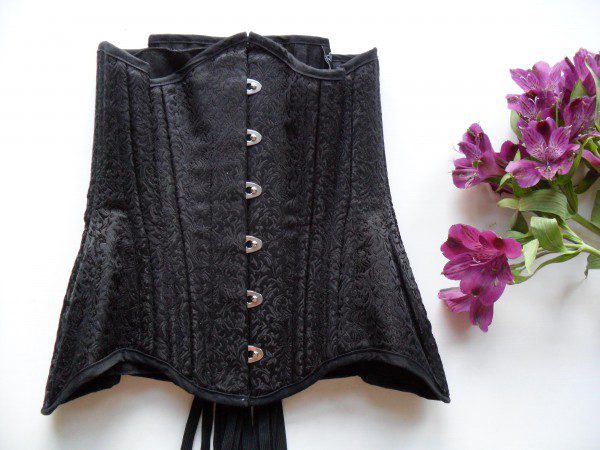 Restyle brocade underbust corset, RRP ~£33
Asking price: £25
Size: 20″ (for 22-26″ natural waist)
A steel-boned, underbust corset – great quality for being a budget brand with awesome shaping! Steel busk, lace-up back and wide modesty panel. I love it, but I don't wear it very often as it's a little too tall for me. Excellent condition.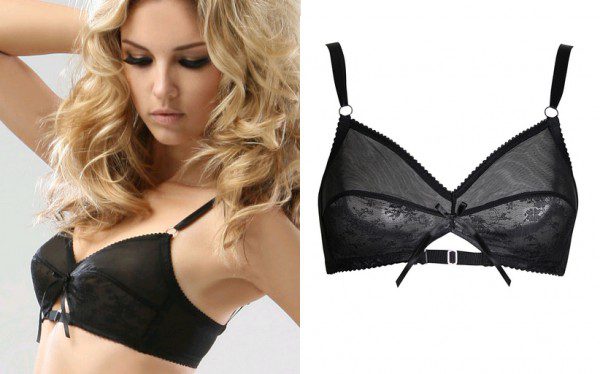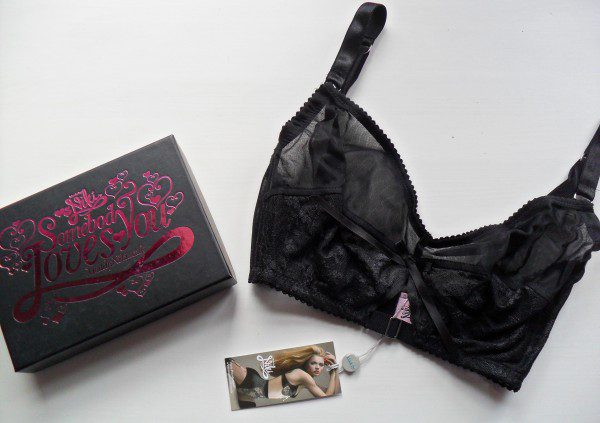 Made by Niki Fresh Foundations / Love Your Body bra, RRP £59
Asking price: £15
Size: 32E
A sheer, non-wired bra in mesh and lace, with a vintage-inspired shape. I was supposed to be getting the matching skirt but Niki accidently sold it to someone else, so I've never worn it! Brand new with tags. Comes with original box.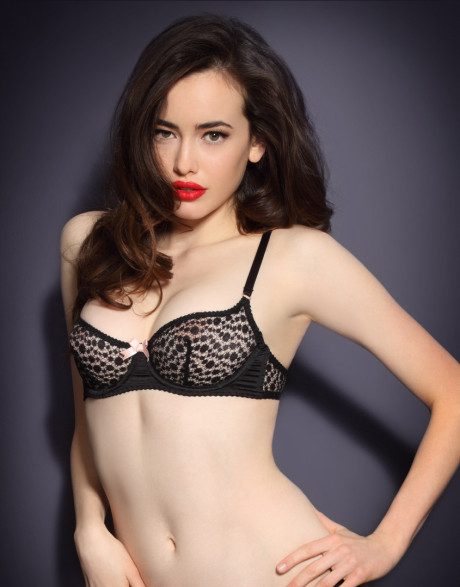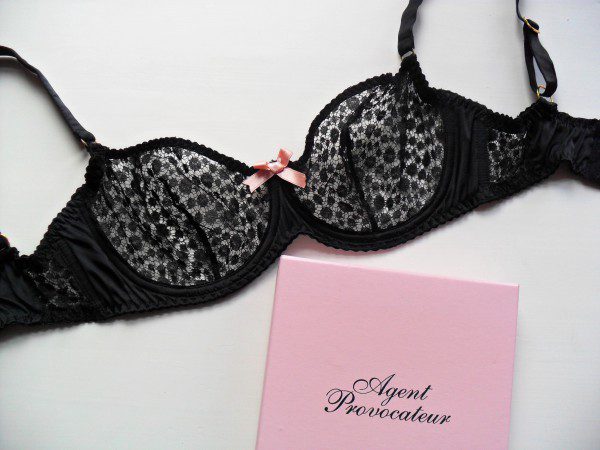 Agent Provocateur Roxie bra, RRP £75
Asking price: £10
Size: 32E
A beautiful, really delicate lace bra with black silk panels. This was one of my favourite bras for ages so I have worn it a lot, but it was always well cared-for (only hand washed etc.) and is still in really great condition. Comes with a hard storage box.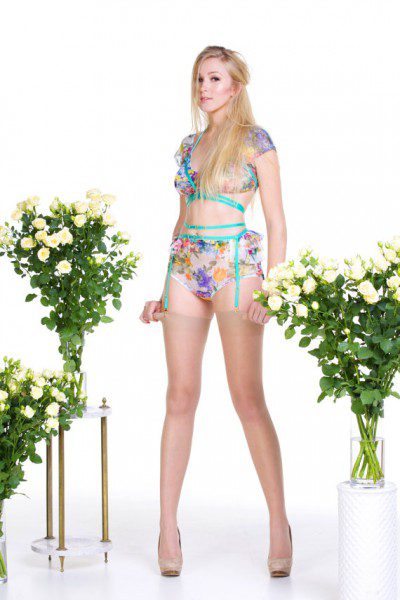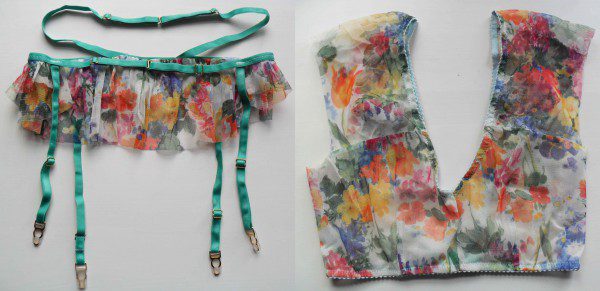 Flash You And Me floral bralet and suspender belt set, RRP ~£27.40
Asking price: £15 SOLD
Size: S (suspender, fits UK 6-10), bra was custom made and fits like an M
Only ever worn once as I was a little disappointed in this handmade set. The stitching on the suspender belt is very visible. The bra is lovely though, and the fabric is gorgeous! Both of these pieces are in perfect condition. Comes with box (box is a tiny bit damaged).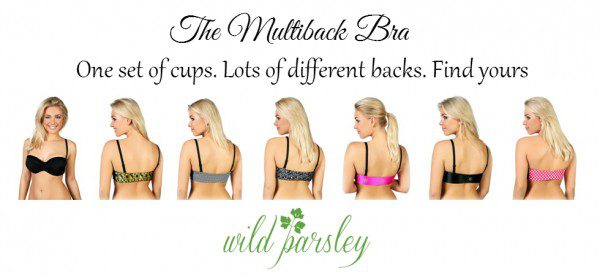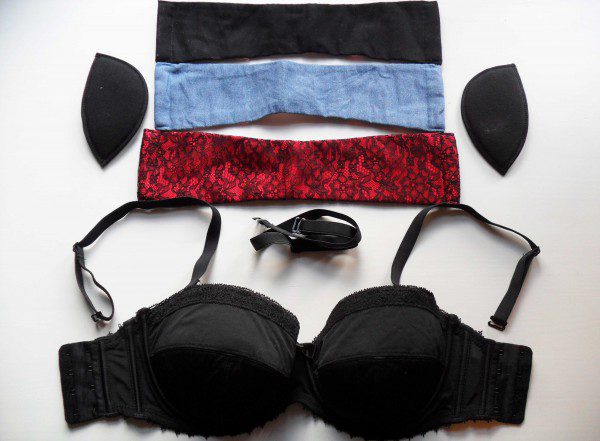 Wild Parsley Multiback bra + 3 bands, RRP £74
Asking price: £20
Size: 32DD (but I think it fits closer to 32E)
A unique, underwired, moulded-cup solution bra with removeable padding, with interchangeable bands – one plain black cotton one, one denim-effect cotton one, and one red silk one with black lace. Includes regular straps plus a halterneck strap too. Hardly worn as I changed bra sizes shortly after getting it, so in perfect condition.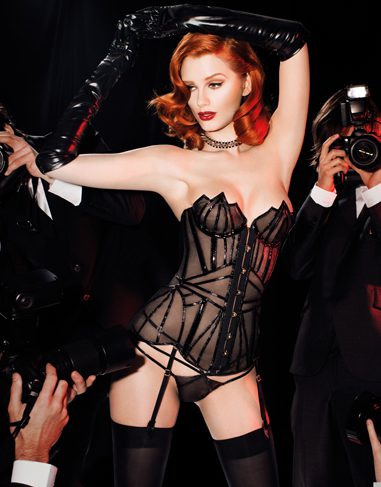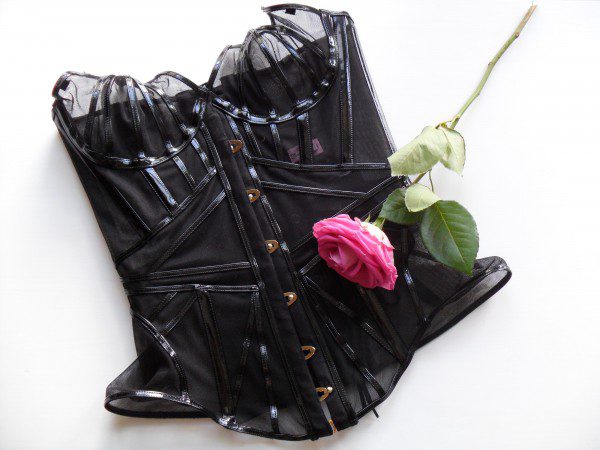 Agent Provocateur Jet corset, RRP £395
Asking price: £100 SOLD
Size: 3 (UK 10-12 according to size chart, but it comes up small)
A really gorgeous sheer mesh corset with PVC details. It doesn't actually do any waist-cinching as there's very little boning at the front, but it looks amazing. Unfortunately it's just too big for me in the cups now. The suspender straps pictured on the model are not included. Comes with box (box is faded from the sun).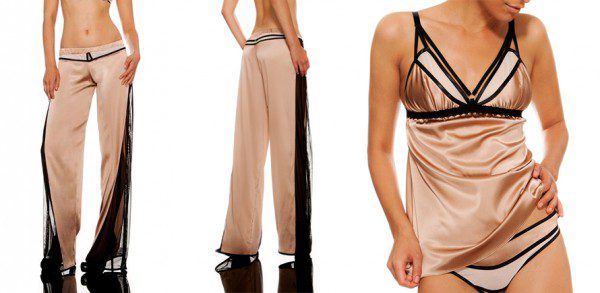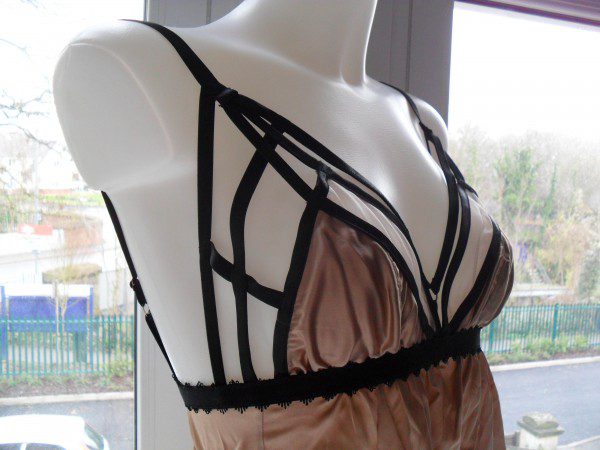 Nichole de Carle Opal babydoll & trousers, RRP £300
Asking price: £100
Size: XS (UK 8 – babydoll best for smaller cup sizes)
A silk and sheer mesh pyjama set with small gold ring details. Brand new with tags, however I modified the babydoll a little to add extra strapping details to the sides of the cups as pictured. Comes with a sheer mesh Nichole de Carle storage bag. The knickers pictured on the model are not included.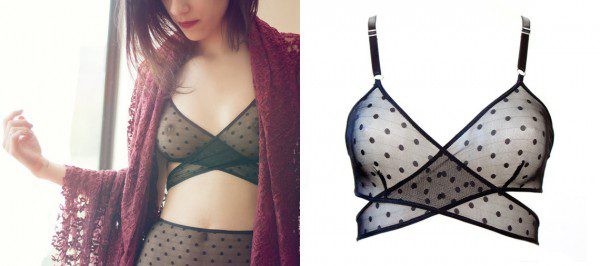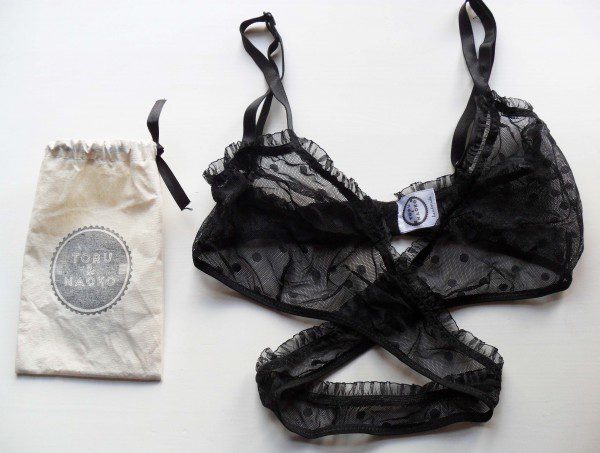 Toru and Naoko Kelly bra, RRP ~£37
Asking price: £10 SOLD
Size: Custom-made but fits approx. 28D-F
A lovely wraparound bra, but it was supposed to be custom-made and ended up being too small for me anyway. I bought a bra extender to wear with it (included) but even so, it still fits more like a 28 band. The cup size is very flexible but won't fit more than a 28F. It was custom made with a ruffle edging also, which the design doesn't usually have. Worn a few times, in good condition. Comes with a Toru & Naoko pouch.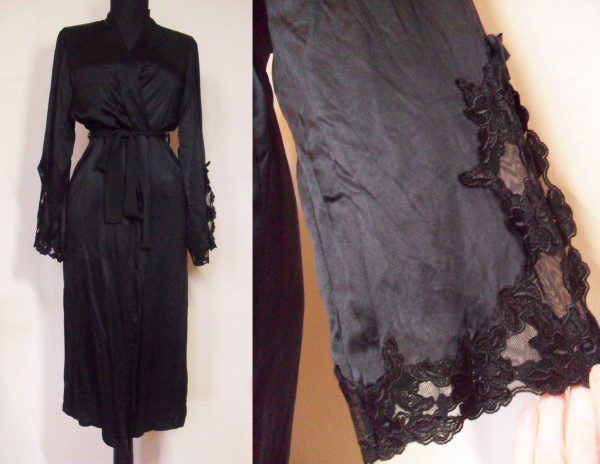 La Senza pure silk and lace robe, RRP ~£100
Asking price: £20 SOLD
Size: UK 8-10
A calf-length dressing gown in 100% silk, with lace detail at the cuffs. Comes with two sashes, the original silk one which is lovely but too slippery to stay fastened, and a polyester one (pictured) which works better. It's in good condition.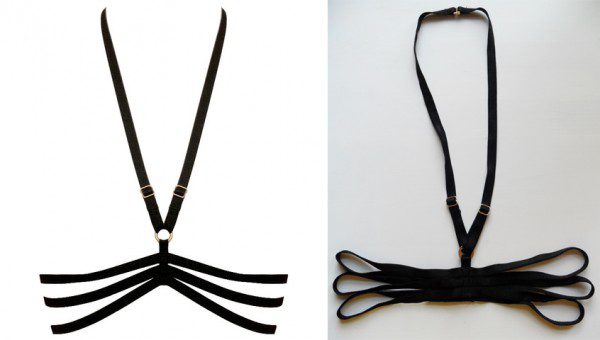 Karolina Laskowska Kordelia harness, RRP £40
Asking price: £10
Size: S (approx. UK 6-8)
I bought this in one of Karolina's sample sales so it is made from a different satin elastic to her usual range. It's lovely but I have so many of my own harnesses I think I've only worn it 2 or 3 times, so in excellent condition.
That's all for now, hopefully this will give me a little more closet space (ready for all the Autumn/Winter temptations!). Postage and payment details are at the top of the post – just comment or email info@estylingerie.com if there's anything you're interested in.