Disclaimer: Vollers sent me this corset free of charge for the purposes of this review. All opinions are, as always, 100% honest.
Vollers is one of the longest-standing corsetières in England, founded in 1899 and still run by the Voller family today. If you're interested in learning more about the history of the brand, check out this great video interview Lucy of Lucy's Corsetry did with Ian and Corina Voller recently.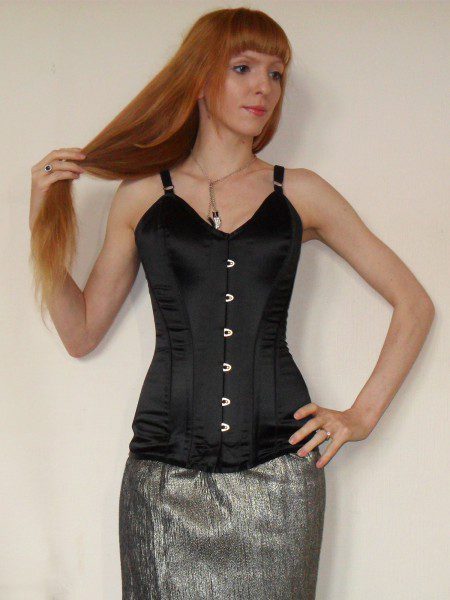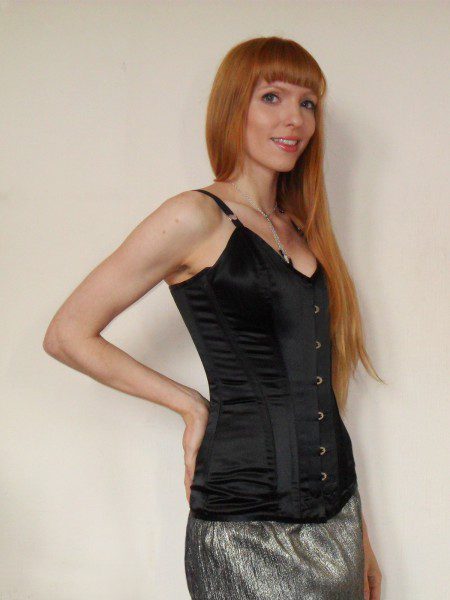 Vollers actually holds a special place in my heart, because they were the first brand of corset I ever bought way back when I was sixteen. (Here's a photo!). That corset was so comfortable I wore it daily under my clothes to sixth-form and even slept in it during a short-lived teenage foray into waist training.
Although I've not shopped with Vollers since, they've remained in the back of my mind as a retailer of quality, British-made corsetry, so I was delighted when they got in touch and offered me my choice of corset to review. How would I ever choose just one?!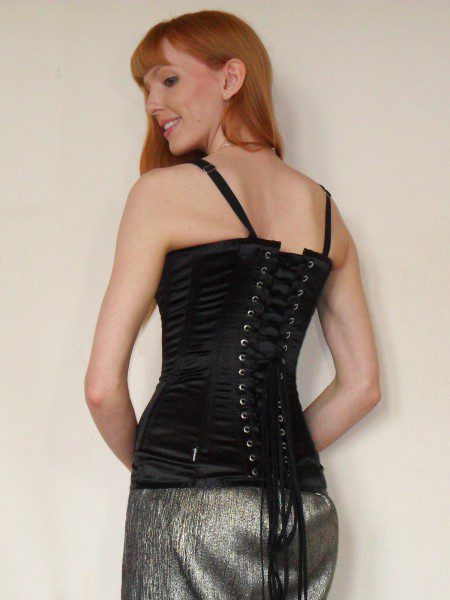 Appearance
Eventually I settled on the Toxic overbust corset in black satin because I thought the shoulder straps were really unusual – you don't often see corsets with straps built in.
Straps aside, it's quite a simple, classic corset which I like because I can style it in tons of different ways. It also comes with 4 detachable suspender straps so you can wear it with stockings.
Verdict: 7 / 10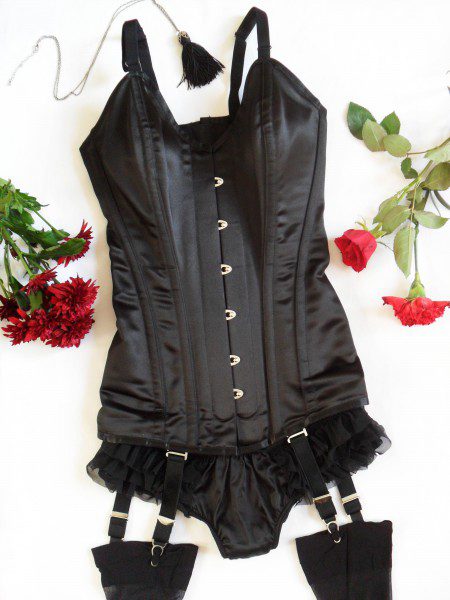 Construction
Vollers corsets are all made at their Portsmouth-based factory. The Toxic is actually one of their longer styles so we decided it would need to be made-to-measure to fit 5'3 me. Amazingly, I received the corset within days of sending over my measurements – that's an exceptional turnaround time for any made-to-order corset, let alone a custom-sized one!
There's nothing 'rushed' about this corset though – it's meticulously made from a glossy polyester satin. Inside, there's a thick cotton lining, a waist tape, and a very wide modesty panel. The straps are made from a plain but soft elastic, with slide adjusters at the front so they're easy to alter when you've got the corset on.
However, except for the front- and back-most bones they all end about 2″ before the hemline. Admittedly, this does make it comfortable to wear – the lower edge is soft and flexible. On the down side though, this means it wrinkles rather a lot as you can see in the pictures above!
Verdict: 7 / 10
Fit
Bear in mind that this corset was custom-made based on my height, bust, waist and hip measurements, so that's obviously going to impact the fit compared to buying 'off the rack'.
First, the length – Vollers chopped 2″ off the usual length for me, but it's still pretty long. It made the longer-line corset more of a regular-length one than the petite sizing I really need. So if you're ordering custom sizing and are concerned about the length, I would recommend being really specific and sending Vollers not just your height but your torso length too.
Widthways though, much better! The bust and hips are spot-on which makes this extremely comfortable to wear. Case in point: my fiancé asked me to paint our son's doorframe after I'd put this on in the morning and, being the lazy girl that I am, I just popped an old t-shirt on top rather than changing. Even standing atop a ladder trying to reach the corners of the doorframe, I barely noticed I was wearing this!
The Toxic corset has a very gentle, natural curve to it. Compared to my Restyle, Ava Corsetry and Rebel Madness reviews, you can see that the shape is much less nipped-in at the waist. In fact, laced comfortably tight this only took 1″ off my natural waist measurement so those hoping for more reduction might want to buy a waist size down from what Vollers recommends.
Verdict: 8 / 10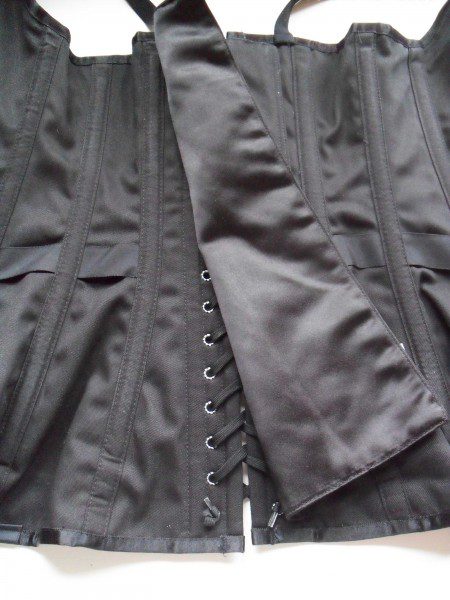 Durability
Although I've not owned the corset long, it's held up very well so far – for door-frame painting and all! The only thing I will say though is that this satin snags easily; I learnt the hard way to take my rings off and check my perpetually-broken nails for sharp bits before putting it on!
However, Vollers is exceptional in that they offer a lifetime guarantee on all of their corsets (conditions here). So if you're buying for the long-term and are worried about an eyelet or bone maybe popping out, you needn't be.
Verdict: 9 / 10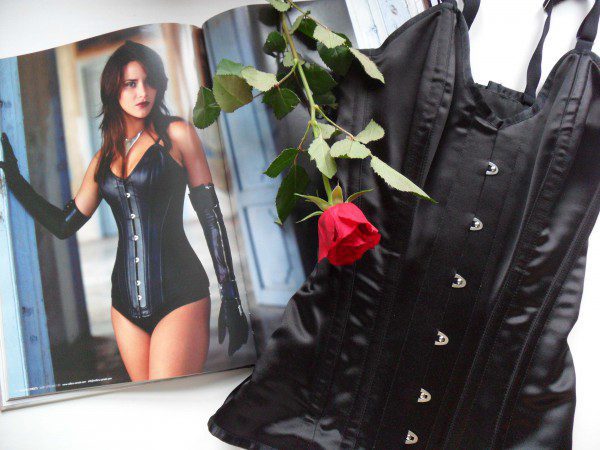 The lovely people at Vollers also sent me a gorgeous coffee-table book of their designs. Pictured: the Toxic corset in leather
Value for Money
The Toxic corset costs £275 for standard sizing (available from 18-38″ closed waist sizes), with a 25% added to the price of the corset for made-to-measure (i.e. the Toxic costs £343.75 with custom sizing). Velvet costs the same, but there's also a surcharge if you want PVC or real leather.
It is an expensive corset, but when you take all things into consideration – the local manufacturing, the construction quality, the lifetime guarantee – I do think it's a very fair price to pay.
Verdict: 9 / 10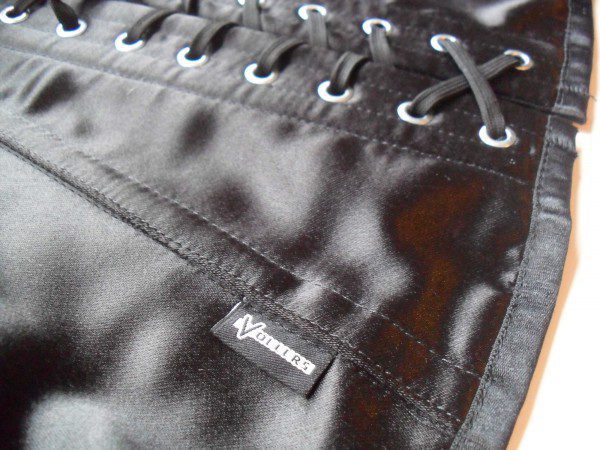 Would I recommend it?
Yes!
If you're looking for a corset to really cinch your waist in, then this isn't it. But there are plenty of other reasons you might want a corset, such as back support or slight smoothing and shaping, and if there's one thing the Vollers Toxic corset is it's comfortable. Also, with the high bust line and the attached straps, this is an excellent corset for anyone full-busted who's worried about spilling out of standard strapless styles.
I guess, to summarise, I'd describe it as 'the look of a corset with the feel of a basque'.
What do you think of Vollers, and this shoulder-strapped Toxic corset design? Is it important to you to keep supporting local brands with years of heritage like this one?