Disclosure: This blog post contains affiliate links.
Over the past 6-8 years I've gradually shifted from buying all of my lingerie in stores to buying all of it online. That's down to a combination of discovering the wealth of lingerie brands that are available on the net – it's wonderful no longer being limited to three or four stores – and moving to a more rural area. But sometimes, I do miss shopping offline.
I miss the more sensory experience that comes from being in a boutique, where you can see the lingerie up close and feel what it's like. Texture is something that's so hard to judge from a photo; will that lace be soft or scratchy? Is that subtle pattern embossed or just a print?
With my regular clothing, I'm a bit of a texture fiend. I prefer a plain colour in an unusual fabric, to a smooth fabric with a fancy print. Texture just seems like the more luxurious thing.
In the lingerie world however, unusual textures are quite rare – well, lace and embroidery excepted. So today I'm rounding up 25 pieces of lingerie which have a refreshingly different fabric and feel…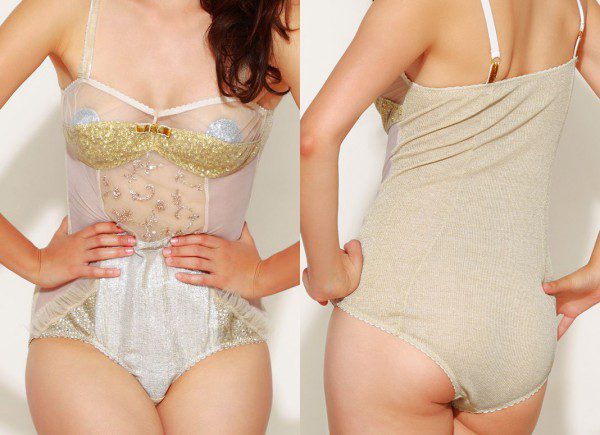 La Lilouche Aurelia bodysuit, ~£114
Let's kick things off with possibly the most interestingly-textured piece on this list. Sequins, velvet, beaded embroidery, metallic woven fabric, ruffles and a ribbed lurex back? Yes please!
Loveday London Goddess suspender belt, £90
Divine gold lambskin leather and beaded lace here. Leather lingerie is so often black so it's nice to see something completely different.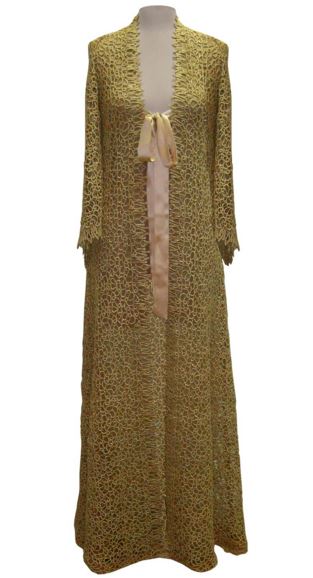 Harlette de Falaise Midas Touch housecoat, £3,997.95
If you happen to have a mansion, then you absolutely need this lurex robe to lounge around it glamorously in.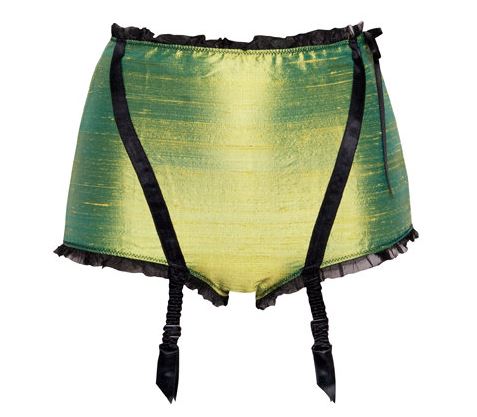 Boudoir de Marie retro knickers, ~£59
Raw silk is a wonderfully textured, natural fabric. Silk doesn't have to mean perfectly smooth!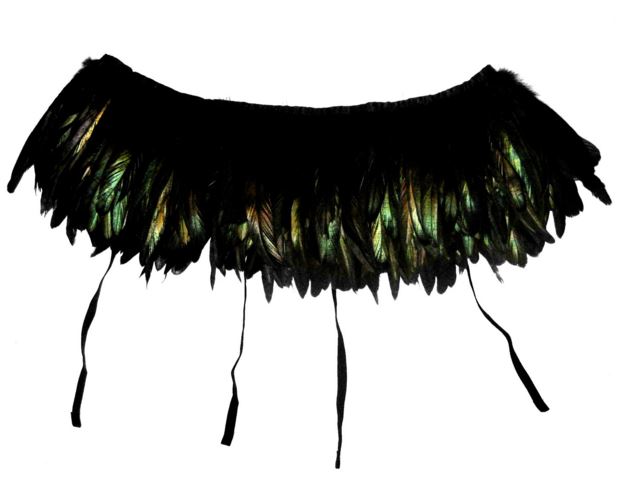 Harlette de Falaise Belle du Jour suspender belt, £199.95
Some textures are more practical than others – this is not one of them. Still, lingerie materials don't come much more unique than feathers!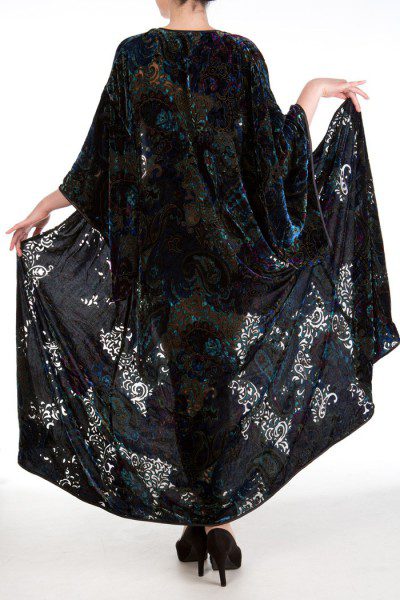 Harlow and Fox Cordelia kimono, £600
Velvet is one of my favourite textures, and it's even better when it has a devoré or burnout texture as here.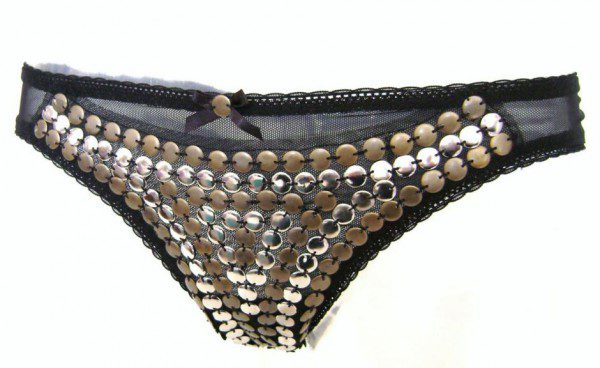 Les Secrets de Chloe knickers, ~£20
Beading is quite a common technique in high-end lingerie, but these flat metal beads are something I've not seen before.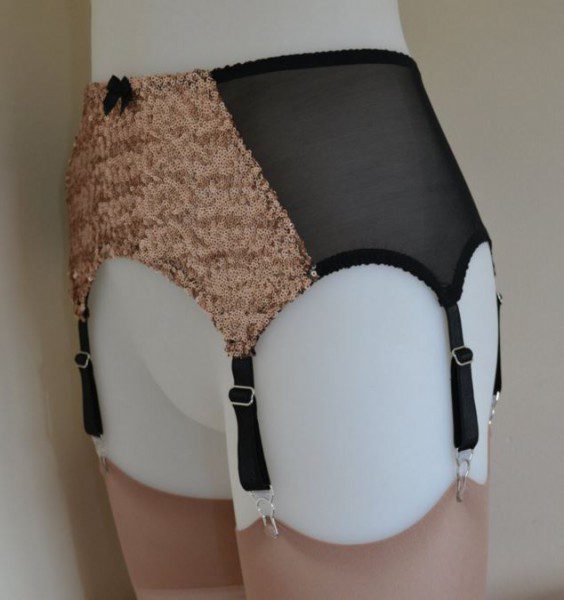 Pantalaimon suspender belt, £26.95
I mostly associated sequinned fabric like this with the sequin boob tubes I wore back in the 90s, but then maybe that's why I like this piece!
Petale de Fleur knickers, ~£25
Flocked velvet is a gorgeous fabric, and once that you truly have to see in real life to appreciate. Think of all those dots as little, raised bits of velvet – very pretty, and very soft.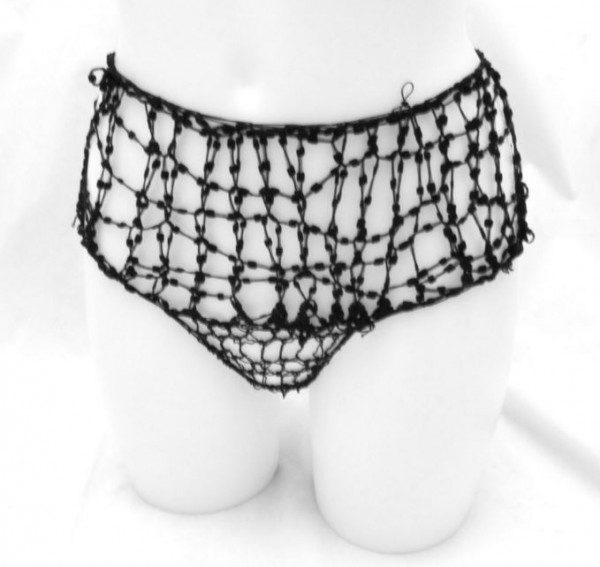 Pippart hand-knitted knickers, ~£32
If you like the look of these hand-knit knickers, do check out the close-up image on the product page – this yarn is super unusual and almost looks like it's beaded.
Maude Nibelungen leotard, ~£80
More knitwear here – I particularly like that the knit style has given this a 'seam' down the front for added interest.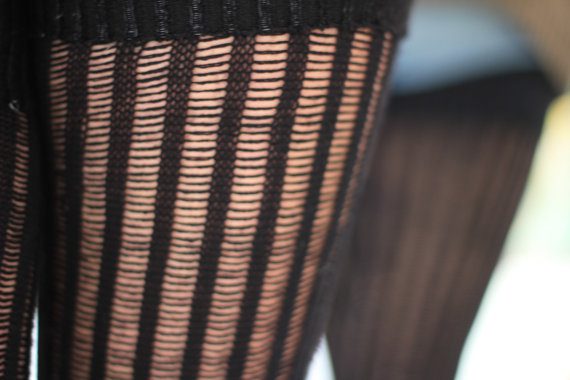 Foot Fetish Socks drop-stitch stockings, £40
Oh, and whilst we're on the subject of knitted underthings, how about some knitted cashmere stockings? You can check out my review of another of Foot Fetish Socks' stockings designs here.
With Love Lingerie Deco thong, ~£14
This classic tie-side thong is made unusual thanks to a textured lace on top of a satin lining.
Cherry Lingerie London Mia camisole set, £48
Here's another one where you should definitely go check out the close-up shot on the product page to truly appreciate the texture.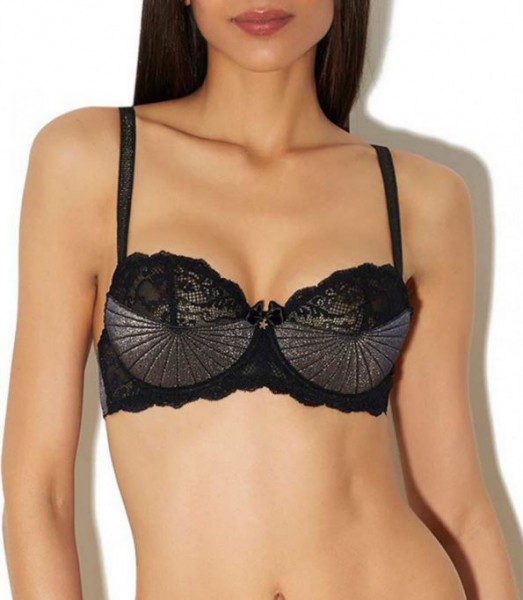 Aubade Vegas Fever bra, £39.73 (reduced from £70.95)
The stitched lines on the bottom half of these cups are reminiscent of retro cone bras and quilting, made extra lovely thanks to a touch of sparkle.
Vivi2Anna Silver Celebration bra, ~£18
I bought this bra myself recently, and although you can't really see it in the photo, it does have a lovely texture with a nice shimmery finish. It's incredible value for money too!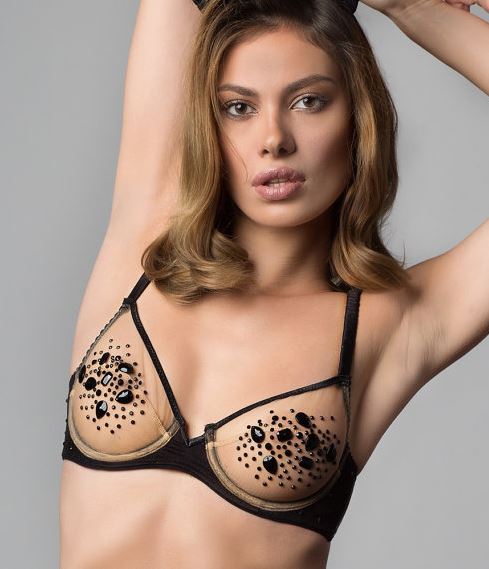 La Lilouche Bridget bra, ~£109
More La Lilouche here – this woman does texture so well. The ultra-sheer tulle is contrasted by a sprinkling of gemstones and larger beads.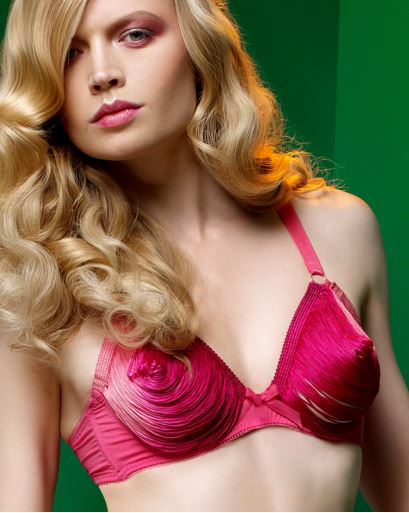 Made by Niki Cascade bra, £49 (reduced from £129)
Made by Niki's String lingerie is honestly some of the most unique, innovative lingerie I've seen yet. I reviewed another one of her String bras here.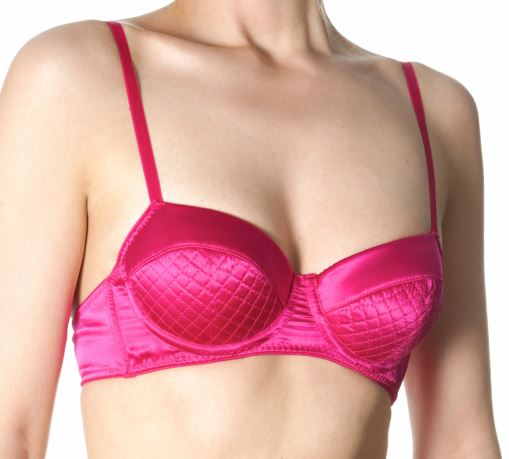 Maxines of London Bounded Belle silk bra, £135
Quilting is a simple but gorgeous texture that I'd love to see more of in lingerie.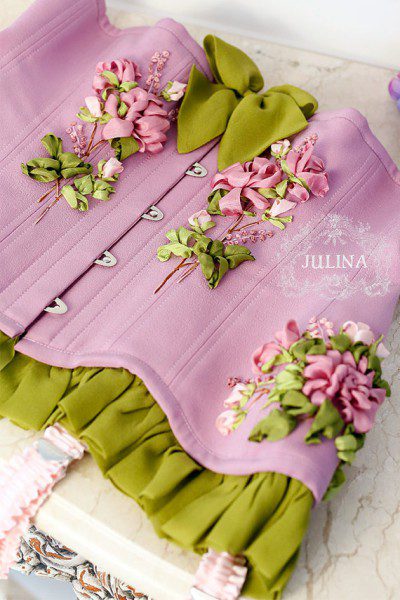 Julina Corsets Royal Flower corset, bloomers, blouse & stockings set, ~£1,014
How utterly incredible is this corset? The silk ribbon embroidery really takes the technique of embroidering to a whole new level, with a stunning 3D finish.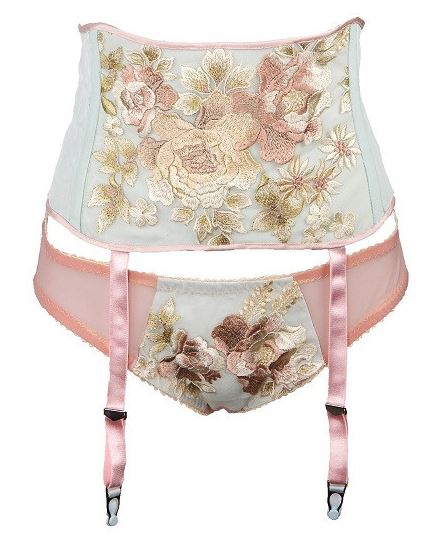 Dottie's Delights Tonight or Never suspender belt & knickers, ~£247
For the most part I've excluded embroidery from this list because, although it is a lovely texture, it's not an unusual one in lingerie. This embroidery however is truly special.
Playful Promises Portia bra, £55*
Part of Playful Promises' new fuller-bust collection, this bra features hand-stitching details that give it a raised texture similar to the Vegas Fever bra above on this list.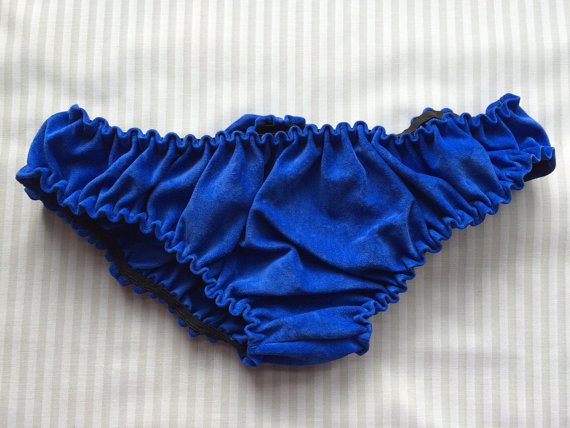 Charlie Goldthorpe suede knickers, £10
Even suede can be used for lingerie, who knew! Also, £10 for handmade, suede knickers? I'm really tempted by these just out of curiosity for what this fabric is like to wear as an undergarment, so if you want them you had best buy them quick…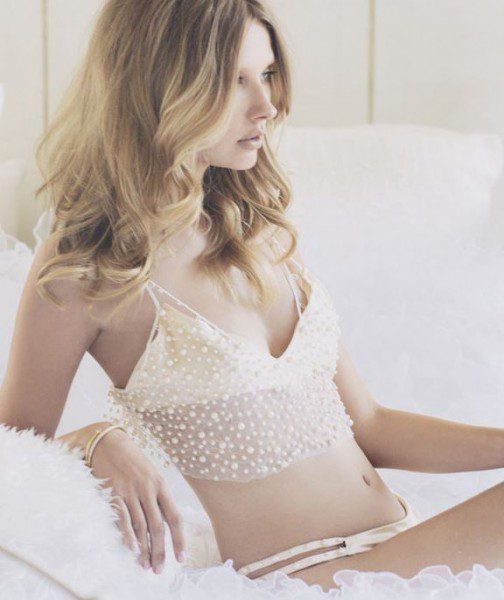 Cloud Hunter Co Pearl bralette, ~£135
This incredible bralette / cropped camisole type thing is encrusted with hand-stitched pearls, taking standard beading to a premium new level!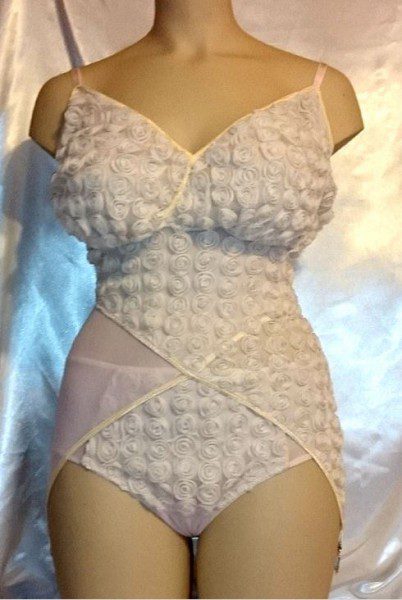 Raven Dreams Quinn merry widow and knickers set, £155
Lastly is this 2-piece set, notably available up to a UK 32 or so, that is made using an incredible fabric covered with 3D ribbon roses. Very girly, but very elegant too.
Is the texture of lingerie important to you? And which textures do you like most – quilting, beading, flocking, ruffles or anything else?