Disclaimer: Impish Lee gifted me a voucher in exchange for this review, and I also spent about £21 of my own money on top of the voucher value. My opinions are, as always, 100% honest. 
Impish Lee is a brand I've covered before on the blog which offers design your own lingerie. I love this concept. Perhaps it's the designer in me, but there's something extra special about receiving a garment you've had a hand in creating that picking out a pre-made item, however pretty, just can't compare to.
After starting out on Etsy, the sister duo behind Impish Lee raised over $14,000 on Kickstarter to launch their own website, which has an interactive design tool to help you envision how the finished piece is going to look. There's also a gallery of finished pieces which you can click to pre-fill the options in the design tool, if you want to buy exactly that look.
I found the tool super easy to use – after choosing from a range of garments, you select a skin tone (which corresponds to the lining colour used in some pieces), and then the fun really begins! There's a range of fabrics to choose from for each different part – including velvets, laces, mesh, sparkly spandex and more – and on many pieces you can even select the number of bows (or no bows at all) to suit your style.
The tool brings your design to life right in front of you, so you can play around with colours and fabrics to figure out which complement each other best. I designed two pieces, and today I'm reviewing the robe. Here's how it looked on screen: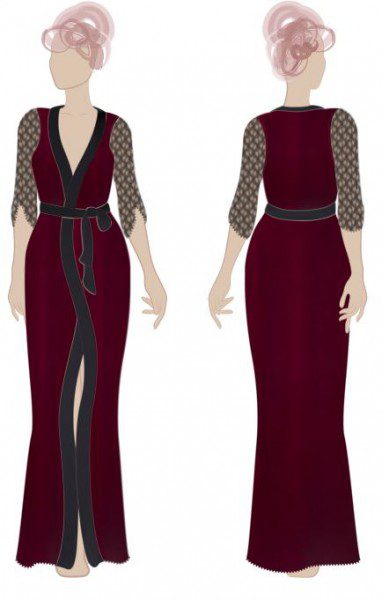 And here's how it looked in real life: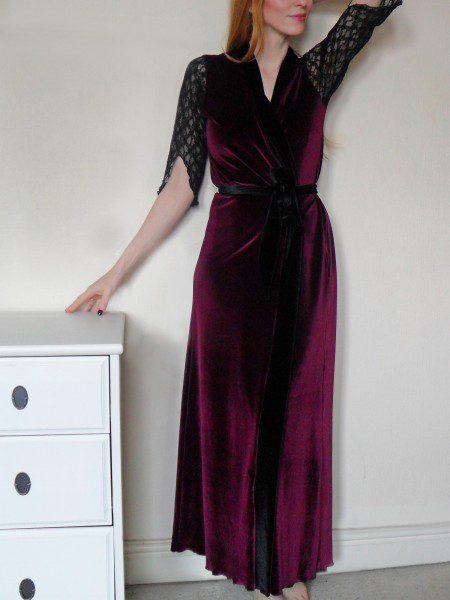 Appearance
Gosh, I love this robe! I mean, I did design it myself, sort of. But it looked even more gorgeous than I'd expected when I opened my parcel.
I've wanted a velvet robe for ages, so choosing that as the main fabric was a no-brainer. The velvet is oh-so-heavy and drape-y, so it hangs beautifully and swooshes around a bit as I walk. Also, velvet just looks so luxe. I definitely feel more glamorous wearing this one to my big, fluffy, white dressing gown.
I would have liked to have seen the two black lace fabrics in better detail before choosing, as the design tool only shows a very zoomed-in version of each. I have since discovered these fabric videos which are helpful, but you still only get to see one style of lace. That said, I'm happy with the one I chose which is not a luxury lace, but a pretty one.
Verdict: 9 / 10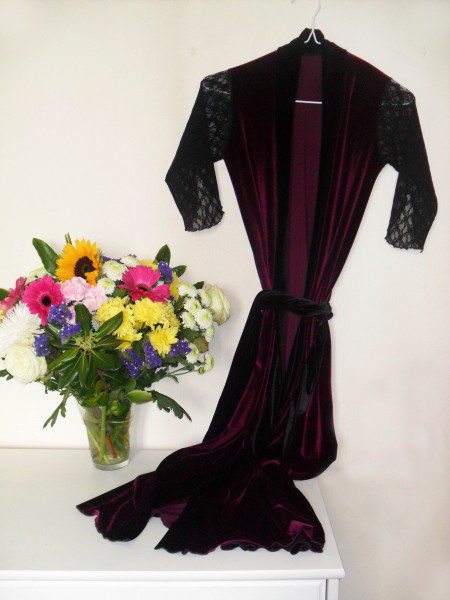 Construction
Impish Lee's robes are unlined, but this velvet has such a soft backing that that's not an issue here. It's incredibly comfortable to wear.
All the seams – around the shoulders, on the sash, where the black edging meets the burgundy body – are very neat and it's the sort of quality you'd expect from a store-bought robe.
The only, small issue I have with it is the sleeve cuffs – they have wavy, 'lettuce edge' stitching which is pretty but has come away from the fabric in a couple of places, leaving small holes. It's not too noticeable though and easily fixed.
Verdict: 8 / 10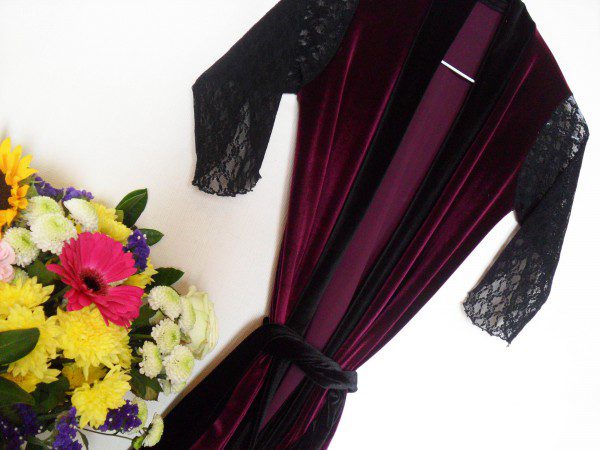 Fit
After consulting Impish Lee's size guide, I went for a US 2 / UK size 6 (I have a 26″ waist which is their US 4 / UK 8, but my bust and hip measurements are both closer to the smaller size). And it fits me very well, though if I were to order another one I think I'd opt for the size up so that I could wrap it further around my body – just personal preference. It does fit true to size.
It's also a perfect length for me, just a tad off the ground so the hem doesn't get dirty. I'm 5'3 so if you're tall you may want to ask about custom length, since it is made-to-order anyway.
Verdict: 9 / 10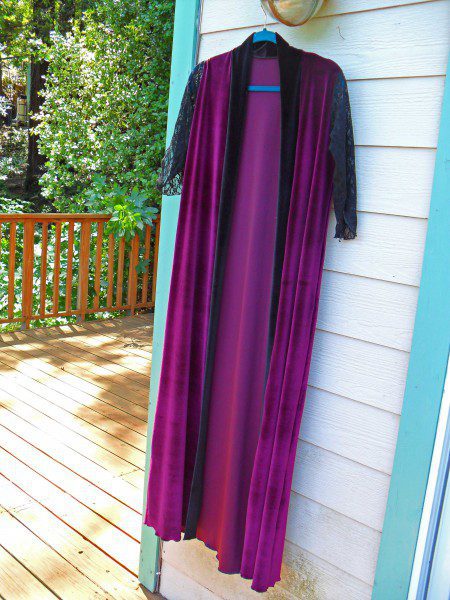 Durability
I've owned my Impish Lee robe for about 5 weeks now, and worn it regularly. It's been worn to mooch about the house, it's come half way across the planet with me on my current holiday to the States, and it's been used on more than one occasion as a blanket in the car! (Why do Californians love air con so very, very much?)
And yet despite all this, the robe is still in excellent condition. There's just those tiny holes at the sleeve cuffs, but otherwise no real signs of wear.
Verdict: 9 / 10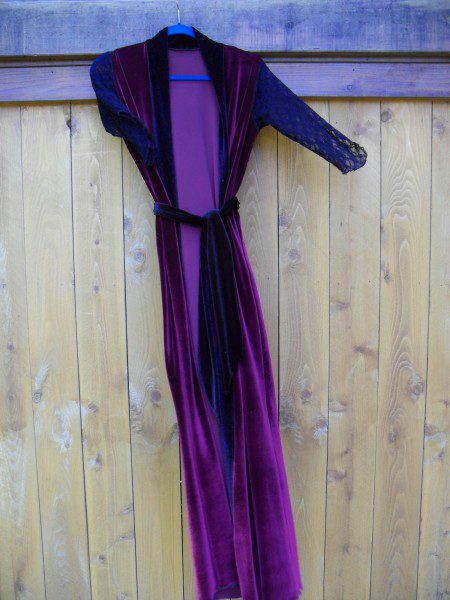 Value for Money
This robe costs $168, around £114. That's regardless of which fabrics you choose, it's always the same price, so your idea of value for money may depend on what you're looking for. I think a velvet robe looks more expensive (and may also last better) than a mesh one for example.
For my particular robe though, I think $168 is a good price. To be honest, it's more than I'd have wanted to pay in a shop, but that's the point – you're not just paying for the product, you're paying for the fact it's personalised. You can design a robe with Impish Lee that you can't buy anywhere else, and make it exactly how you want it to look. That's the beauty of custom and designing is half the fun here.
It's also important to remember that Impish Lee is a small, independent brand that manufactures ethically in the US, so prices won't be comparable with mass-produced loungewear made in a sweatshop somewhere.
Verdict: 7 / 10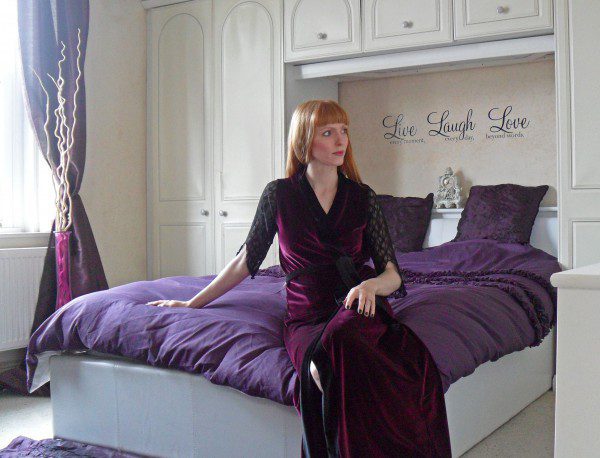 Final Thoughts
Overall, extremely happy with my new Impish Lee robe! I've been wearing it non-stop since it arrived, and plan to wear it a whole lot more.
As Impish Lee grows, I'd love to see them offer more luxurious fabrics such as silk, prints and prettier laces, which could come with an additional cost. Stay tuned for my other Impish Lee review coming soon, of their knee-length lounge skirt.
What do you think of Impish Lee and the concept of design-your-own lingerie? Which colours and fabrics would you have picked for this robe?