Disclosure: This set was a personal purchase, not a brand sample. This blog post contains affiliate links.
There's something special about buying lingerie from a one-woman production. I like to support small businesses, and it's even better when that business was started by a woman, for women, and each product is ethically made. That was why, when I stumbled across the Purrfect Pineapples Etsy page, I knew I had to have one of their sets. This kitten-print bra and panty set was too cute to pass up.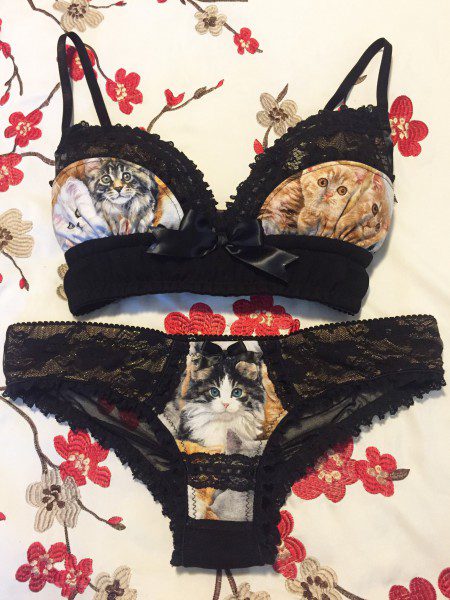 Appearance: 10/10
The most striking part of any Purrfect Pineapples piece is the fabric. On this set, the cat print is adorable, while the black lace gives it an edge. Gold undertones add extra sparkle and help marry the orange in the print with the rest of the design. Overall, I was captivated by how cute and coy this set is — I love the cheeky kitten on the underwear — while still being sexy and fun.
Unlike many pieces where ruffles appear dainty, here they add a girly touch without making it seem fragile. Purrfect Pineapples claims to draw inspiration from its alternatively-styled, tattooed models, and this set perfectly complements that counter-culture. It's adorable enough for anyone to wear, but also has a distinctive edge that makes it unique and exciting.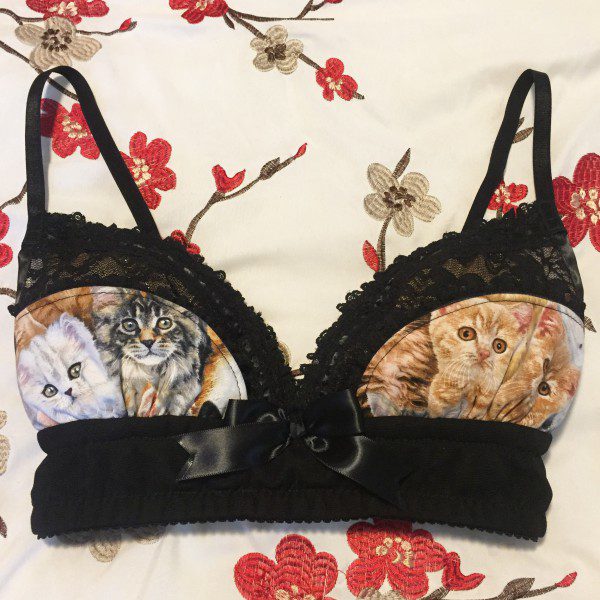 Construction: 9/10
The craftsmanship of this set is excellent. Both the bra and panties are very good quality, and after a few wears and washes they look as good as new. The fabric is thicker than expected, which makes it feel durable. I expect this set to last a long time.
I haven't had any issues with the bra straps, but they do seem less sturdy than the rest of the piece due to how thin they are. They're slightly thinner than the average bra strap. On someone with a smaller bust, I doubt this would present a problem. However, for larger-busted women like myself, this set would benefit from the extra support of thicker straps.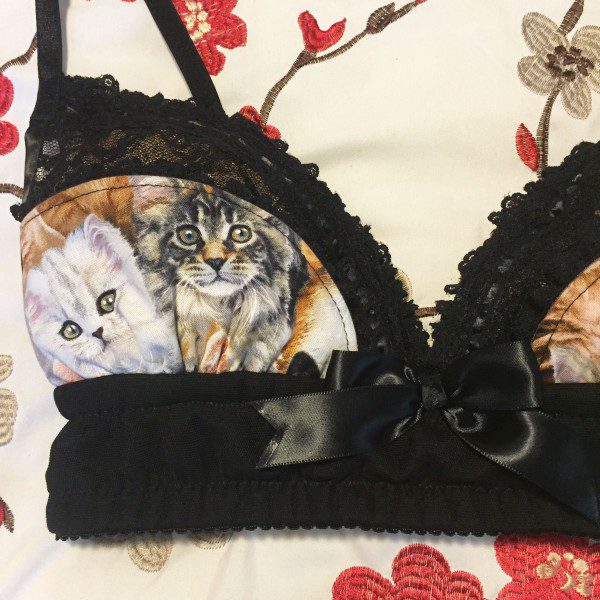 Fit: 6/10
The fit was the main issue I had with this set.  Both the bra and the panties were just tight enough to be uncomfortable after wearing for an extended period of time.
Despite giving Purrfect Pineapples my bra size upon purchase, the band is tight. I was a 34DD before I ordered it, so I requested that size. More recently I was measured as a 32DDD (UK 32E), yet the band still feels tight. It's comfortable enough to wear during the day, but not comfortable enough to sleep in.
As a US size 4 (UK 8), I usually order panties in a size small, sometimes medium, but I almost never have to size up to a large. However, the medium panties were tight on me. According to the Purrfect Pineapples size chart, the medium panty is made for a 34-37 inch hip, and my hips are 36 inches. Yet they're tight enough that, after wearing them for a day, there are imprints on my skin. It may be worth it to size up if you are on the tail-end of a size.
On the positive side, the wireless bra lends more support for fuller busts than most bralettes I've encountered. This is due to the thickness of the lower-cup, which is lined with cotton to provide extra support and a tiny amount of push-up. It gives a more flattering appearance than some of the more flimsy bralettes I've worn.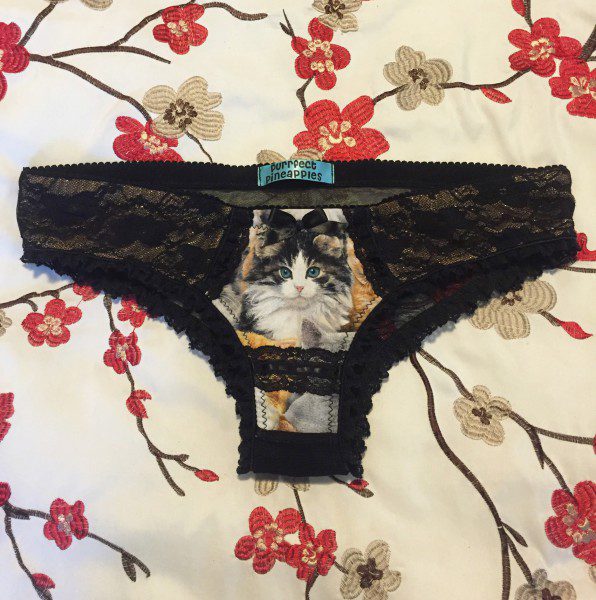 Customer Service: 10/10
I love being able to directly contact the creator of the newest addition to my lingerie wardrobe. There's something so intimate about knowing the person on the other side of that email will soon be creating a work of art exactly to my measurements. And that's exactly what the woman behind Purrfect Pineapples, Erika, did for me.
The customer service was excellent. Erika responded quickly and politely to each question I had. She was willing to custom-size the garment for no extra charge (I ordered through her Etsy page, where there is no written policy about extra costs — on her website, it states that she does charge extra for custom sizing). After I notified her that I had mistakenly entered the wrong shipping address, she immediately ameliorated the situation, and didn't seem at all troubled. I was happy to do business with her.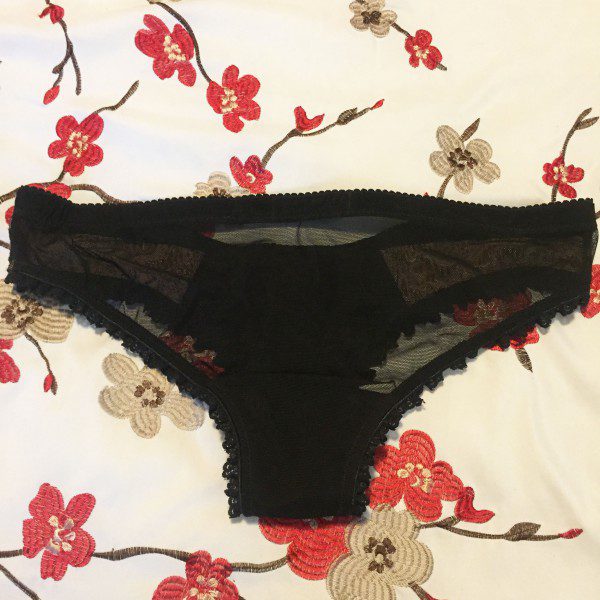 Value for Money: 8/10
Overall, the set was just under £90. That's not exactly a steep price in the lingerie business, but as a university student it was somewhat of an investment for me. I am disappointed that, even after giving Purrfect Pineapples my bra size and following their size chart, both pieces were slightly tight.
However, I'm very happy with my purchase. It's unlike any other set I own, and it's just adorable! I'm willing to shell out a little extra money if it means supporting a small business, and the excellent customer service I received made me even more confident in my choice.
Would I Recommend?
Yes! This set will surely add a unique edge to your boudoir. If you don't love the cat print but still want something fun and different, Purrfect Pineapples has this same style in many different prints, and Erika can also custom-design pieces with the fabric of your choice. However, read her size chart carefully before a purchase, and consider sizing up if you are in-between or nearly in-between sizes.
How do you feel about prints like this? What are your experiences with small-business lingerie?
Eliza.