Disclosure: I purchased this lingerie set myself.
Harlow & Fox is one of those brands I've lusted after endlessly, but always assumed I'd never actually own. The label is about as luxurious as lingerie can get, creating utterly indulgent pieces from silk and exquisite laces. Prices begin at £190 for a bra and thong set, and go up to £1,200 for a stunning robe dripping with beads and pearls.
So when the brand ran an online sample sale at the end of last summer, I didn't hesitate for a second. I had to fudge the sizing a bit, since my usual bra size wasn't available, but the sale pricing was so low that I figured it would be completely worth any of my time spent making adjustments.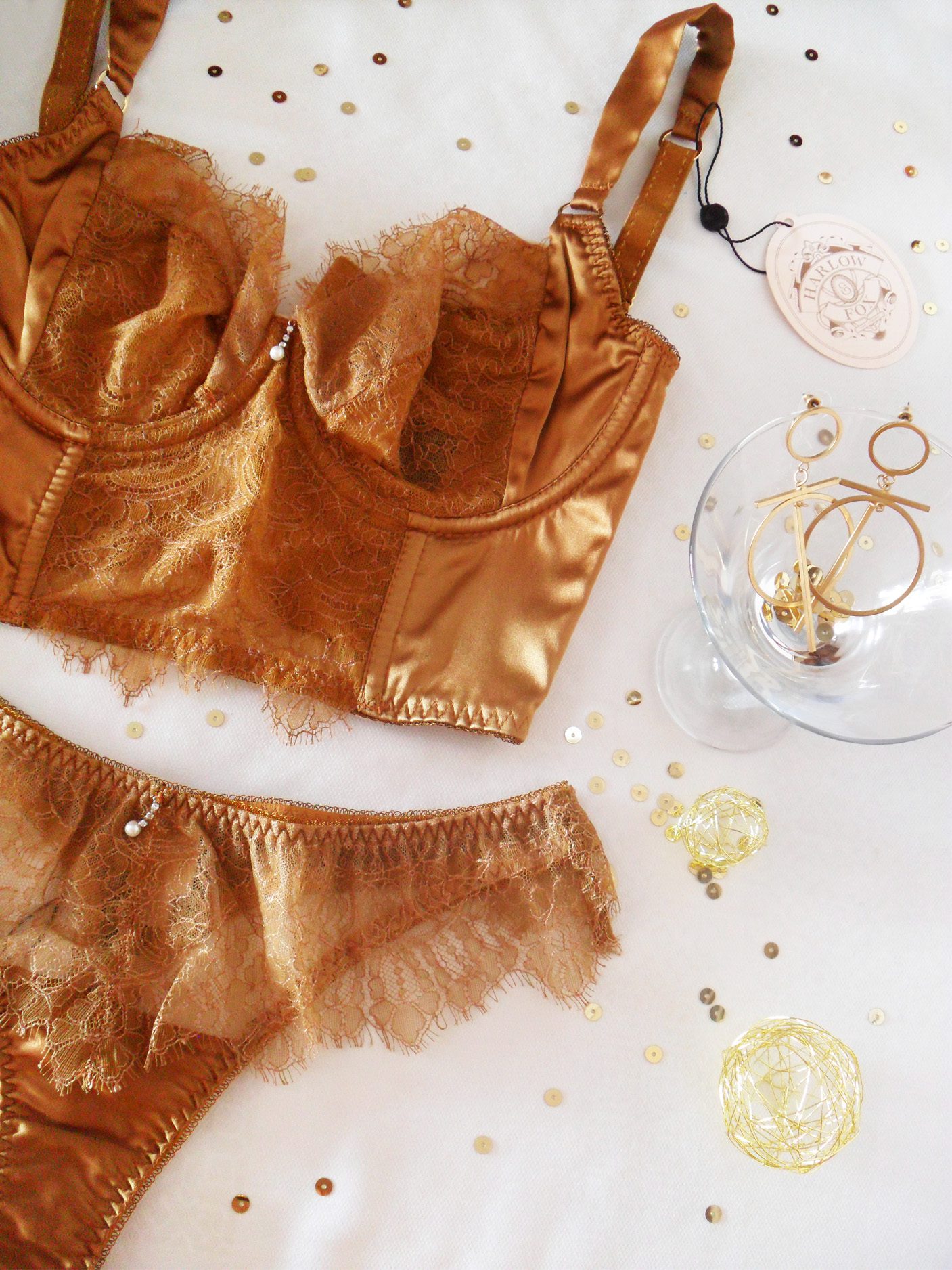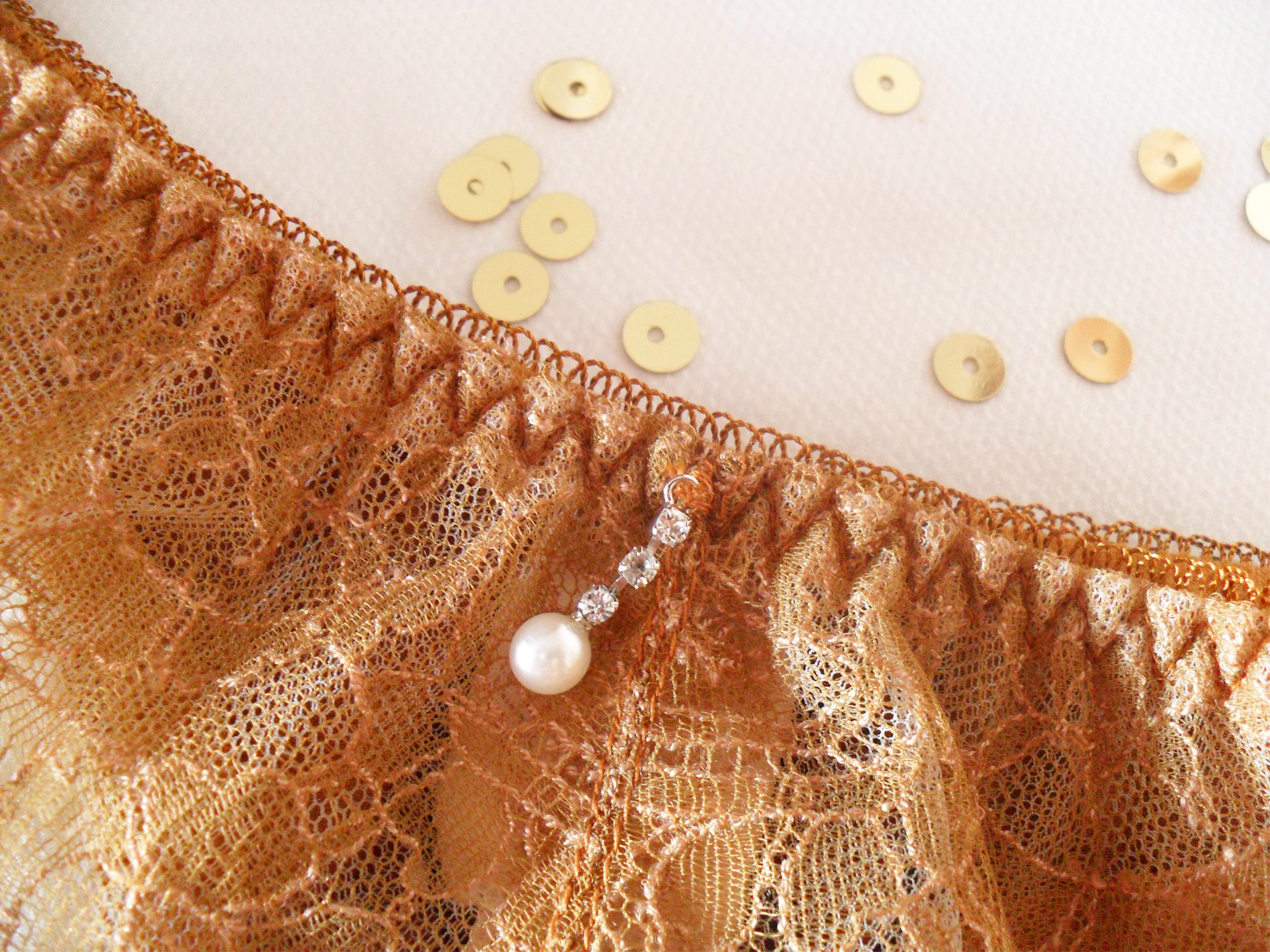 I bought the Viola bra and thong in 'gold', which is temporarily available again – you can pre-order it this month for delivery in May, after which it will no longer be available in this colourway. But the set, and other coordinating pieces, is also available to purchase in Jet (black), Almond (pale cream) and Hazel (pale gold silk with red lace). Jet and Hazel items can also be mixed and matched with the Aurora range, designed in collaboration with Karolina Laskowska and using the same lace.
So the big question, did it live up to expectations? Yes, absolutely! Viola is definitely up there as one of the most luxurious lingerie sets I've ever owned, and one of the most beautiful. The silk feels thick and has this really lovely, matte lustre to it, the Leavers lace is simply divine, and the diamanté and faux-pearl charms are the perfect finishing touch. I love the thick, double-sided silk straps with gold hardware too.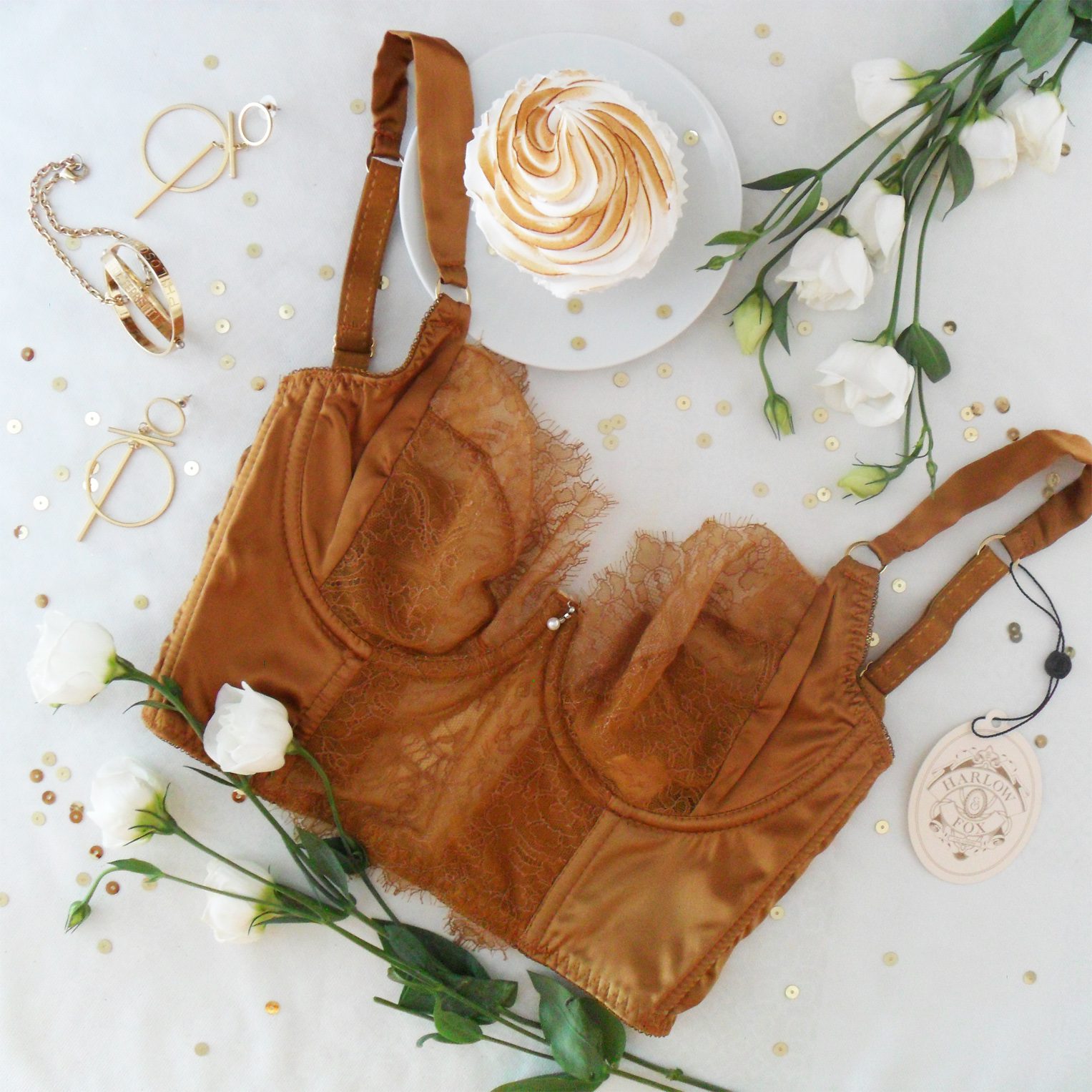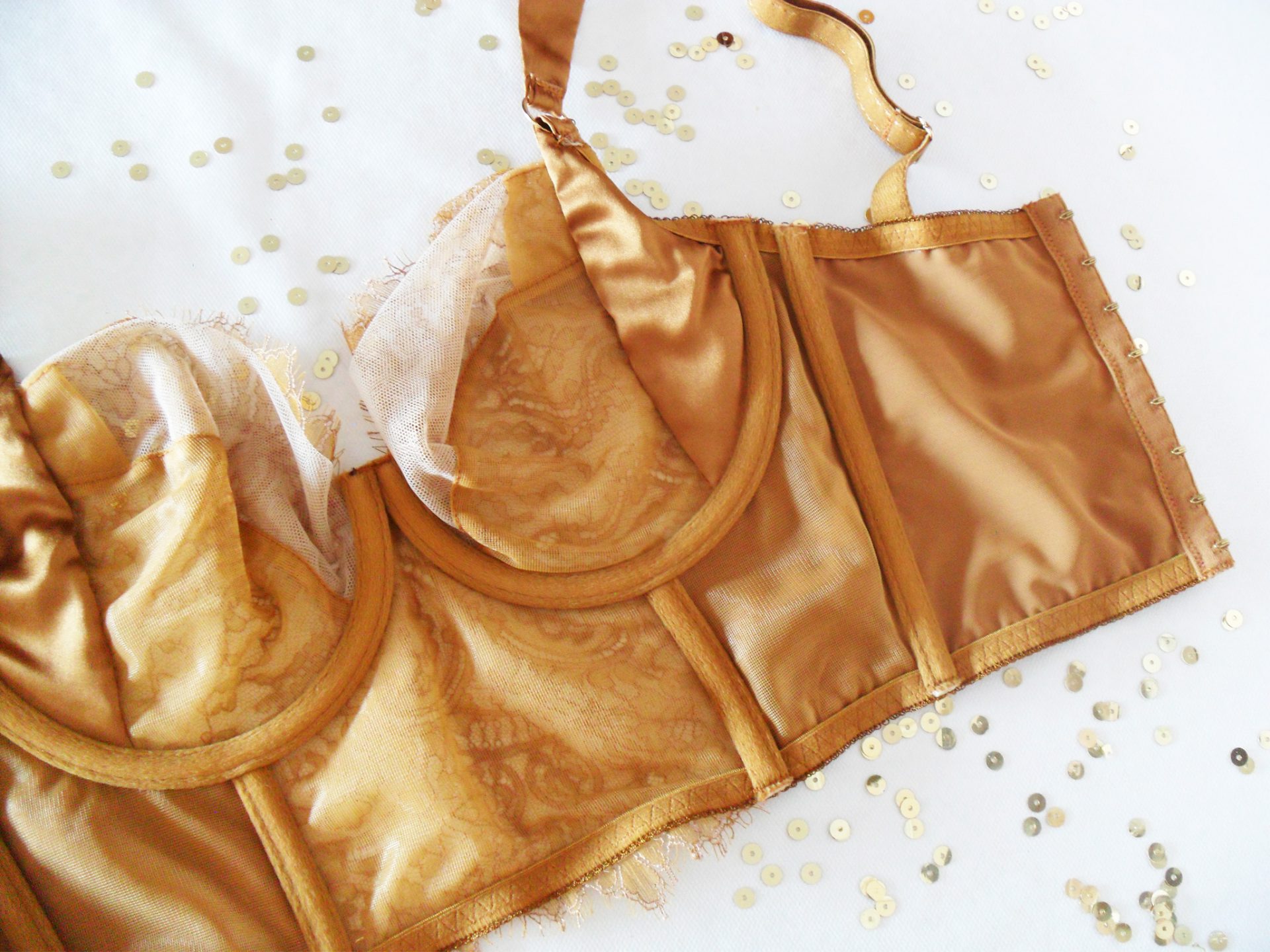 The construction quality is excellent, everything you would expect from a premium-priced product. It's perfectly sewn, and the bra is lined with a combination of mesh, powernet and silk. This not only makes it softer against your skin, it also strengthens the band and cups to make them more supportive – Harlow & Fox is, after all, a full-bust brand, and their bras are designed to be as functional as they are pretty.
There are a couple of things I don't love about this bra, and one is simply that it's difficult to get on. The wide, firm-fitting band makes it difficult to swivel once the hooks are fastened, but with 8 rows of them it's super fiddly trying to do them up behind my back. This is just part and parcel of a longline bra though, I guess.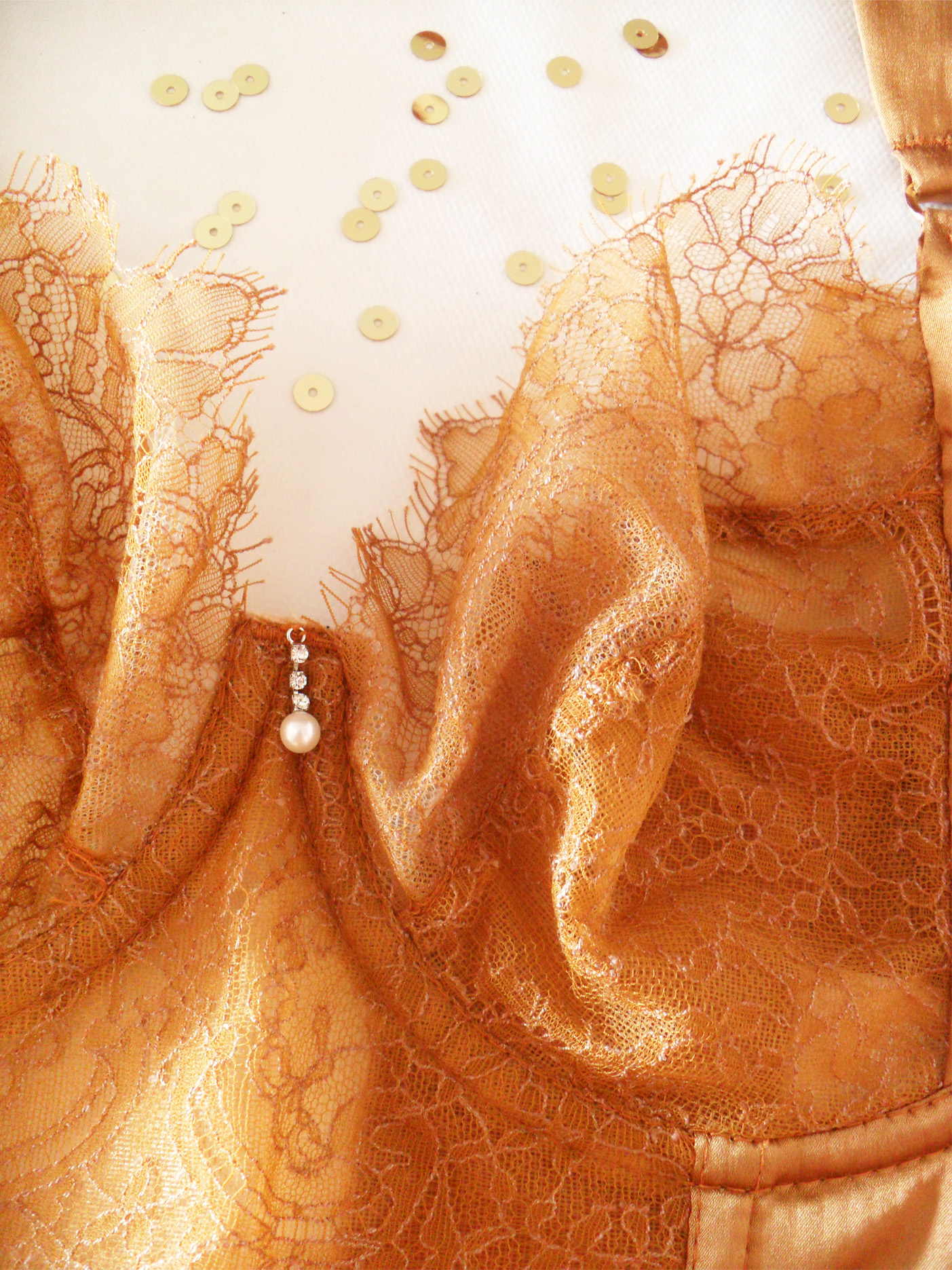 I'm also not a fan of the underwires, which poke uncomfortably into my sternum and leave me with red marks that last for days. However, I did buy a cup size up from my usual, so the wires could simply be a bit too big for me. I've also read that Harlow & Fox uses specially-commissioned wires which will have been designed with full busts in mind, and being right at the bottom end of their size range (a 30DD, literally the smallest size they make), these wires are probably more rigid than I personally need. As it is, I'm going to sew a little padding behind the gore, and that will be enough to fix the issue.
I don't want to go into detail on the fit, since the whole reason this bra was going cheap in the sample sale is that the band came up very small, and the sizing will be different on a Viola set that's purchased now. However, I will say that I think the cups fit true to size, since they are one cup size above my usual and just slightly too big for me. And the thong, which I bought in an XS or UK 8-10, will in reality fit UK sizes 6 through 10. It's very stretchy.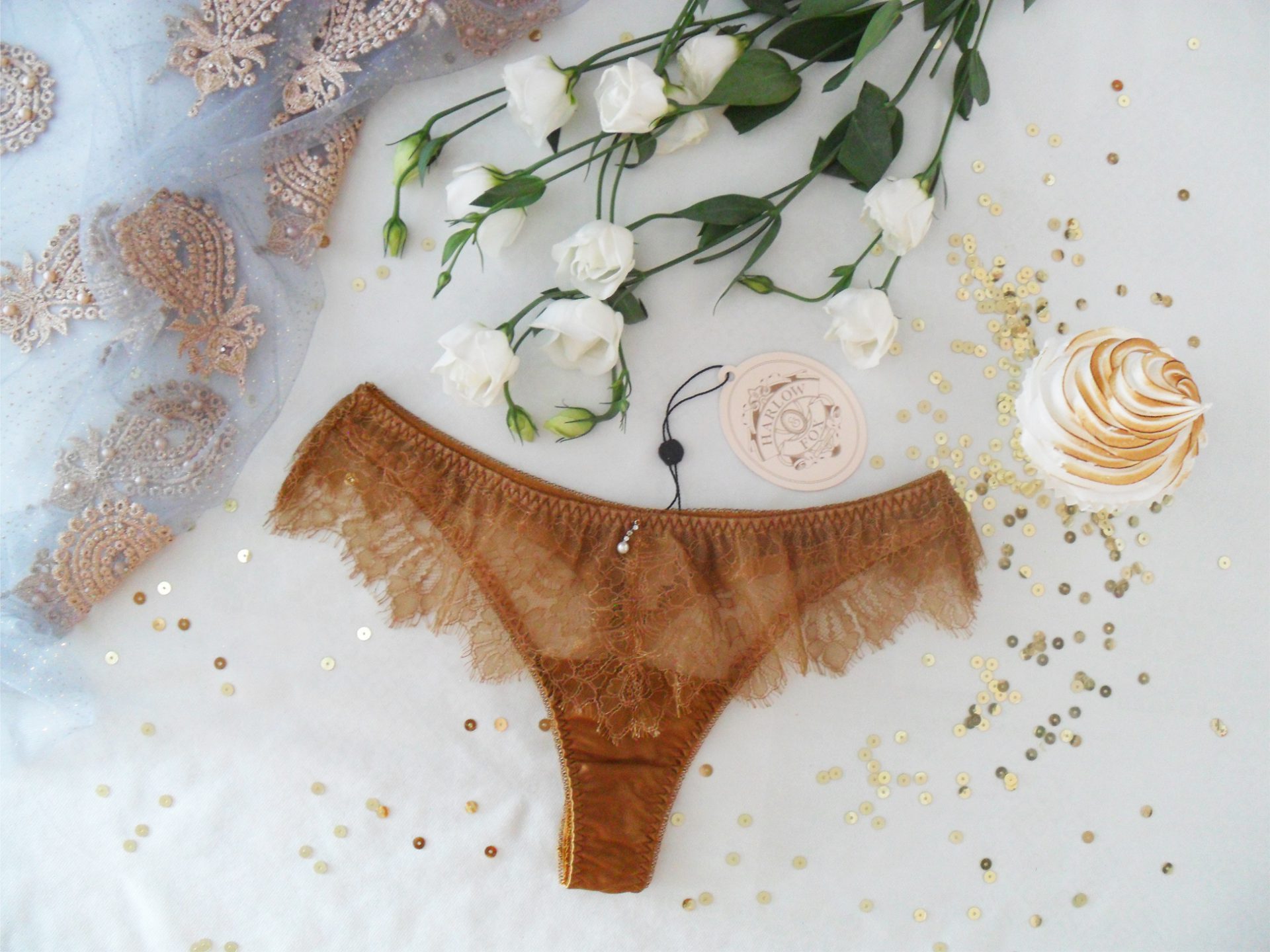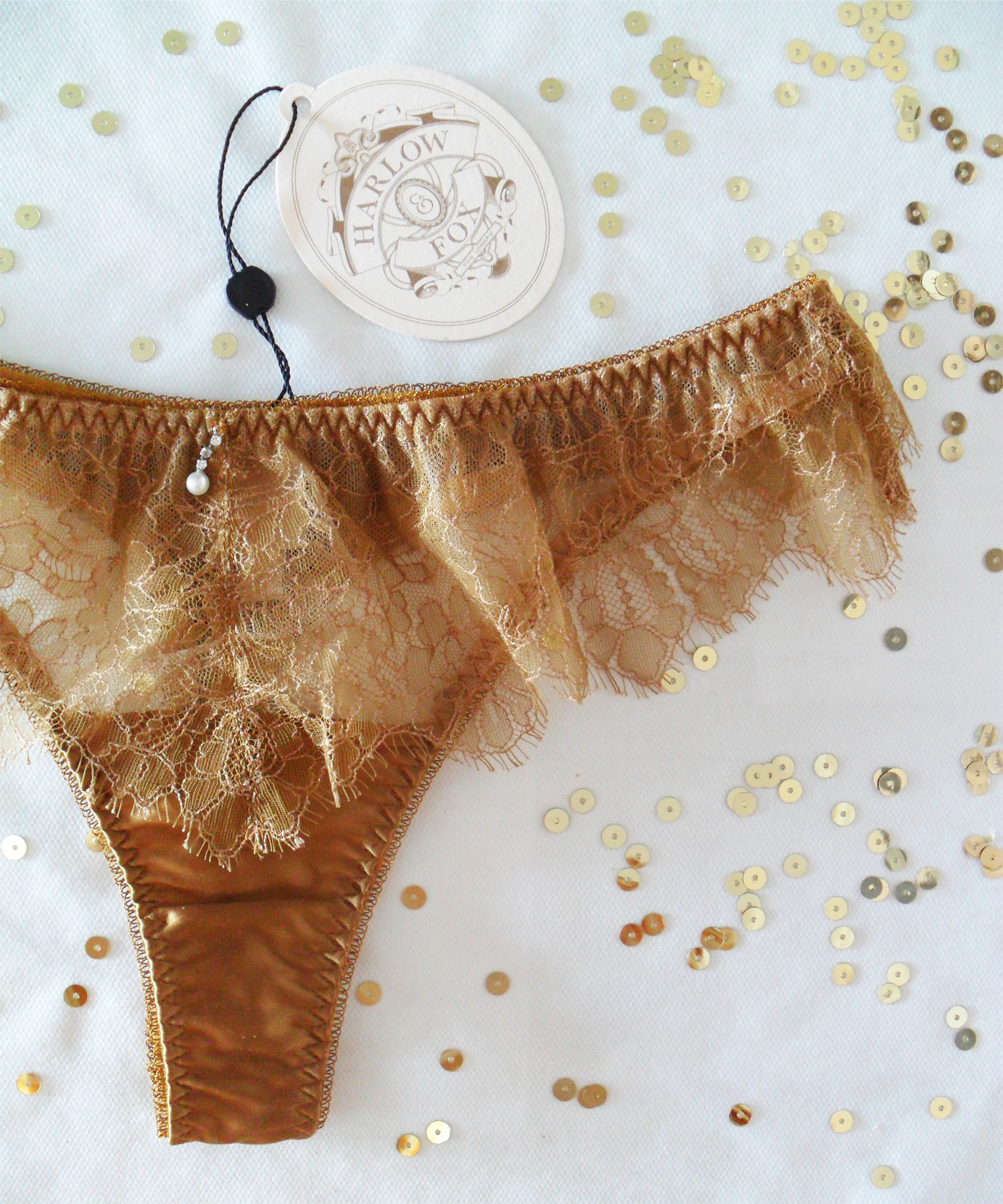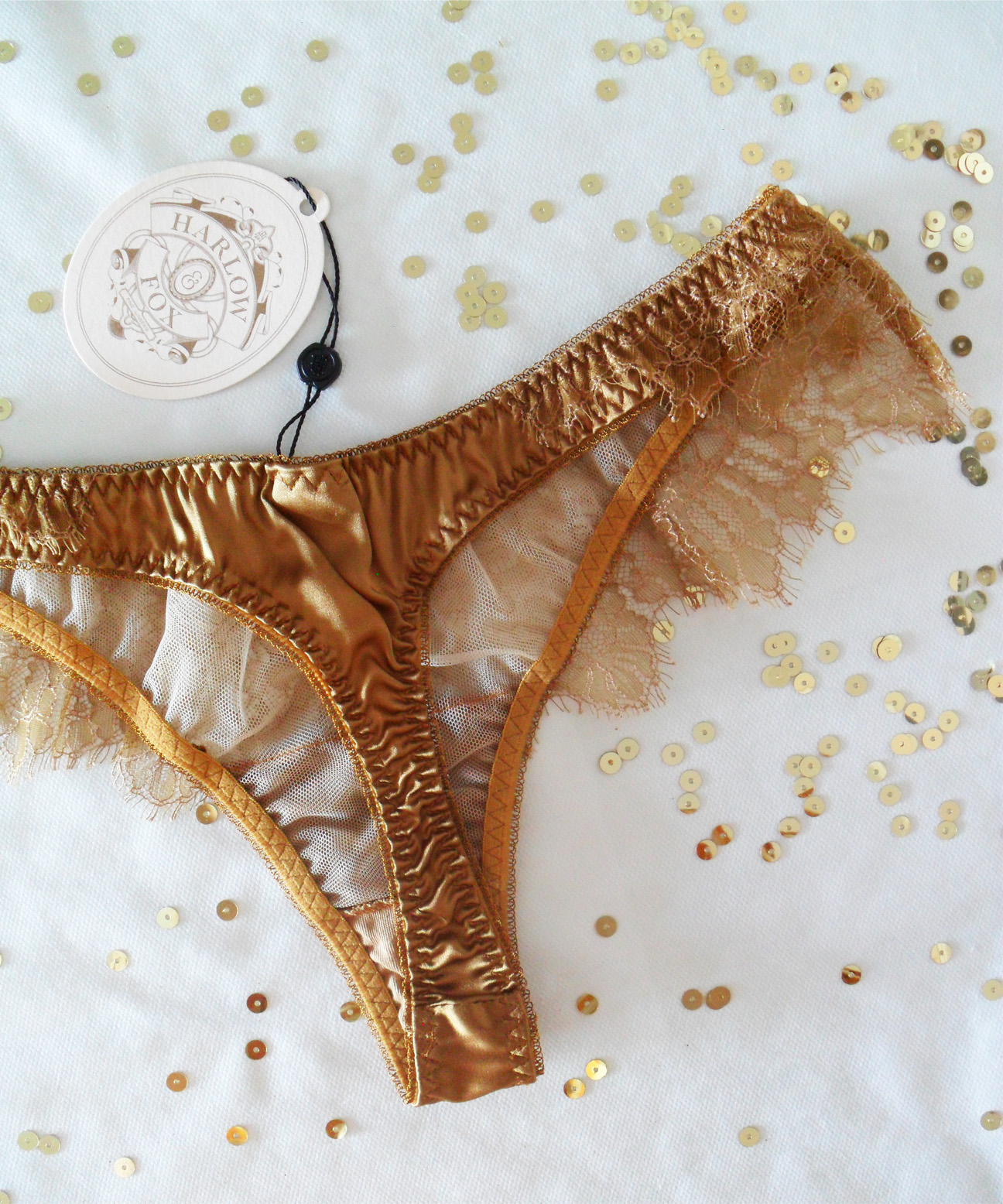 All Harlow & Fox lingerie is made in Europe, and the Viola collection in particular is made in Great Britain. The bra retails for £189 (~$247 / ~216€) and the thong retails for £95 (~$124 / ~109€). Although I paid much less than that myself, if I had the money available to spend on lingerie, I would absolutely be happy to pay full price for this set. It's just so decadent and glamorous, really the crème de la crème of the full-bust market.
I can definitely see myself saving up for more Harlow & Fox in the future, for my wedding perhaps. And I would just kill to own the new-in Callista! For those who wear a D cup or below, the brand still has nightwear, robe and accessories ranges to tempt your fancy.
Which colour would you most love to own the Harlow & Fox Viola set in? Have you ever bought anything by this luxury lingerie brand?