This year I've decided to take part in the 100 Days Project, as one of over 760 people who have signed up to do 'one thing, every day x 100'. Since I launched my new lingerie accessories line earlier this year, I decided to use this as an opportunity to experiment with new ideas since I stuck with pretty similar designs between the Spring and Summer collections.
Day 1 was yesterday and you can see my creation above and below – a triple-strapped variation on the popular, plain black, satin elastic choker strap. You can slip this easily over any existing bra, either with regular straps or a strapless one, to instantly transform it's look. It can also be layered under V-neck or bandeau clothing!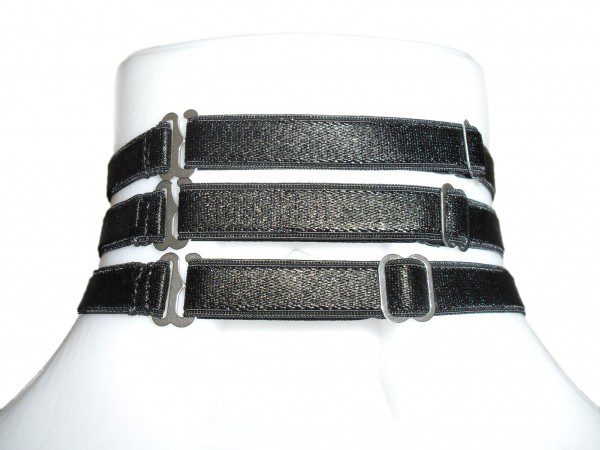 All 100 items will be available to buy here on Esty Lingerie and also in my Etsy store. They are all one-off items although I'm hoping to use this as an opportunity to come up with new ideas and find out which styles are popular in time for my Autumn collection, so you may see some of the pieces (or similar ones) re-released then.
Creating 100 unique items (and sticking to it for the entire 100 days) is going to be tough, especially as I'm going on holiday for 3 weeks during the 100 days, but I will do my best! As well as more choker straps, regular bra straps, suspenders and garters I have ideas for some other detachable lingerie accessories I'd like to try out. Some will work, some won't, but hopefully by the end of the 100 days I will have plenty of great new products I can expand upon for Autumn.
You can keep up with my progress on the 100 Days Project website and I'll be posting a weekly blog update too with the previous 7 items.
If you like this triple-choker strap from day 1 you can buy it here, whilst the 1-item stock lasts anyway.