Disclaimer: I bought this lingerie with my own money and Flash You And Me did not request a review.
Flash You And Me is a Latvian-based indie designer brand whose original concept was 'his and hers' underwear in matching prints. Whilst that's still a feature of the collection, designer Liva Steina has since branched out into many more exclusively-womenswear offerings (and a smattering of exclusively-menswear pieces too).
There are some really beautiful and unusual lingerie sets to choose from, and Steina puts her own stamp on the strappy trend through the use of coloured elastics and feminine, floral prints. When I saw the floral set below I instantly fell in love and when I saw the very low price I bought it on the spot (well almost, I had to request the bra as a custom item because it was sold out). The Karmen harness is still available, the other pieces are not but the Bondage suspender and high-waisted black knickers are the same as those I bought, just in different fabrics.
Long story short, you get what you pay for with this set. I loved the look but it had far too many construction flaws which I've tried to picture and describe below.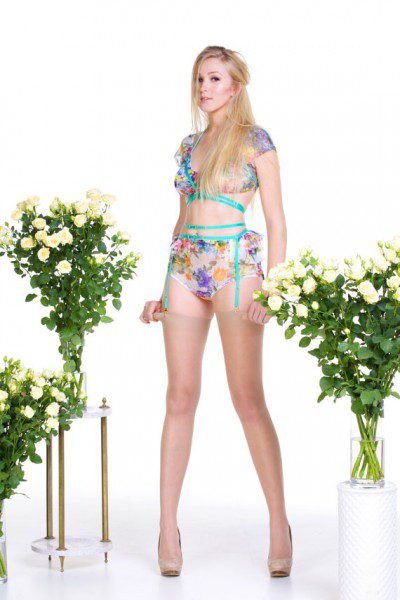 Appearance
I love the tropical-coloured floral print on this set, which is set off beautifully by the minty-green of the elastic and the gold colour of the hardware. What really attracted me to the set was the contrast between the strong, strappy style and the more typically feminine ruffles and floral print (there's only so much strappy black stuff I can see before it all starts looking the same).
The 4-piece set also means that you can get multiple looks depending on your mood – just the knickers and bra for a relaxed look, with the suspender and/or harness when you feel like dressing up more, the knickers and harness alone for a naughtier effect, and the harness worn as outerwear too.
Verdict: 9 / 10
Construction
Sadly, I had three issues with this set. Firstly, the stitching on the suspender belt is very visible on the outside and I don't think this looks neat at all where the suspenders and the extra waist strap are attached.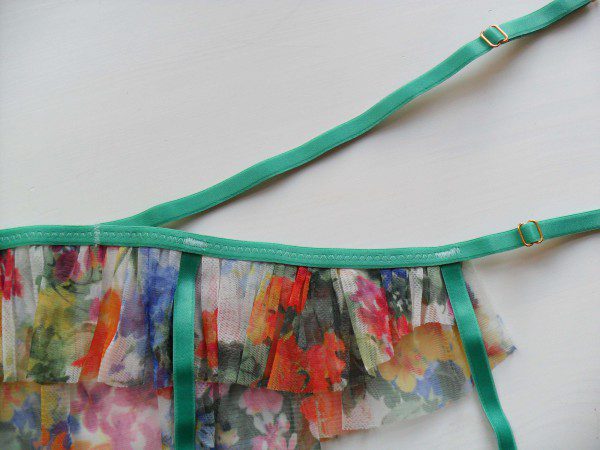 The outside of the suspender belt.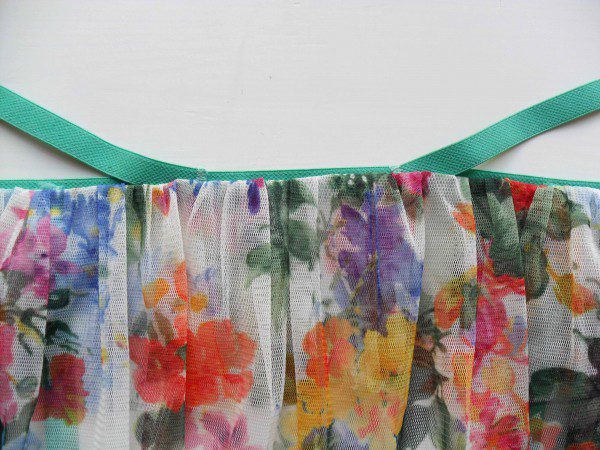 The suspender when turned inside out. I can't wear it like this way because the wrong side of the elastic is showing and the suspender clips and sliders end up backwards, but it has a much neater finish to it!
Secondly, the stitching on the waistband of the knickers snapped and came undone at both sides the first time I put them on. Let me be clear that the knickers are not too small for me at all when on, the waistband just isn't stretchy enough to fit over my hips which at 35″ at the widest point are at the smaller end of what these are supposed to fit (35 to 37″ hips according to the brand's size chart).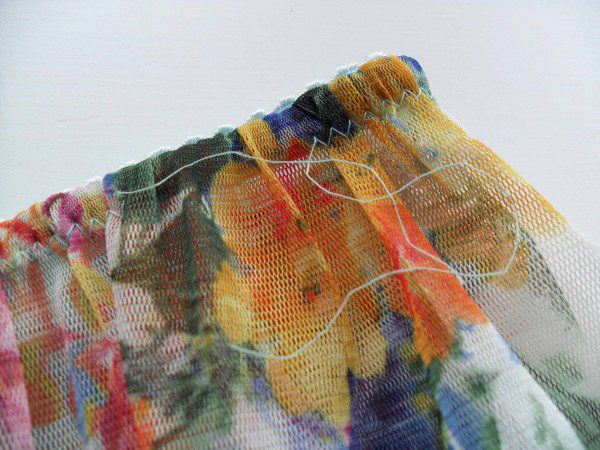 This happened (on both sides) when putting the knickers on for the first time.
And finally, and in my opinion most significantly, the hooks are just the wrong size for the elastic. The gap in the hooks is 9mm and the elastic is 10mm wide – that might seem insignificant but what it means is that the hook fastenings are constantly popping open. The harness in particular just would not stay closed for more than a few minutes which made it completely unwearable. That just goes to show what a difference attention to tiny details can make in lingerie!
Luckily for me, I have hundreds of these things lying around in the right size and could replace them, however the majority of Flash You And Me's customers won't and will end up with a harness or suspender they can't wear.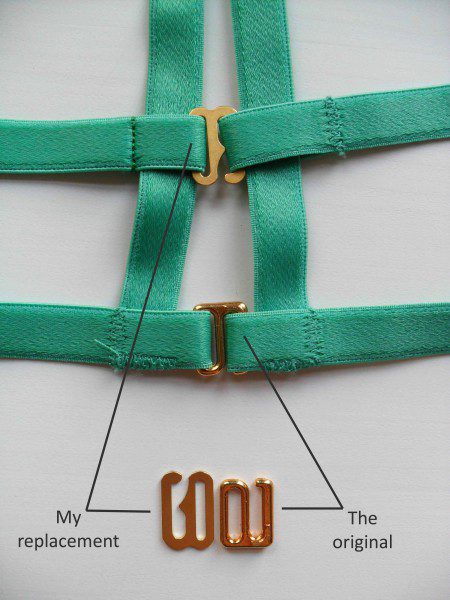 The hooks used were too small for the elastic so they couldn't 'grip' it properly and stay closed.
The set gets a couple of points because the sewing on the bra and knickers is extremely neat, and there's nothing wrong with the construction of the bra.
Verdict: 2 / 10
Fit
I bought a size small in the knickers and suspender belt. The harness is 'one size' and the bra was custom-made to my measurements at no extra cost.
Aside from the issue mentioned above of the knickers not being able to stretch comfortably over my hips, I had no issues with the fit of any of the garments. The bra is not very supportive but it's not supposed to be – it has a dart at the centre of the cup to add a little shape but it's really more of a bra-inspired cropped top.
The harness and suspender are very adjustable and would have easily fit someone one or two dress sizes bigger than me. If you're a UK 14+ I'm not sure the 'one size' harness would fit you so it would be best to contact the designer to discuss custom sizing if you're considering purchasing it.
Verdict: 7 / 10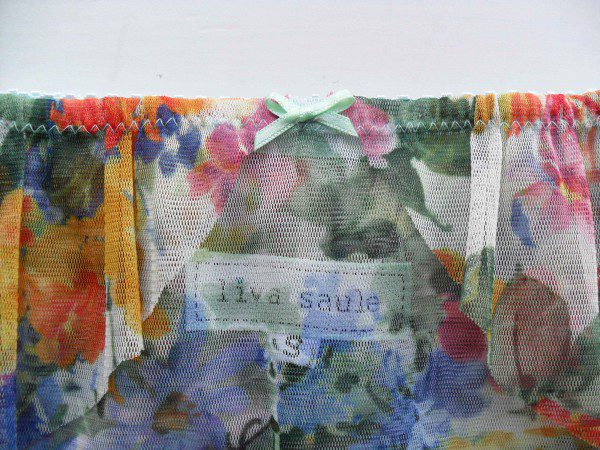 Washability
All four pieces are machine washable on a delicate setting at 30-40 degrees (30 degrees maximum for the harness) which is great news for those who don't have time to hand-wash their lingerie. The green elastic however does leak a little dye so be sure to wash alone or with similar colours.
Verdict: 8 / 10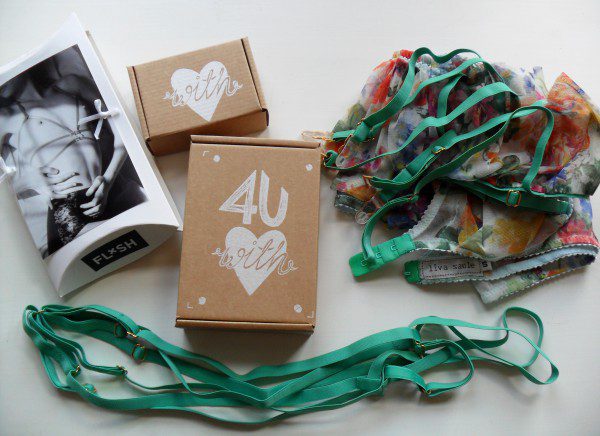 Value for Money
The bra cost €20.50 (~£16.90), the knickers €15.50 (~£12.75), the harness €18.00 (~£14.80) and the designer included the suspender belt for free (on it's own, it's the cheapest item at about £10.50). These are tiny prices considering it's all handmade.
However I would say only the bra is very good value for money, particularly with custom sizing included in that price. The other items may be cheap, or even free, but they weren't particularly well-made.
Verdict: 4 / 10
Would I recommend it?
No. I'm really disappointed as Flash You And Me has some lovely designs I fully intended to buy too if I liked this first set, but I doubt I'll be buying anything more.
You can't have everything if you're not willing to pay for it – in this case you get a super low price, lovely fabrics, ethical production and great designs. What you don't get is quality. I can comprise on some things like fabrics if I'm on a budget, but if the quality is so poor that the lingerie falls apart quickly or can't be worn because it won't stay fastened, are you really saving money or are you wasting it?
Just a quick final note: I want to point out that Flash You And Me have many fantastic reviews on Etsy and both Amber over at Scarlett's Letter and Write Me Bad Checks gave pieces from this set a positive review. It's fully possible that I was just unlucky enough to receive faulty garments, but based on my personal experience with the brand I'm not recommending them.
Have you bought anything from Flash You And Me? I'd also love to know where you draw the line on quality for lingerie to be 'worth it', even if it's cheap. Would you be happy buying something you'd need to adjust or fix if it was super budget-friendly?