Karolina Laskowska specialises in limited collections of decadent garments, using distinctive textiles with Gothically-opulent overtones. Based in Oslo, she has won numerous awards as a lingerie designer and recently released several new collections with retailer Jane's Vanity, fellow designer Vanyanís, and through her own online storefront.
The brand offers both bespoke and ready-to-wear designs, with customisations offered. The non-bespoke garments range from mid- to top-tier luxury pricing, with bralettes ranging from around $200 (approx. £159 / 185€) to 15,000 NOK (approx. £1,118 / $1,407 / 1,304€) for a particular longline wired bra. Sales are rare, but occasionally offered via the designer's Patreon.
I have purchased numerous sets from the designer, most recently the Eos re-release in Aubergine which retails at $1,079 for the two-piece set.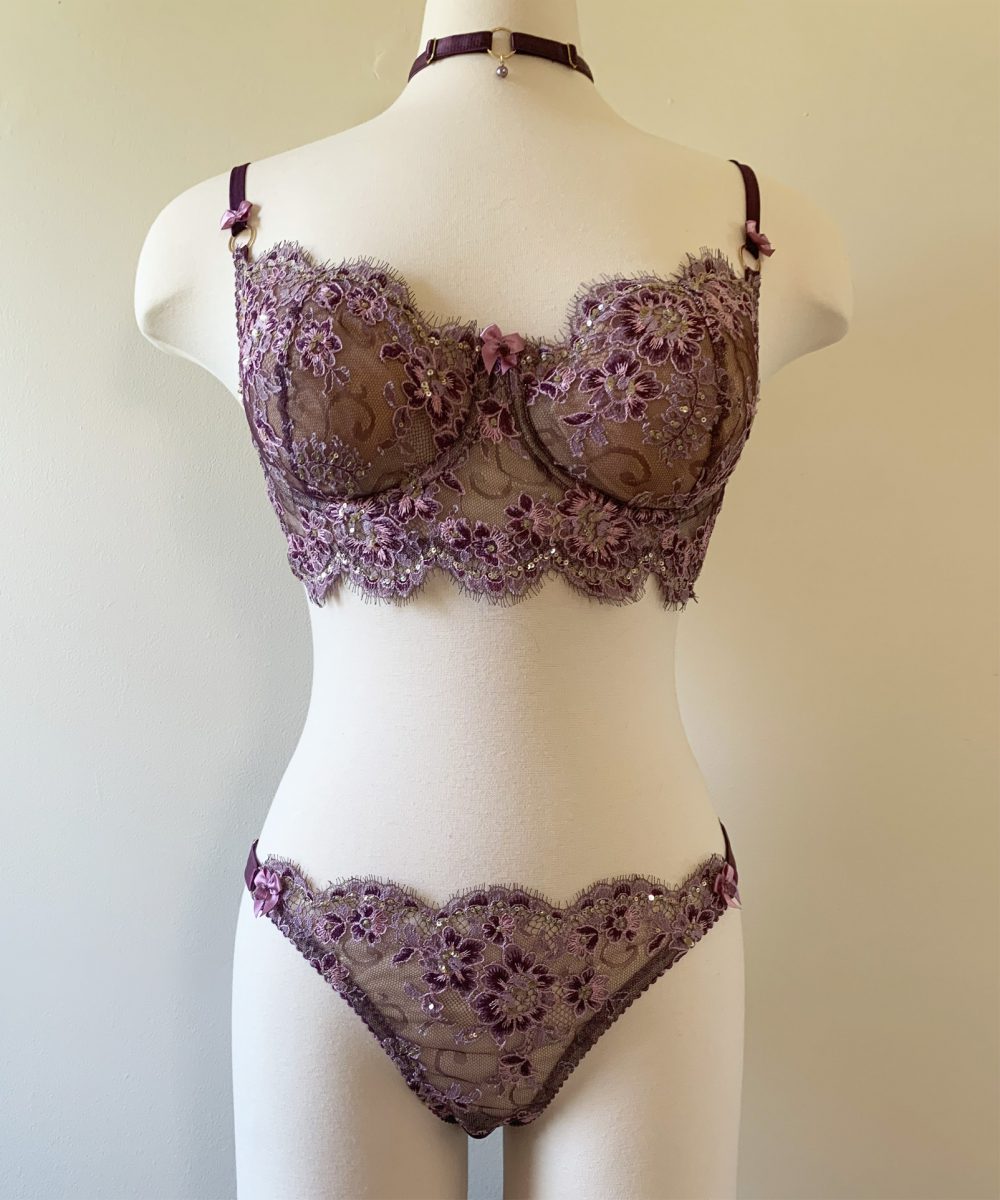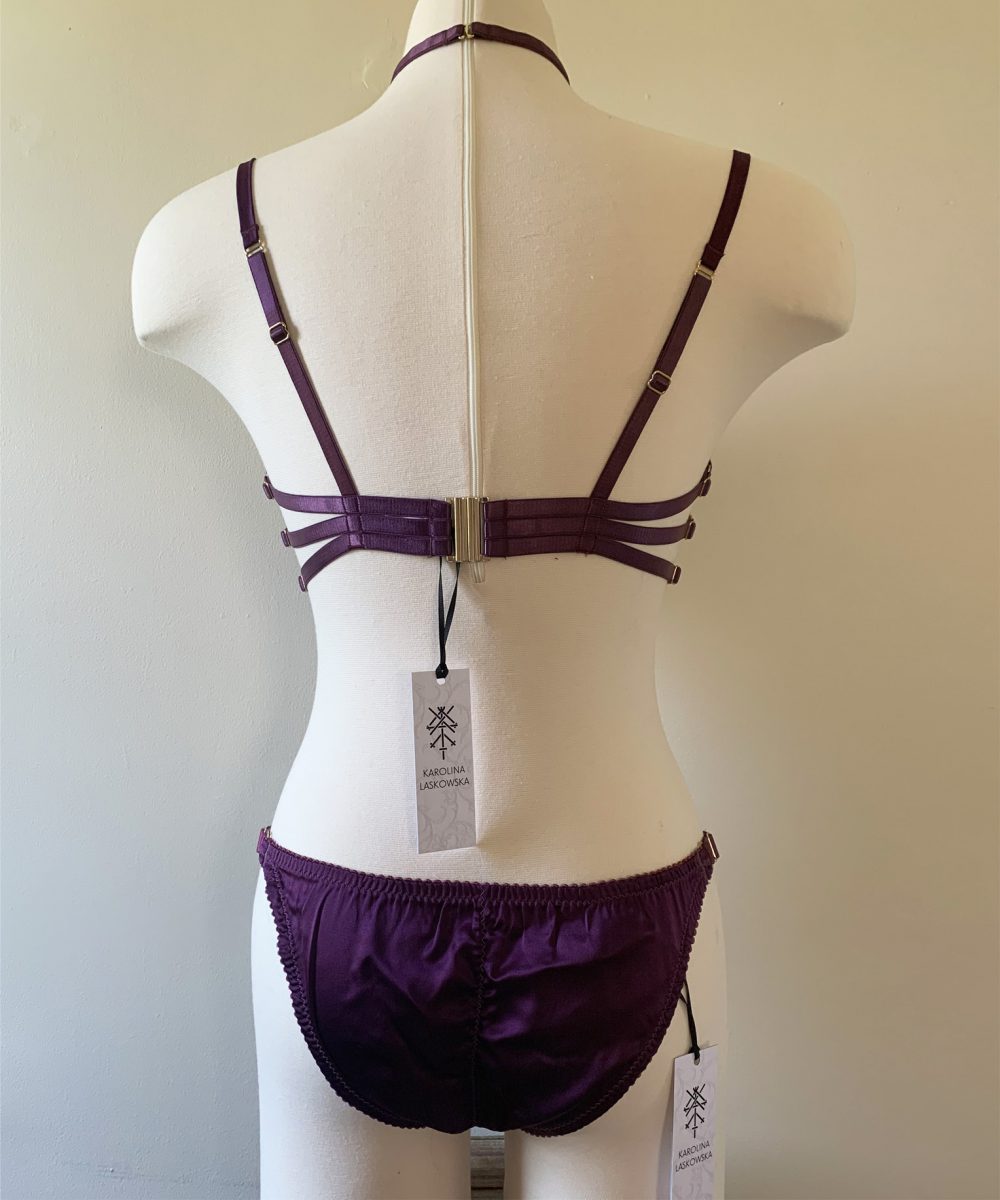 Purchasing experience
The Eos designs are available exclusively through Jane's Vanity, a US-based boutique that curates lingerie and home goods from a variety of luxury designers. The customer service at Jane's Vanity is impeccable. Emily, one of the lead collaborators, offers personalised style and sizing advice on each brand offered by the boutique. The Karolina Laskowska size chart is true to size and offers measurements in inches and centimetres. Unfortunately, unless you have pre-ordered, sets are sold via Jane's Vanity as pre-sorted sizes. For example, you cannot currently purchase an L bottom and a KL10 top for this design – KL10 is offered with M and S bottoms only.
I chose to purchase through the pre-order program. This allowed me to request my optimal size combination, as well as reserve additional materials for the creation of a second, custom matching bottom which was ordered separately and hasn't arrived yet. The pre-order process is initiated via a 50% deposit, with the remainder due once the designer completes the garments. Timing varies within the preorder process based on an individual designer's workload, but I placed my Eos Aubergine pre-orders in June after communicating with Jane's Vanity regarding my specific size needs in early April. The final component of the set was delivered in late August.
As soon as the pre-ordered items arrived in the States, they were gift-wrapped and sent along to their new homes. Unboxing items from Karolina Laskowska and Jane's Vanity is always a treat. Items are lovingly wrapped in layers of gilded, glimmering tissue paper: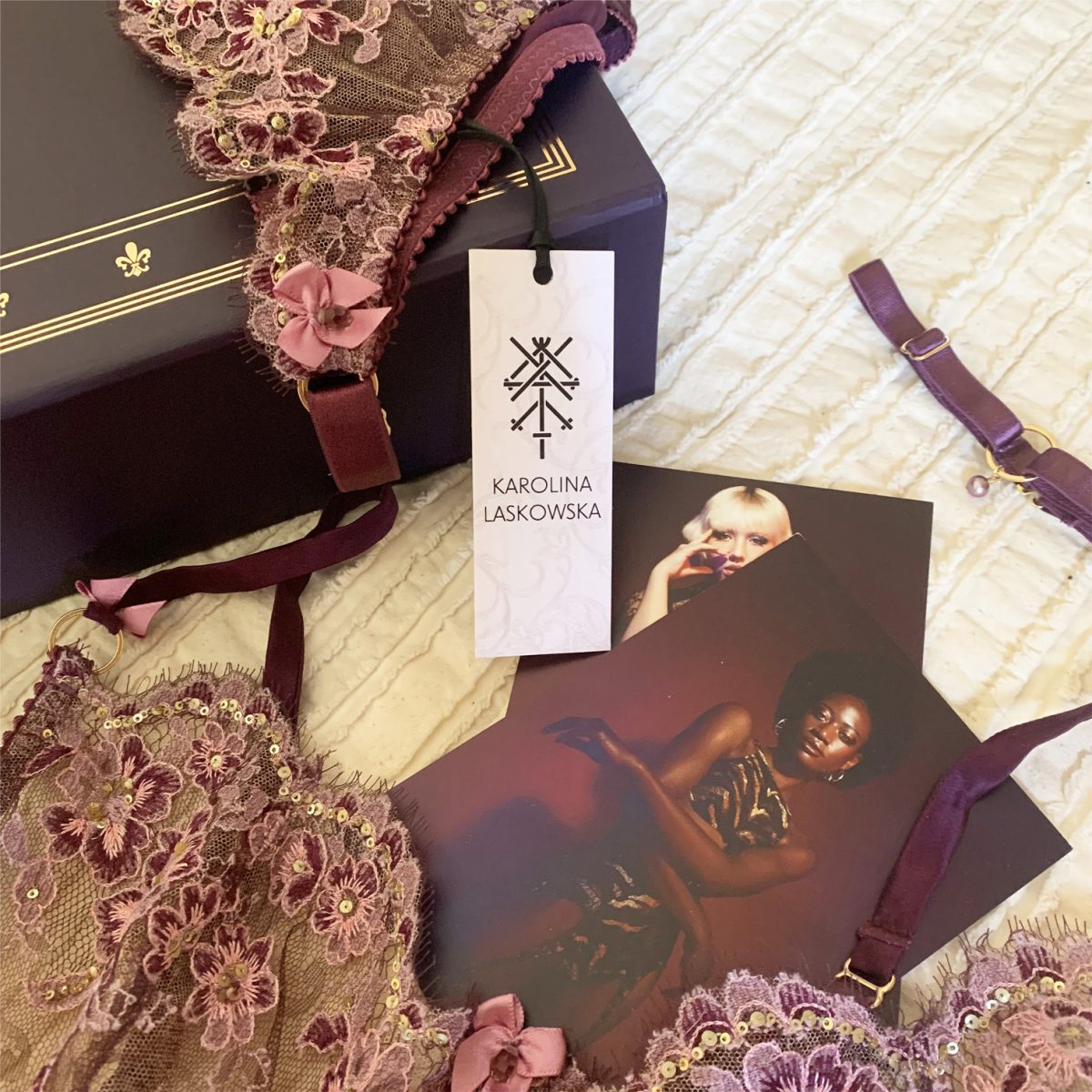 Unfortunately, the collection contained a small flaw in its initial shipment. The wrong length of elastics had been used in the band. This sort of mistake is very unusual for the brand. The designs were returned and fixed without additional shipping costs or alterations fees. Karolina included a small gift as apology for the mix up. The boutique communicated quickly and clearly throughout the entire repair process, offering regular updates as time passed.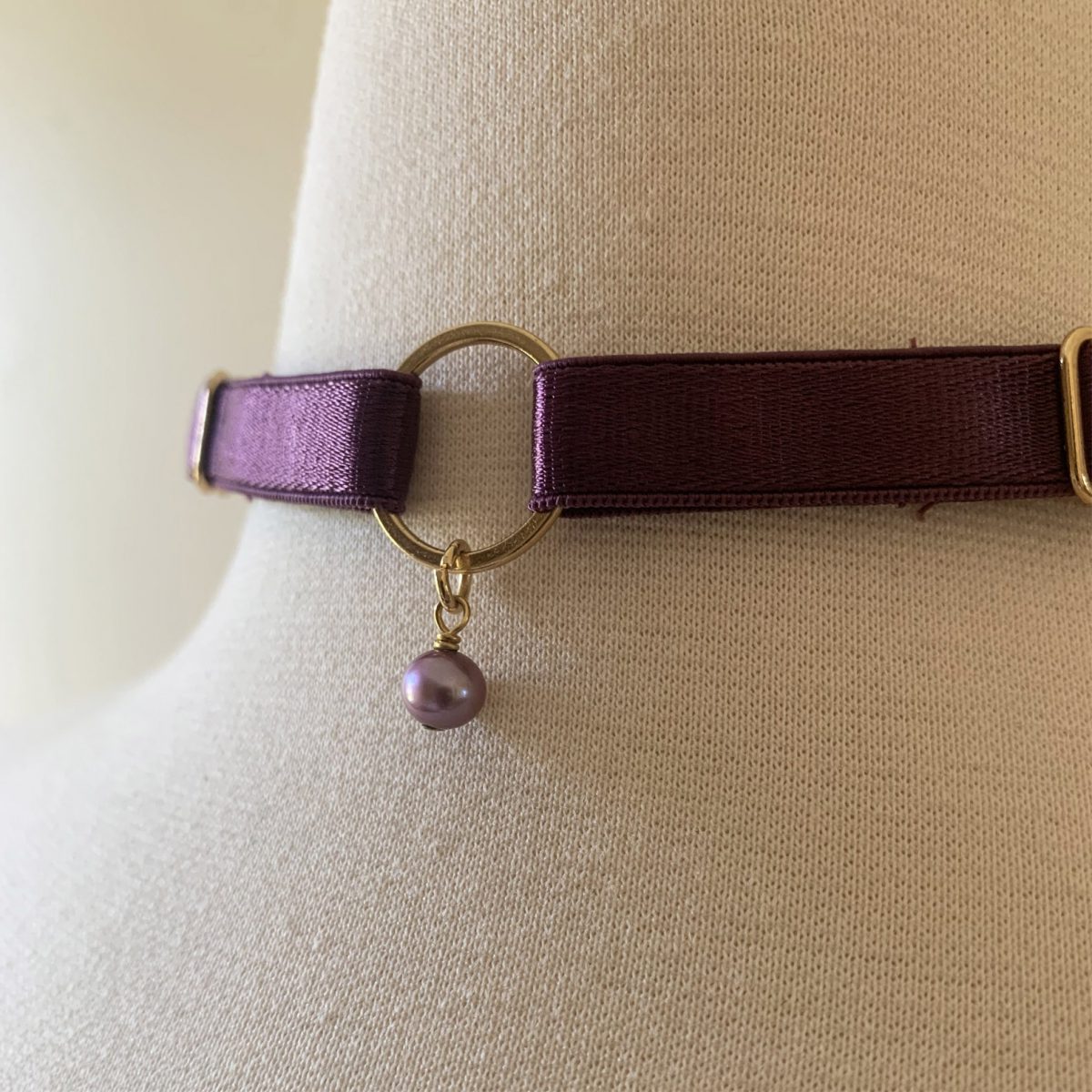 Appearance
The Eos material is a rebrodée cotton, viscose and nylon-blend lace from renowned French company Sophie Hallette that features textured embroidery, metallic threads, and tiny sequins that glimmer and glint with movement. This design is available in the new Aubergine/Lilac combination as well as the original blue and beige (called 'Ice', and paired with a high rise bottom). The designer has limited quantities of additional colours for custom designs.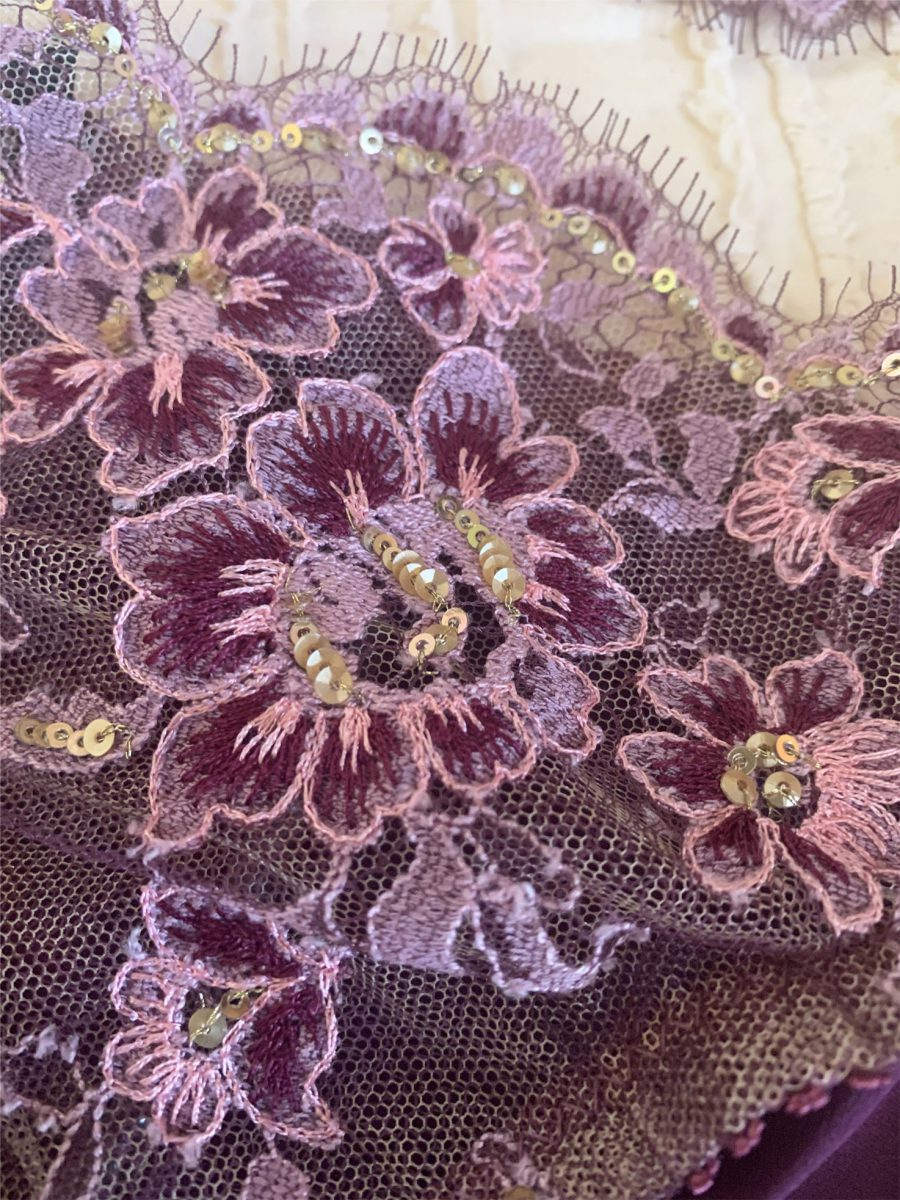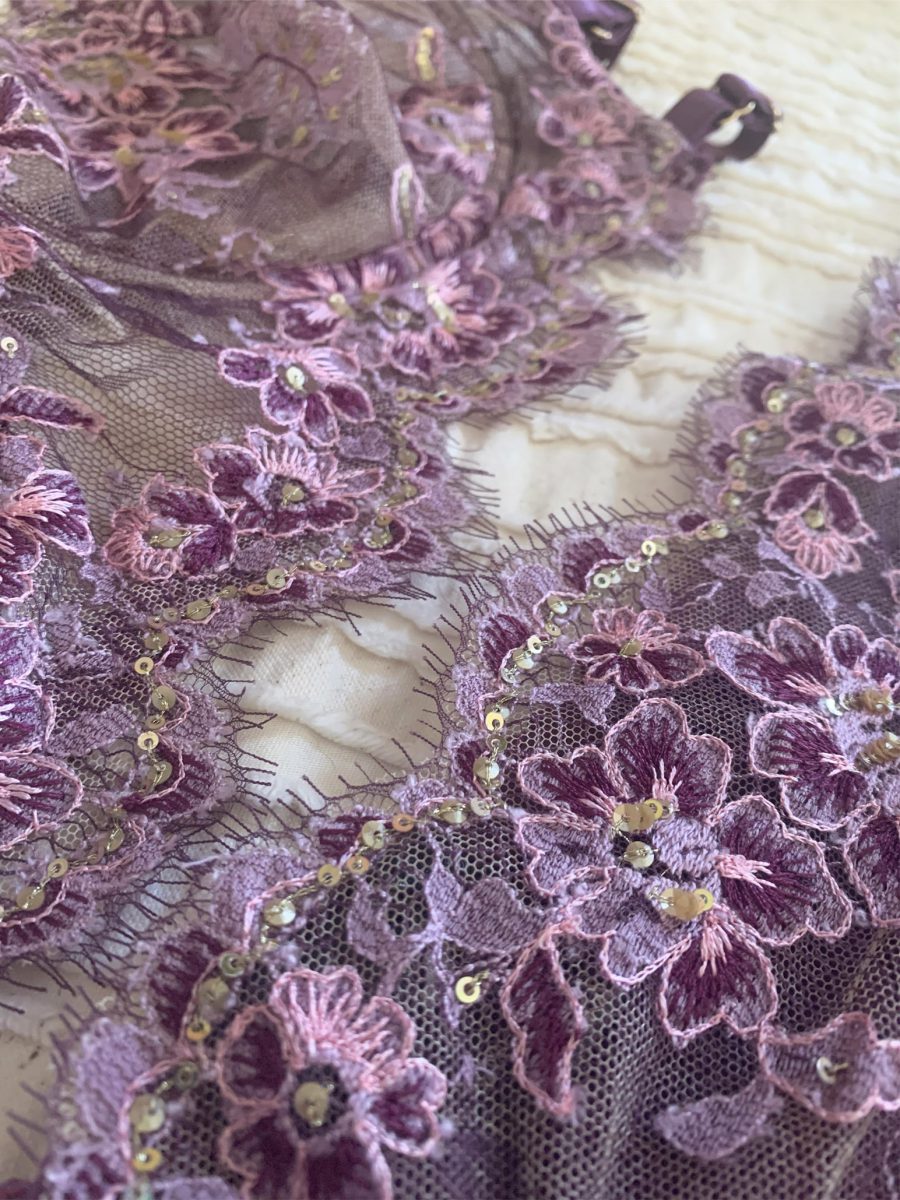 The scalloped edge of the lace is utilised in this design. It is painstakingly appliquéd to a tulle base, which could be customised to the skin tone of the wearer in the pre-order phase. The excess tulle is later trimmed away.
The design is further embellished with delicate satin bows, Czech crystal droplets, and hand-dyed elastics.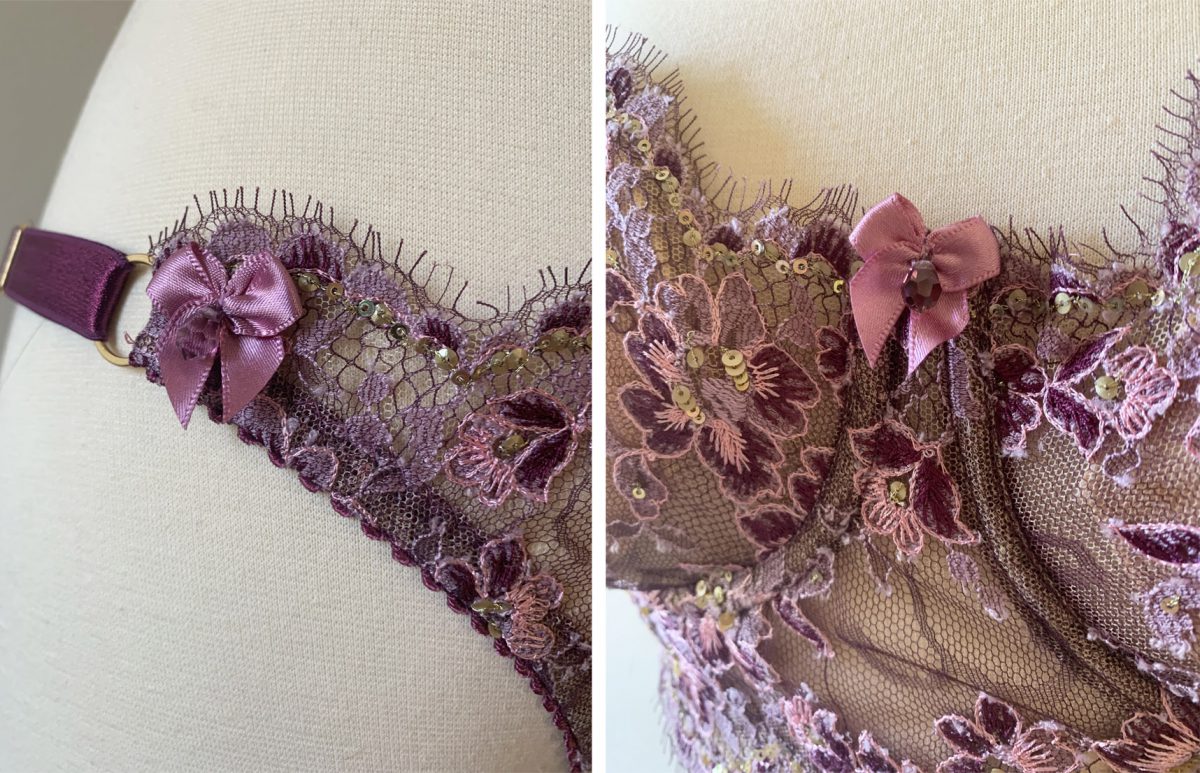 Photographs do not do justice to the absolute perfection of this material. The depth of the embroidery is exquisite, merging various shades of pinks and purples to create a luscious finish. It is truly breathtaking to handle. And it is very well constructed. The tulle backing to the lace provides sufficient reinforcement for all-day wear. Like all garments, continued friction may cause pilling and weaken the material. However, the sequins and embroidery were not loosened after my day at the office. I would never recommend working out or moving boxes in this garment, but it can certainly be worn for more than special occasions.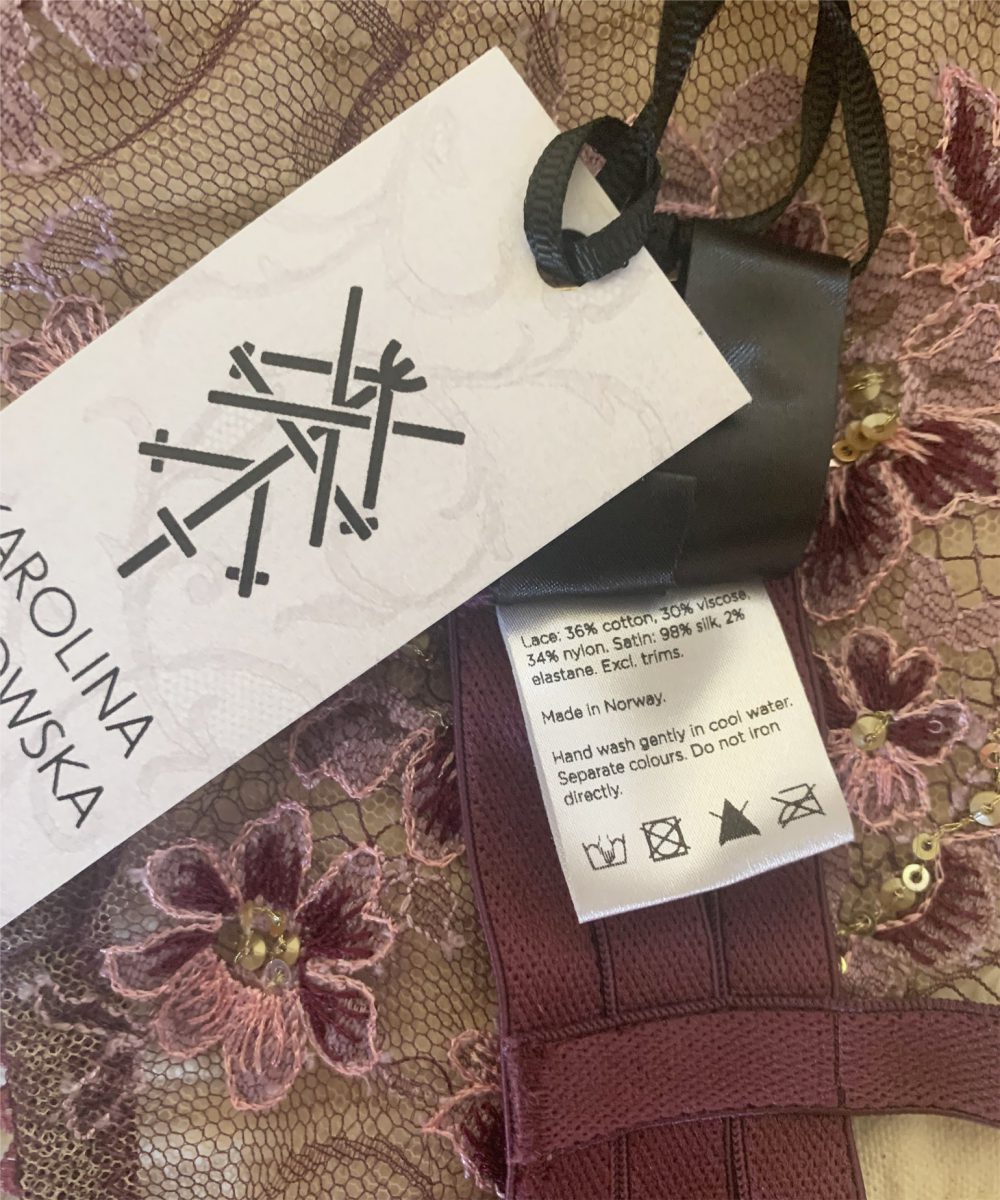 The Eos set should be handwashed with cool water. The colors will bleed slightly during its first wash, which is typical for darker colors. The design does not appear faded after the initial wash.
Now for a closer look at each piece.
Construction and fit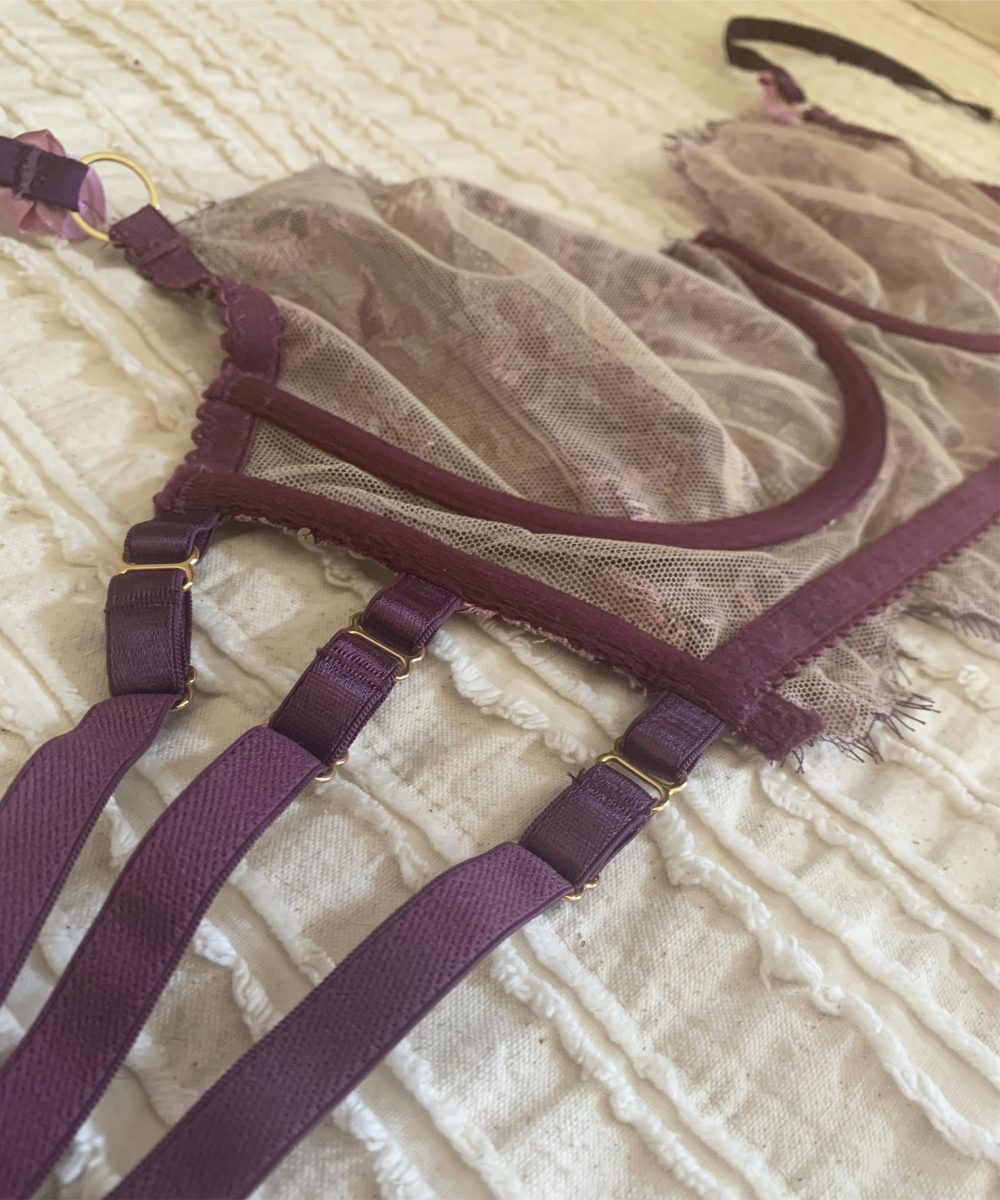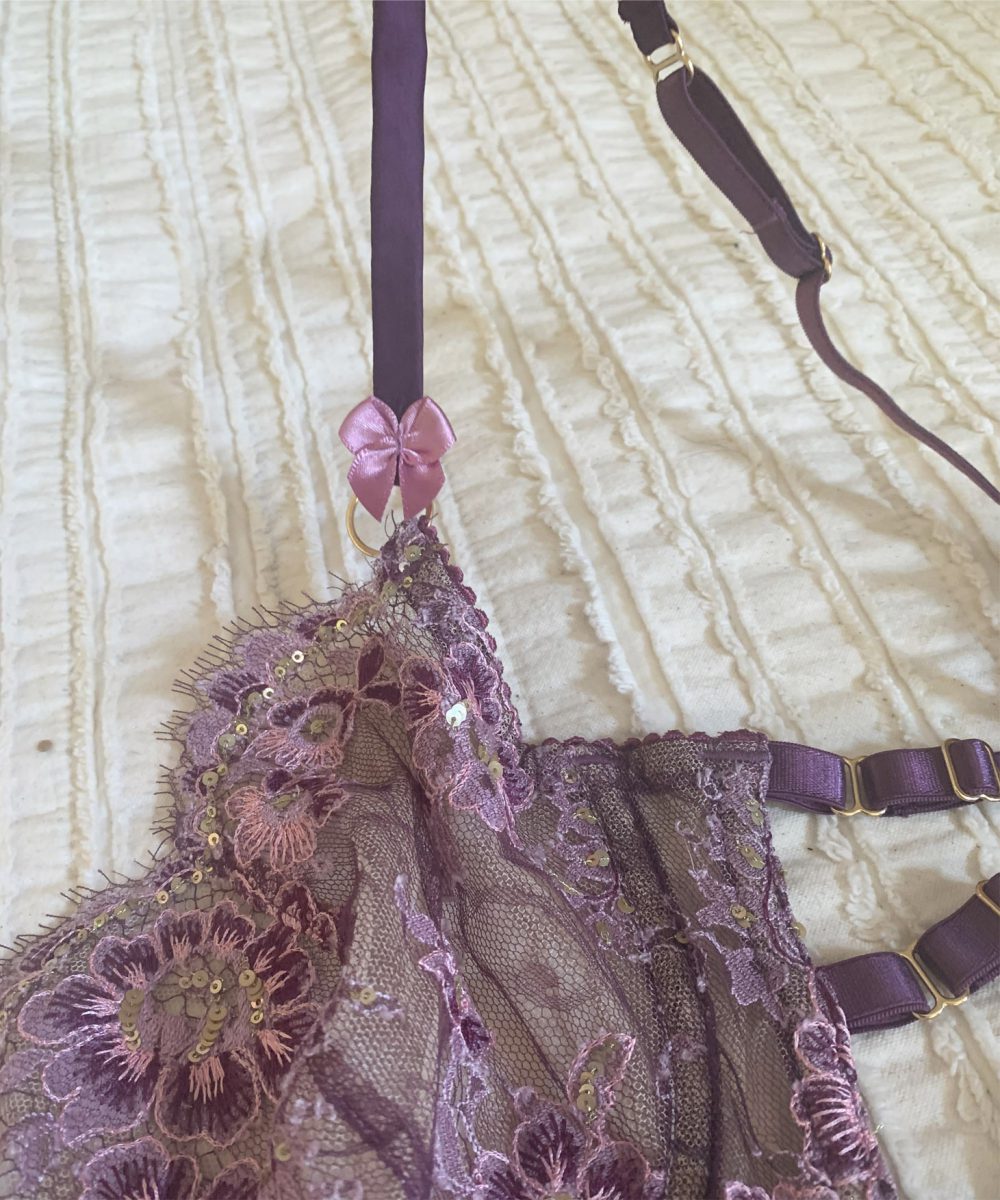 The garment is carefully constructed, without a loose or dangling thread to be found. Intentionality is apparent throughout the design. For example, the cradle of the bra is quite narrow. This prevents one's arm from brushing against the rough sequins, protecting both the wearer and the longevity of the garment.
The wings of the bra are highly adjustable, allowing each garment to span multiple sizes throughout its lifespan. Unlike some brands with a similar feature, the adjustability is hidden under the arm, providing a more streamlined and aesthetic touch to the back of the garment.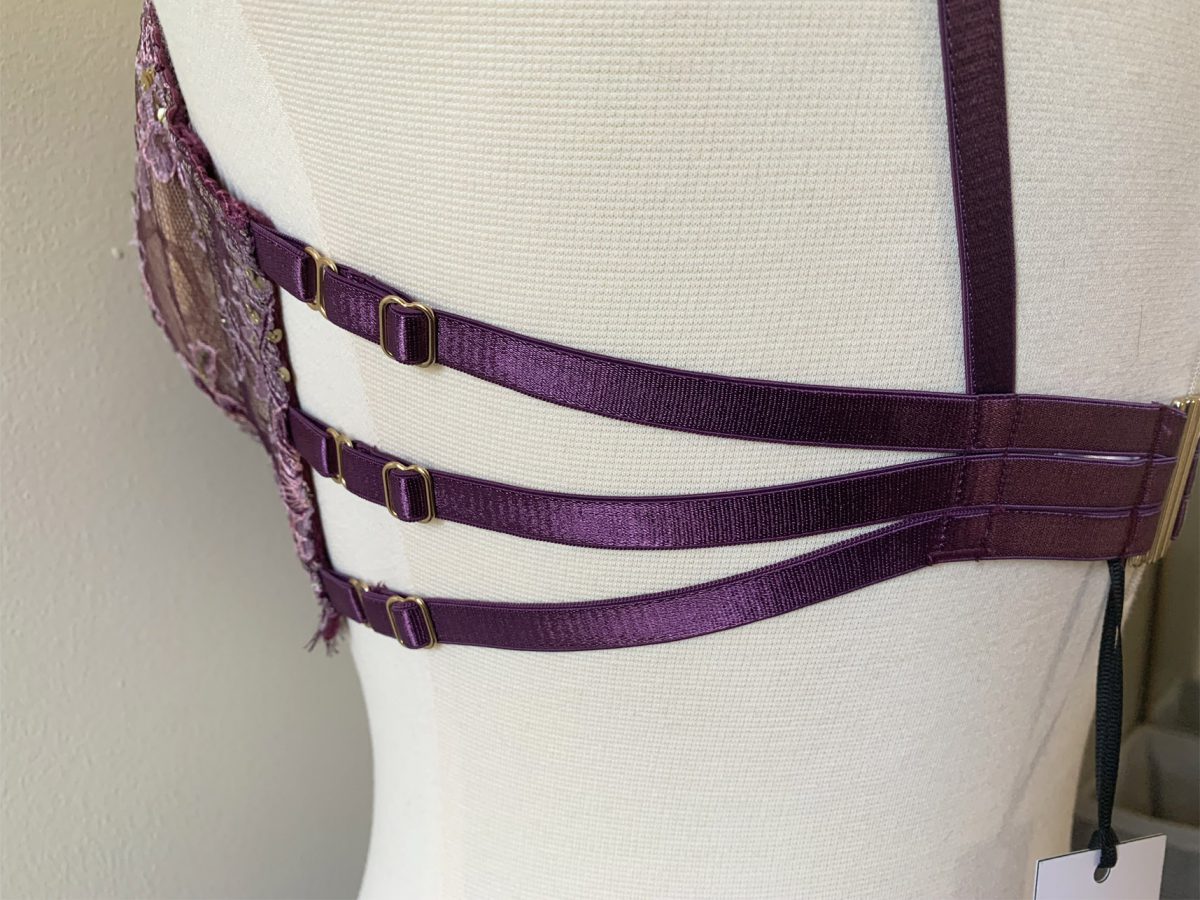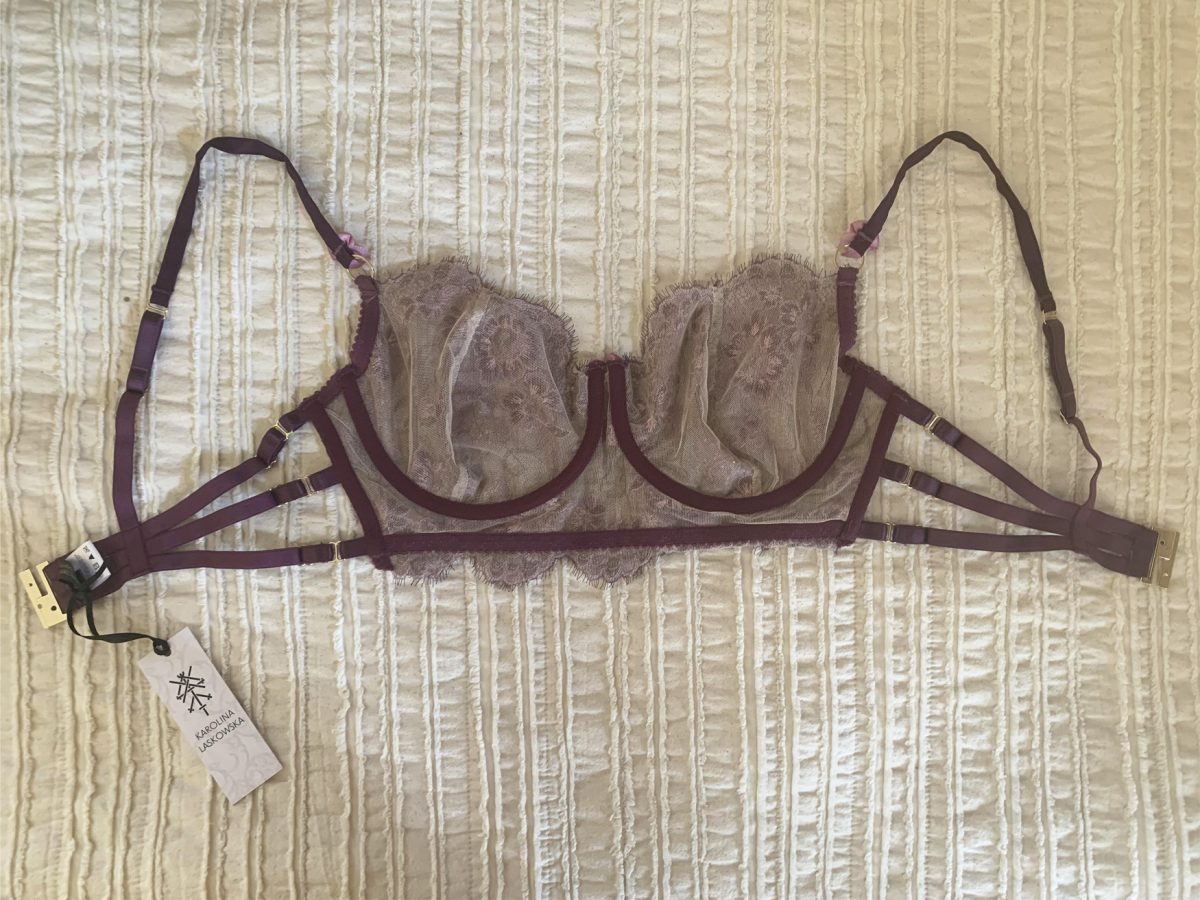 Note the shape of the underwires, which are quite round. The gore is narrowly set, which I prefer, though consider your own comfort and preferences as you purchase. Contrary to the website images, it is a two-part cup construction at this size (KL14, designed to fit UK 30F, 32E, 34DD and 36D). The outer layer of lace is darted to preserve the bulk of the pattern within the ornamental textile; however, the inner layer of tulle contains a full vertical seam. Vertical seams are both supportive and uplifting, but not quite as supportive as the three seam style usually seen at this cup size.
Additionally, the shoulder stap is partially silk, with elastics only in the rear for adjustability. Silk straps are softer and more pleasant to wear than pure elastic – a true luxury touch. It is rare to see in ready-to-wear designs, though I can think of at least one other designer that utilises this style of strap regularly (Evgenia). The design also features a gold-plated back clasp, which is much heftier than those offered by other designers, though still quite easy to fasten.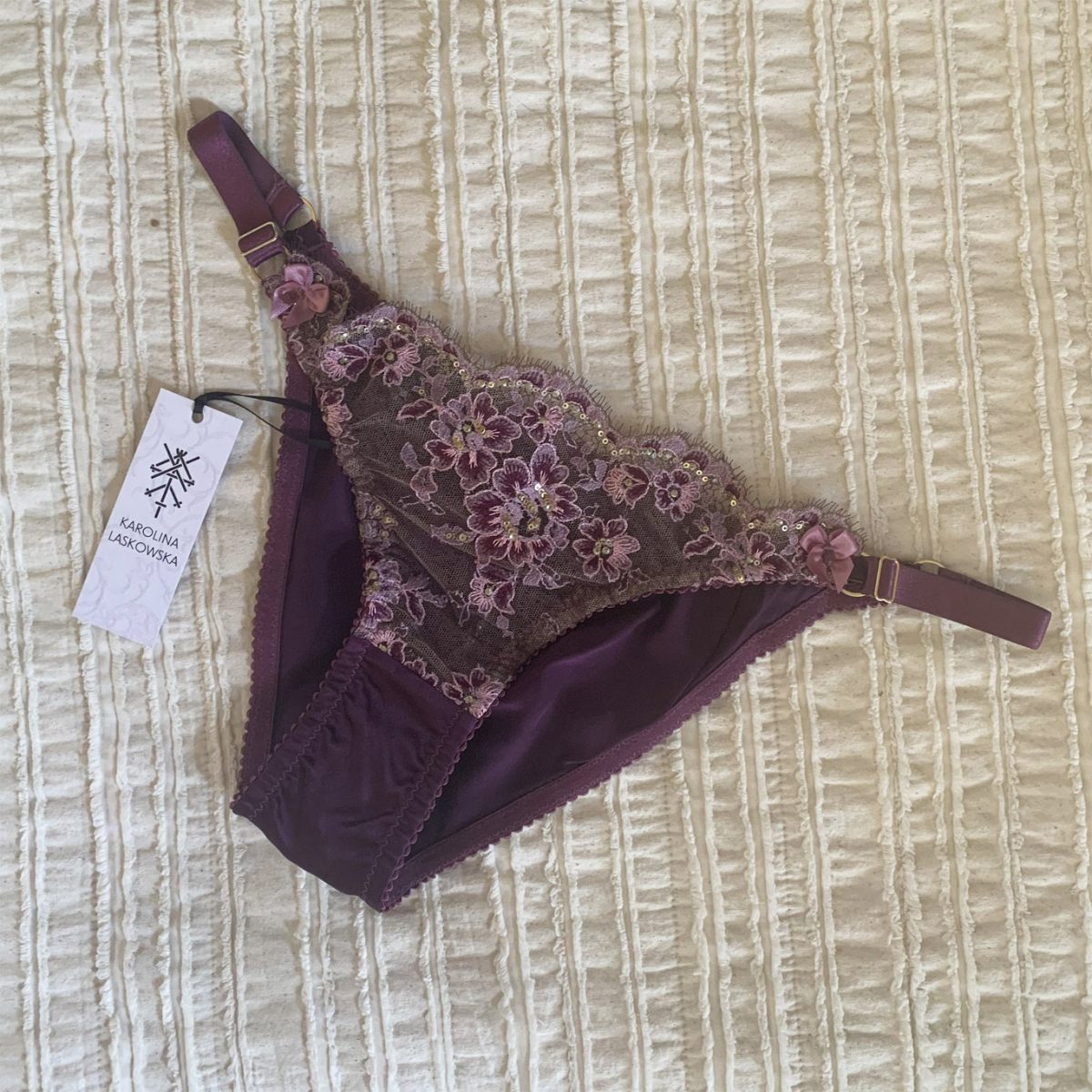 The matching low-rise bottoms also feature several luxury touches. They are adjustable by way of sliders on the side elastics and have a silk gusset. The silk rear is also ruched.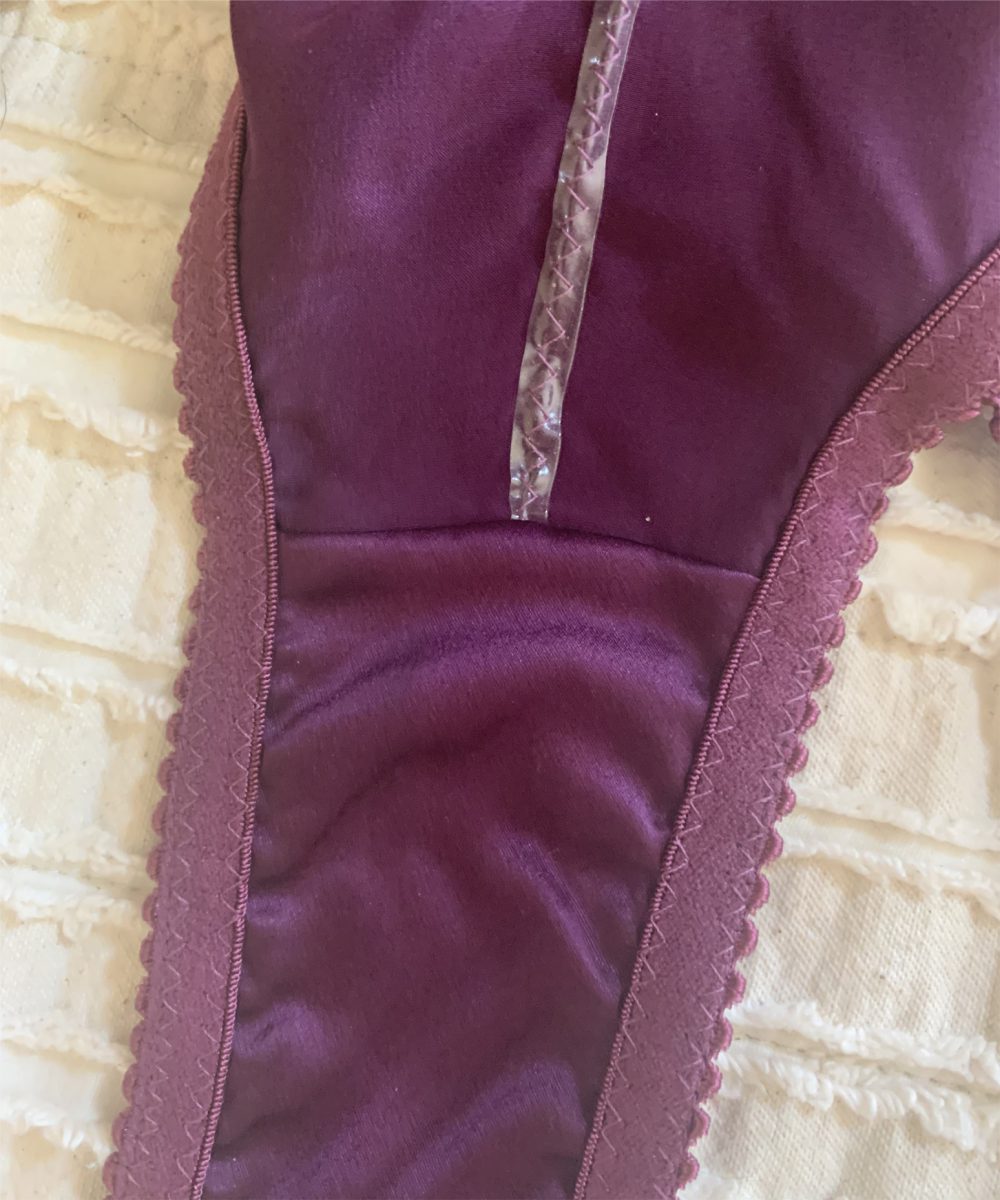 The amount of ruching varies from brand to brand. Until now, I had never seen clear elastics used for the ruching. While perhaps there is a reason – lightness, cost, availability in Norway, etc. – I prefer the style of other designers in this regard. The Karolina Laskowska knickers are not as voluminously ruched and the inner mechanics are less well integrated. The color of the thread chosen does not blend into the garment, though is quite straight and narrow to the designer's credit.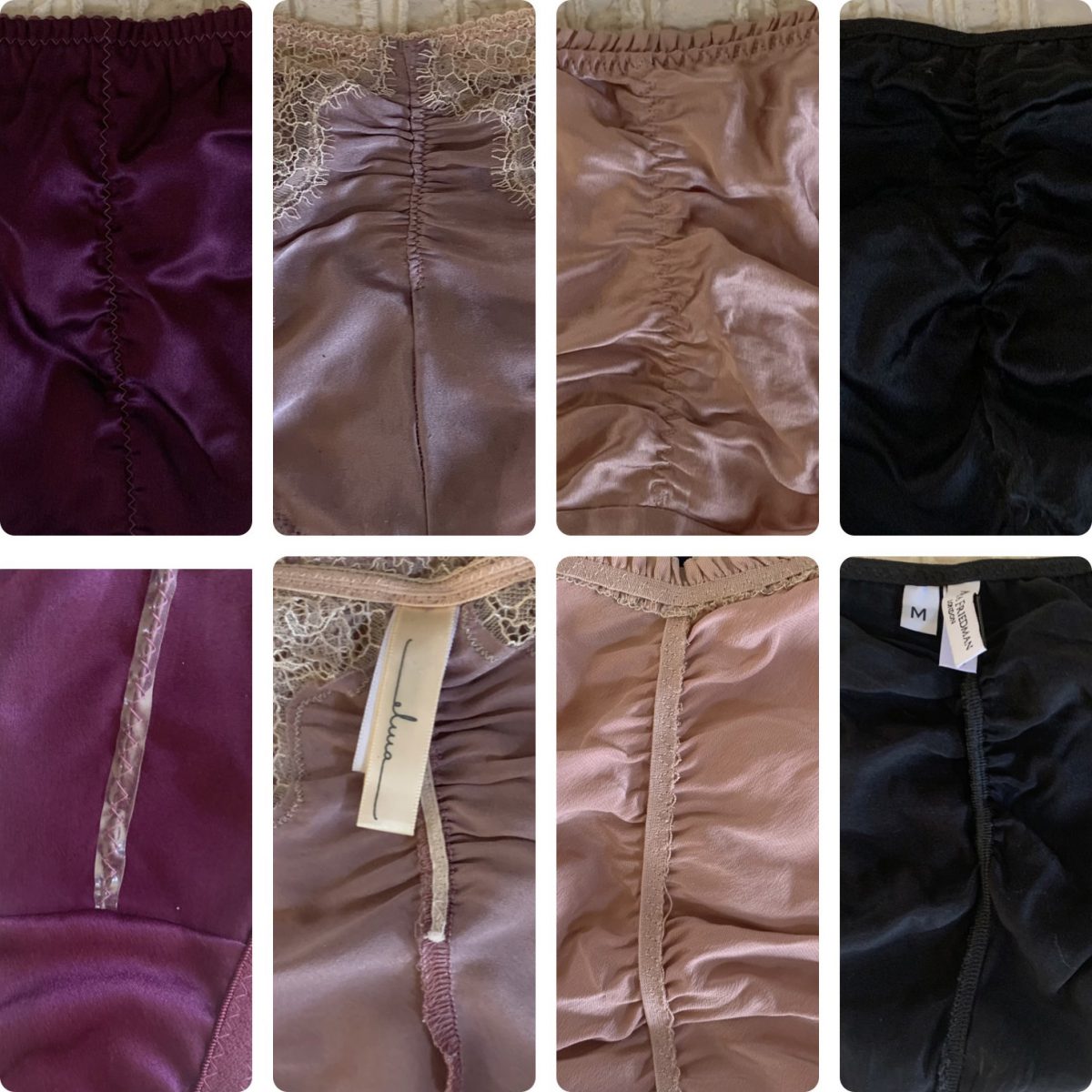 Karolina Laskowska's style is less gathered than other brands, as you can see above. However, everyone has different preferences and tastes in design – you might love this style!
Final thoughts
Numerous improvements have been made to this version of Eos compared to the blue original, though both are stunning uses of a rare and richly-ornamented textile. The designer's eye for detail and dedication to customer experience are unparallel at this price point. This is a stunning design. It is offered in extremely limited quantities, so if you're interested, now's the time!
What do you think of this brand? Which designer should we review next?