Disclaimer: I purchased this lingerie set myself. Links with a * are affiliate links.
Have you heard about Playful Promises' new diffusion line Peek & Beau*? The debut collection includes 4 ranges – Sophie and Olivia which are the same padded longline in different prints, Jessica which I featured a few weeks ago, and Phoebe which I'm reviewing today.
I actually bought from Peek & Beau a little by accident – I hadn't heard of the line and it was only when it arrived and I saw a Peek & Beau tag that I thought "oh, this isn't Playful Promises!". (I am the worst type of customer, honestly, I never read anything – not descriptions, not size charts, nothing. I just look at the pictures, check the returns policy and click buy).
I did wonder why the set was cheaper than usual for the brand though – that's because Peek & Beau is targeted at a slightly more budget-conscious customer, with prices ranging from £12-12.50 for knickers and £18-22.50 for bras.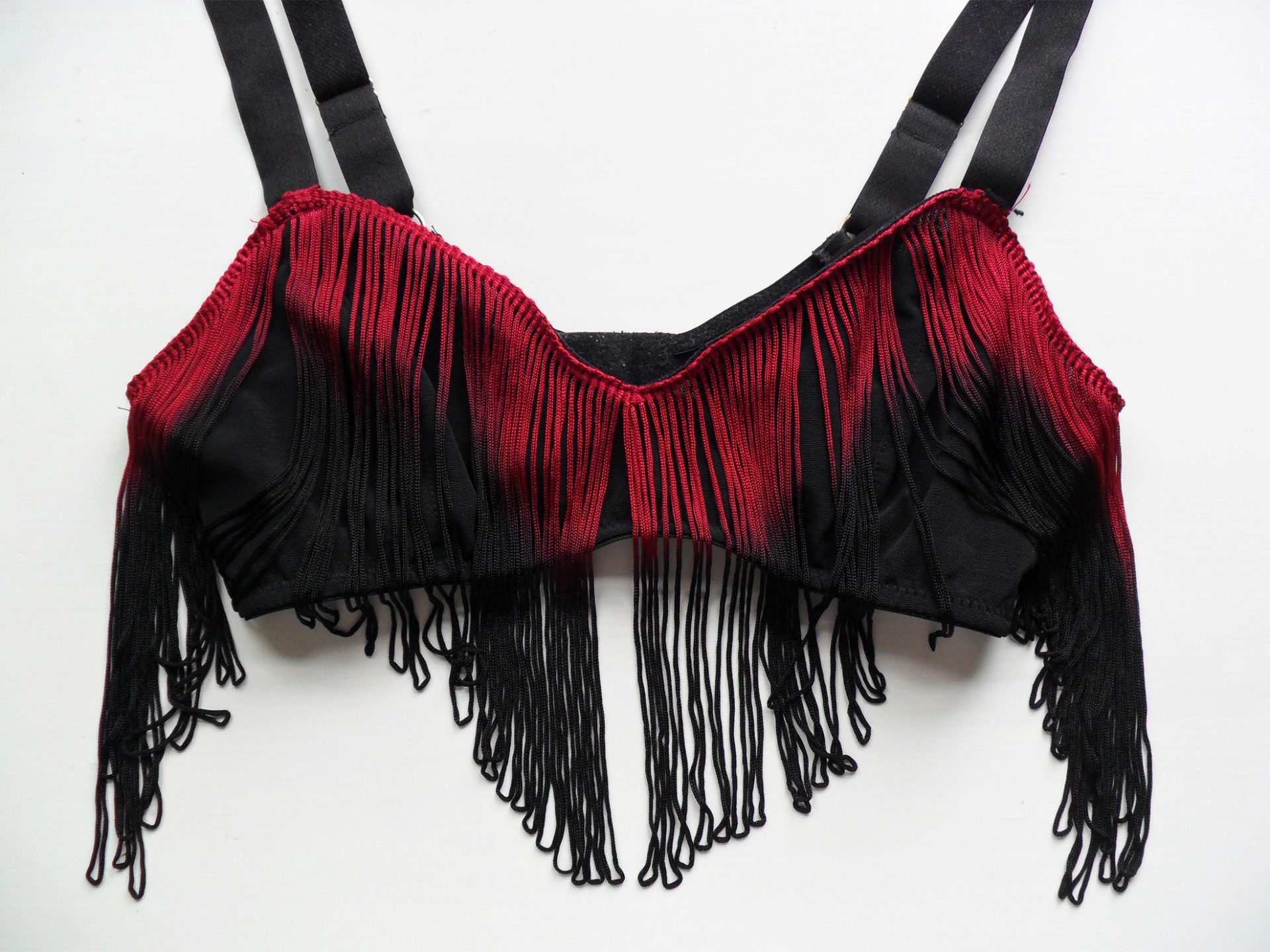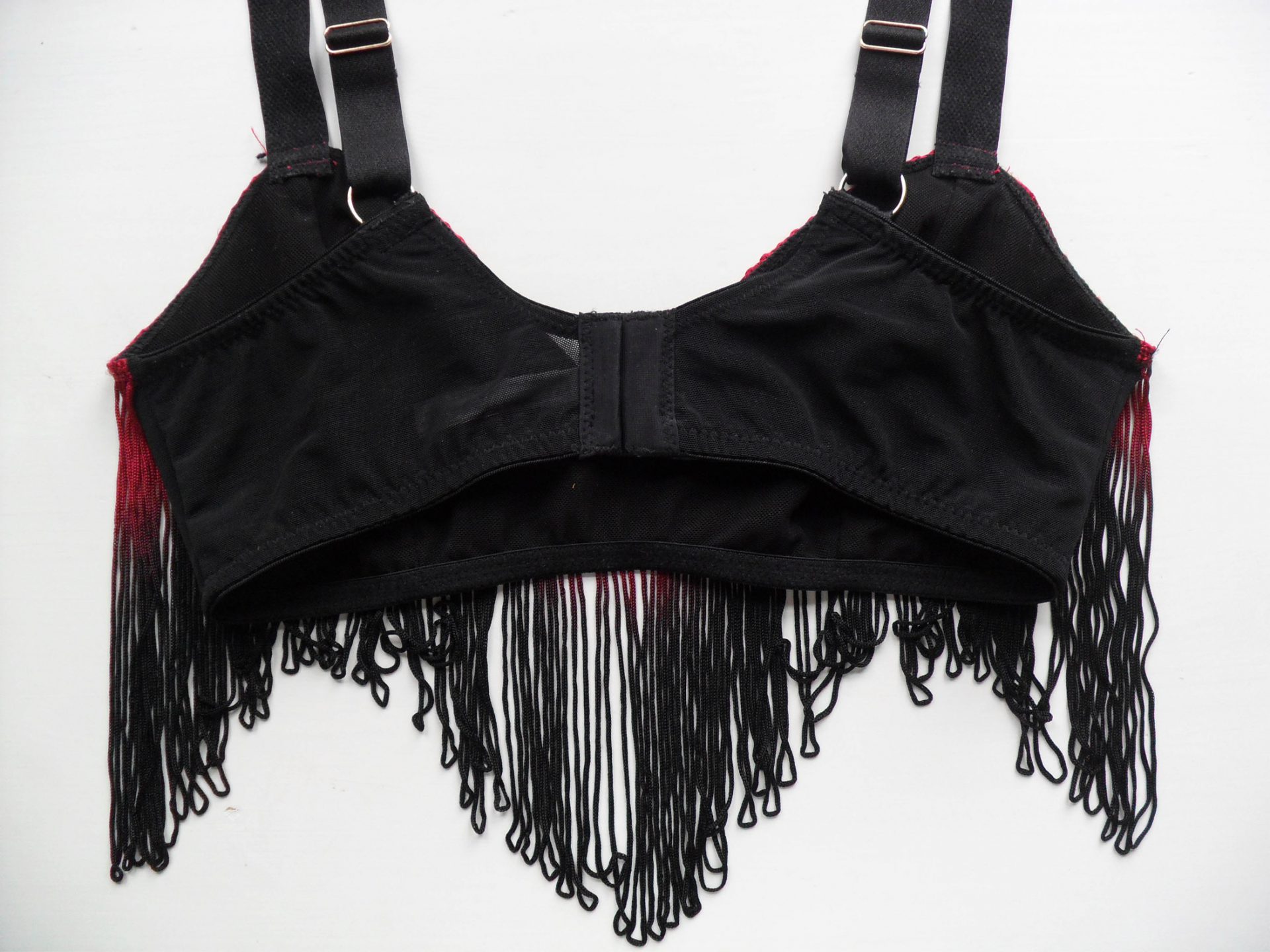 Appearance
Phoebe's base is a simple, bandeau-style bra set in black mesh, trimmed with super long, ombre fringe that fades from red to black. I think the best word to sum this set up is 'fun' – it's fun to look at, it's fun to wear, it's fun to spin around in and watch the tassels all fly out! Also, the red ombre reminds me of dripping blood – I know that's a bit macabre but hey, it's Halloween soon and vampires wear lingerie too right?
Despite being a simple and low-cost bra, the use of thick straps with gold-toned hardware makes it look slightly more luxe, as well as being more functional too.
I just wish this came in black and cream to match my Made by Niki string skirt – I'm still gutted about the bra for that not fitting me!
Verdict: 7 / 10
Construction
The base of the Phoebe bra is really well-made, with a double-layer of mesh and a single seam all the way up the cups which provides more support than most bandeau or triangle bras do. It's also made more supportive thanks to a wide, 3-row hook-and-eye fastening and those thick straps.
The knickers are also well made, this time in a single layer of mesh, though I was surprised to see there's no lining at the gusset – perhaps they left it out because the sheer mesh is breathable anyway, or perhaps this was one of the features that had to go to keep costs down for the Peek & Beau line.
The fringe is hand-dyed and is soft, with a lovely sheen finish. It doesn't look cheap, like some fringing can.
Verdict: 6 / 10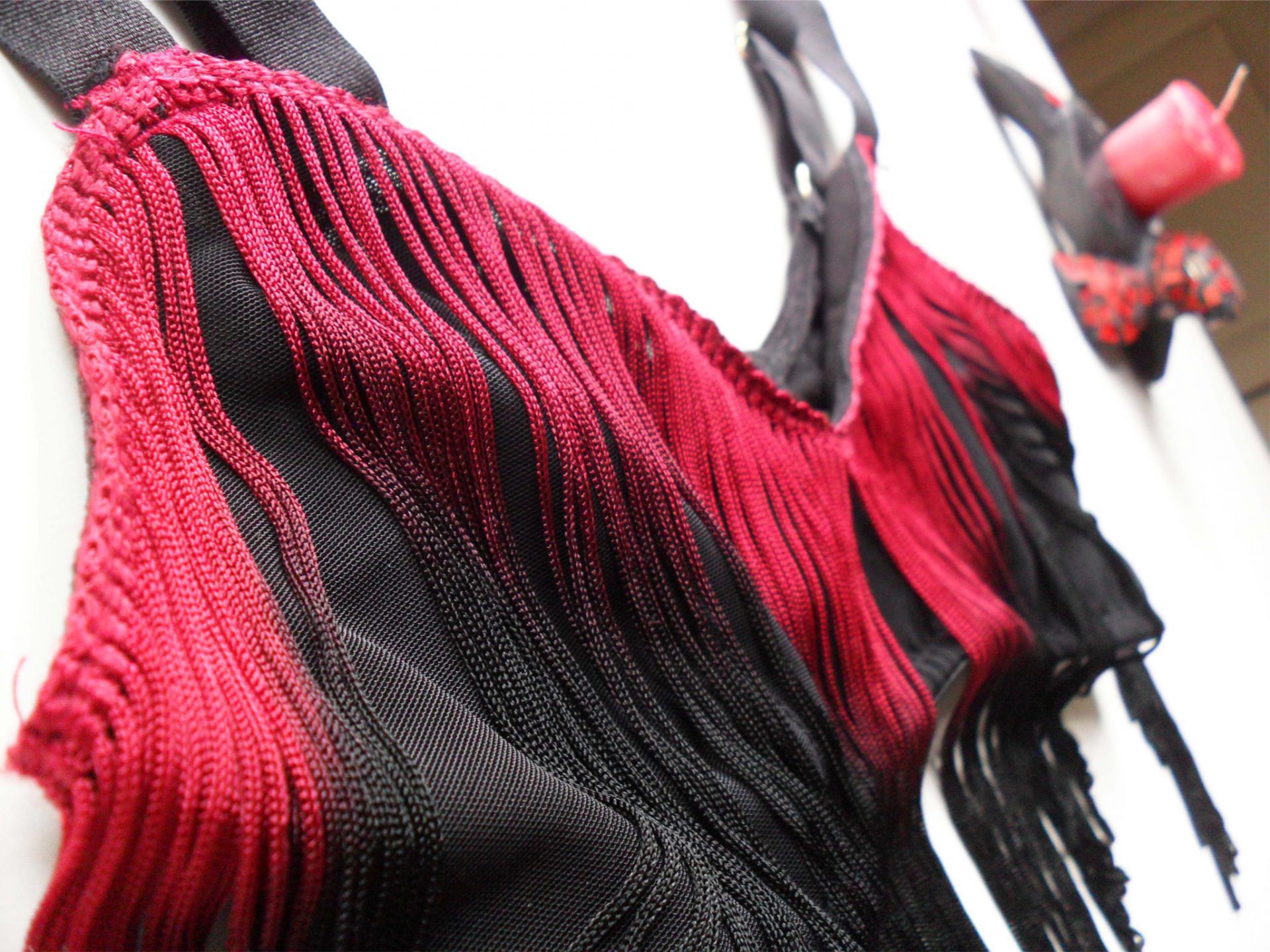 Fit
The Phoebe bra and knickers come in sizes S, M and L. I bought a S in both, I have no idea why I did that as I always buy size M bras to get the cup fit right and then adjust the band down. Perhaps I thought the bandeau style would hold things in better than a triangle-cupped bralet.
Size Small is a UK 10 according to Playful Promises' size chart, however the mesh and waistband elastic of the knickers are so stretchy that the sizing is quite flexible – they'll fit anything from a UK 6 to 10 just fine.
As for the bra, on the tighest hooks it fits like a snug 30-band – on the loosest I suppose it will fit a 32-band wearer no problem. The cups looked like they fit me when I first tried it on (and they do, sort of) so I took the tags off, but when I'm wearing this all day long I do start to get some overspill – or fall out of it completely! So I think the size S bra is best-suited to a 30D/32C or below.
Verdict: 6 / 10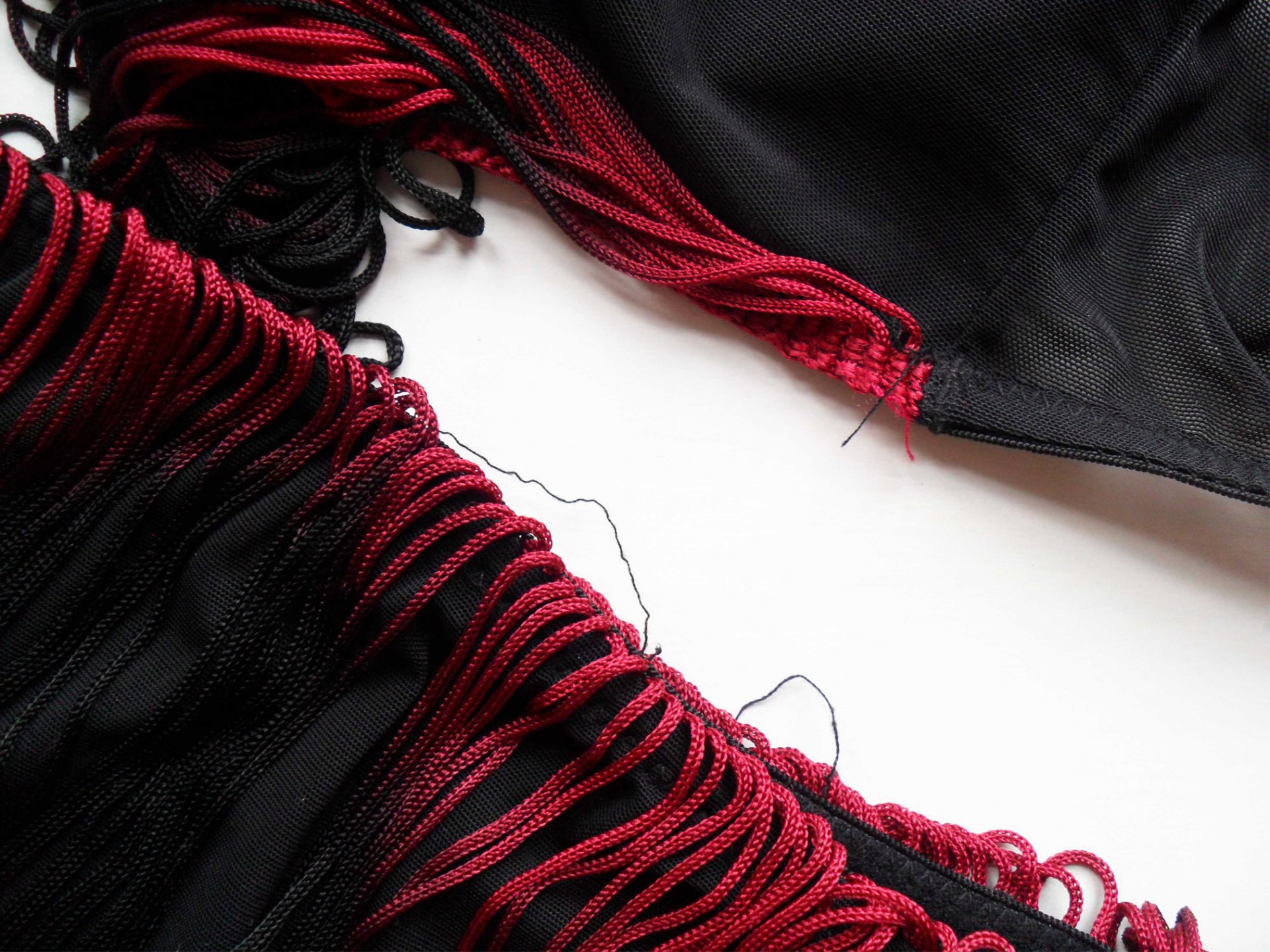 Durability
Both pieces are hand-wash only – they don't state at what temperature but I've only washed them in cold water in case heat caused the dye to leak out. I was a little worried about that because my Made by Niki hand-dyed ombre skirt leaks a ton of dye every time it gets wet, but this Phoebe set didn't leak a thing.
I do seem to always be finding new loose threads popping out from where the fringing is attached, though the fringing isn't coming loose or anything. I've had the set now for over 3 months and it's still in great condition!
Verdict: 8 / 10
Value for Money
Phoebe is the cheapest range from the current Peek & Beau line, at £12 for the knickers and £18 for the bra. I bought it through Hepburn and Leigh where I had a 30% off voucher. Even without that discount though I think this is a really great-priced set. It's not often you see something this unusual for only £30, let alone from an indie brand.
Verdict: 9 / 10
Would I recommend it?
Yes, I would. It's a cool, comfortable, inexpensive and did I mention incredibly fun bra set. I'm excited to see what's next from Peek & Beau!
What do you think of this Phoebe bra set, and the Peek & Beau line from Playful Promises* in general? Are there any other brands you'd like to see release cheaper diffusion lines?