Disclosure: I purchased this lingerie myself but received a discount in exchange for publishing an honest review.
It's our 150th blog post (yay!) so I'm making it special by reviewing a piece of lingerie that I've had my heart set on owning for ages.
Made by Niki is a brand that's kind of been on my radar ever since I got into luxury lingerie, and from the Peplum collection to the Membranes one, Niki comes up with really unique designs season after season. It's her String range however, made from hundreds to thousands of draped cords, that secured Made by Niki a spot on my tiny list of All Time Favourite Lingerie Brands.
There is so much choice in the lingerie industry that it's difficult to do something that's totally original, and I honestly think Made by Niki's String pieces are some of the most innovative and unique designs of the past decade. I've seen fringed lingerie before, but never string used in this way, and the result is awesome!
Since its inception, the String range has developed each season, going from simple, triangle bra sets to more complex bras, skirts, bodysuits and more. The skirt sets were my favourite but at knee-skimming length on a model that's a tiny bit taller than me I worried they'd be peeking out from under the knee-length dresses I wear on a daily basis.
So I was over the moon when Niki introduced a mini version for Autumn-Winter 2014 and after years of telling myself I'd buy a set one day, I could resist no longer…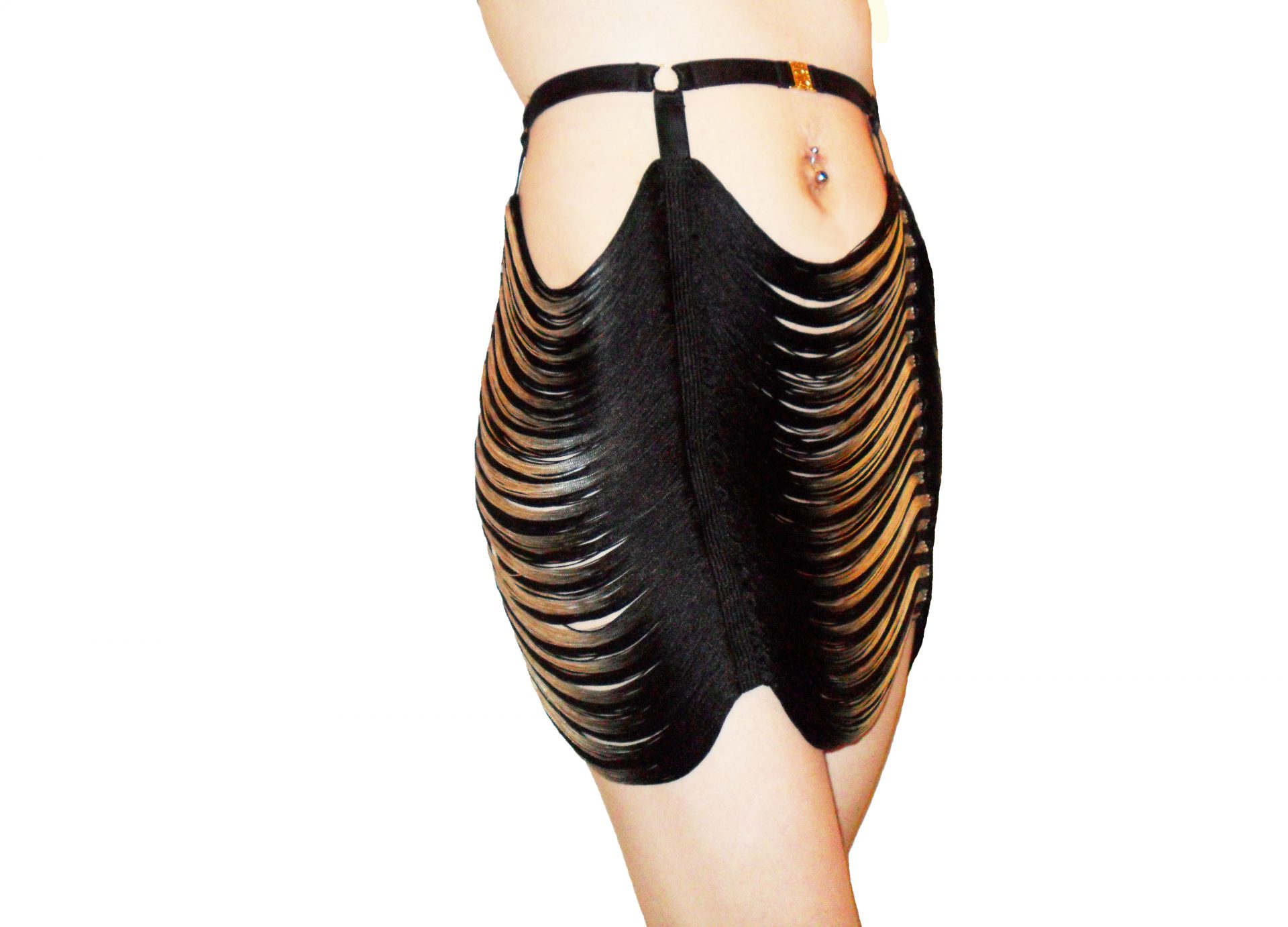 Appearance
The set is available in candy pink or black ombre. I kind of prefer the pink but as someone who owns a ton of black lingerie I went for that colour so I could mix and match.
The bra is beautiful but the skirt is the true show-stopper of the set. It's made from literally thousands of the tiny, silky strings and the ombre colouring is shown off to great effect with the 5 panels. I love the peekaboo effect of the elastic straps at the top, and it's all finished off with a gorgeous, stamped 'Niki' clasp in gold.
Verdict: 10 / 10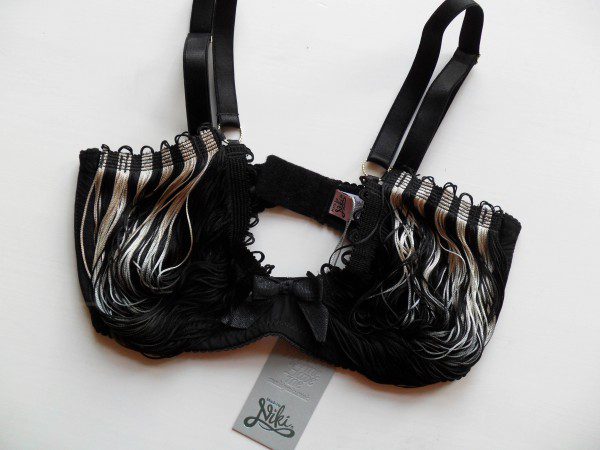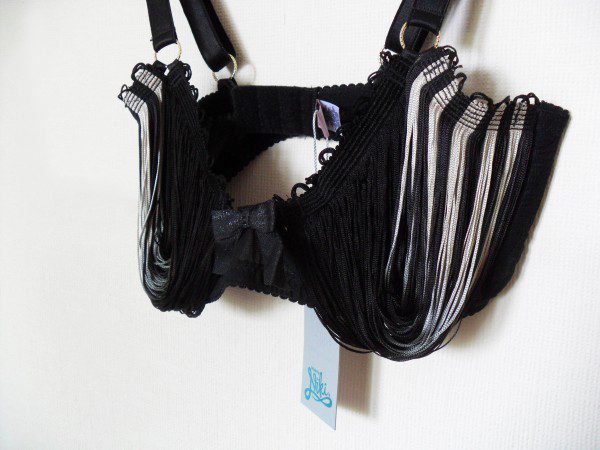 Construction
The bra is a cupless, underwired style with the string draped down from the top which adds fullness when worn (some of the previous String bras go side-to-side and don't have this effect) and has an organza bow at the centre.
The bra and skirt straps are a thick, soft, satin elastic which is really comfortable against the skin, and both have gorgeous, decorative gold rings and sliders to add yet another luxury touch.
As for those amazing, silky strings they're extremely well secured so you can expect this set to last for a long, long time. There are so many of them too that you can wear the skirt alone, or pop some black or skin-tone knickers underneath without them really being visible.
Overall, it's perfectly put-together!
Verdict: 10 / 10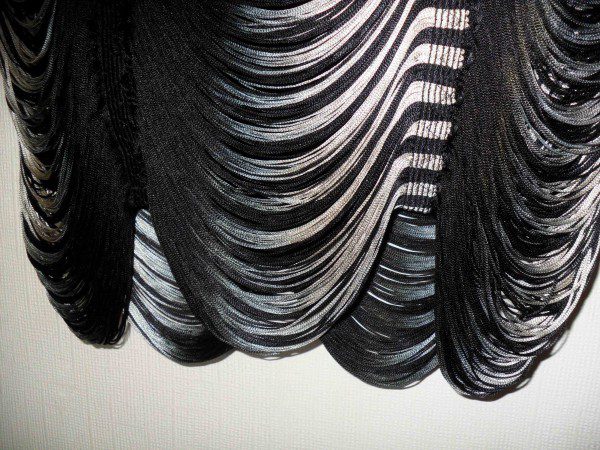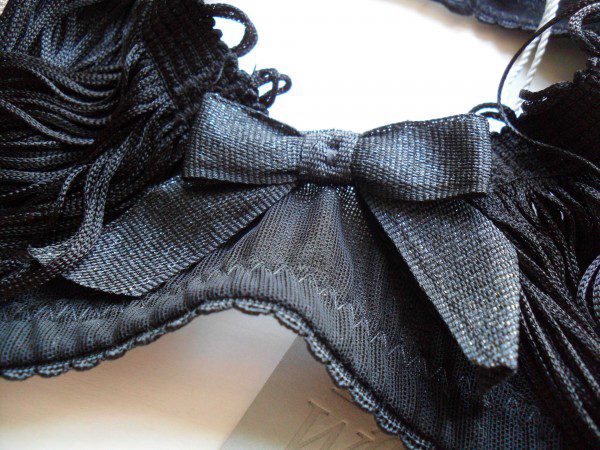 Fit
I bought a UK size 8 skirt and 32D-E bra. The skirt is a perfect fit – close-fitting but not at all tight and it's so comfortable I constantly forget I've got it on! The adjustable waistband means you can wear it at the waist, hips or anywhere in between.
Unfortunately the bra wasn't a great fit on me. I typically wear a 30F but own a lot of well-fitting 32E bras from brands that don't make a 30-band. So I'm at the upper end of what this bra should fit. The band and underwires were okay, but the strings at the base of the cup weren't long enough to drape all the way round the breast and were pulling tightly.
I don't see any reason the bra wouldn't fit a 32D, but if you're a 32DD or 32E the fit will depend on your breast shape. If they are full at the bottom you may well have the same issue as I did.
Verdict: 7 / 10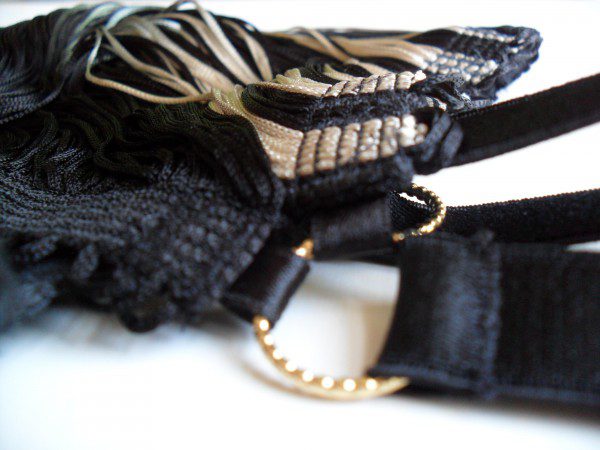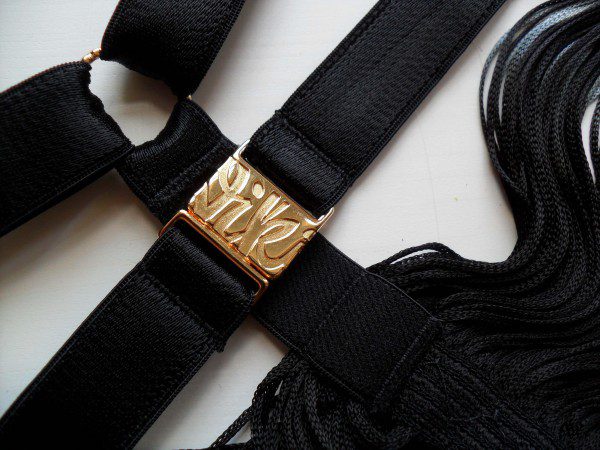 Washability
The skirt is hand-washable in cool water. I returned the bra due to it not fitting and didn't check the washing instructions first, but I would assume it's also hand-washable.
Although easy enough to clean, the skirt did leak a lot of dye so be sure to wash the set separately from your other lingerie and if you hang it indoors to dry do it over the bathtub or an old towel. Dry-cleaning is a possibility too and if you have the budget may be the better option.
Verdict: 6 / 10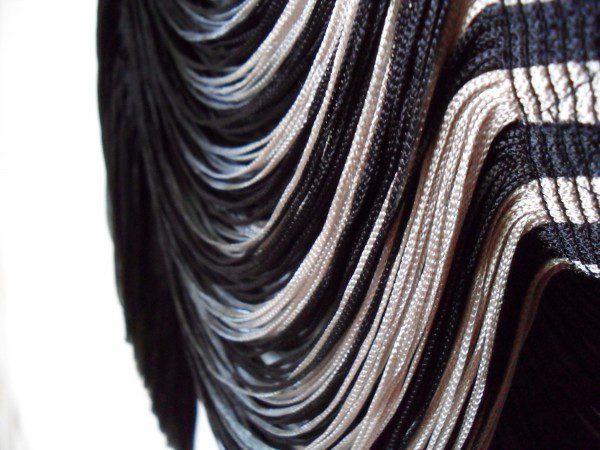 Value for Money
The skirt costs £179 and the bra costs £129. I shied away from buying anything from the String range before because of the price, but now that I've seen it up close I'm ten times more in love with these pieces than I was before. They're truly incredible and there's just nothing else out there like them.
It was a little disappointing that the mini, with so much less 'fabric' than the knee-length version, only costs £10 less, but taken on its own I still think you get a full £179 worth of luxury. If you're looking for an investment piece you'll cherish for ages, or an indulgent gift for a special occasion, I really do think these are worth the cost.
Verdict: 9 / 10
Would I recommend it?
Yes, yes and yes! However if you're a 32E be aware that the bra might not fit – Made by Niki does however offer fuss-free returns if that's the case and the skirt is something you can pair with another bra quite easily. I also think it would look divine over a black corset!
---
Made by Niki have produced just 35 of the bras and 55 of the skirts, with most sizes already down to just the last handful of pieces left, so be sure to order quickly if you don't want to miss out!
What do you think of Made by Niki's String range? Do you have a favourite piece?