I'm super excited today to be interviewing fellow knicker-flogger Jeanna Kadlec, the founder of Bluestockings Boutique in the US. Jeanna's actually interviewed me before too where she called me a "total inspiration", but I think what she has done in just one short year with Bluestockings is a total inspiration! 🙂
Taglined "Underthings for Everyone", Bluestockings is America's (and I think the world's) first lingerie boutique geared specifically towards the LGBTQIA+ community.
What does that mean in real terms? Jeanna explains in her own words below, but it means things like not assuming your partner's gender in the product descriptions (how many times have you read "tempt him by wearing this…" or "he won't be able to resist…" when lingerie shopping online?), and offering a varied selection of styles with floral, lacy nightgowns and silk bralets sitting alongside packing briefs and gaffs. Boxer shorts next to lace-trimmed knickers. Binders as well as wired bras and bralets. It really is "underthings for everyone".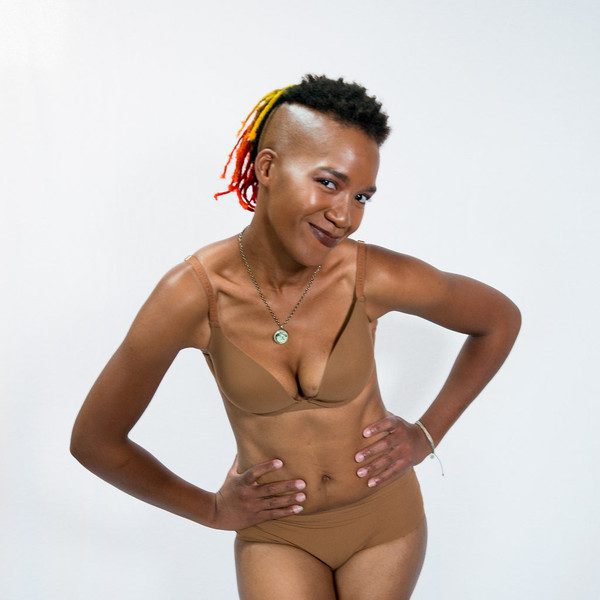 Nubian Skin t-shirt bra and short in Cinnamon. Photo by Michelle Davidson-Schapiro.
"Everyone" also extends to mean more than just gender identity. Jeanna is also committed to size diversity and ethnic diversity, stocking a range of plus-sized lingerie and the brand Nubian Skin which caters to darker skin tones. Last year she put together a brilliant, unique photo shoot with what is quite possibly the most diverse selection of models I've seen from a lingerie brand. Oh, and did I mention she only stocks ethically-produced lingerie too?
So that's why I think Bluestockings is a wonderful thing (that, and that Jeanna's one of the few other lingerie retailers with a genuinely cool blog) but that's not what this article is about. You're here to hear from Jeanna herself, so let's get onto the interview!
Estelle: Before we talk Bluestockings, let's go a bit further back – what sparked your interest in underthings?
Jeanna: My mom took my sister and I to Victoria's Secret once our family started doing a little better financially, which was around middle school. Occasionally, I would get treated to the '5 for $25', and let me tell you – those were the best shopping trips.
This was still before Victoria's Secret introduced PINK, so I felt super grown up when shopping there. It was an encouraging, safe environment. Positive associations with Victoria's Secret = definitely my origin story when it comes to lingerie.
Blackbird Underpinnings Anais bralette. Photo by Michelle Davidson-Schapiro.
E: What made you take that passion one (giant!) step further and think about opening your own lingerie boutique?
J: There was a lot that happened between the Victoria's Secret trips when I was little and my experience with lingerie when I was older. I got married pretty young in life, and during that time, lingerie actually became this horrible thing – in that something that had once given me joy was now expected to be performative, was expected to entice. (I've written about this on the Bluestockings Blog). It was… deeply not fun.
When I got divorced and started to come out, lingerie became a safe space in which to play, both with expressing my sexuality as well as with how my style was developing in my mid-twenties.
Bluestockings came a few years after that. Honestly, I think it came from a place of confidence in my queer self, knowing where I was in the community and having a handle on what some of the major needs in the community were when it came to shopping. It also came out of a place of wanting to change career direction. Have you ever had one of those lightning bolt moments, where you're struck with an idea that is so right that you have total conviction you have to do it, and that it's going to work? That's what Bluestockings was for me.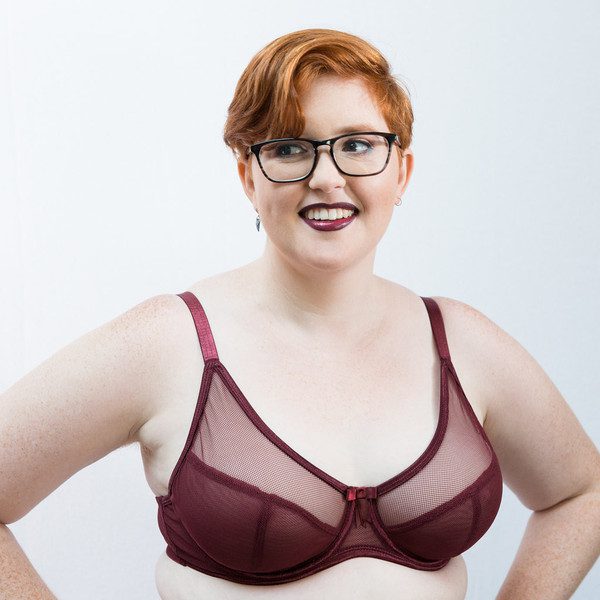 Claudette Fishnet bra. Photo by Michelle Davidson-Schapiro.
E: What makes Bluestockings a queer boutique? What sets you apart from any other lingerie retailer online?
J: It's the fact that we're LGBTQIA+ inclusive. I rarely describe the boutique as queer, but rather that we are geared to the LGBTQIA+ community. Meaning, anyone can buy the lingerie and accessories we have – the clothing itself isn't queer, or whatnot. If you're feminist and want to call your lingerie feminist, you do you! If you're queer and want to call your lingerie queer, rad!
Being centered on inclusivity is intentional and entirely changes our brand. Everything is LGBT inclusive, from the branding to the social media to the product descriptions. It means not assuming my customers' pronouns. It means stocking items that are gender affirming. It means offering fit notes for transfeminine people. It means presenting the boutique thoughtfully in a way that is easily recognisable to LGBTQIA+ folks, so that they go, "yes, this is a safe space. My needs are thought of and considered here".
In terms of what sets us apart from online lingerie retailers – that, first and foremost. Frankly, it also sets us apart from literally every other lingerie boutique in the world: period, full stop. We are also, however, increasingly known for the fact that we exclusively stock ethically made lingerie.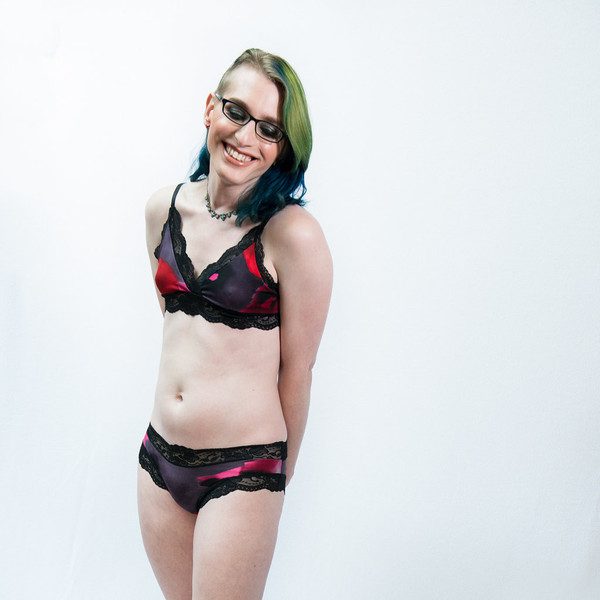 On The Inside Calla bra and brief. Photo by Michelle Davidson-Schapiro.
E: Often, a boutique's product range is easier to define – a plus-size lingerie store for example is only going to stock plus-size. But any type of person can be LGBTQIA+ – plus size, full-busted, small-busted, rich, poor… So how on Earth do you decide which selection of products to stock on a limited, indie-businesswoman's budget?
J: That is a great question, and one I wrestle with daily. I think the answer is that you try to be as inclusive as possible, in a way that honors your budget. Far more important than constantly bringing in new stuff in new sizes is making sure that your business actually sticks around! When Bluestockings opened, I brought in a pretty aggressively large size range – and it still didn't satisfy folks. That was a pretty swift lesson that I should just do what I can and work to educate my customers about why the same bra can't come in every size.
After all, even full bust- and plus size-specific retailers have to draw the line somewhere. You know, as a retailer yourself: you literally cannot stock everything. (And the fact that I require proof of ethical manufacturing from all my brands means that there are a ton of brands that aren't even options for me to bring in.)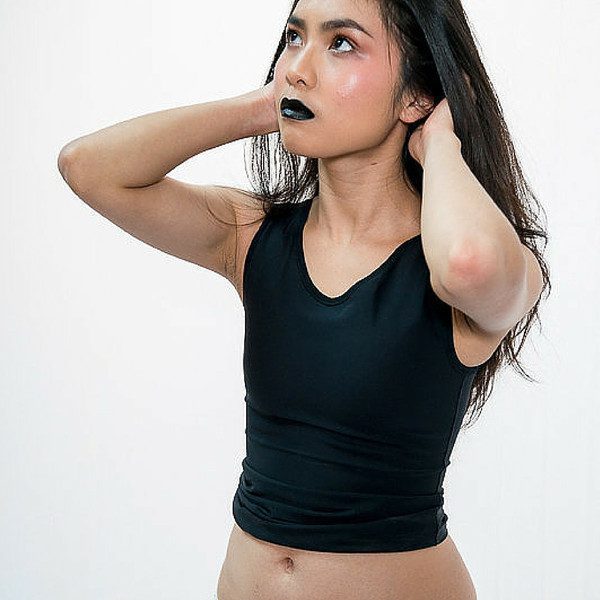 Trans-Vormer tank binder. Photo by Michelle Davidson-Schapiro.
E: Are there any products you'd love to offer your customers, but which don't seem to exist just yet?
J: Some. I wish that there were more wireless bras for full bust and plus sizes available. I wish that there were more androgynous-friendly styles out there, especially in plus sizes – plus size folks who want something not ridiculously femme or burlesque are SOL. I wish there were more colourful, funky binders available.
But mostly, I wish these items were able to be manufactured at a more accessible price point for my customers. I'm so grateful that my customers are amazing about understanding why ethically made costs more, but sometimes I really, really wish that a handmade packing brief didn't cost like, $65 (~£45).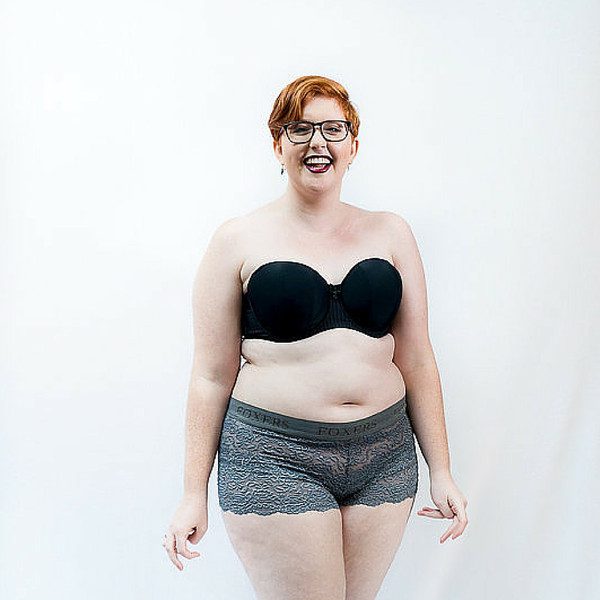 Foxers lace boxers in Charcoal. Photo by Michelle Davidson-Schapiro.
E: If money were no object, would you consider designing your own in-house range? Or is retailing the fun part for you?
J: I love the research and curating involved in retail – building an inventory that excites my customers and makes them feel like they have options.
If money were no object, in an ideal world, I would definitely think about collaborating with an existing (indie) brand to design a line specific for Bluestockings. But I'm no designer myself! Ask any of my art teachers.
E: Lastly, what's next for Bluestockings Boutique? Any exciting plans for the rest of 2016?
J: April 18th marked one year in business, and I could not be more excited about that. We've done an Instagram Challenge and a huge blog giveaway during our birthday week. Bluestockings is also participating in Queer Fashion Week this fall (autumn), and I'm extremely excited for that.
I'm trying to keep the calendar relatively open and adaptable – all retailers know how fickle cash flow can be, so my goal this year is less to Do All The Things and more to keep Bluestockings in business so that it can continue to serve folks who can't be served anywhere else.
Do you have any questions for Jeanna about Bluestockings Boutique? Leave a comment below!