Disclosure: I received the lingerie shown here free of charge from Foxers to review. All opinions are, as always, 100% honest.
A while back Foxers got in touch and asked me if I'd like to review something by them. I already knew them from their lace boxers which I'd had my eye on as a potential purchase, so I couldn't have been more thrilled. They asked me to send over a list of things I liked, and by coincidence picked out my favourites from it to send me – one happy Estelle!
The goodies arrived in the Foxers drawstring bag pictured above which I loved (and which comes with every order) – perfect for storing them in but plenty big enough to use as a regular bag too for going to the gym or whatever. Here's what I thought of the lingerie itself…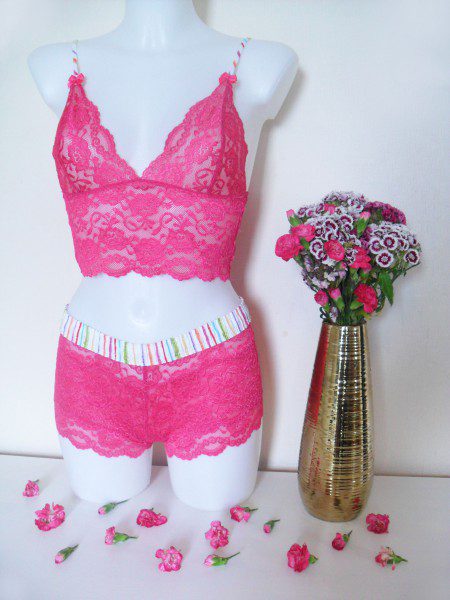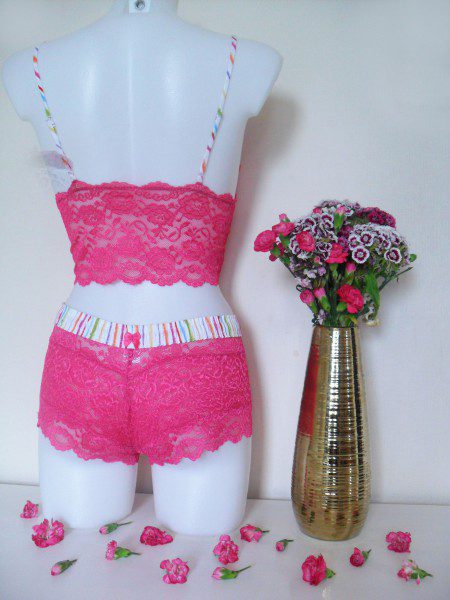 Appearance
I think 'casual' is the word that best sums up Foxers' aesthetic. There's just something so relaxed and easygoing about everything they design – this is lingerie that's pretty and stylish, but also looks comfortable enough to wear all day long and even to sleep in. Maybe 'wearable' is the word I'm look for.
Typically, casual is not my personal style at all! I like to dress up. I've also not big on boxers or anything menswear-inspired, and yet somehow I fell in love with Foxers' lace boxer shorts the moment I saw them on one of their stockists' websites. Perhaps it goes back to my old penchant for clothing in unexpected fabrics, like lace and silk zip-up hoodies.
The lace is gorgeous, with flowers outlined in a thread that has a lovely sheen to it – it stands out particularly well in the Fuschia colourway. The Watercolour striped trim on that one is cool and colourful and just makes this set so fun to look at! I also love that both shorts have bows at the back – another unexpected details, because they're always at the front right?
The black boxers have the Foxers branding on the waistband. Normally I'm not a fan of logo waistbands (which are coming back in style right now) but with the black embroidery on black elastic it's not an in-your-face feature. Subtly done like this, I actually quite like it!
Verdict: 6 / 10
Fit
I'm a UK 6 / 30E and received the boxers in a size XS and the bralette in a size S. The boxers fit me totally perfectly and in line with Foxers' size chart.
With a 27″ ribcage, I could have gone with either the S or M bralette. There are cup size recommendations but honestly they're meaningless without a band size, so I went for the S which was closest to my dress size (it says approx. US 4-6 which is a UK 8-10). And, yay, it fits me perfectly too! The size chart says 'A-C cup size (approximately)' for the size S and like I said, I'm a 30E, so the bralette sizing is more flexible than Foxers may realise.
Verdict: 9 / 10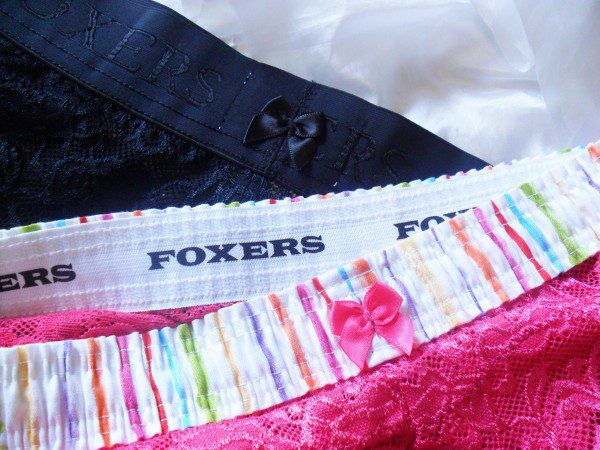 Construction
Foxers' lace pieces are made from a 90% nylon, 10% elastane blend so it has plenty of stretch. It's also a lovely, soft lace that feels a bit spongy if you bunch it up – wonderfully comfortable to wear! They both have gussets too, always a must.
The bralette is really more of a cropped camisole (and that's the category it's listed under on the site) so it's not built to offer support – the band isn't particularly tight for example – but it's all nicely sewn together. The only thing I don't like is that the rings and sliders on the straps are plastic, which tends to break eventually.
Verdict: 8 / 10
Durability
Unfortunately, as gorgeous and comfy as the lace is, it's not very hard-wearing. It pulls easily and has bobbled quite badly at the gusset and sides on the boxers, so I'm guessing this is where they were rubbing against the seams of the shorts I've worn regularly this summer. If you're a skirts and dresses kind of person (which I am, usually) they're probably fine since the bralette hasn't bobbled any, but if you prefer trousers then you'll likely find Foxers' cotton boyshorts longer-lasting.
One thing I do like though is that the black boxer shorts have an embroidered, not printed, waistband. I know from doing my fiancé's laundry that printed elastic fades quickly, but you know embroidery is going to last and last!
Verdict: 5 / 10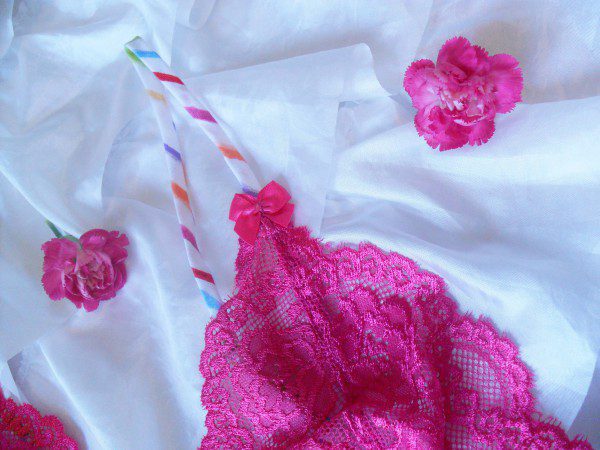 Value for Money
Foxers' lace boxer shorts and bralettes come in tons of colourways and they all cost $32 which is about £24.50 or 29€ at current exchange rates. Despite the fabric being less durable than I'd hoped for, I still think that's a great price for both pieces. They're fun, they're super comfy, and they're also from an independent brand that manufactures ethically.
Verdict: 7 / 10
Final Thoughts
The Foxers philosophy is "stylish, comfortable, and multi-functional", and I think the three pieces I got to try out sum that up perfectly. You can wear this set as lingerie but also as sleepwear, it's that comfortable. The bralette's band is also long enough that it can be tucked into a high-waisted skirt on me, so if you're a bit more daring perhaps you could even wear it as outerwear too!
See all lace boxers here and all lace bralettes here.
I'd love to know what you think of Foxers, especially if you've bought from them in the past. Which of their many, many colourways would you get the bralette or boxers in?