Disclosure: I purchased this swimsuit myself. Links with a * are affiliate links.
As a small town inhabitant, I don't normally visit large department stores. However after my previous employer relocated to the city centre, I spent my last month there (before I became a full-time blogger) checking out the local lingerie offering during my lunch-breaks. On one such trip to House of Fraser, I was on my way up the escalator headed to the lingerie department when I clapped eyes on the most amazing swimsuit I'd ever seen.
Biba is a fashion company from the 60s and 70s that eventually closed down, but was bought by House of Fraser in 2009 and relaunched as one of their exclusive, in-house brands. And gosh, I just want everything! I wandered to the changing rooms laden with armfuls of Biba goodies; the golden Geo Peacock print below, a homage to the brand's art deco-inspired roots, is especially good and I may have to get it for another holiday I have coming up. Being on a budget at the time though, I settled for just that first swimsuit I'd seen, the Peacock Kayla* – it was too unusual to pass up.
Other Biba swimwear I love. Left to right: Snake Sophie Swimsuit, £55*; Geo Peacock Balcony Bikini Top, £35*; Geo Peacock Icon Swimsuit, £55*; Geo Peacock Icon Bikini Top, £30*; Tribal Print Sophia Swimsuit, reduced to £35*. 
Appearance
I guess the best way to sum up the Peacock Kayla swimsuit is 'eye-catching'. It's bold, it's bright and it's almost guaranteed to be totally unlike anything anyone else on the beach is wearing. Part peacock illustration and part abstract design, it features an array of vibrant colours that makes it feel oh-so fun and summery.
If you've been reading this blog for any length of time then you'll also know that unusual hardware details are one of my very favourite things on lingerie, and it turns out I love them on swimwear too. The intricately-shaped, logo-stamped links between the cups and shoulder straps add a touch of luxury, and I like the low-cut, lace-up back too.
Verdict: 10 / 10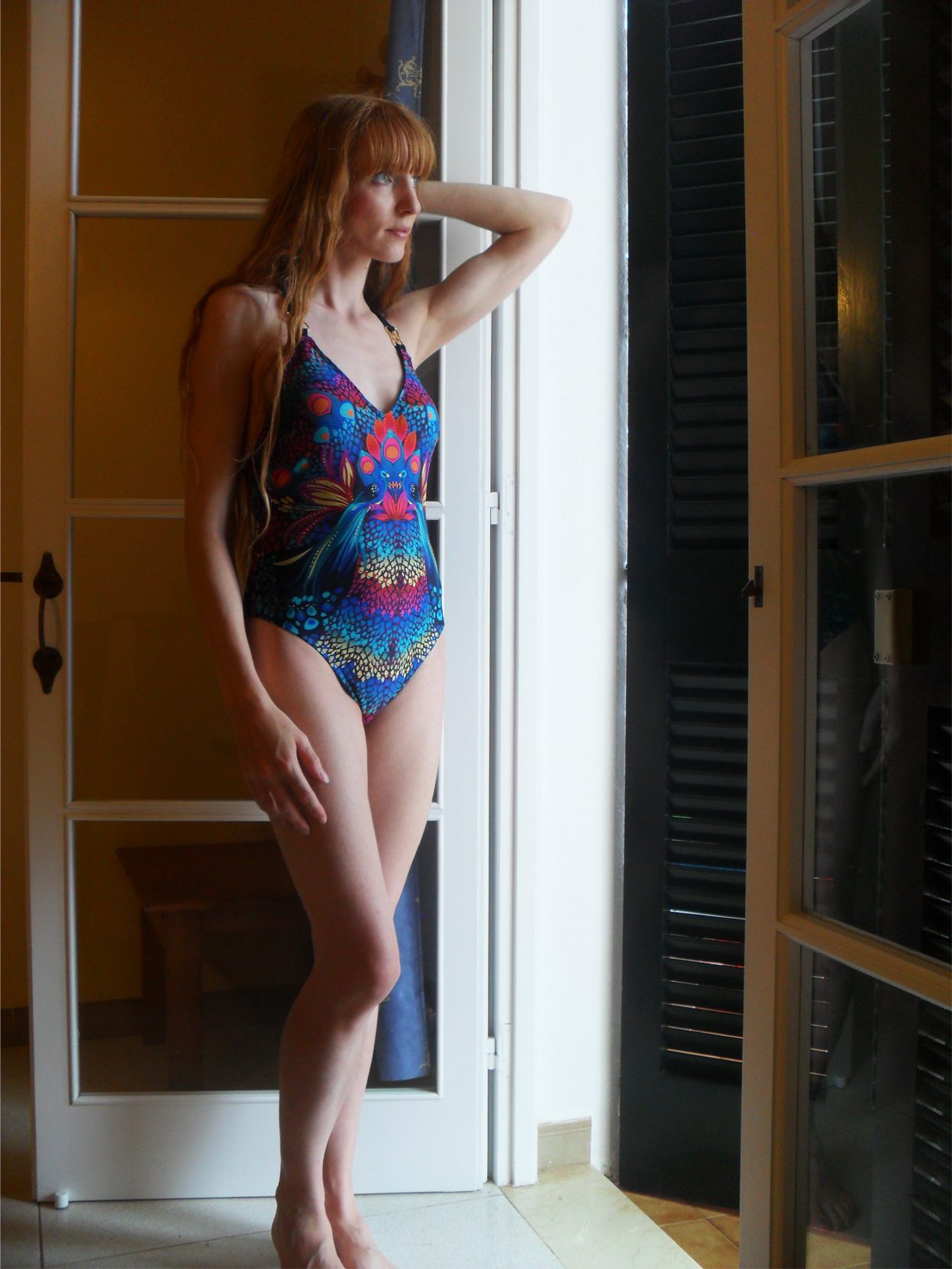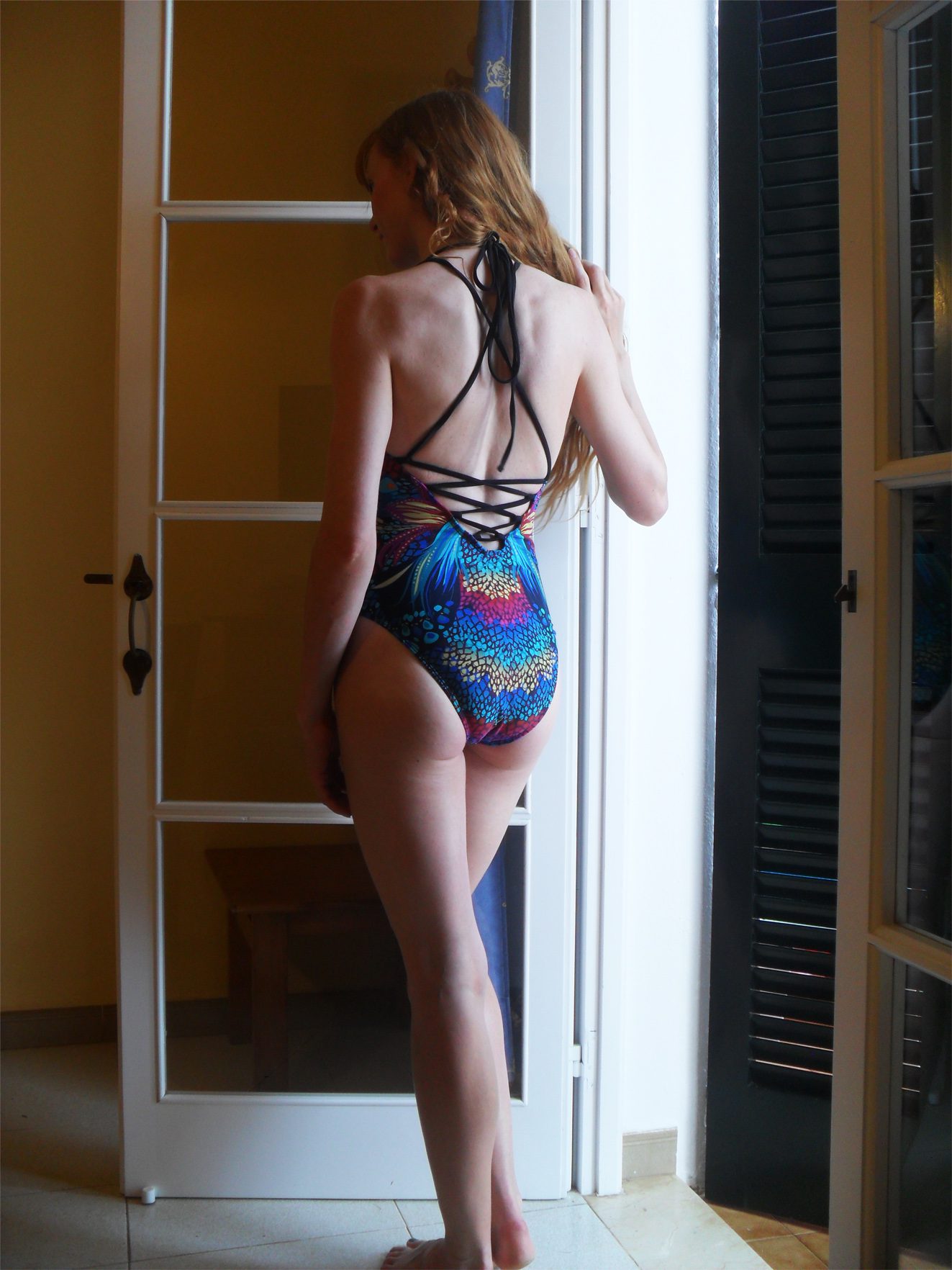 Construction
The swimsuit is made from a thick, soft fabric with a hidden powermesh lining inside for subtle, shapewear-style control at the stomach. The bust features thin, moulded padding with a thick elastic underband, which provides lightweight support and keeps nipples covered. The hardware is metal and hasn't tarnished at all in the water.
Overall, it's well-made and what I would expect from a £55 swimsuit. I only have one issue with it – the bust padding on the left side has been sewn about 1/4cm closer to the edge than on the right, which sounds like a tiny inconsistency but means that this little section of neckline often curls outwards instead of lying flat. It's a quality control issue with this particular swimsuit, so if you buy one then yours may well be fine!
Verdict: 8 / 10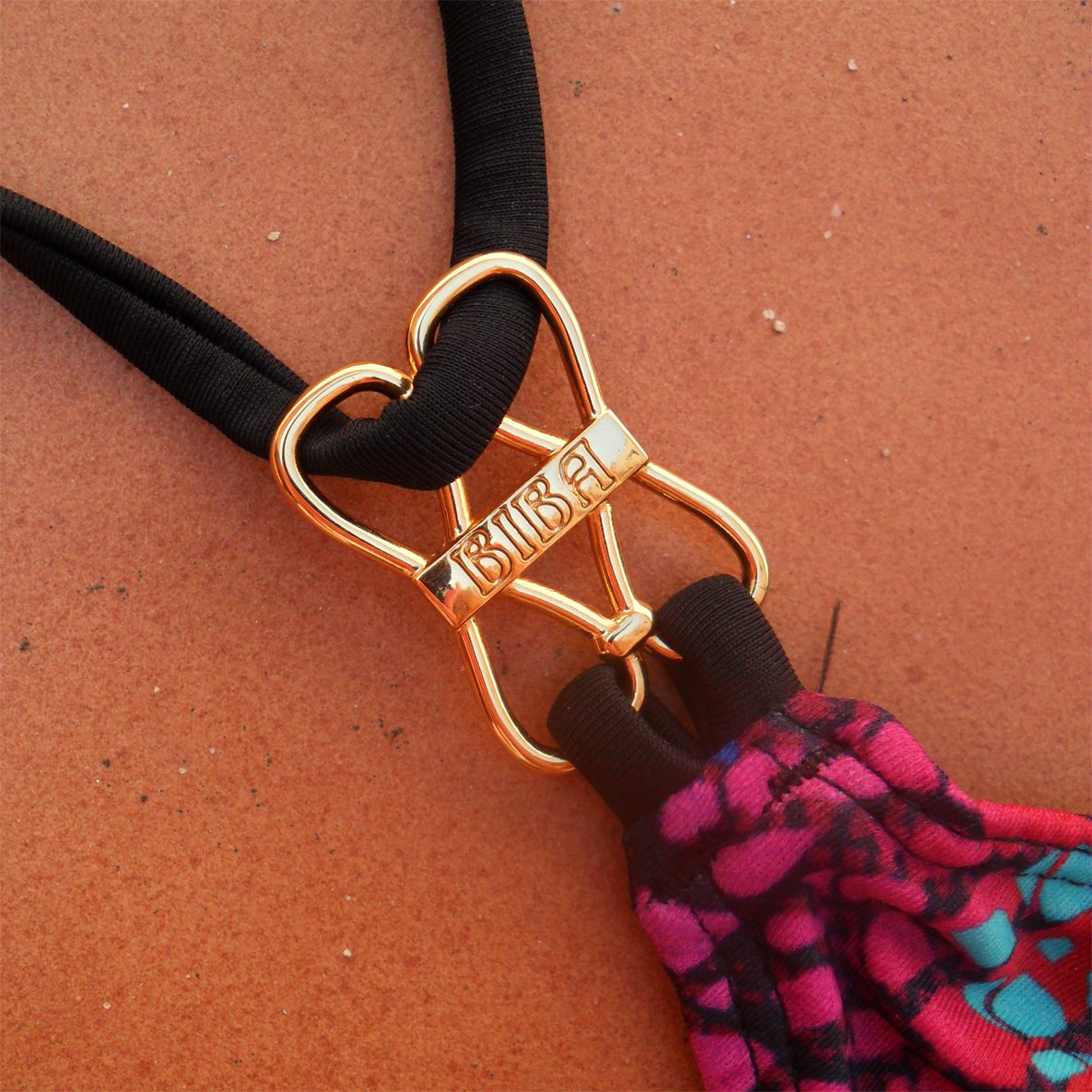 Fit
I bought this swimsuit in a UK 8, a size up from my usual but the smallest available. Given that it fits me like a glove, I would say it comes up a little on the small side. Yes there is some flexibility thanks to the lacing at the back, but I didn't pull the lacing particularly tight and still the swimsuit felt constrictive – probably due to that built-in tummy shaping! Size up if you don't want an overly tight feeling.
Verdict: 7 / 10
Durability
The Peacock Kayla swimsuit is hand-wash only, in cold/cool water. I've worn it multiple times to both the beach and pool, and it's still in perfect, new-looking condition despite the sand, salt water and chlorine.
Verdict: 9 / 10
Value for Money
In my opinion, this swimsuit is 100% worth the £55 price tag. Whilst it's not cheap cheap, I feel like this is a price point that's affordable to most, and the quality is good. And more importantly, it just looks so cool!
Verdict: 10 / 10
Final thoughts? I love, love, love this, and I will be wearing it on many more holidays to come. If the design isn't really your thing, I can still recommend Biba swimwear* on the whole for its quality, and their range includes everything from tiger-face prints through to more elegant and sophisticated styles.
You can buy the Biba Peacock Kayla swimsuit here*, and if your size isn't available check again the next morning, as House of Fraser receives warehouse deliveries daily and will make sizes available on the site again as they are restocked.
More Biba Beachwear I Love*

What do you think of Biba's Peacock Kayla swimsuit, and the brand in general? Do you like bold, colourful swimwear that stands out?