Disclosure: This top was sent to me free of charge by ZO Lingerie to be reviewed. My opinions are, as always, 100% honest.
Life has really gotten in the way of blogging lately – from home renovations to a holiday, and from posting endless clearance sale parcels to packing up pretty much everything I own to move abroad, the past two months have been a bit of a whirlwind to say the least! As such, I've fallen rather behind on all of the reviews I had planned, but in a way that's good because now I get to write about these items after an extended period of owning them.
I make sure to test garments out before I review them but I also want to publish whilst it's still available for you to buy, so that usually means waiting a few wears and washes, not a few months. Occasionally, a lingerie piece can seem great for the first few weeks and then later fall apart at the seams (yes, it has happened to me). I do go back and add notes to my reviews in cases like that, but it's better to be able to point out any flaws the first time round right?
Anyway, all of this is to say that I've had this ZO Lingerie Summer top for some time now, since late April, and I've worn it a whole bunch of times! It's a brand I've reviewed before, and I picked this piece this time round because I liked the versatility aspect, that it could be worn as both nightwear/loungewear and as a regular top – something which is also true for many of Zofiia's crop tops.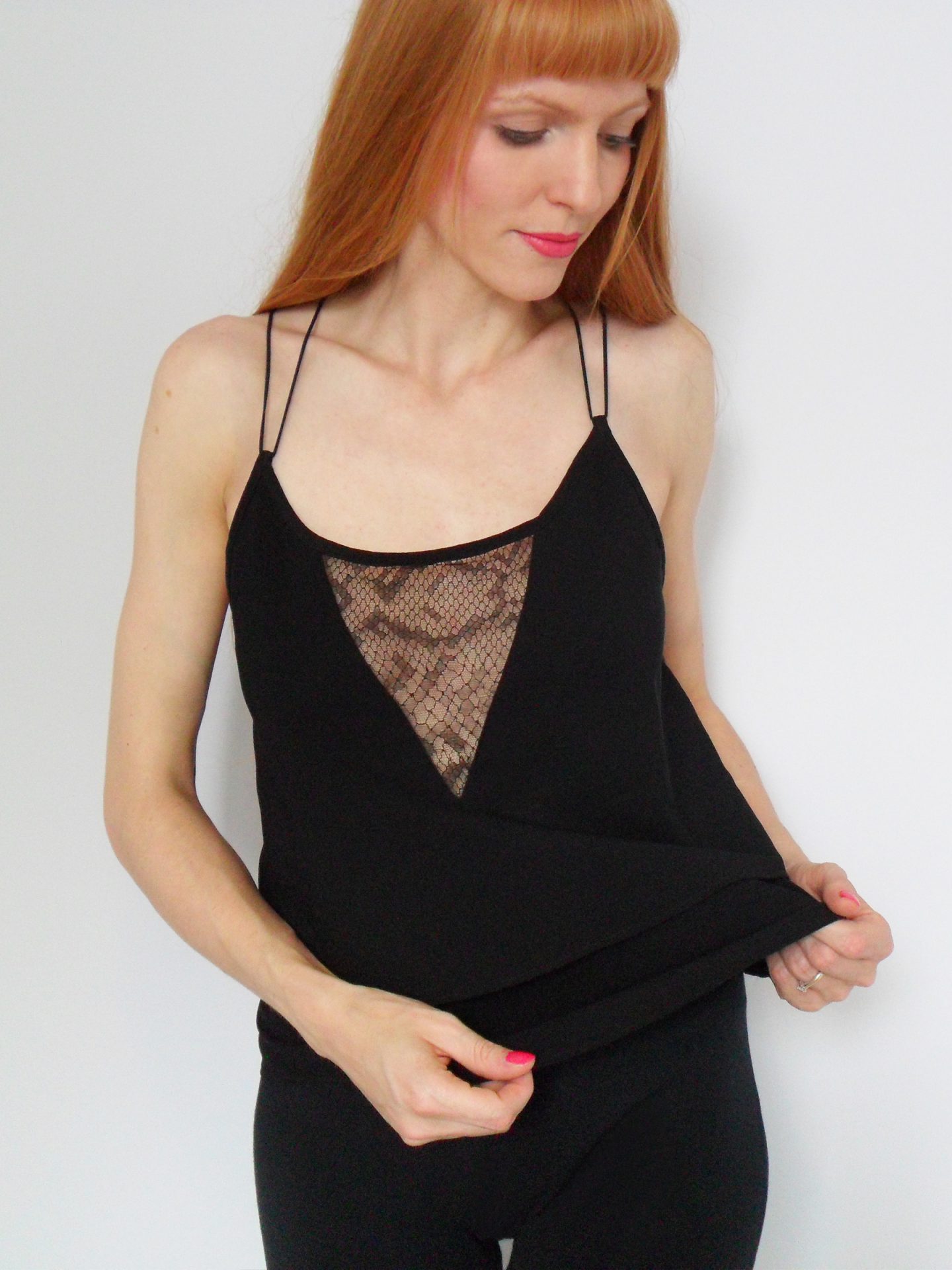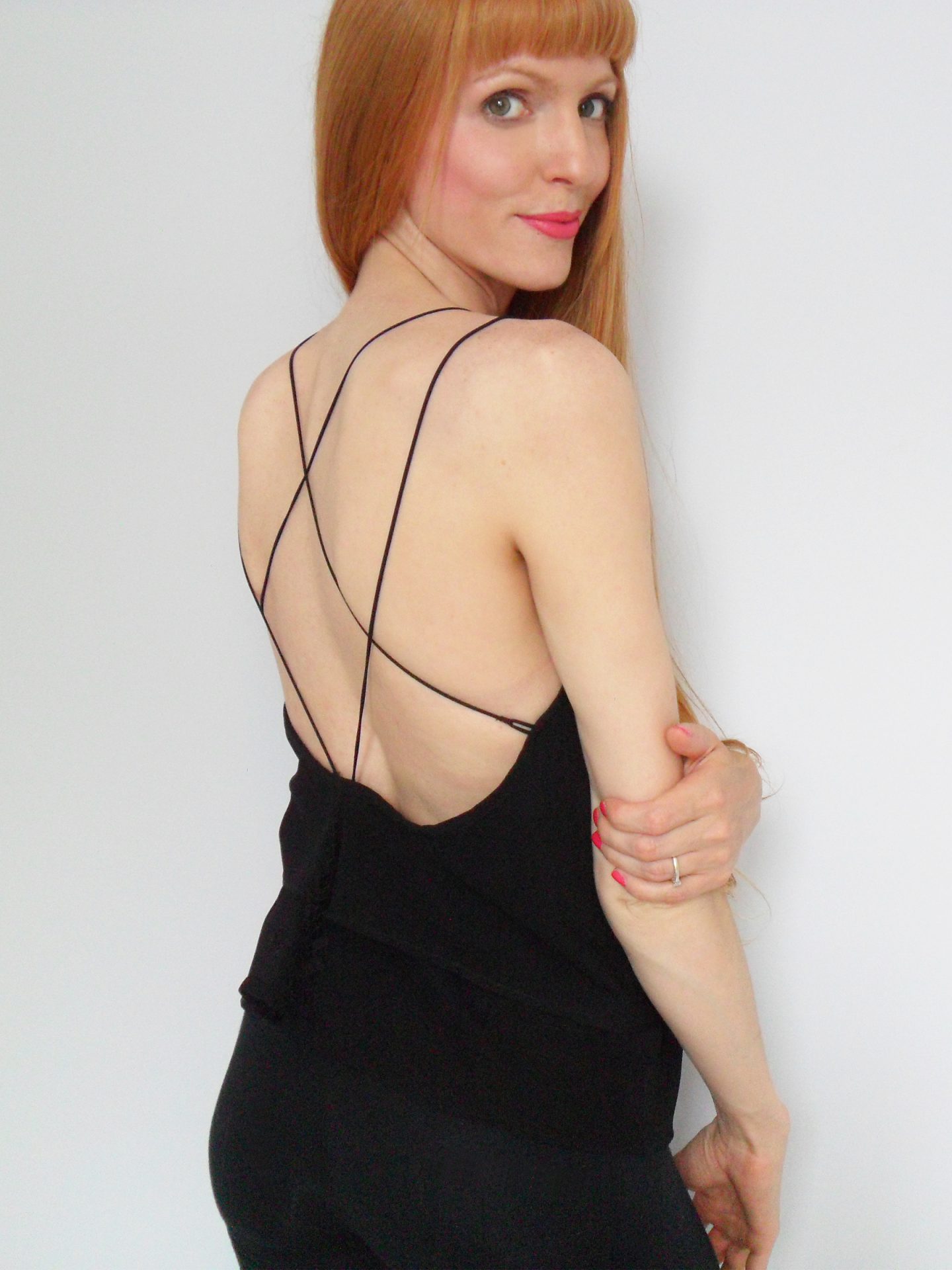 Appearance
The Summer top is made from two tiers of a slightly stiff black fabric that hangs nicely on the body, flaring out a little at the back where there's a godet of snakeskin lace. At the front, there's a sheer triangle of the same lace – if I wear this top with a bra I feel like the bra is too much on show, but it's not so revealing that you can't go without. The fabric is double-layered at the bust and thick enough to cover nipples!
What I love most about this design though is the back – a sweeping, low cut with thin cord straps crossed in a way that reminds me of an inverted pentagram, but in a very subtle, un-gothic way. This is another reason not to wear a bra underneath – it would ruin the delicate network of lines here.
For me, this is an easy-to-wear, goes-with-anything cami that I've been mostly lounging about the house in since it's a bit too revealing for me personally to feel comfortable wearing out.
Verdict: 6 / 10
Construction
One of the things that sets ZO Lingerie apart, and which I don't think gets emphasised on the site enough, is that the brand uses fine laces from design houses such as Solstiss and Sophie Hallette, rather than just cheap, unbranded stuff. The lace in this case is a 100% silk, snakeskin-style one which, though not my personal style, I appreciate for its uniqueness in a sea of standard floral laces.
All visible stitching on the camisole is tiny and neat. At the front, the lace is encased between two layers of fabric – the top tier and the longer bottom tier, which also acts as a lining at the bust. At the back, it's simply overlocked in.
Although the front insert has a much neater finish, I was a little surprised that only a tiny 2mm-or-so border had been sandwiched between the fabrics – something I found out when my son prodded the lace panel and a 2″ section promptly popped out of the seam, which I painstakingly sewed back in by hand. Granted, lingerie is rarely designed with toddler-proofing in mind, but a larger seam allowance would have made for a sturdier garment which can never be a bad thing.
Verdict: 7 / 10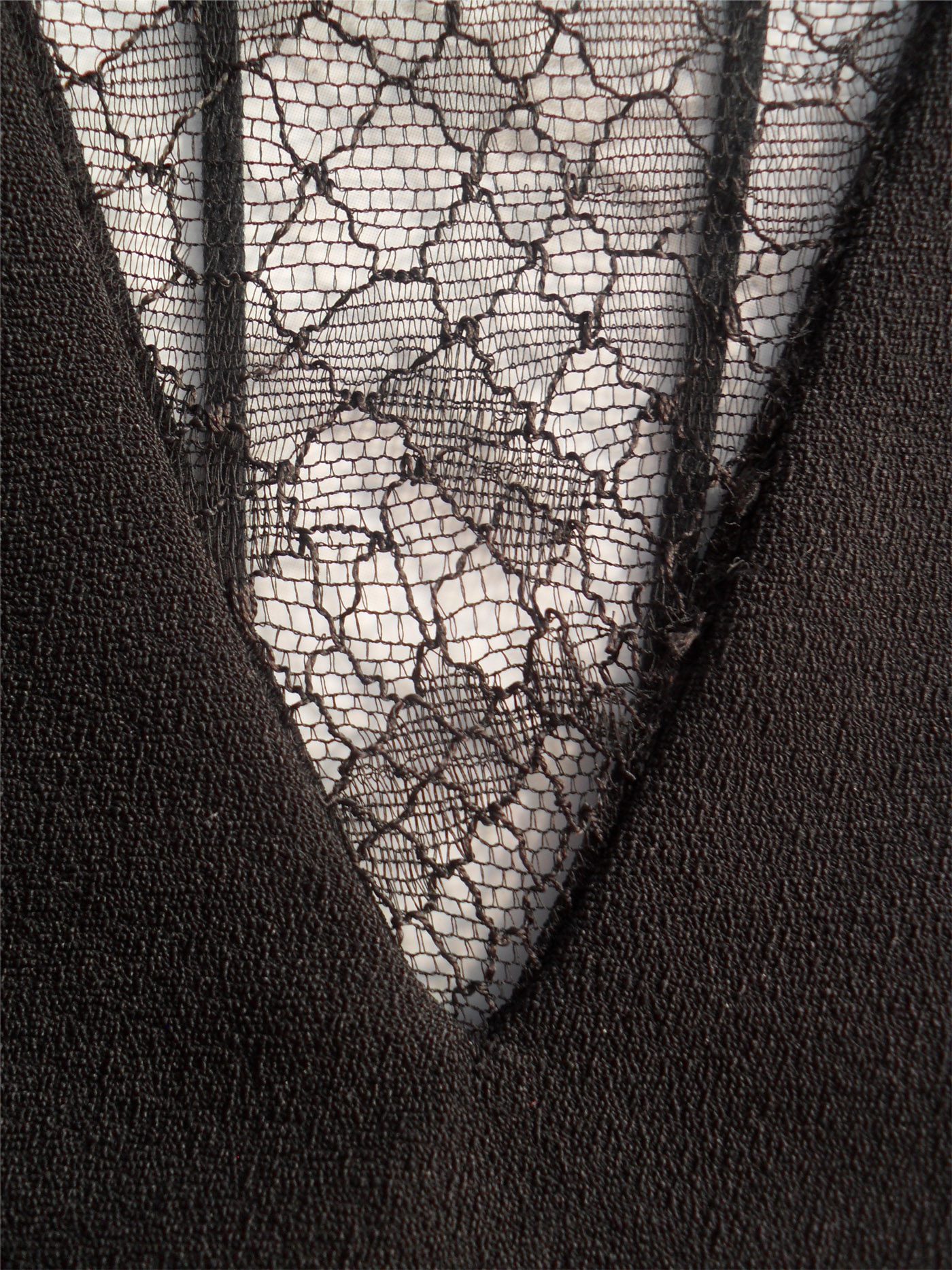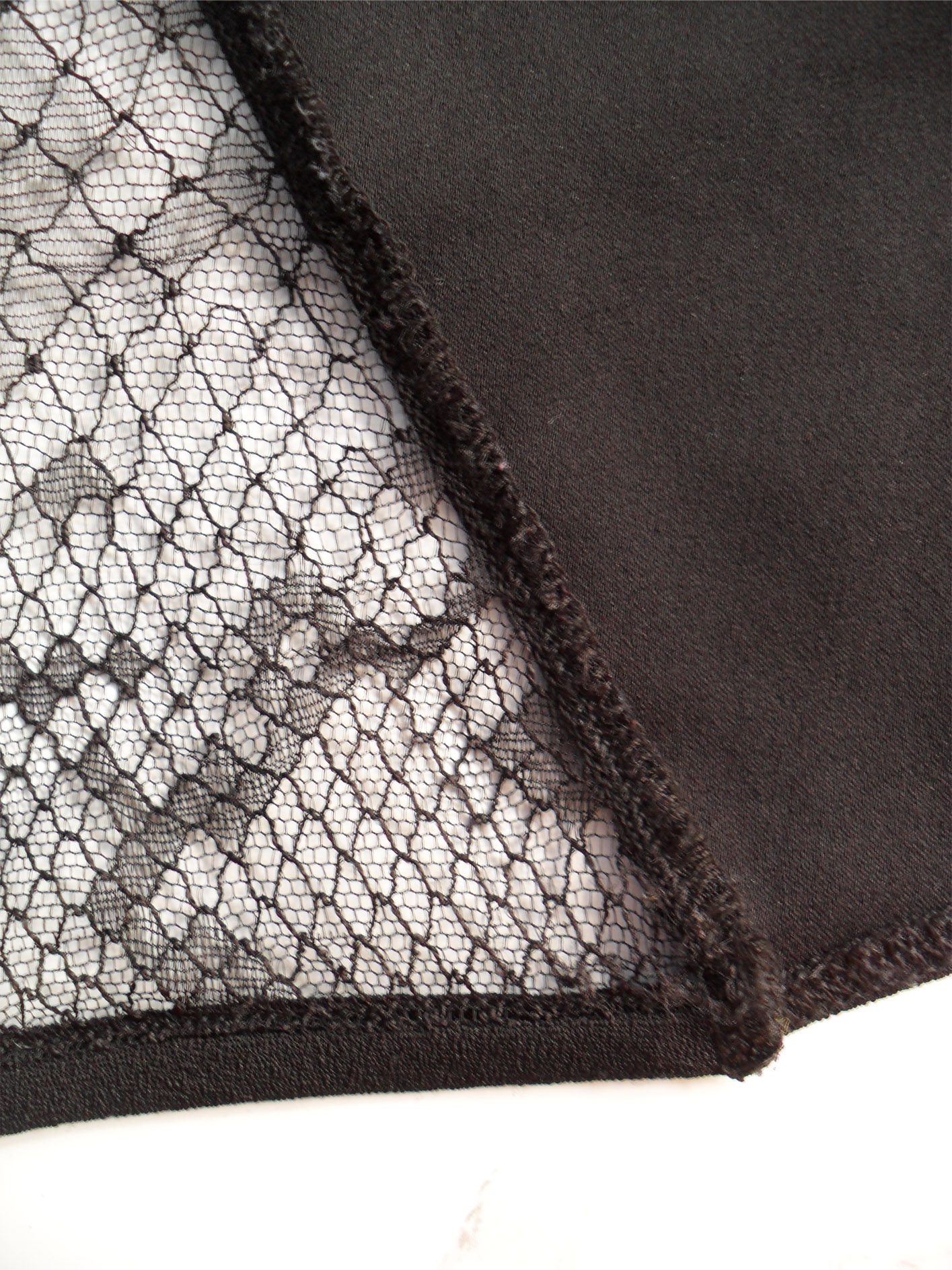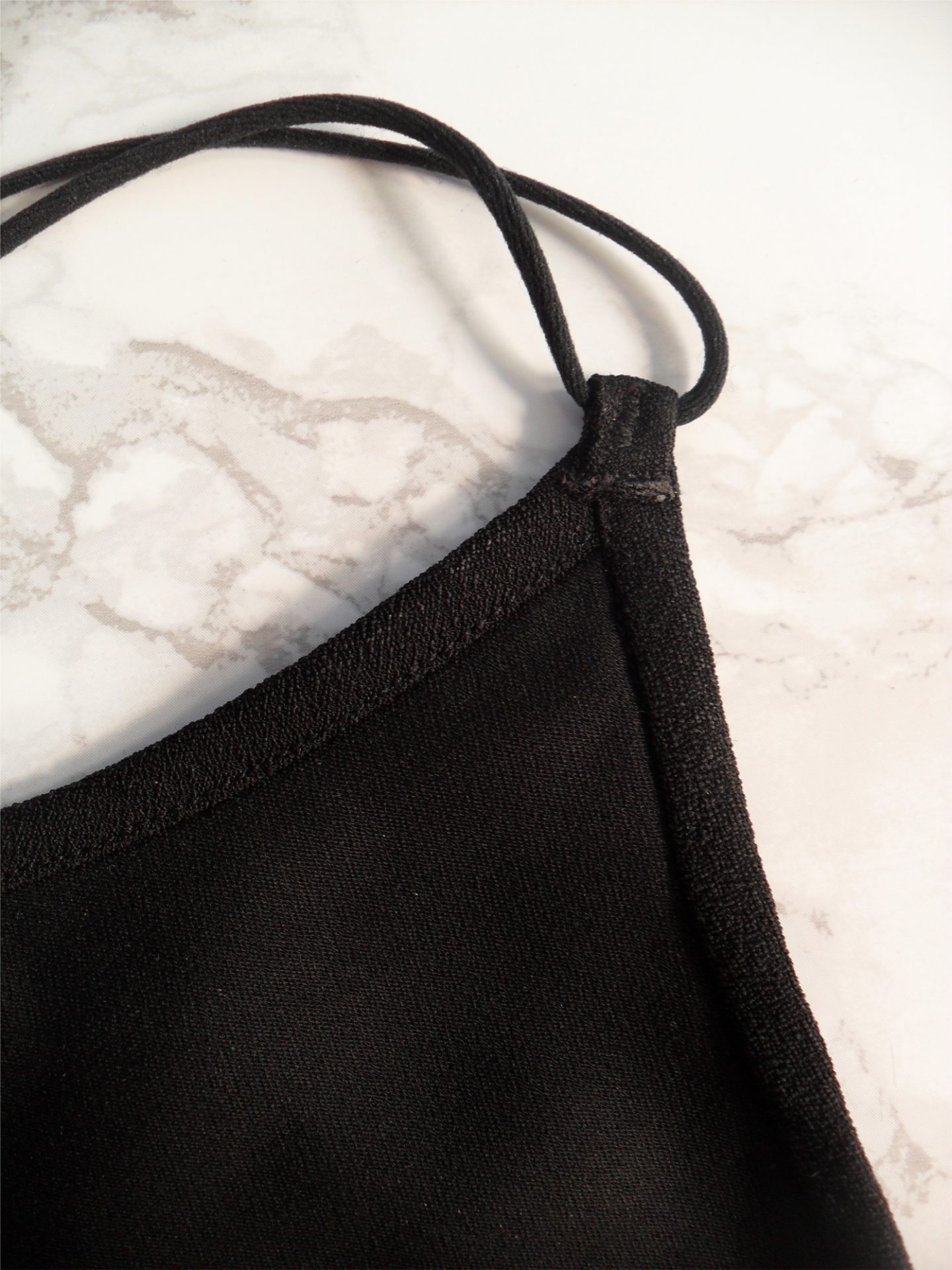 Fit
I'm a UK 6 and have the Summer top in a size XS – that's an 8 (Eur 36) according to her size chart, but it fits me just fine. It has a loose, slightly swing shape, so you don't need the size to be spot on for it to look and feel okay. Also, the crossed straps made this top a little difficult to get into at first, but after about five tries I finally got the hang of it!
Verdict: 9 / 10
Durability
I covered this in the Construction section already, but the way the front lace panel has been sewn in with next to no seam allowance does make this top more delicate than it looks.
That aside, the top feels well-made and durable. I've worn it lots, including to sleep in, and besides the small repair I made it is still in perfect condition. However, it is supposedly machine washable and I definitely would not recommend that due to the lace. Hand wash this one with care.
Verdict: 6 / 10
Value for Money
ZO Lingerie's Summer top costs 65€ (~£58 / ~$78) and is handmade in Ukraine. I am perfectly happy with that price for a versatile lounge/outerwear top that looks great, uses quality fabrics, is ethically made and is mostly well-constructed too. Also, as with my previous ZO Lingerie review, it arrived in a lovely little satin storage pouch!
Verdict: 8 / 10
What do you think of ZO Lingerie's Summer top? Would you wear it as nightwear, loungewear or out and about?