Disclosure: I received this set free of charge from ZO Lingerie to review. All opinions are, as always, 100% honest.
Last month I featured new indie brand ZO Lingerie, and today I'm bringing you a more thorough look at this debut collection after the lovely Zofiia sent me a set to try out. Although the standout piece for me is the understated Elegance bodysuit, I was also drawn to the sheer crop tops as they are a key component of ZO Lingerie's aesthetic. The crops give the brand a unique viewpoint and I think they're both something different and something that fits in perfectly with the current trends for unstructured, easygoing bralettes and lace on sheer mesh.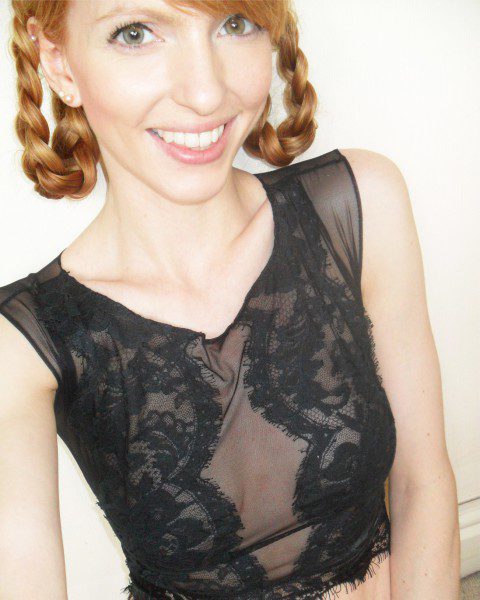 Appearance
Of the 5 crop tops available, I chose Azure because I'm a sucker for eyelash lace trim, and with the placement of the lace thought I may just get away with it as outerwear too. I actually expected to receive something navy blue based on this picture, but maybe it's just the lighting on my laptop – Azure only comes in this classic black.
As I mentioned in my previous article on ZO Lingerie, I love the unbound seams at the edges of the sheer mesh, which looks beautifully delicate and definitely gives the top more of a lingerie feel than an outerwear one. The lace is fairly nice, though I'm not sure it lives up to its "ultra-luxury" description (also, I'm certain this Instagram picture of an Azure top shows a different, more unusual lace hem?).
I do love the finishing details on this set though – keyholes with subtle, diamanté-centred buttons at the back of the crop, and pleated grosgrain ribbon and ruching on the matching knickers. Overall I think it's on trend, elegant and sexy all at the same time, which is a hard combination to nail!
Verdict: 7 / 10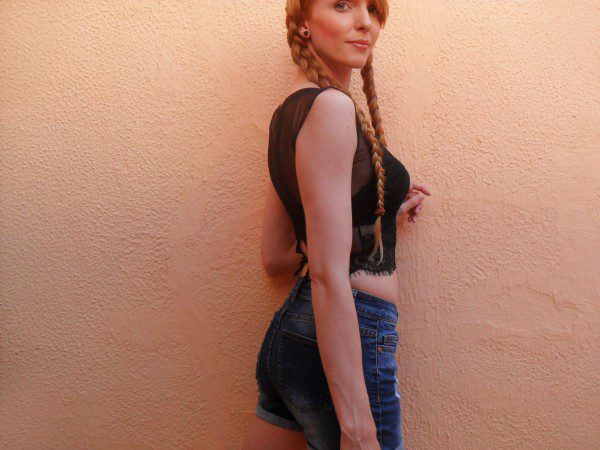 Fit
I received the Azure set in a size XS which is the size my measurements most closely corresponded to on ZO Lingerie's size chart, though my waist is over by 2cm. The knickers fit me perfectly, whilst the top is a fairly good fit but does feel a bit restrictive where the bottom hem hits a little above my waist.
The bust area is a great fit and spacious enough that I can layer this over a bra if I want to, whilst the crop top overall has very little stretch – the mesh has been placed so that it stretches vertically but not horizontally, and the lace trim is non-stretch – and I feel like I'm having to be super careful putting it on and taking it off to not tear it. You can see in the photo above that the button on the lower keyhole is straining. If your measurements fall into two sizes like mine do, go for the larger size.
Verdict: 8 / 10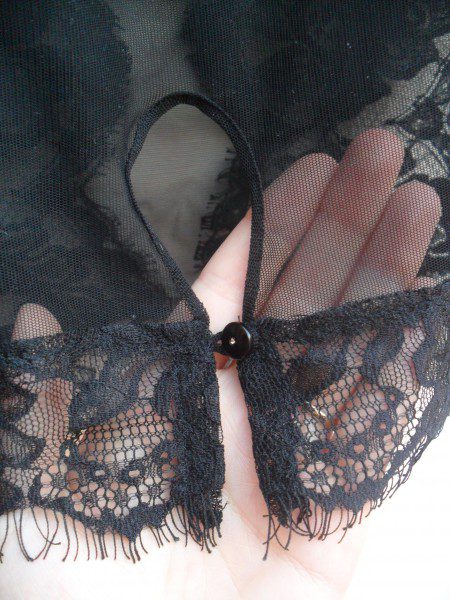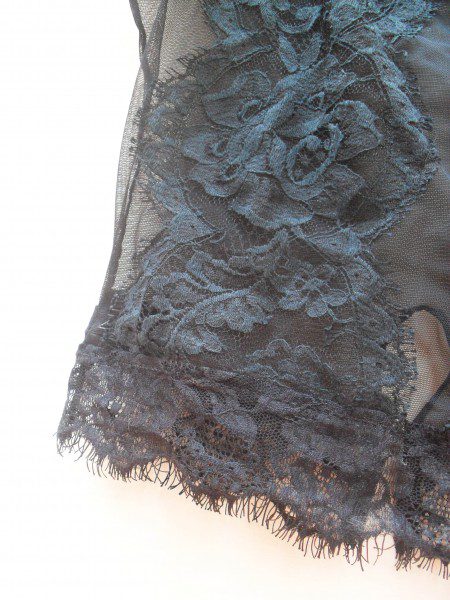 Construction
ZO Lingerie's website describes the brand as 'handsewn' but I'm pretty certain she means 'handmade'. Regardless, both pieces are really nicely sewn together with small, barely-visible stitching. The seam's on the crop top's edges are rolled and those down the sides are hidden seams for a perfectly neat finish even on the inside of the garment. There's no overlocking anywhere that I can see, as you'd expect to find on a cheaper garment.
You can really see that care and time has been taken to sew this Azure set together. ZO Lingerie describes itself as a luxury brand, and in terms of construction I'd say it definitely meets that standard when examined up close.
Verdict: 8 / 10
Durability
I've been hand-washing this set because of the delicate mesh and lace, and it's held up beautifully. I'm a little worried about damaging the hem seam when putting it on or taking it off, but that's a fit issue and I don't envision any seams on this breaking of their own accord. As I mentioned, it's really well sewn-together!
Verdict: 8 / 10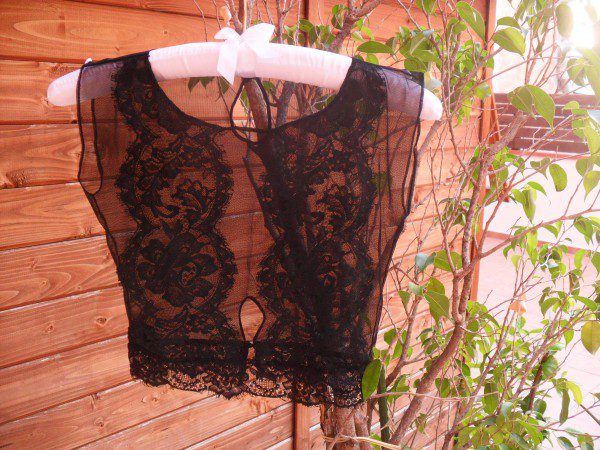 Value for Money
When I initially received this Azure set, ZO Lingerie hadn't opened for business and I had no idea of the retail value. It was impossible to guess too since minimum wage is notoriously low in Ukraine where ZO Lingerie is based (£41 per month) but at the same time, this set is beautifully made and is being marketed as a luxury product.
As it turned out, this set costs 89€ which is roughly £75 or $100. It's definitely priced for a Western market, but I find the price fair for the quality and the fact it's from an independent brand.
Verdict: 7 / 10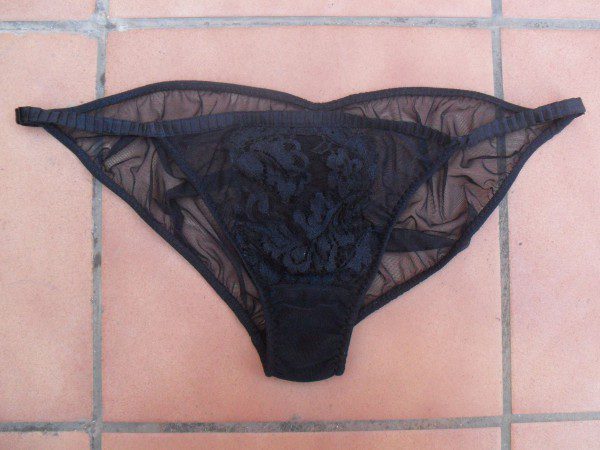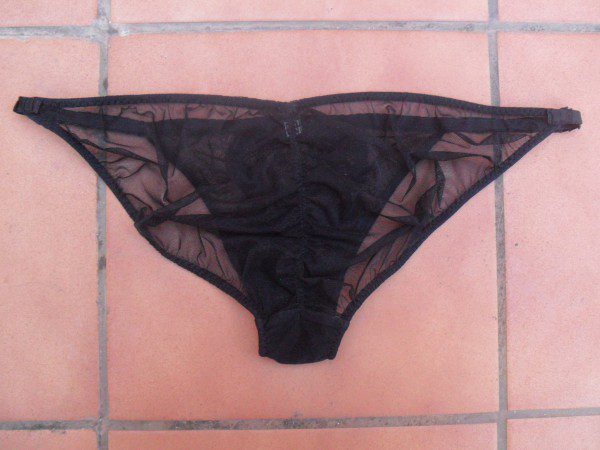 Final Thoughts
I realise I've spoken a lot about the crop top and not much about the knickers – they're very lovely too, and I particularly like the ruched back which gives them something of a heart shape. It's the top that steals the show though – if you're a fan of crops tops or layering in your lingerie wardrobe, or are looking for a piece that can do double duty as underwear and outerwear, ZO Lingerie is worth checking out.
What do you think of the Azure crop top and knickers set? Would you wear the crop top as lingerie or as outerwear?