Disclosure: I received this gift set free of charge from Bijoux Indiscrets to review. I never accept money for reviews. Links with a * are affiliate links.
Bijoux Indiscrets* is a Barcelona-based brand creating lingerie-adjacent accessories, from pasties to harnesses to delicate body chains. 2018 marks twelve years since they launched, and to celebrate they've created 12 Sexy Days*, a large and luxurious gift box.
Styled like an advent calendar with numbered windows, it's especially perfect for gifting this festive season. But you could also just treat yourself! The box costs £194.95 and contains goodies worth £307 if purchased separately, so you'd be getting some pretty incredible savings.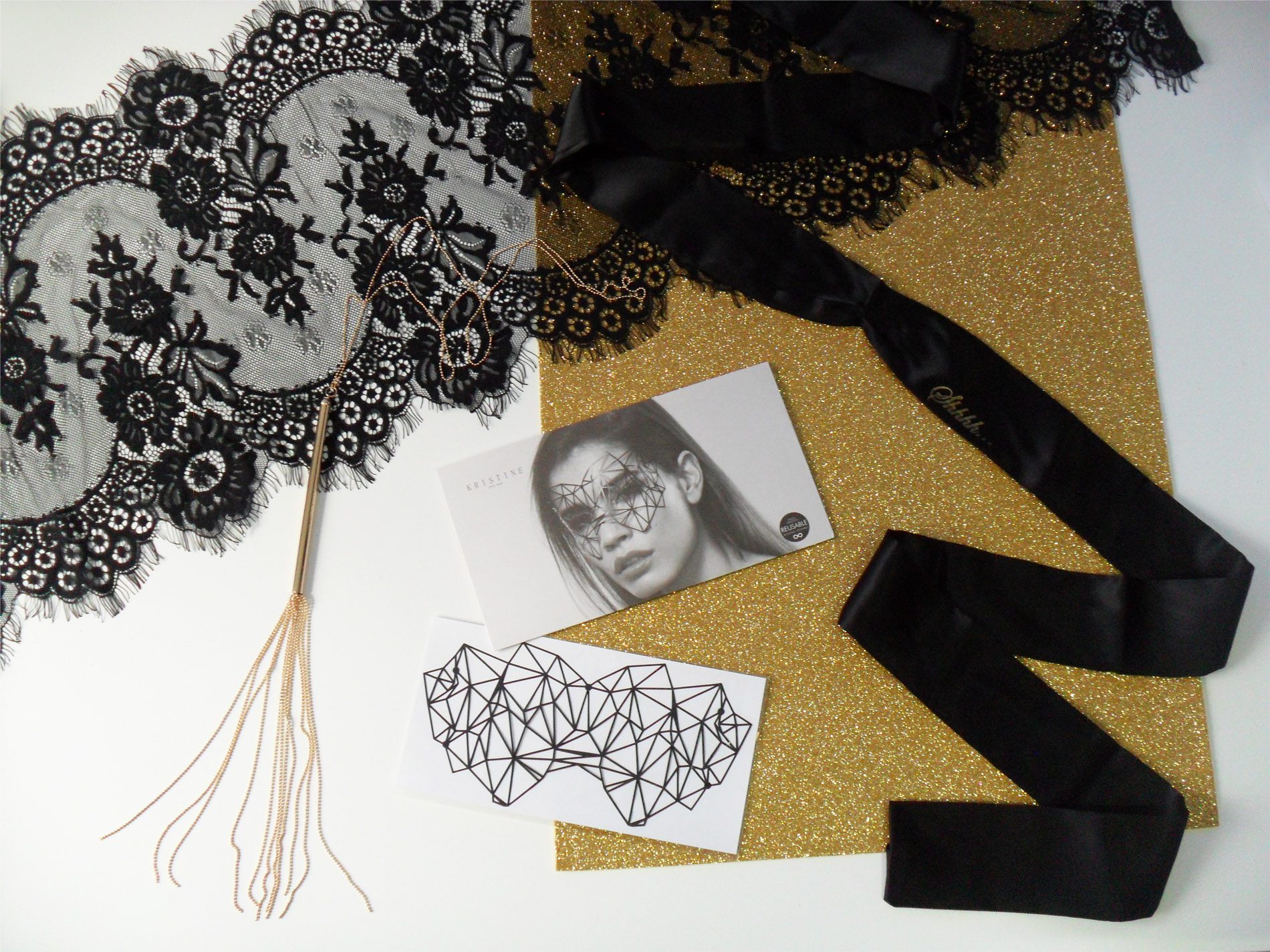 I've known about Bijoux Indiscrets for a while and always had an eye on their Magnifique whip-inspired necklace*. So I was especially thrilled to find that inside the box. I have to say, it is long. I'm 5'3 and it hangs to below-crotch level on me, which is not what I'd expected. But I like it anyway. In a way, it just makes it even more of a statement piece.
My favourite item of all from the 12 Sexy Days box though has to be the faux-leather Maze suspenders. They're normally sold as a set with a belt that's also included in the gift box behind another window, and which Bijoux Indiscrets together describes as a suspender belt*. It's really five separate pieces which clip onto your knickers, to hold your stockings up and add a bit of on-trend strappiness around your waist.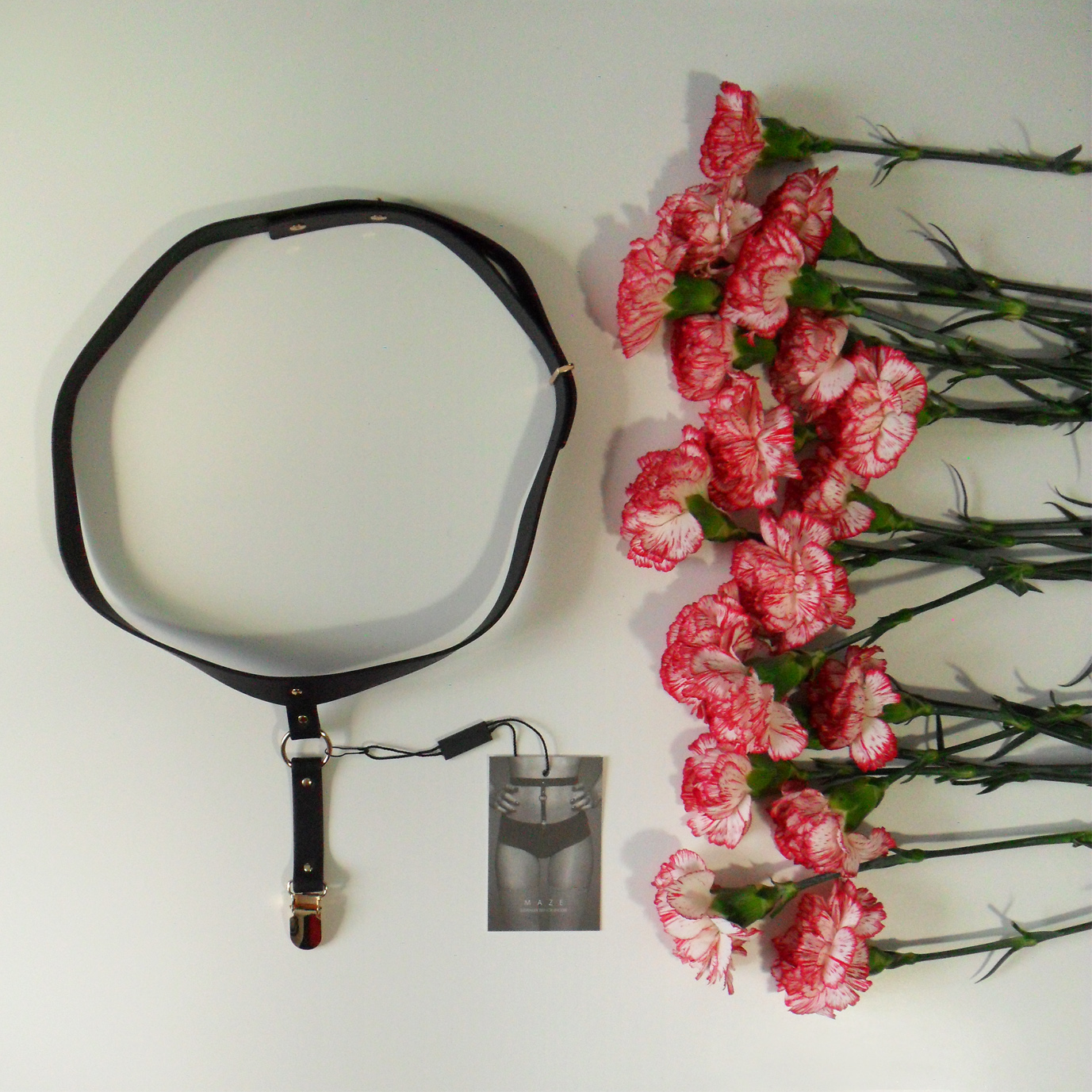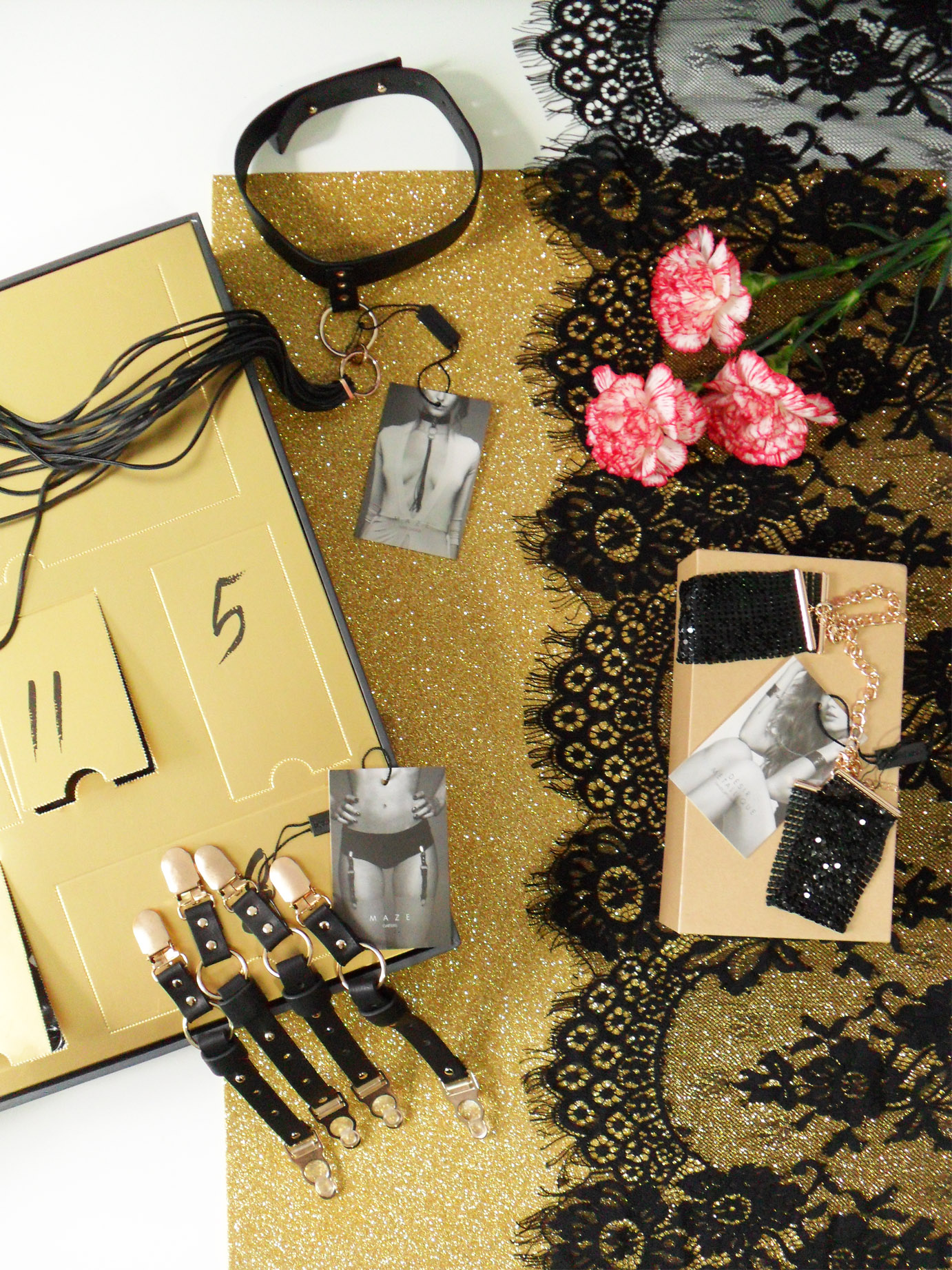 I've been wearing the suspender straps with my plain black Satami bra set, and it definitely transforms the look! The hardware is a warm, almost rose-gold colour, and they grip securely enough to stay in place all day. There's rubber inside the clips so as to avoid damaging your knickers, although I wouldn't risk it with a fragile lace.
Unfortunately, the belt part is too big for me. The website states that it fits from 60cm, but from my measurement it doesn't go smaller than 72cm. Not unless you punch some additional holes in it yourself. It is however super flexible on fit in the other direction. You can adjust it up to 12cm larger, plus it comes with an optional extender that will add another 30cm on top of that.
I'm also a fan of the coordinating Maze tassel choker*. This too is highly adjustable and comes with an optional extender piece. I've been pairing it with the suspenders as well as styling it with outerwear. This is the one item that you can't really wear straight out of the box, since it's coiled up to fit and was looking quite squiggly at first (as pictured further down). But a quick iron on a low-heat setting straightened it right out.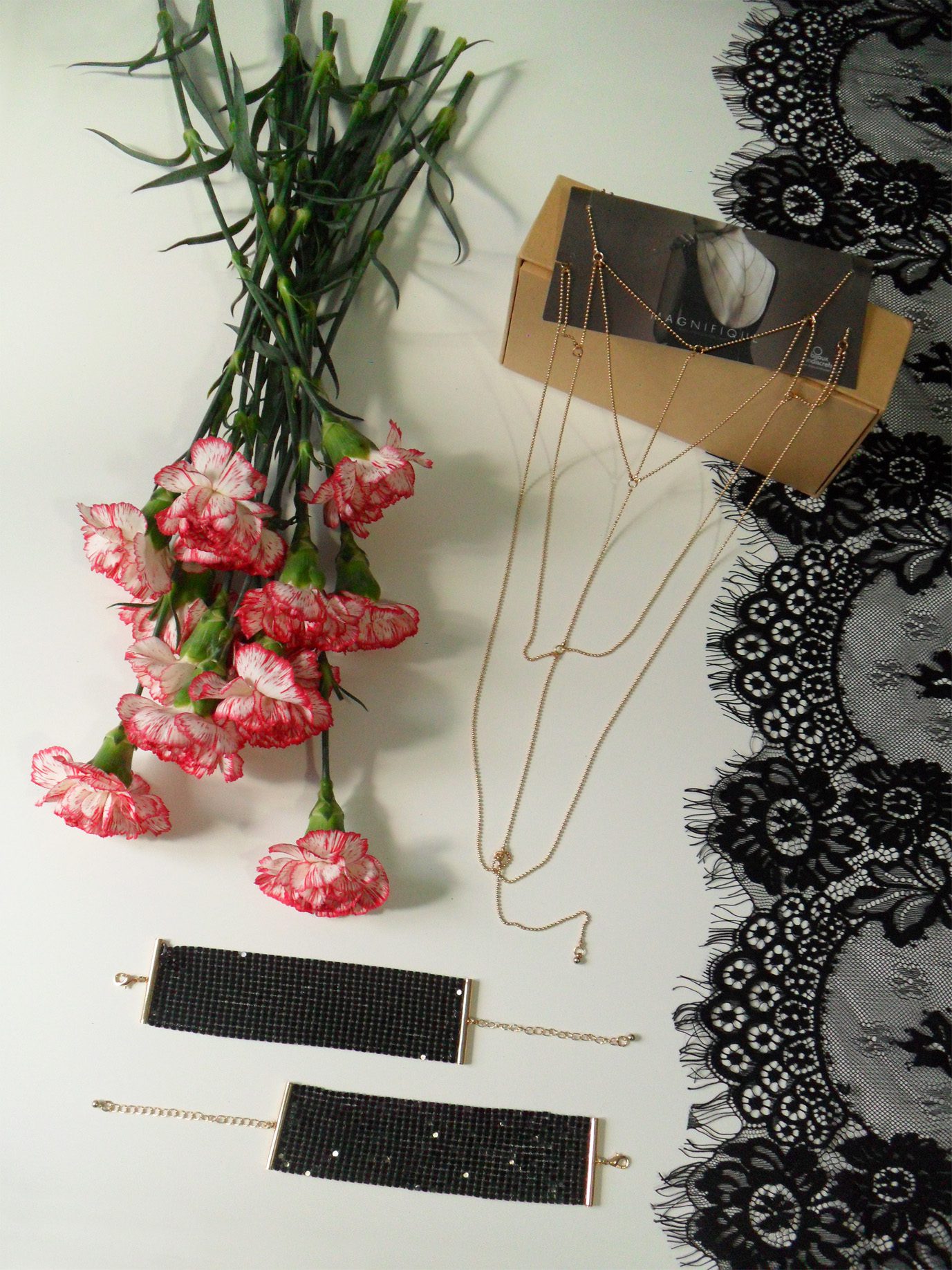 Oh, and although I've not had a chance to wear them yet, the Désir Métallique cuffs* and choker/chain* are rather lovely. The metal mesh is nice and slinky, and they seem well-made for the price. The chain that joins the handcuffs is detachable so you can also wear them simply as bracelets.
All in all, I think the 12 Sexy Days box* would make a fantastic gift for the right person. Especially a lingerie lover who's also big on jewellery! The packaging – a sturdy, magnetic-close box in black and gold – makes it feel luxurious, and even if your recipient doesn't like every single thing it's still fun to discover them one by one. Just note that one of the items is a sex toy, if you're thinking of gifting this to someone other than your partner. The full list of contents is on their website.
Tempted? If this is your first ever Bijoux Indiscrets order you can save 10% with code HELLO10.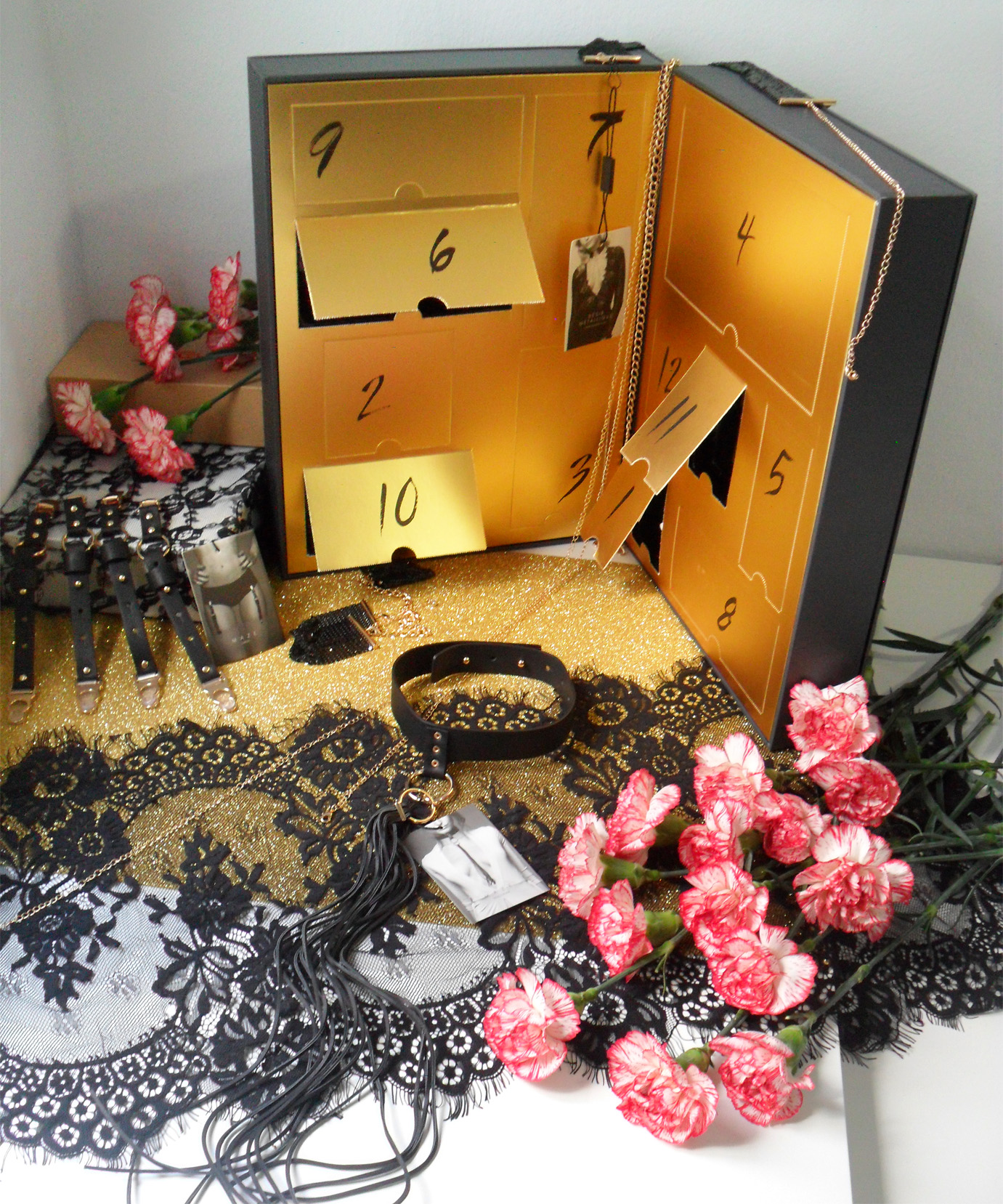 Have you ever bought anything from Bijoux Indiscrets? Would you like to find this gift box under your Christmas tree?