Disclosure: I purchased this lingerie set myself.
At the end of summer, luxury lingerie brand Harlow & Fox launched a flash sample sale. It coincided with the first day of a holiday for me but, like the lingerie-obsessed person that I am, I took my phone to the beach to make sure I got first dibs on what was going.
Harlow & Fox is usually well outside my budget range, but that doesn't stop it being one of my favourite brands. Last year they ran a similar sample sale, and I was able to snag the incredible Viola longline and thong that I reviewed here. It's one of my very, very favourite sets in my (sizeable!) collection.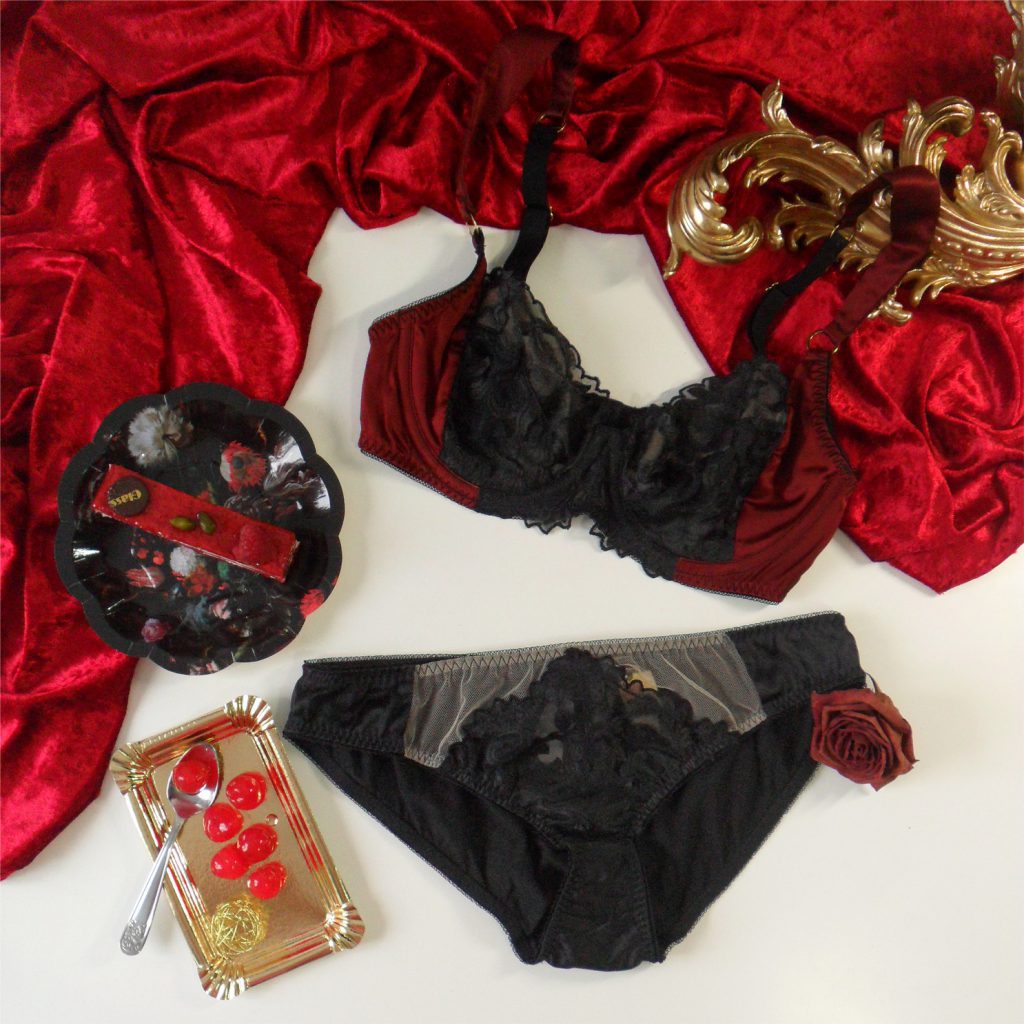 This time round, I picked up a piece from the brand's Autumn/Winter 2014 collection, called Augusta. It's no longer available to purchase, but I wanted to review it anyway to give you a general idea of this brand's construction and quality. And also the fit, since my Viola review was based on a piece I bought in the wrong size and then adjusted, whereas I managed to pick up this Augusta bra in my usual 30DD.
The set is technically mis-matched (the red and black knickers were sold out), but I think it still works as a cohesive look. My first impressions when it arrived were, unsurprisingly, that it's absolutely gorgeous. Harlow & Fox is a luxury lingerie brand of the most opulent sort, using real silk, fine laces and exquisite embroideries. It's also a full-bust brand for DD-G cups, making it one of only a very few brands creating such decadent pieces for this size range, and which are as focussed on support as they are on beauty.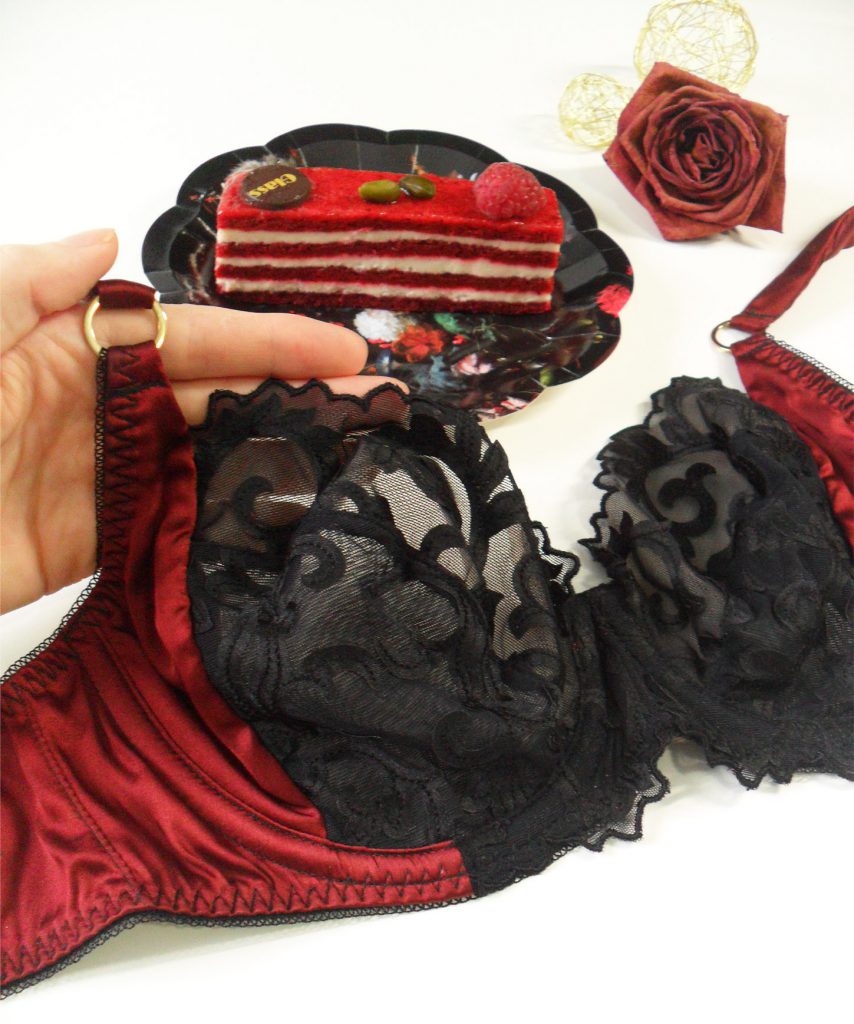 As I mentioned in my Viola review, I actually wear the smallest size they make (in terms of both band and cup sizing), so I don't need the rigorous lift of a full-bust bra to feel comfortable. But I can still appreciate the shape that this bra gives me. It has rigid underwires and mesh-lined cups with a diagonal seam and side supports, which create a projected, rounded shape.
If you want to see what I mean, it's actually the bra I'm wearing in the comparison photo in this article I wrote for The Breast Life, about DD bras from core-size vs. full-bust brands. Almost all Harlow & Fox bras have this same cup construction, so I expect the fit would be very similar across the board.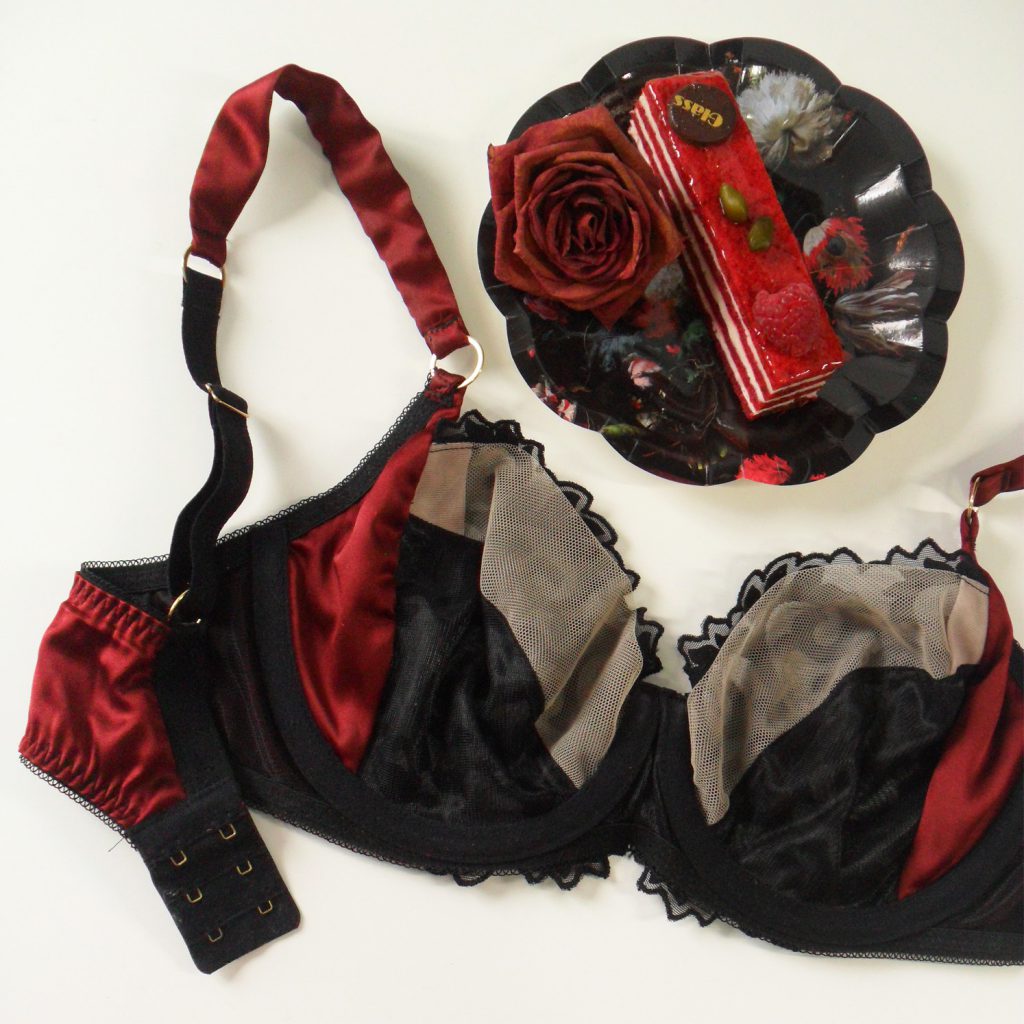 And how does it fit? So, so close to perfectly! The band is true to size, the straps stay on (and the wide shape makes them very comfortable), and the cups are almost exactly my size. They wrinkle just the slightest bit near the top, and I'm putting that down to Harlow & Fox being a full-bust focussed brand – I would assume that they cut mainly for breasts with upper fullness, which mine don't have. The gore does dig in a bit on my sternum too (a problem I also have with the Viola bra) but again, these wires are more rigid that I really require.
The knickers also fit me really well, although I feel like that means they run a size smaller than advertised. They are an XS which is a UK 8-10 on the brand's size chart, but I'm a UK 6. They'd fit a size up no problem, but I'm not so sure about two sizes up.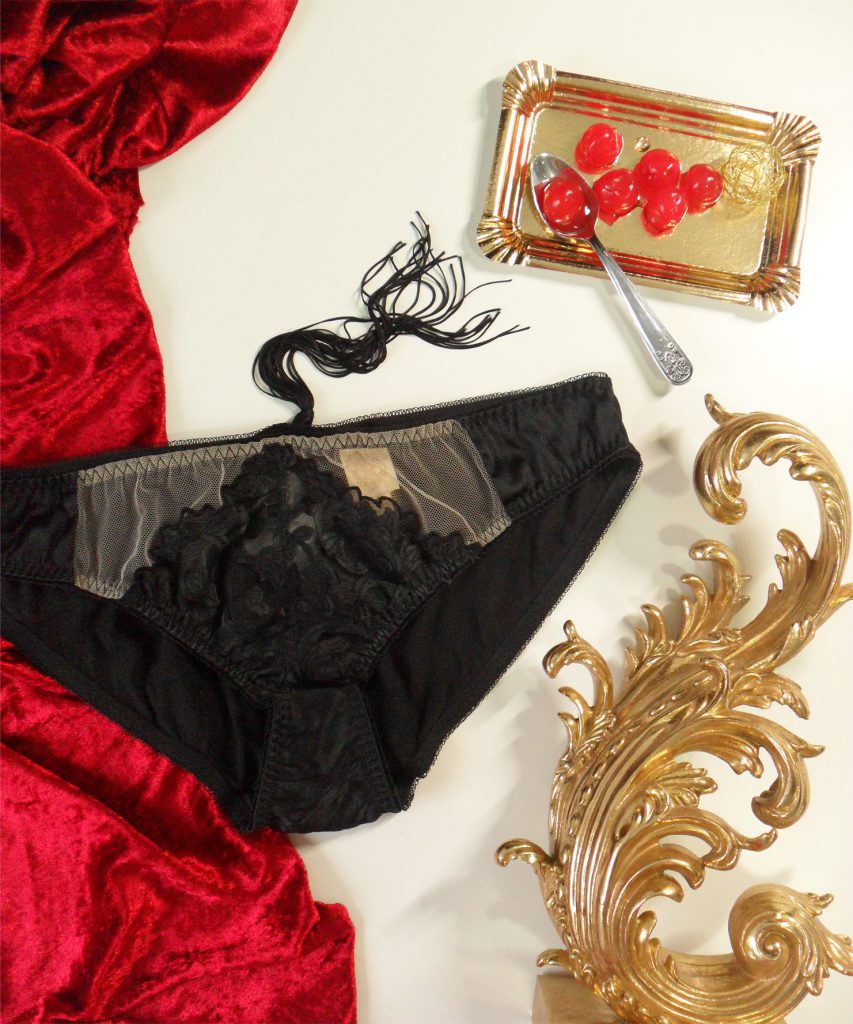 They have a silk back with a keyhole and oh-so-fun tassel. My only regret with this set is that I wasn't able to get the tasselled Augusta suspender belt too, which is a showstopper for sure!
The two pieces that I do have, I absolutely love. The construction is flawless, they're made from premium-quality, comfortable-to-wear fabrics, and they're just so gorgeous. Doesn't this deep wine red colour just scream luxury? And the 'embroidery' is actually a laser-cut fabric stitched onto the mesh. I don't even know what you'd call that type of finish, but it's lovely to look at.
I've loved the idea of Harlow & Fox – a brand doing for fuller busts what La Perla and Agent Provocateur have done for 'standard' cup sizes – since the moment it first launched. But now that I own two of their sets myself, I am double the fan I was before. They truly are one of the most luxurious lingerie brands out there, full-bust or otherwise.
If you've purchased from Harlow & Fox, I would love to know what you think of them! What's your favourite thing about this Augusta set?