Disclaimer: I purchased this lingerie with my own money and Made by Niki did not request a review.
I bought my first Made by Niki set before I started doing lingerie reviews, but it's by far one of my favourite sets I own, so when Made by Niki announced a big eBay sample sale I had to buy something! I've been looking for a strapless bra (my first!) for months now so I can wear strapless dresses this summer, and the Slinkies bra with matching thong was the first one I saw that I actually liked.
They actually forgot to send me the thong (!) but after I emailed asking where it was it did eventually turn up, and here's what I thought of the set…
Appearance
Both items are studio samples which means they're not quite up to retail quality. However, the set looks gorgeous regardless, especially the bra. It can be worn strapless, but also with the attached straps in the regular way, crossed over or across one shoulder. It is a simple set, but that's the point of the Slinkies collection!
Verdict: 6 / 10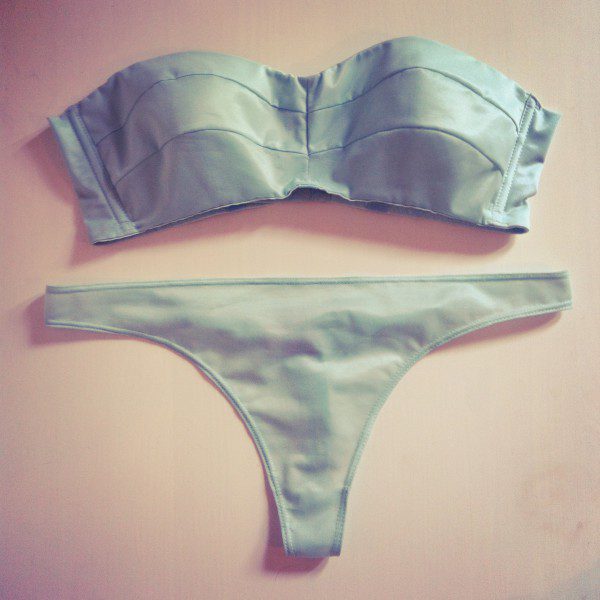 Construction
As I mentioned, these are samples so if you buy from the website you'll be receiving better quality lingerie than I did. However, the bra is excellent quality – nice fabric, well-made and not a loose stitch in sight. The only part I don't really get is the loops for the straps across the bottom of the bra and band as well as the top – maybe there's something obvious I'm just not getting, but I don't understand how you would attach straps there.
I did like that it came with a central loop at the top though, because it meant I could make my own detachable choker strap (pictured) to add yet another strap combination into the mix!
The thong on the other hand is so-so. The idea behind the Slinkies collection is that there are no bumpy seams, so the edges have just been folded once and overlocked without any elastic trim but this means they have very little stretch – just the small amount of stretch the fabric itself has.
Verdict: 6 / 10
Fit
I bought a UK size 10-12 bra and size 10 thong which were the only sizes in the sample sale. I'm a size 8 and can normally get away with size 10 knickers, but because these ones are elastic free they were huge! I had to take almost 4 inches off the waistband to get them to fit me, which makes me wonder if even a size 8 would have been too big.
Luckily, the bra fits great! According to the website a 10-12 in this style fits a 34 A-C, but I'm a 30 E-F and it fits almost perfectly, albeit only on the tightest hook. Since it's the first ever strapless bra I've bought, my main concern was whether it would actually stay up but I needn't have worried, it does!
Verdict: 6 / 10
Washability
I've hand-washed this set twice now and it's as good as new. Despite the detail-free look though, it can't be machine washed (and hot water would probably make the knickers become even less elastic) so only buy it if you have the time and patience to hand-wash.
Verdict: 7 / 10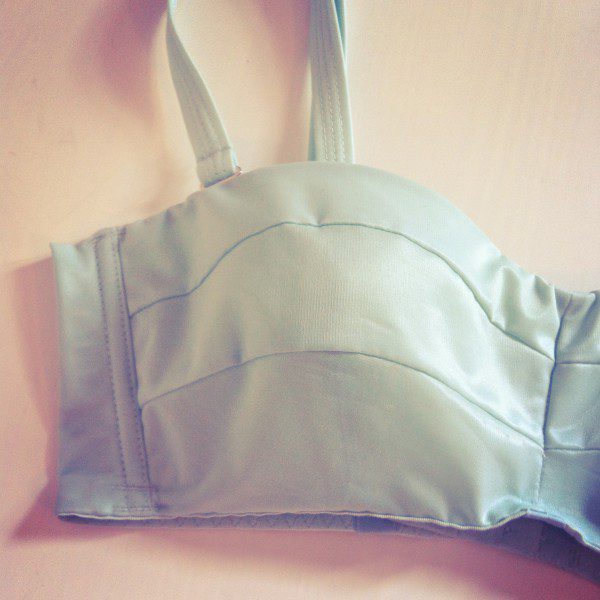 Value for Money
This set is worth £81.49 but currently on sale for £28, and I paid £17 (plus a rather expensive £7 postage) for this sample set, so well below the retail price! Despite being a sample, it's brilliant value for £17 and I'm definitely glad I bought it!
Verdict: 10 / 10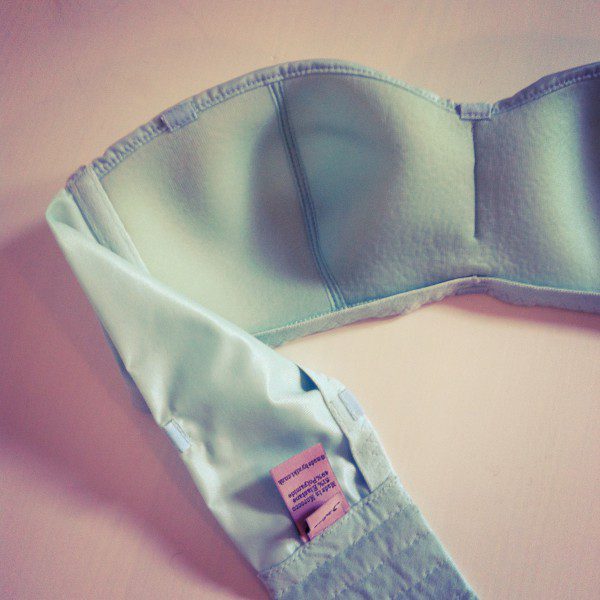 Would I recommend it?
Since this set is currently on sale, absolutely! It's amazing value for money and perfect for those who want seam-free lingerie that isn't at all boring like so much of it is. Just be careful with the sizing of the briefs and size down if anything, not up like I did.
You can still buy the bra in the website sale here, and although the thong is now sold out in aqua there are still some Slinkies items in the eBay sample sale including just one high-waisted thong in this colour! If you buy from the website, I'd love to know how the construction and fit compares to these sample pieces.