Designed in South Wales, Emiah by Alycia specialises in bespoke bridal, corsetry, and boudoir lingerie. I reached out to the designer in January of 2022 to commission a piece for my bridal trousseau. This began a yearlong luxury experience full of decadent textures, fantastical delights, and quiet extravagance.
If you've never ordered bespoke garments before, you might be wondering why the process takes so long. There are several distinct phases as designs move from concept to completion. Additionally, bespoke garments can be very collaborative! While every designer will have their own approach, some elements are customary. Today, I'm going to walk you through my own bespoke experience with Emiah, which took 15 months from start to finish.
The initial inquiry
Inquiries are welcome through the website contact form. Alycia responded to my initial message with a quick overview of the entire process, and once I confirmed my interest, we continued to correspond regarding the details.
Some advice: Alycia periodically closes the booking process throughout the year to manage her workload. If you'd like to commission a piece, reach out well in advance! There is a one year minimum for bridal inquiries. When drafting your initial inquiry, it's best to include as much information as possible; don't be afraid to share your inspiration, preferred colour palette, and the mood or theme the piece will embody. If the piece will be worn at a special event or photoshoot, don't forget to include the date. You should also include your budget, location, anticipated size changes, and anything else that feels relevant to your vision. If you are stuck or unsure at any point, be honest! Alycia will help guide you through the process.
Early design stages
No matter how thorough your initial inquiry is, Alycia will have follow-up questions! Her attention to detail is unmatched. We exchanged 22 emails and had at least one Zoom meeting in the initial design phase of the project. I was inspired by the Suki Belt of her No Grit, No Pearl collection, as well as the icy waters of Lake Michigan, though I saw my belt as 'cousins, not twins' with the original Suki. I shared several photos, videos, and sketches to communicate my ideas.
Consider your openness to suggestions. In my case, I was very open to the designer's input. Alycia suggested several 'easter eggs' in the design, but my favourite involves the lace appliqué: sections of the appliqué are laid to mimic a sentimental stretch of the lake's shoreline.
At the conclusion of the initial design phase, Alycia will draw three versions of the design, arranged by budget. Less ornamentation results in a lower base price, but each version's final price is still subject to changes in shipping costs, materials cost, and increased labour resulting from design changes. Payments are available in installments at different phases of the process, and the payment method is chosen in consultation with the client to minimise excess fees for both parties. The starting budget depends on the type of garment chosen. Remember to account for import fees in your budget too, if you're shopping internationally.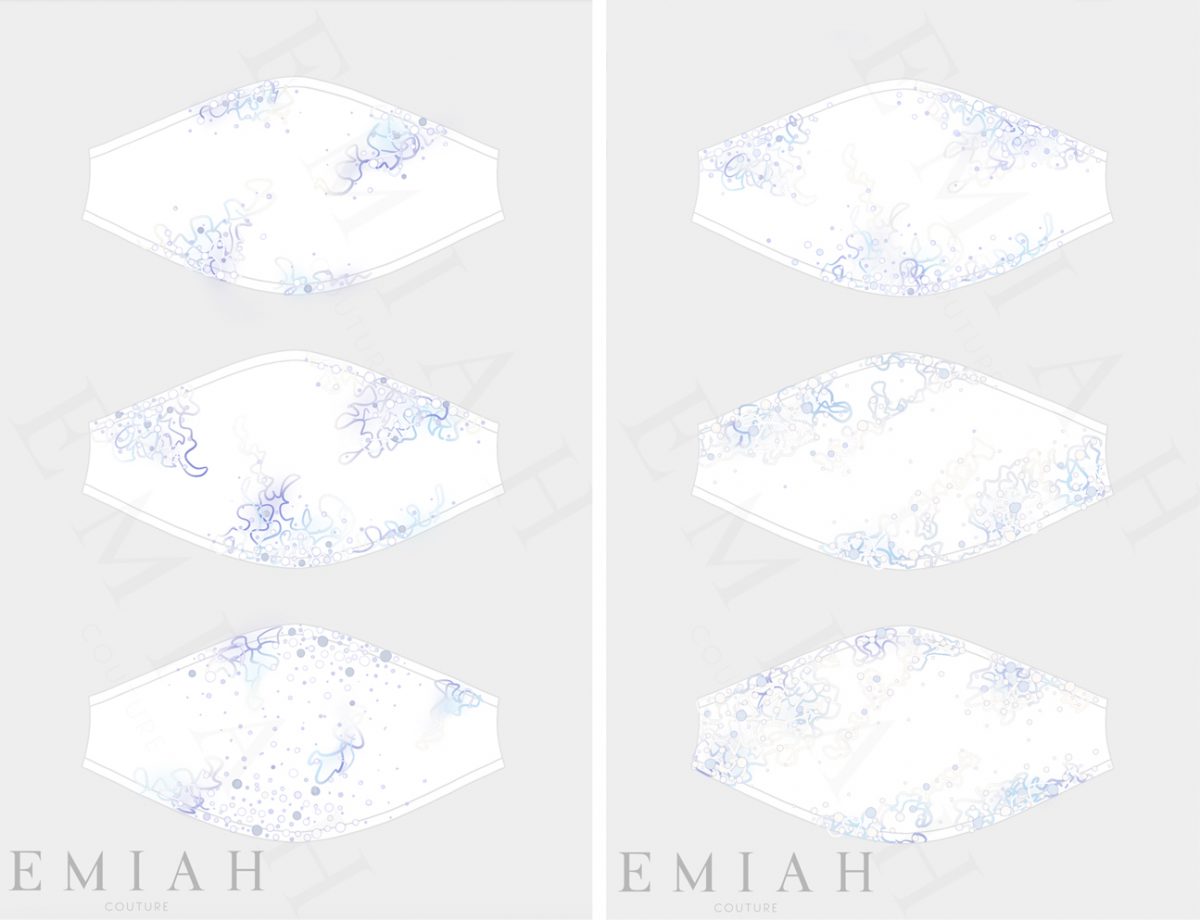 The measuring process
Once you have selected a design and completed the initial invoice including payment of a deposit to secure your place, the measuring stage begins. First, you will take a series of up to 32 photos at varying distances and poses. For these photos, you may wear either undergarments, shapewear that will be worn underneath the final garment, or tight-fitting athleticwear for modesty concerns. The photos allow the designer to understand the shape of your body when drafting the pattern. She doesn't save the photos, and you may blur or crop your face if that is more comfortable. It is important to take well-lit, good quality photographs. For corsetry, more detailed representations are required, such as additional angles and video.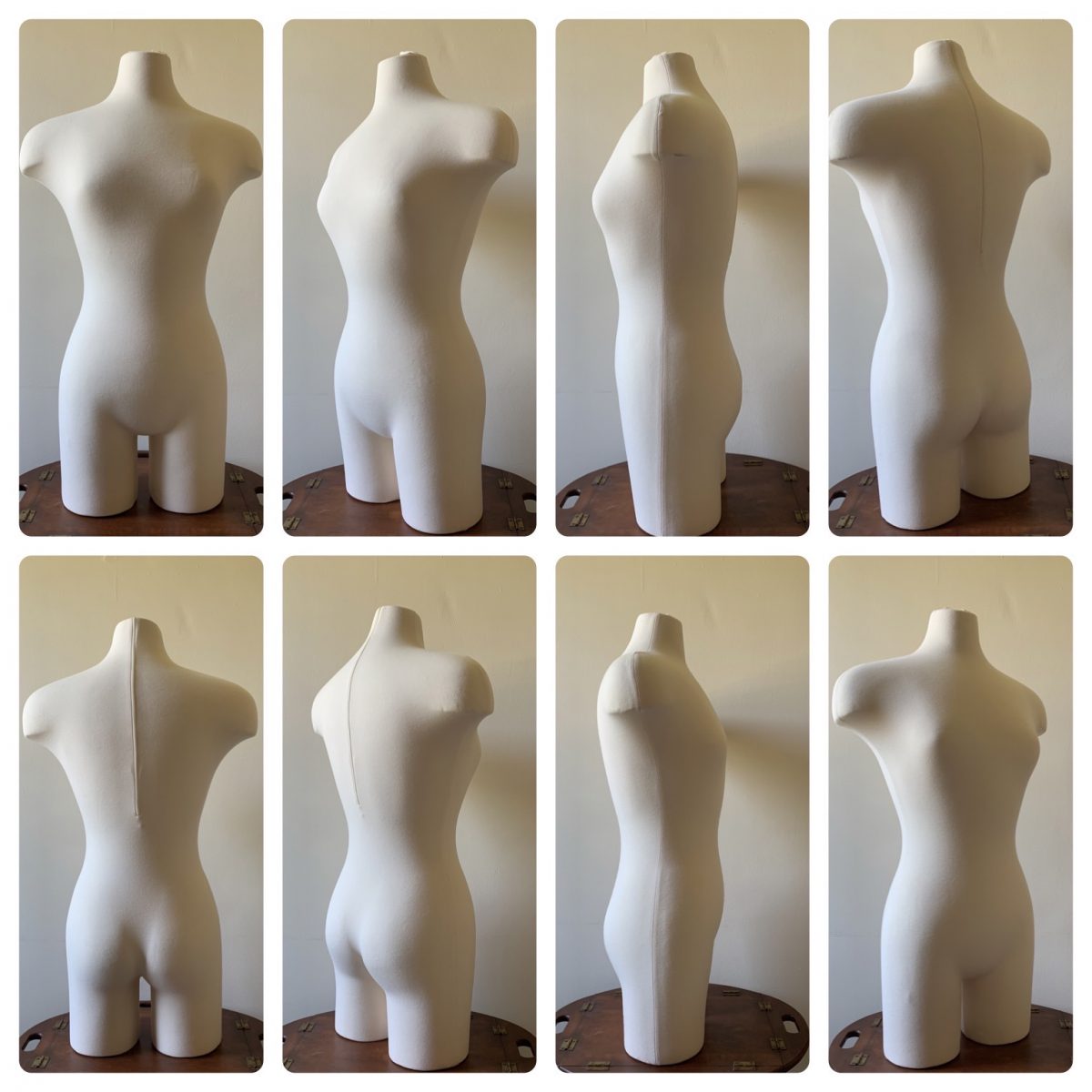 After the photos, we scheduled a virtual measurement appointment. Alycia requests you bring another person to assist with measurements; however, it is possible to attend the appointment alone for some garments. Prior to the appointment, written instructions and a measurement form are shared. It is important to double check your measuring tape for accuracy prior to the appointment. All measurements are taken in centimetres.
I chose to attend the measurement appointment alone due to difficulty scheduling and a modicum of shyness. Because a belt is a relatively simple garment, rather than complex corsetry, this did not pose a barrier to the design process. The designer confirmed that I understood and accepted the risks of not having assistance, at which point we continued the process. The sessions are recorded for the designer to refer to, but the recordings are securely stored and deleted after the completion of the design.
I was very nervous for the appointment; it is difficult to be vulnerable. However, Alycia is a professional. She creates a reassuringly nonjudgmental environment by refraining from loaded words such as "big" or "small". Instead, she asks if something feels "comfortable". She is careful not to use sizes, only measurements, with her clients. She requests each measurement be taken three times and ensures the measuring tape is held correctly. It is normal for there to be deviation between the three measurements; the designer uses an average of the three when drafting the pattern. Ultimately, size is not the point of the measurement process. Alycia creates garments that make their wearers feel beautiful. A perfect fit ensures your focus remains on the feeling of beauty, rather than discomfort.
Fitting / toiling
Toiles are often utilised in the fitting process of a bespoke garment. Toiles are prototypes, usually made of an inexpensive fabric, to test designs. Alycia promotes sustainability by reusing bones and eyelets between clients.
I initially opted out of toiling, hoping it would lead to a faster experience. More complex garments, such as corsetry, can require several rounds to ensure a perfect fit. However, we ultimately went through two rounds of very innovative toiling: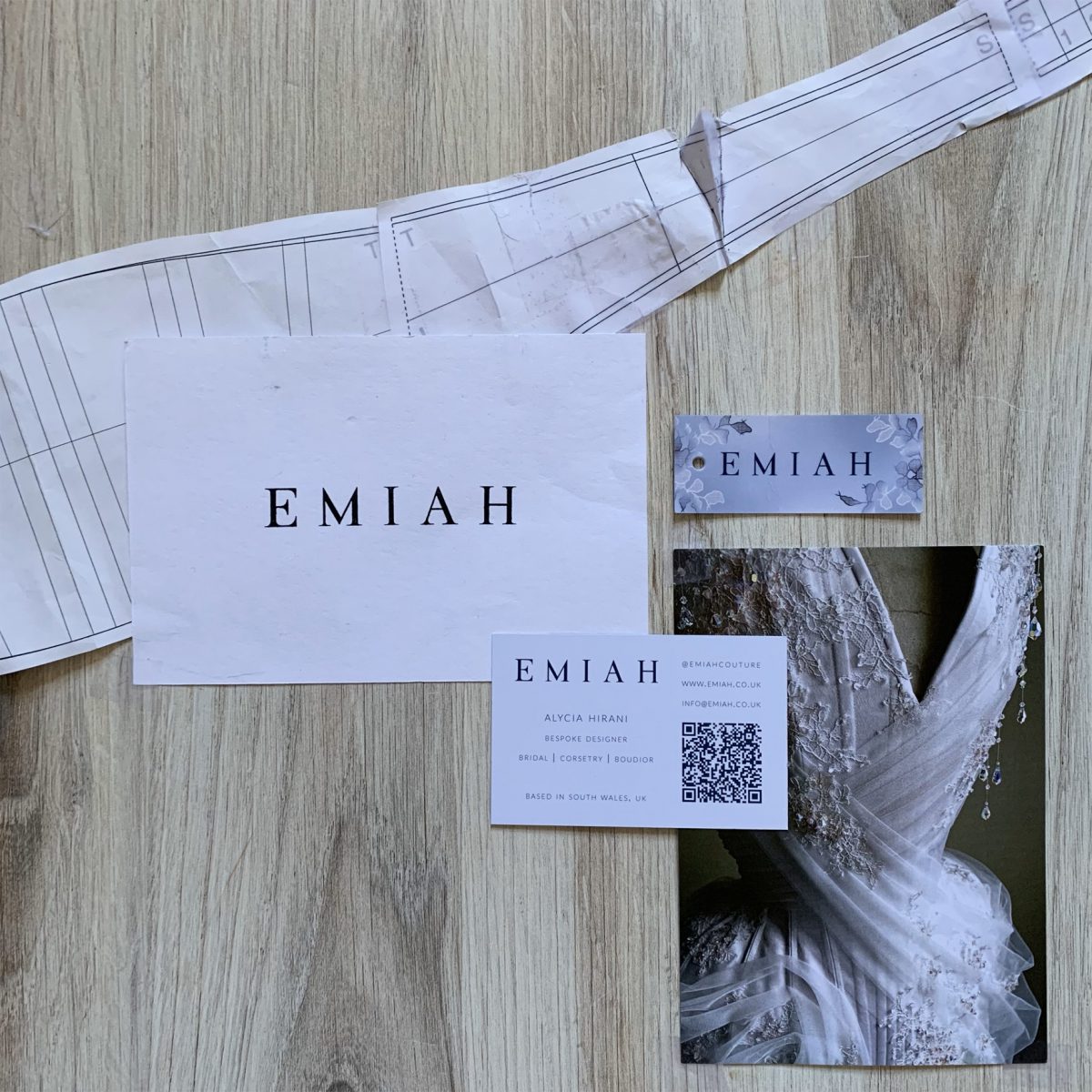 Instead of a cloth garment, Alycia ingeniously created a digital file that could be printed to scale and fastened with taped tabs. The paper belt included various measurements and markings that she then used to assess fit through virtual meetings and images. As a result of her creative problem solving, we realised additional alterations were needed to the design to ensure a perfect fit. While paper toiles won't be suitable for every client, I had a fantastic experience and greatly appreciated her attention to detail and customer service.
Swatching samples
Alycia researched several different types of embellishments, including moonstone, crackled glass beads and sea glass, to bring my icy vision to life. I narrowed the list to the most promising options, and Alycia packed them into a sample pack along with several different silk swatches, examples of the hand-painted lace, and a card detailing the contents.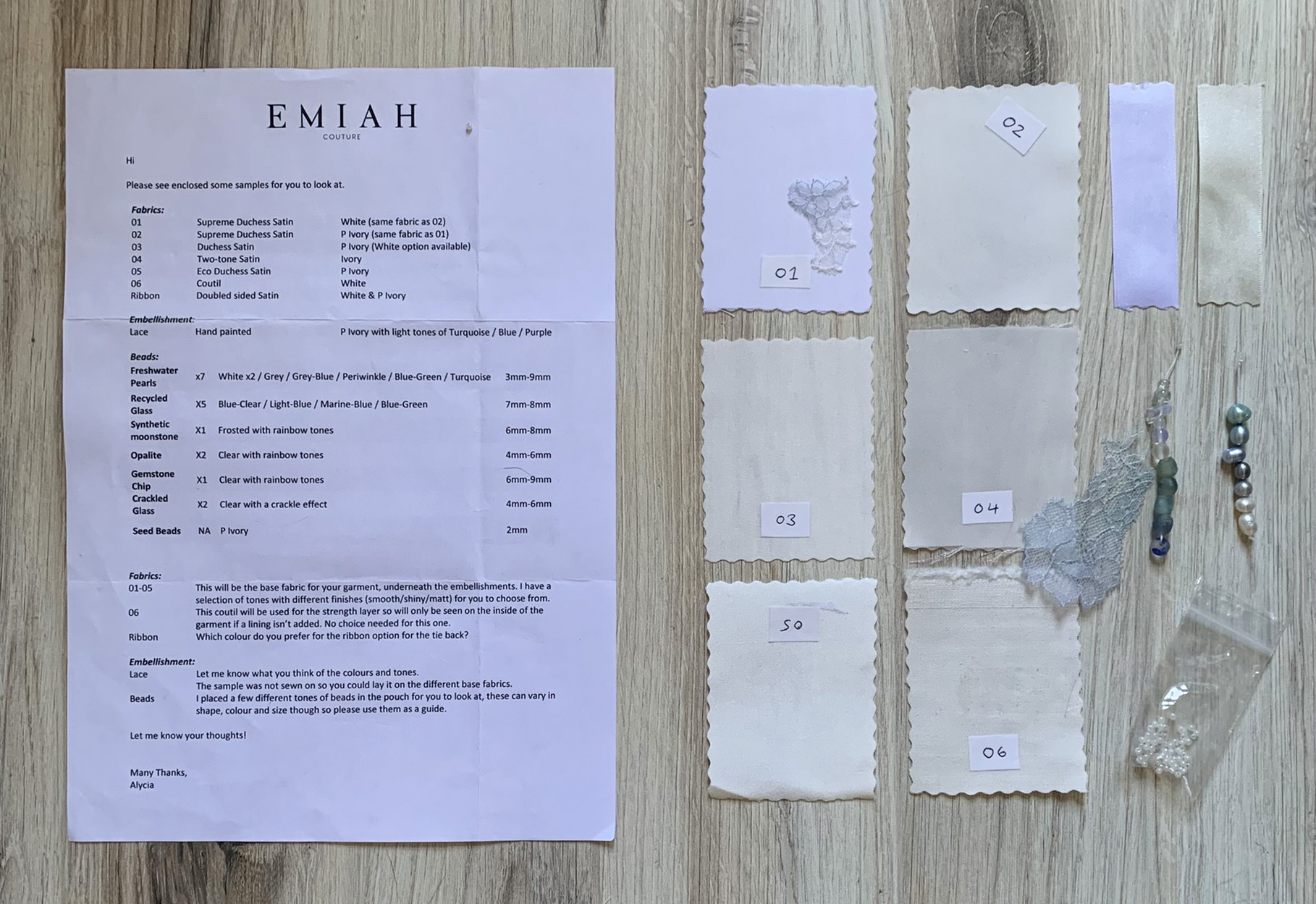 Receiving the samples, which took four weeks to arrive, was an exciting experience. The garment was beginning to feel real! Alycia and I discussed the pros and cons of several options before making the final decision for the design.
The final design
One benefit of the bespoke design experience is the opportunity to choose every detail of your garment; in my case, I had very strong opinions about the closure style. I dislike the strappy look of most adjustable brands on the market today, so I requested a wide elastic with a removable bow detail. Alycia created at least three prototypes to consider, with varying levels of thickness and ruching. I was able to choose the colour and size of the clasp, as well as the colour, size, and length of the bow.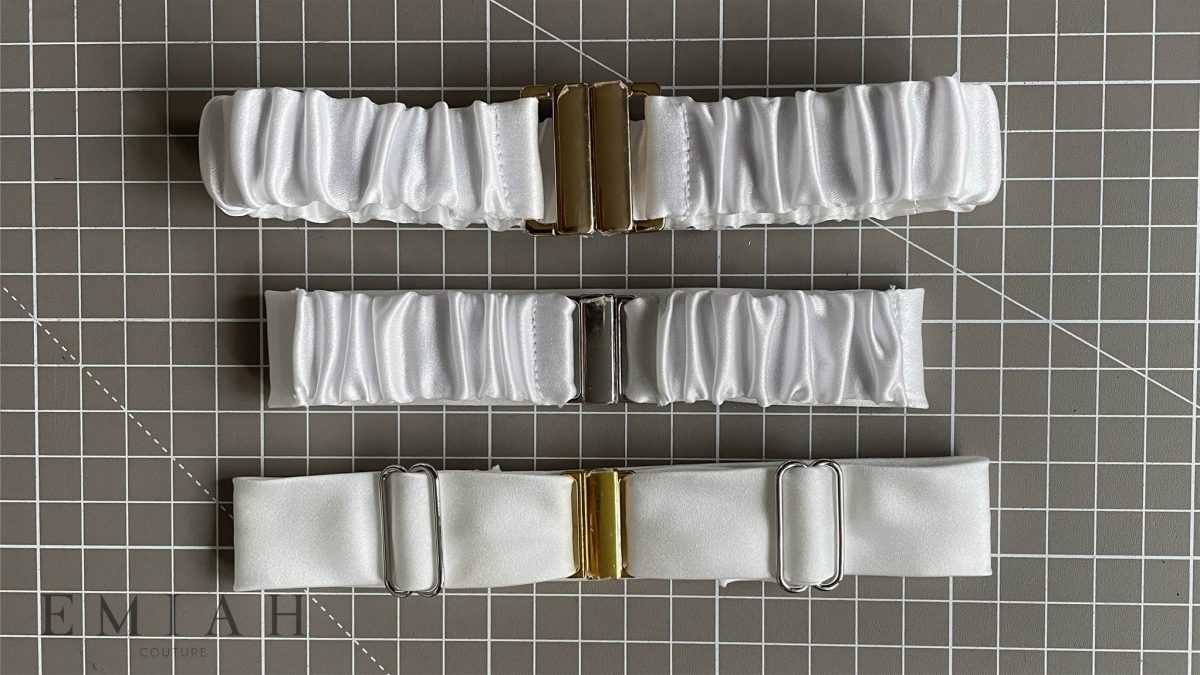 In addition to the closure style, we collaborated very closely on the placement of the embellishments. We shared several photos and sketches back and forth, adjusting placement, removing and adding, changing the colour of different embellishments, until I was fully satisfied with the final design. Alycia validated me every step of the way, and never made me feel guilty for expressing my desires. It was very empowering to see such a beautiful object come to life over the course of our conversations!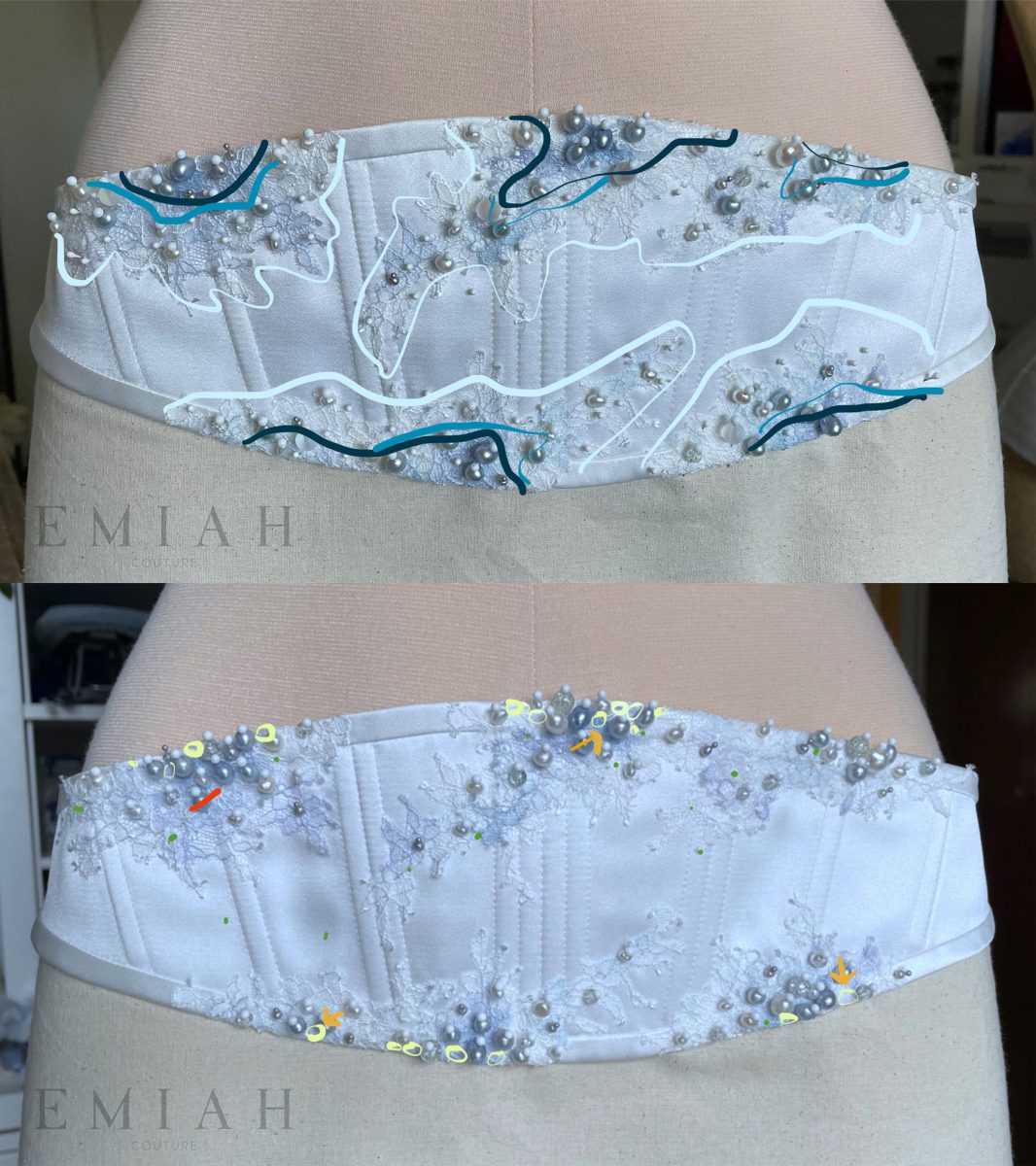 Once I approved the final design and the hand sewing had been completed, we moved into the shipping phase.
Shipping
The shipment phase is the most nerve-wracking part of the entire experience! Fortunately, the designer schedules a buffer in her timeline. Additionally, the carrier, shipping speed, and shipping insurance are chosen in conjunction with the customer.
I chose to work with DPD, because I have had negative experiences with DHL and other carriers in my area. Alycia communicated every step, from the moment she dropped the package off, to each customer service call she placed! She even successfully won a refund when the item arrived later than expected. After paying a small amount to customs, the package was released.
The finished garment
Nestled in many layers of tissue paper, bound by a lusciously thick ribbon, my bridal corset belt had finally arrived.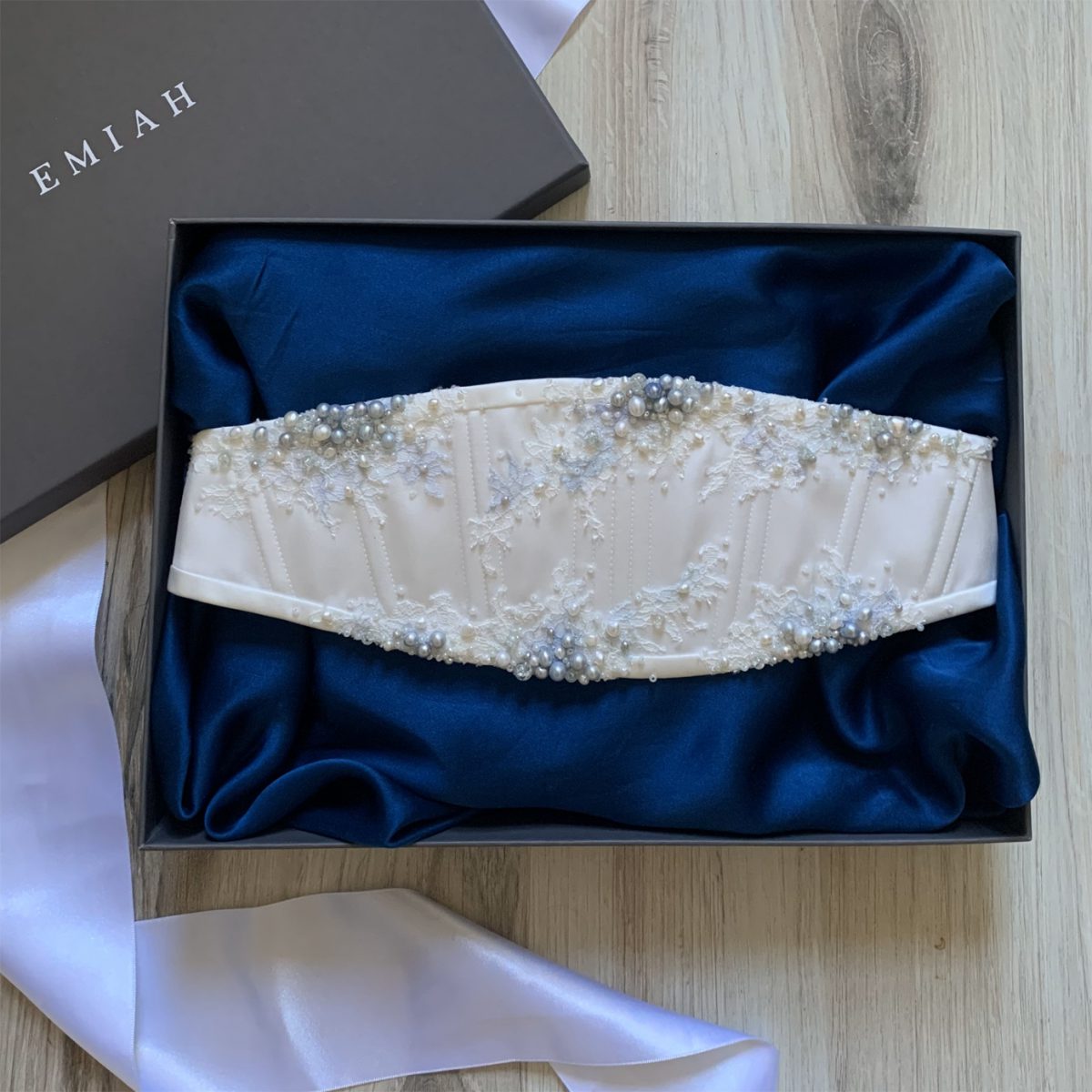 It is breathtakingly beautiful. Alycia is an artist first and foremost, and she created a true heirloom garment that I look forward to passing on to the next generation of brides in my family.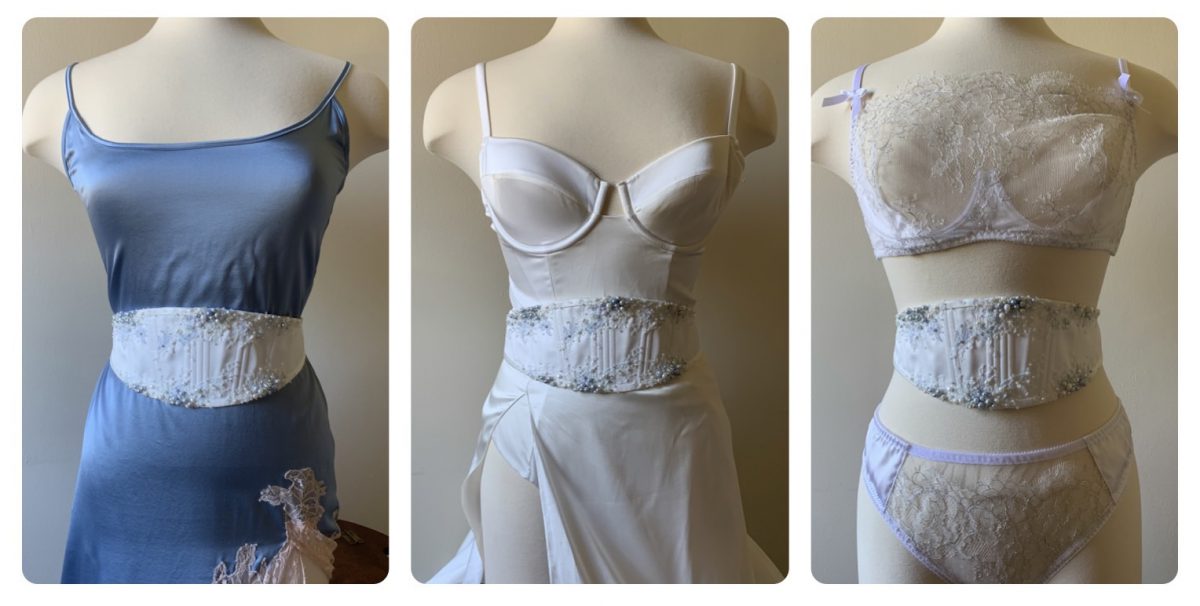 Guess which one of the lovely outfits above made an appearance during wedding week in the comments section!