Disclaimer: I purchased this lingerie with my own money and Ann Summers did not request a review. This blog post contains affiliate links.
I've said it before, but I find it hard to resist lingerie that shares a name with me! I really liked the Ann Summers Estelle set in black and foiled silver a couple of collections ago but managed to persuade myself there were better black lingerie sets out there. Then they brought it out in ivory, and I noticed I only have one white lingerie set which is pretty old now, and I was in need of a strapless bra so… sold!
There are eight pieces available in the Estelle range to mix and match. There's only one bra, but it has detachable straps so you're really getting two styles in one. I picked the thong because, well, I love tie-sides and hardly own any, but I'm off to Ann Summers again tomorrow and may buy the (really gorgeous) lace shorts or one of the matching suspenders too.
This is one of the very few sets I actually purchased in store so I got to see it up close and try it on before I bought, but it's still hard to judge a bra from wearing it for sixty seconds in a changing room. Here's how the Ann Summers ivory Estelle set held up in 'real life'…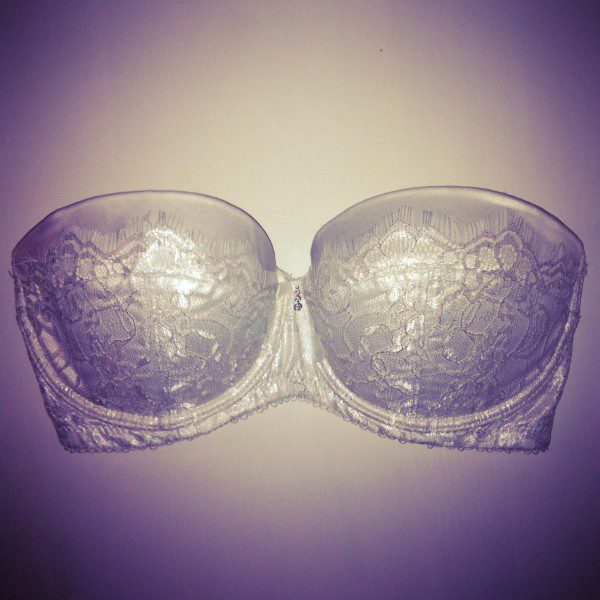 Appearance
I have mixed opinions about Ann Summers. I think sometimes they over-design stuff (like this – lace, frills, bows, piping and ruching all on the same piece? Really?) but then sometimes they create something that's absolutely beautiful.
This is a very bridal inspired set (which weirdly isn't in their bridal section on the site, even though it's way prettier than anything that is) in sleek ivory satin overlaid with foiled silver eyelash lace. The bra and thong are both adorned with an elegant, long ribbon bow topped with subtle diamante gems, and both pieces are trimmed all round with a gorgeous picot elastic.
Verdict: 9 / 10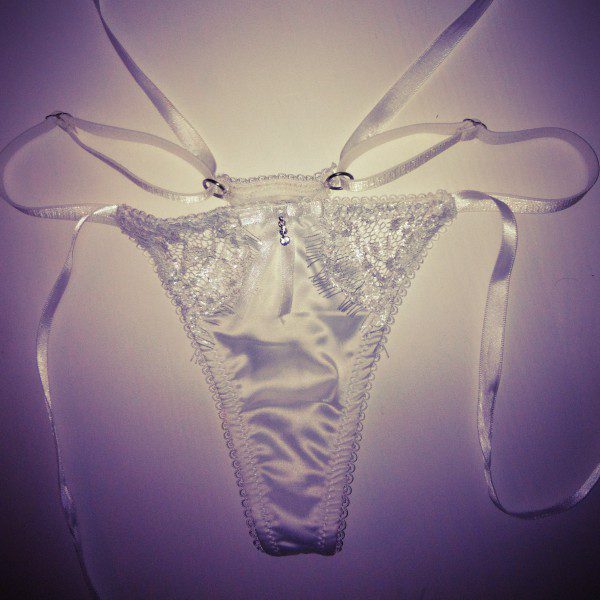 Construction
Ann Summers may be at the cheaper end of the lingerie scale, but it's always well put-together! The bra is definitely made to be worn strapless, with a wide band and a clear silicone grip all the way around to stop it slipping down.
However I did have an issue with the thong; thin, satin ribbons just do not stay tied. My Fred & Ginger Union Jack knickers like to undo themselves unless I use a double knot, but because it's only one bow and at the back they still stay up. The Estelle thong, however, does not. Even with double bows tied very tightly at either side they managed to fall down – yes, fall down. Not with anyone around but hey, I could have been in a busy public place! And lingerie that literally falls off is not at all well constructed in my opinion. (After the first wear I customised the thong by sewing in adjustable elastic straps at either side that sit under the ribbons).
Verdict: 5 / 10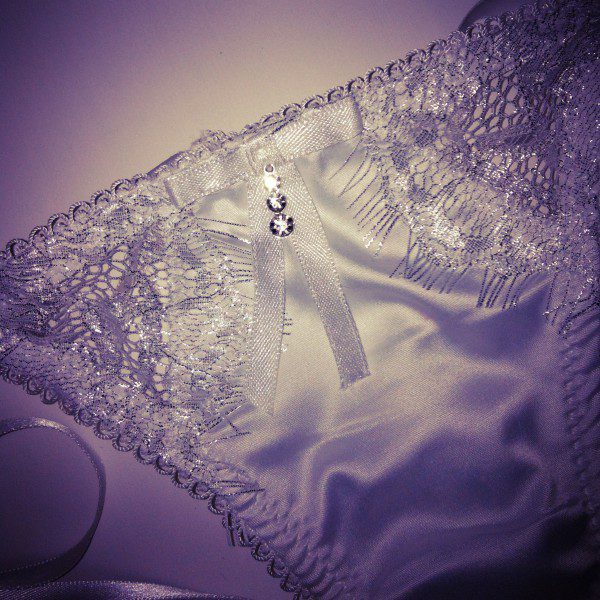 Fit
Since I tried the bra on before I bought I had a pretty good idea of what to expect. Ann Summers recently introduced 30- band sizes, but sadly the Estelle bra starts at a 32 so I went for a 32E. The band is a tad too big, but thanks to the silicone trim it stays in place, even when worn strapless, which is great! I gave up on strapless bras as a teenager when I was about four cup sizes bigger and nothing was supportive enough or stayed up for more than five minutes, but this year decided it would be nice to give them another go and I'm glad I did! I can't say how this will work for the large sizes it's available in, but if you're a 32E or smaller then this is great.
There isn't much to say about the thong – I bought a size 8 but it's a tie-side so the fit is totally adjustable!
Verdict: 9 / 10
Washability
The thong is machine-washable and the bra hand-wash only (probably due to the silicone) but I hand-washed both. The lace is pretty delicate however so if you do machine-wash the thong, it should be popped inside a lingerie wash bag first. After a couple of washes these pieces could still pass for brand new!
Verdict: 7 / 10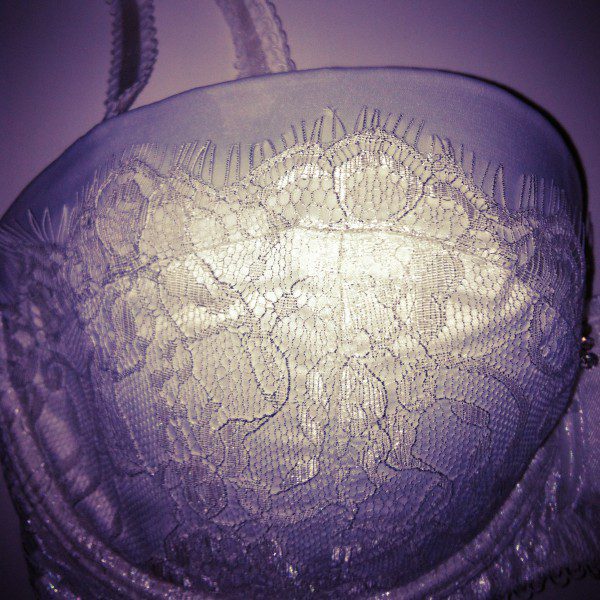 Value for Money
I bought the Estelle set when Ann Summers had a 20% off promotion (a misleadingly advertised one, I should mention) so I paid £24 for the bra and £9.60 for the thong. I've bought a few lingerie sets in this price range and this is definitely the best! The foiled lace is gorgeous and not something you'd typically see from a high-street lingerie brand, so the bra is well worth the money. Unfortunately, I don't think a thong that doesn't stay on is worth paying anything for though unless you're happy to spend the extra money and time customising it like I did.
Verdict: 6 / 10
Would I recommend it?
The bra, yes, the thong, no. Unless you have the time, sewing skills and patience to sew in side straps that is, in which case it really is a pretty design! Although I haven't tried them, I've seen the lace shorts up close and they're beautiful so for the non-sewers amongst you I'd recommend those instead.
Luckily for you this set is now even cheaper in Ann Summers' sale – only £15 for the bra and £8.40 for the thong and an extra 10% deducted from that at checkout today!
Have you bought anything from either the ivory or the black Estelle range at Ann Summers? What did you think of it?
Update 10/11/2013 – I loved this set so much I went back and bought the lace shorts and the non-skirted suspender belt, both of which I'd also recommend!