It was my 2013 resolution to buy less but better-quality lingerie. Before this year I'd spend most of my time lusting after luxury brands but most of my money on high-street brands like La Senza and Ann Summers because it was all I could afford.
Thankfully this year I've finally been able to buy some of that premium-quality lingerie I've always wanted to own – and buy some I did!
So out of all my 2013 purchases, which ones were the very, very best?
1. Agent Provocateur Roxie bra & thong set – pictured above
This was by far the best lingerie set I bought this year (and probably ever), partly because it's just so damn gorgeous and partly because it was a massive bargain too at a teeny weeny £25. I wear it regularly and it's super comfortable, and despite that incredibly delicate net lace it's also still in perfect condition 5 months after I bought it. What more could a girl ask for from her lingerie?!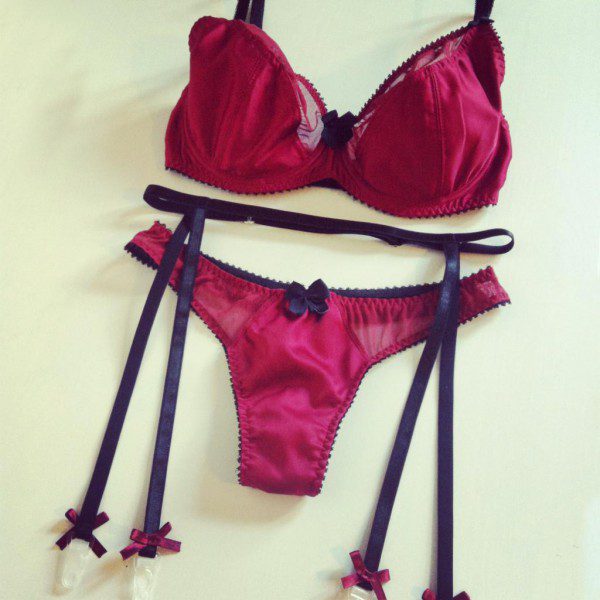 2. Claudette Paramour bra & thong set
Claudette's strapline is 'your new favourite bra' and well, it's not, but it's pretty close! It's definitely one of my top two or three 'everyday' bra sets and I've worn it almost weekly since I bought it back in April. It's a perfectly comfortable, well-fitting bra set that offers great shape and support for being un-lined, and I definitely plan to add more Claudette to my lingerie drawer in 2014. (Suspender belt pictured was made by me and isn't a Claudette design).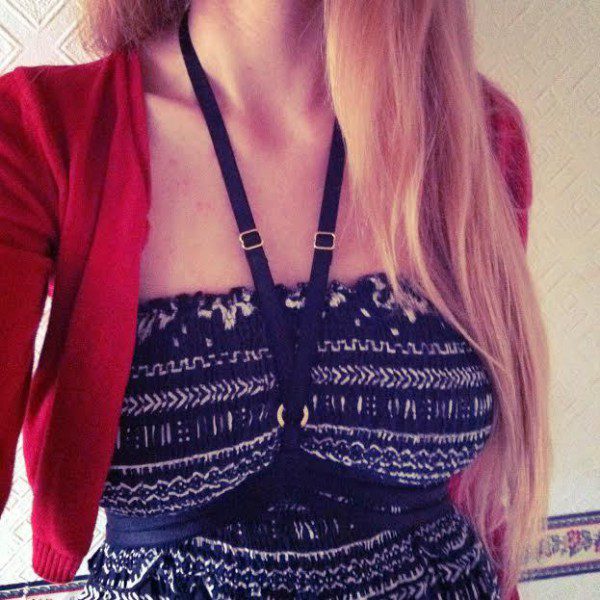 3. Karolina Laskowska Kordelia harness
Karolina Laskowska is one of my favourite lingerie brands and I'm definitely planning to treat myself to a set (or two) in 2014, but so far I've managed to get my hands on this Kordelia harness and an old garter style in one of her sample sales. To be honest, I don't think I've actually worn this harness as lingerie yet but I've worn it as outwear with all sorts of outfits! It's a brilliant alternative to a waist belt for cinching in loose dresses and gives a totally different silhouette which can be more flattering.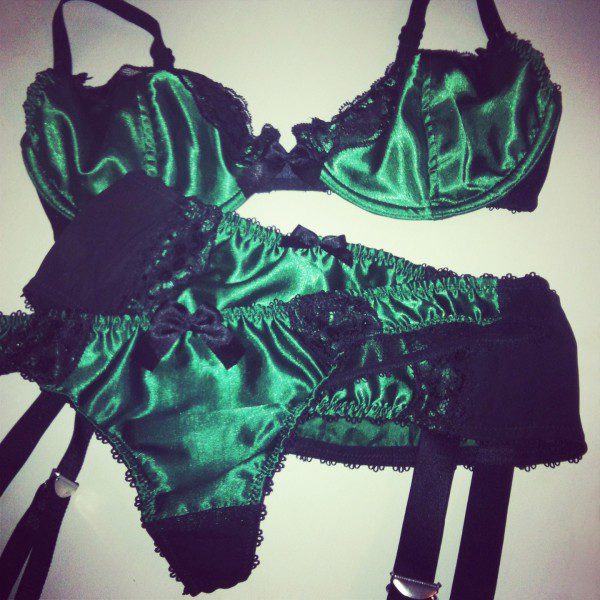 4. Lilly Wiggler Burlesque bra, thong & suspender belt
Way back at the start of the year I snapped up this beautiful, handmade set in Lilly Wiggler's closing down sale (the designer now has a new lingerie brand – Vaslav and Lilly) for the amazing price of £23 (yes, really) and I'm gutted I didn't buy more Lilly Wiggler Couture before the brand was gone for good! Did I mention that it's dotted all over with Swarovski crystals?!
5. Veneziana Madlene stockings
It was part of my 'buy better lingerie' resolution to buy better quality hosiery. However, having spent most of my life buying the cheap stuff because my delicate hosiery laddered easily and only lasted a few wears (and I wasn't convinced the expensive stuff would last any better) I didn't want to jump straight in and spend what I'd normally spend on a bra on a pair of stockings. After a bit of searching, I found the brand Veneziana which does gorgeous, unusual designs such as these beautiful Madlene stockings for very reasonable prices, and for the past 6 months I've bought all of my hosiery from this brand. Yes, they're still delicate (what 20 denier fabric wouldn't be?) but they seem a little more durable than what I was buying before.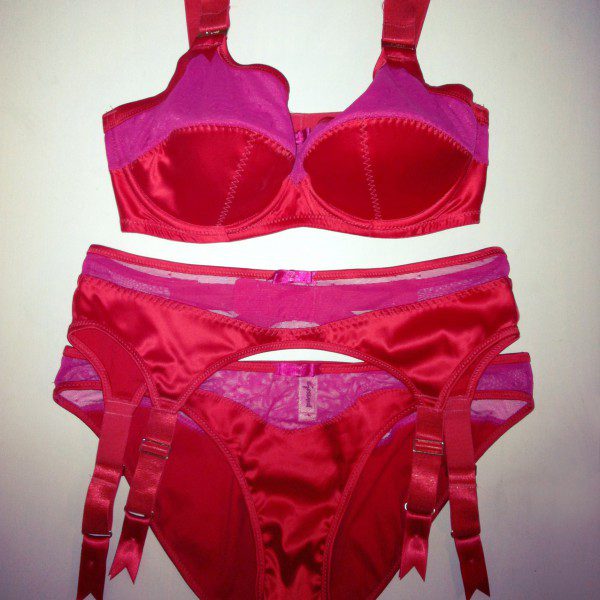 6. Gossard Colour Clash bra, knickers and suspender belt
Like the Claudette Paramour, this was an attempt to add some more everyday styles to my lingerie drawer without sacrificing style, and it was another massive bargain at £24 (I love lingerie sales!). The bra is incredibly comfortable and supportive, and I have my eye on the brand's Retrolution bra which appears to be cut from the same pattern. If you like it, this bra is still available to buy now and I'd definitely recommend it!
7. Helen Valk Lola bra and knickers, and Vanessa suspender
I invited Helen Valk-Varavin to sell her lingerie here at Esty after buying this set, which should give you an indication of how much I liked it! I'm on a quest for the perfect red lingerie set and this fits the bill quite well – it's crafted from pure silk in a gorgeous, lipstick red, and the design of the bra is really something unique.
8. Lepel Justine bra & knickers set
Here's another 'everyday' addition to my lingerie drawer from 2013, and my first ever purchase from Lepel. Simple, everyday styles are what Lepel does best and I fell in love with this floral print as soon as I saw this bra, which is more colourful and girly than Lepel designs usuall are. The bra is a perfect fit that offers great shape and support, and it's another set I wear at least every fortnight if not every week now.
9. Miss Mandalay Paige bra & knickers set
I bought this set very recently and have yet to write a proper review, but let's just say it's going to be a positive one! Again, I bought it as an everyday set and it didn't disappoint – it's comfortable, great-fitting and very supportive for being unlined, just like my Claudette Paramour.
10. Lingerie storage boxes from eBay
Okay, so it's not lingerie, but these plastic storage boxes simply had to make it onto my list because now that I've bought them, I couldn't live without them! They're the perfect size to store one set each and make sure that everything stays in perfect condition when not being worn. Plus it's super easy to find what I'm looking for in the morning. You can pick them up here
 on eBay (A5 size) for as little as £1.24 each.
So, that's the list. I bought plenty more lingerie in 2013 that I was pleased with and it was really hard to narrow this list down to just 10 things, but I think all of these had something extra special about them, whether it was versatility, fit or aesthetics.
What's the best lingerie piece or set that you bought this year?