Disclaimer: I purchased this lingerie with my own money and Gossard did not request a review. This blog post contains affiliate links.
I recently changed bra sizes due to pregnancy (almost at the six month mark now!) so I needed to buy some new bras that were comfortable, pretty (of course) and inexpensive, since there's a good chance they won't fit me for very long. Gossard was the first place I looked because I was impressed with my last purchase from them and I knew they happened to have a sale on which is never a bad thing!
I really liked the look of the Femme Fatale range because if there are two things I love in this world they're lace and polkadots, and this collection has both! Femme Fatale is available in red, plum and this beige-and-black combo.
Appearance
I really like the unusual shape of the plunge bra which is basically one giant V with a scalloped, sequinned lace edging. The thong has the same thick embroidery which is gorgeous, and I like that Gossard have paid attention to the finer details by using bronze-tone hardware instead of the usual gold or silver, which suits this colour scheme perfectly. And just like my last purchase, some of the hardware is stamped with the Gossard logo which is a nice finishing touch.
So, as far as first impressions go when I opened my parcel, I was pretty happy.
Verdict: 7 / 10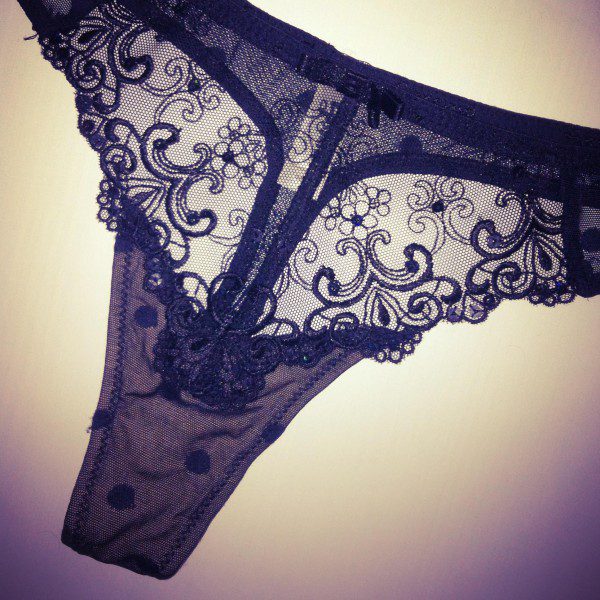 Construction
Sadly, this is where the bra set fell down; I had two pretty major problems with the construction. The first time I wore this set I walked 2.5 miles to work, and by the time I got there I actually had blisters from the thong! I've worn uncomfortable lingerie before, but not lingerie that has really hurt. The scalloped trim at the sides of the thong may look pretty, but if I run my finger over it it's actually pretty stiff which means it rubs against the skin. I've worn the set twice since on days when I knew I wouldn't be walking much further than around the house, and it was fine then. I realise this isn't sportswear, but I still don't think half an hour of walking counts as more exercise than an everyday lingerie set should be able to handle.
Secondly, the polkadot mesh covering the bra cups looked great when the bra arrived but now, after three wears and three gentle hand-washes, every single one of the polkadots is fraying. You can kind of see that in the photo below, but it looks even worse in real life.
Overall, this is a case of really poor fabric choices – one that can't withstand even the gentlest washing, and one that simply isn't suitable for lingerie at all!
Verdict: 1 / 10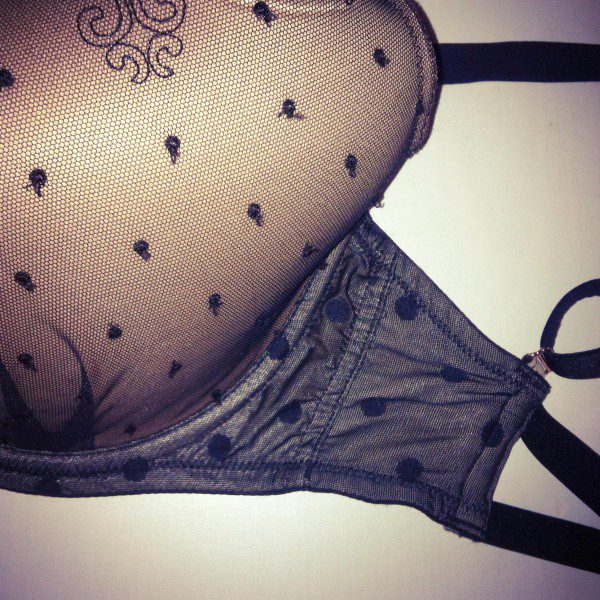 Fit
Getting back to something positive however, this set does fit me great. The previous Gossard bra I bought was a 30F and had become too small, so I bought a 30FF and the cups and band both fit perfectly. The thong is an extra-small and fits me much better than the extra-small knickers I bought with the previous Gossard set.
Verdict: 9 / 10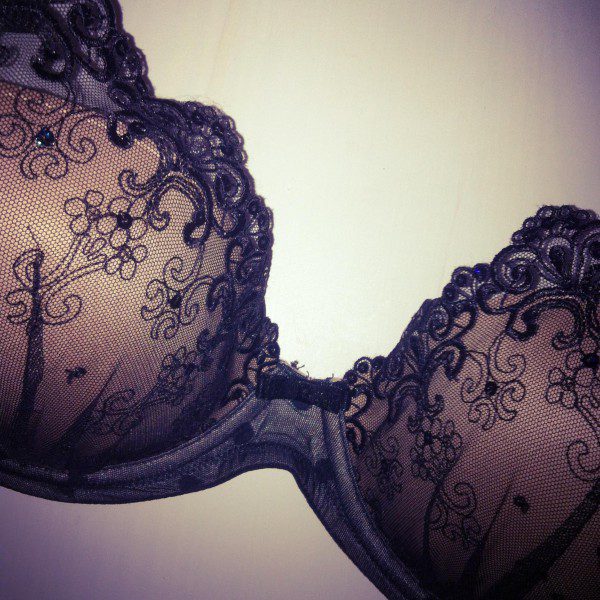 Washability
The bra states hand-wash only and the thong (which doesn't feature the same polkadot mesh that's on the bra cups) is supposedly machine washable although with all the little sequins it has on it I'd still recommend hand-washing that. However as mentioned the fabric on the bra simply can't survive even a gentle swirl in a sink of lukewarm water so I'm not impressed!
Verdict: 3 / 10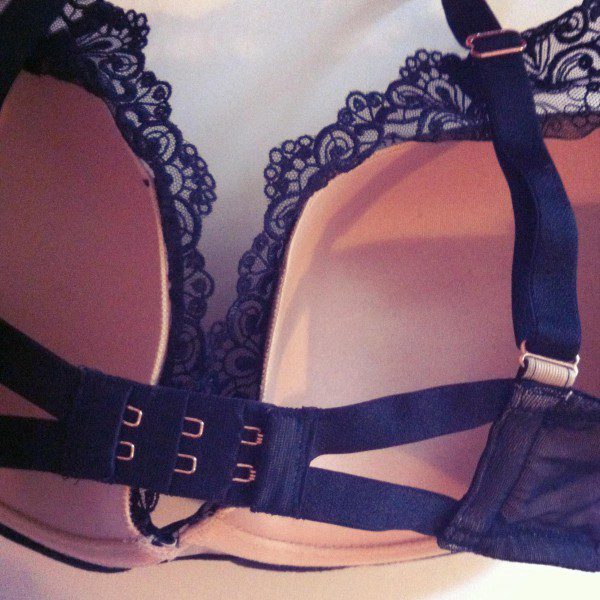 Value for Money
I paid £22 for the bra (originally £36) and £8 for the thong (originally £14). Sadly the bra is starting to look really old and frayed after just three wears, so whilst it wasn't an expensive purchase, I wouldn't call it great value for money either. I'd expect a £30 bra set (or really, a £50 one which is what it's worth) to last a lot longer than that!
Verdict: 4 / 10
Would I recommend it?
Sadly, no. It fits great and is a really pretty set, but it's not going to stay pretty for very long with those embroidered polkadots unravelling! I'd love a similar bra in a different mesh and with softer lace edging on the thong – the Gossard Sophie looks like it might fit the bill.
Have you bought anything from Gossard's Femme Fatale range? Did you have the same problems as I did?