Disclaimer: I purchased this lingerie with my own money and Agent Provocateur did not request a review. This blog contains affiliate links.
This is another of those reviews I've had pending for ages; I bought this Fifi set a couple of Agent Provocateur sales ago and thought it was about time I shared my thoughts for those who are considering buying the cream Fifi set that's in the brand's current sale.
I fell in love with the Fifi set when I saw it in red on Lost In Lingerie (take a look if you want to see some really high-quality photos showing the detail on this set) – I'm on a perpetual quest for the perfect red lingerie set and I'm pretty certain that this is it! However it had long since sold out in red but Agent Provocateur have also produced this in black, cream and their signature black-and-pink colourway. I think the fact they reproduce this set season after season (something they don't often do) in new colours is testament to how beautiful and popular this set is.
Appearance
Made from a mixture of sheer, pleated tulle and beautiful French Chantilly lace frills, this set is ultra-feminine and looks expensive. My favourite piece is the suspender belt with its frothy layers of lace and tulle, and the unique open-front, skirted style. It's finished off beautifully down to the smallest detail such as the tiny looped picot edging and the grosgrain ribbon bows.
The only little niggle is that the front-fastening suspender has a hook right in the middle and the bow just next to it, which means that the bow is off-centre and that looks odd to me. I wish they'd put the hook a little to one side and the bow right in the middle, since the bow covers up the hook anyway.
Verdict: 9 / 10
Construction
Aside from the issue with the hook and bow that I mentioned above, the set is really well constructed. The fabrics may look delicate but they stand up to a lot of wear, and the set feels sturdier than it looks.
Verdict: 9 / 10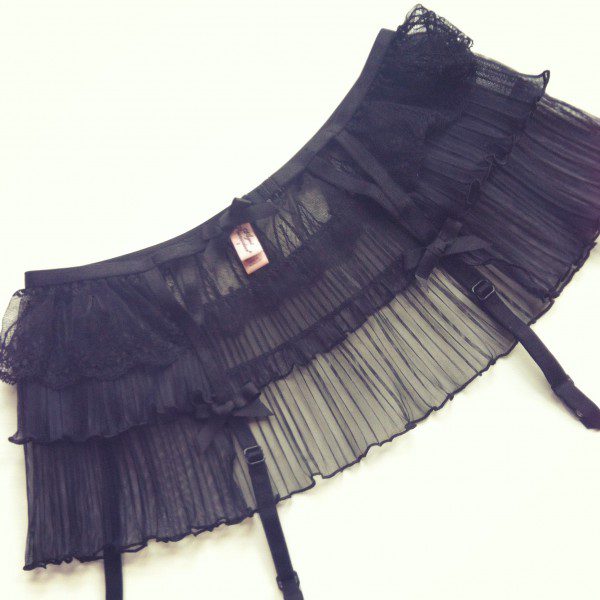 Fit
Agent Provocateur don't actually make my size, but they're one of the few brands I love so much I'll buy from them anyway. When I wear a 32-band I usually go for a 32F but Agent Provocateur stops at a 32E so that's what I bought, plus a size 2 (a UK 8 to 10 according to their size chart – I'm a UK 8) for the thong and suspender belt.
I've always found Agent Provocateur's bras and cupped lingerie to be generously sized – the bra is too small, but only slightly and the gore very nearly sits flat at the centre. The band rides up at the back on me, but again only a little. It's not a perfect fit but it is wearable, and I didn't notice any discomfort. If you are within Agent Provocateur's size range, I think you will get a great fit if you opt for your regular size.
As for the thong and suspender, both fit great and despite the narrow waistband the suspender belt doesn't ride down during the day.
Verdict: 8 / 10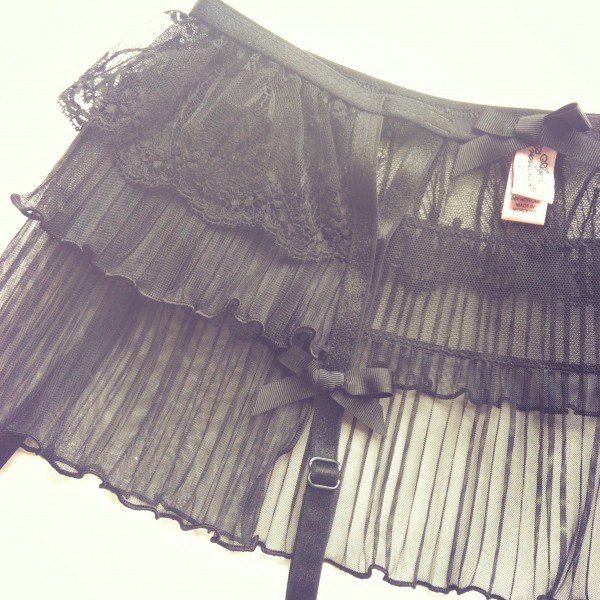 Washability
All three pieces are hand-wash only. I've washed the set loads of times now and the bra and suspender are still in perfect condition. The thong has some fraying on the lace trim however, although it's not too noticeable.
Verdict: 7 / 10
Value for Money
I can't actually remember the exact price I paid for this set, except that I got a good deal in the sale and it was around the same price as the cream version is currently on sale for – £50 for the bra, £45 for the suspender belt and £35 for the thong, which is a little over half the original price. It's great value for the quality of the construction and fabrics, and of course the beautiful design!
Verdict: 7 / 10
Would I recommend it?
Yes! It's a beautiful, classic lingerie set you'll probably find yourself wearing regularly (I did) and perfect if you want something that's very feminine without erring into 'girly' territory. It suits lots of body shapes and the various colours available mean you can pick one to suit your skin tone too. I particularly like the black and pink version, although I'm still keeping an eye on eBay for the red set in a 32E!
Do you own the Fifi set, or would you like to?