Disclaimer: I won this bikini in a competition and Bang! Swimwear did not request a review.
It's my first swimwear review! Maybe September is a bit late in the year to be writing about bikinis, but what with cancelling my Easter holiday and going abroad for summer quite late in the year I only recently had a chance to actually wear this in water – and hey, maybe some of my readers lead glamorous lives that involve sunny winter breaks!
Bang! Swimwear is a new, UK-manufactured swimwear brand that launched for Spring/Summer this year, designed by supermodel Nell Robinson and fashion buyer Ann Marie Clarke. The collection is inspired by the contrast between both women's Jamaican roots and the Brit rock scene in London, where they live now.
Flicking through the lookbook they sent me, there are a handful of stand-out designs, particularly the two swimsuits from the collection (Bass and my personal favourite, Synthesizer), but for the most part it's made up of standard, triangle-cupped bikinis and underwired, halter ones. The collection isn't so much about the shapes as it is the prints and colours, which range from colour-blocked fluoro to fun animal prints with a difference. About half of the bikinis are also reversible.
The bikini I won (thanks Lingerie Stylist!) is the Keyboard, part of the distressed denim-look range, which came with a promotional Bang! Swimwear beach bag that isn't available for sale.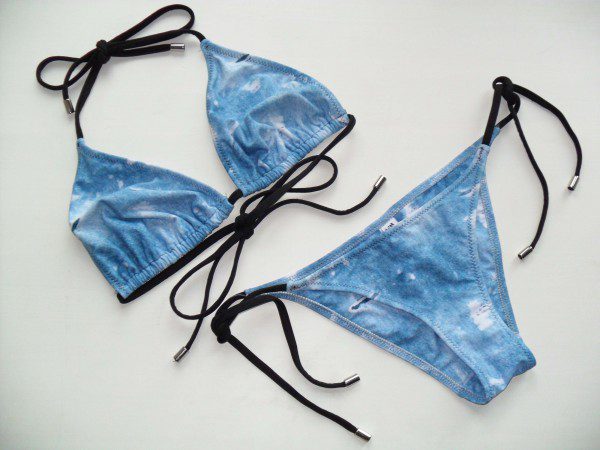 Appearance
As mentioned, it's really all about the print with this triangle-cupped, tie-sided bikini, which is a lovely, realistic, aged denim one. I like the contrasting black straps which are finished off with silver metal ends, and there's visible black stitching to match.
It's a simple bikini and although not the one I would have chosen myself (I tend to prefer repeated motifs like the Electric Guitar and Harmonica), I do like it.
Verdict: 6/10
Construction
The fabric is a lovely, soft one that's double-layered, the stitching is perfect and the straps are plenty long enough to tie in bows or double bows at the neck, back and hips. The gusset is lined with an additional layer of the same denim-print fabric. In other words, it's perfectly constructed!
Verdict: 10/10
Fit
Both pieces are sold as separates in sizes small, medium and large. I went for the size small bottom and size large top which is what I usually do when it comes to triangle-cupped bikinis.
As a 30F, the cups are a perfect fit and the band too since you can just tie it as tight or loose as you like. Whilst the bottoms do fit me, they're quite skimpily cut at the back and I would have preferred a size medium for more coverage.
Verdict: 8/10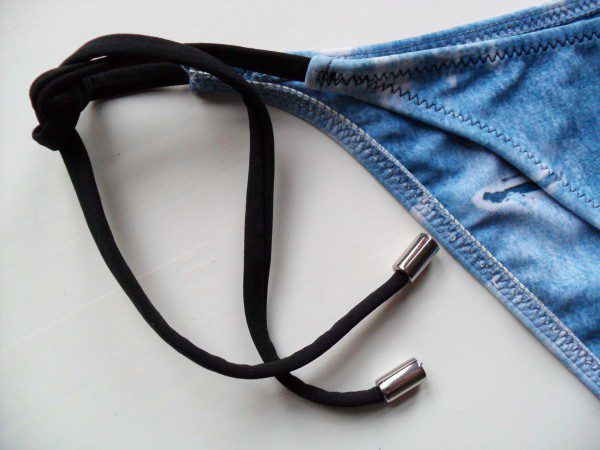 Washability
The bikini is hand-wash only in cold water. It's easy to wash and dried quickly when left on a hanger by my window which is great for holidays, so I can wear it again to the beach the next morning. Since there are no 'fancy' bits, I think you could get away with machine washing this one on a delicate, cold setting too.
Verdict: 8/10
Value for Money
The bikini costs £40 for the top and £40 for the bottoms. For me, as someone who doesn't go swimming and spends maybe 5 days a year at the beach if I'm lucky, that's on the expensive side, particularly for such a simple design. I have H&M bikinis that cost a quarter of the price and are of very similar quality.
Don't get me wrong, this is an excellent-quality bikini. I just didn't really feel like I was getting anything I couldn't get for much less on the high-street (except for the local manufacture). I would have liked to have seen a little luxury detailing such as branded hardware to justify the price difference.
Verdict: 6/10
Would I recommend it?
The fit, construction and washability are all great so if you typically spend around £80 on a bikini, expect to get a lot of wear out of it and/or don't mind paying quite a bit extra for something made ethically and locally, I don't think you'll be disappointed. I'm also assuming that the other Bang! Swimwear triangle bikinis will be of the same quality so if there's a particular print you absolutely love and that's worth £80 to you, go for it.
What do you think of Bang!'s debut collection? And how much do you typically spend on a triangle-style bikini like this one?