Disclaimer: I bought this robe with my own money and Between The Sheets did not request a review.
Between The Sheets is a New York based and made brand run by designer Layla and her husband Josh. Launched just 4 short years ago, the brand specialises in comfortable, luxurious loungewear, sleepwear and lingerie – think soft bralettes, jersey pyjamas and floaty babydolls.
This robe is from Between The Sheets' Leopard Play collection, available in this cobalt blue colour as well as black and raspberry pink. The blue and pink colourways are currently on sale.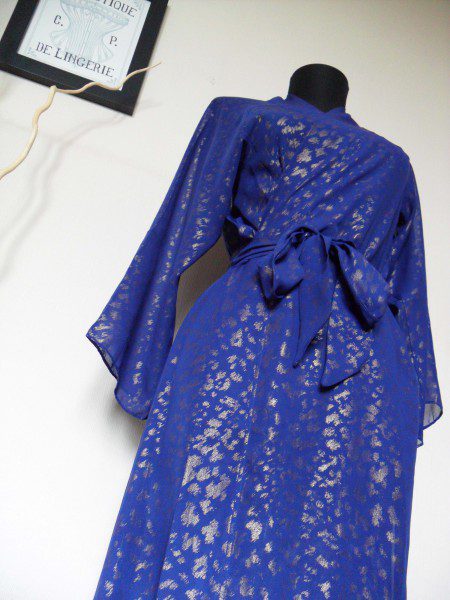 Appearance
The big feature of the robe is of course that gorgeous, metallic-gold leopard print that shimmers when the light catches it. This is definitely a lot more glamorous than my fluffy winter dressing gown, but it still has quite a relaxed feel to it. Layla's nailed the luxury loungewear look in this piece!
Verdict: 8/10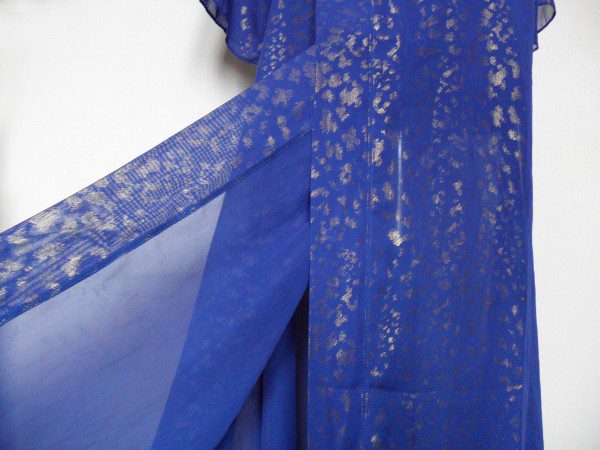 Construction
The robe is made from a single layer of the polyester fabric which gives it its semi-sheer appearance. The sleeve cuffs have rolled edges for a simple, unfussy finish.
Probably my favourite thing about the construction of this robe is that the waist sash is stitched in place on either side – with my other robes I am forever adjusting a sash that's slipping away to one side when wearing the robe open, or searching for a sash that's magically vanished in the washing machine. Not a problem with this one!
Verdict: 9/10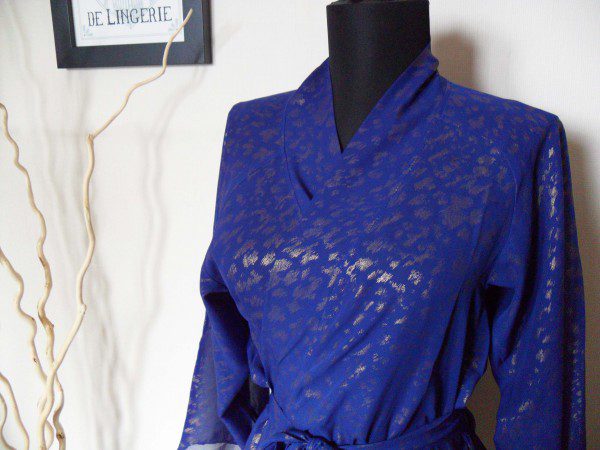 Fit
On me the robe is perfectly floor-length, just a centimetre above the ground so it doesn't drag and get dirty. I'm 5'3 for reference.
I bought a size Small which is a UK 8-10. The fit is obviously a little bit adjustable due to the wrap front and fits me perfectly as a size 8 but will fit a 10 just fine too.
Verdict: 10/10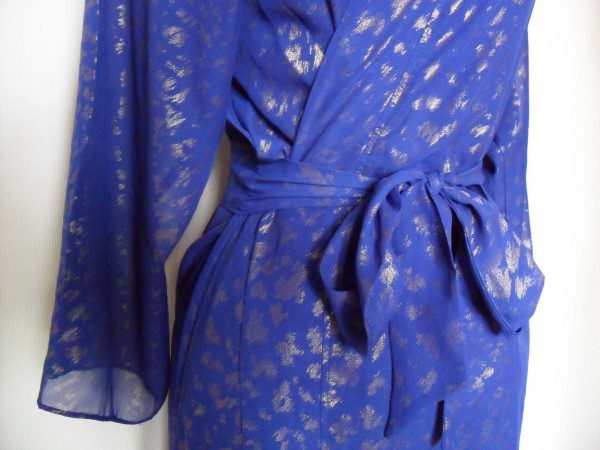 Washability
The Leopard Play robe is machine washable on a cold setting. Since it's bigger than the lingerie I'd normally only hand-wash I have popped this through the machine. With metallic fabrics like this it's sometimes a worry whether they'll still look bright and shimmery after washing and I'm glad to report that this looks just as good as ever!
Update 15/08/15 – I've had this now for a little under a year and in that time washed it maybe 10 times, always on a cold cycle in the machine. Unfortunately, I noticed recently that the gold leopard print has all but worn off in most places. That is, if I'm honest, quite disappointing – for this reason I would not recommend machine washing and to give this robe a quick wash by hand instead.
Verdict: 9/10 4/10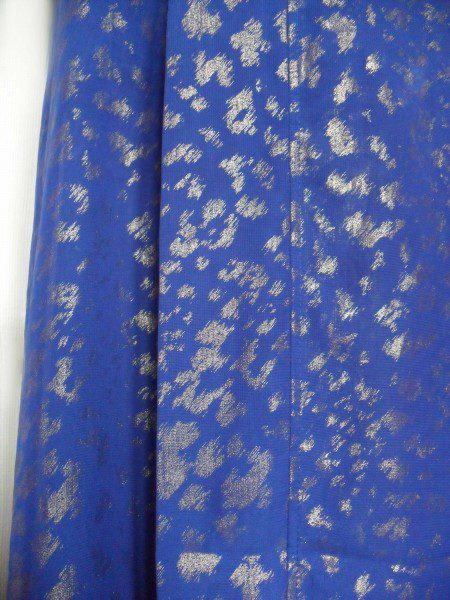 Value for Money
This cobalt colour and the raspberry pink version are both currently reduced to $101.25 which works out at about £63, which is the price I paid. The black version is still full price at $135 or £84. I think that's a great price for a gorgeous, eco-conscious garment by an independent designer brand!
Although I base my 'value for money' verdicts on the price of the product only since I think that's most fair, if you're not a US customer it's worth noting that I had to pay a £26 customs fee (for items totaling £85 as I bought a bodysuit too) so do budget for that if you buy.
Verdict: 10/10
Would I recommend it?
Yes, definitely! The length and fabric make it perfect for the current mild-to-cold autumn weather, and it'll be ideal come spring too. I've worn it literally every day since it arrived that it hasn't been in the wash and I'm kind of tempted to go back for a second one in pink too…
You can find this robe here in sizes XS through L whilst stocks last.
What do you think of Between The Sheet's Leopard Play collection? Which colour do you prefer it in – black, blue or pink?