Disclaimer: This band was sent to me free of charge for the purpose of this review. All opinions are 100% honest.
For those who missed my blog posts about it last year, the Multiback bra by Wild Parsley is an innovative new bra with interchangeable bands – you buy a set of cups and then as many bands as you'd like to wear with them. You can find out more about the bra in this blog post that I wrote back in September.
Intended to be somewhere between a solution bra and a fashion statement, the plain and printed cotton bands available when the bra launched were nice enough but didn't really elevate it beyond the purely functional. So it was great to find out that Wild Parsley were launching more luxurious silk bands with optional lace or crystals too!
Wild Parsley let me pick out a band from the silk collection to review, and I went for the red one (I can never resist red) with a lace embellishment which is currently only available in black.
I decided not to do my usual review format because I've already given my thoughts on the bra and cotton bands here and would be more or less repeating myself. So instead, I'm going to show you three different ways you can work the Multiback bra into your Valentine's Day (or any other special occasion) outfit…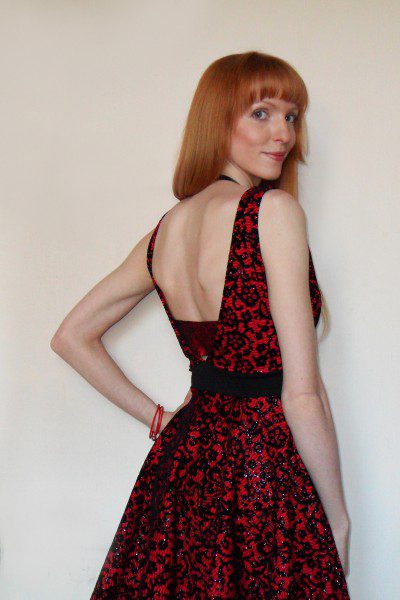 Blend it in
This bra was primarily developed for women who aren't keen on having their bra on show when wearing sheer or open-backed clothing, with the vast range of colours, prints and textures allowing you to pick one out that matches your outfit. And in this respect, it really does what it's supposed to!
The red and black lace band blends in perfectly with this red and black jacquard dress, so much so that I'm sure to most people it would just look like a part of the dress itself.
Of course, if your outfit has an unusual print you might not be able to find a band to match it so perfectly, but for most plain and lacey clothing (and certain prints like monochrome checks) there'll be a Multiback band to suit.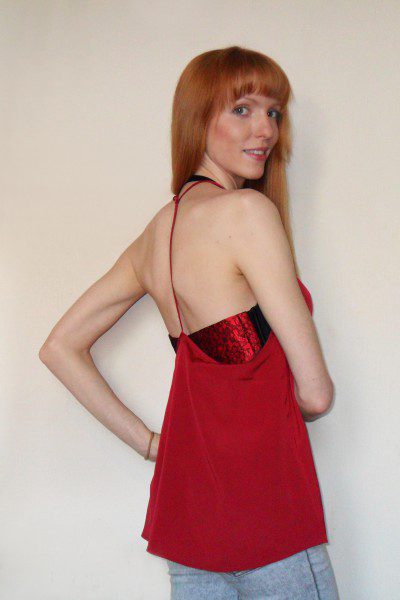 Colour match
Is it a part of the outfit, or isn't it? If the perfect Multiback band for your outfit doesn't exist, you will at least be able to find a colour match. There's classic black and white, popular colours like red and pink, and more unusual colours like silver and coral. You can see all of the available bands here.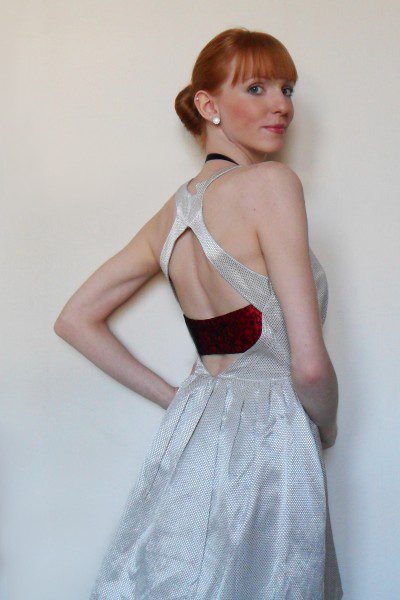 Make a statement
Finally, your alternative option is, of course, to go for a completely contrasting colour. If your bra is going to be on show, why not go all out and make a feature of it? You could use it like an accessory and match it to your shoes or bag, for example.
Even though the band is completely on show, the fact it has no fastening (the hooks and eyes are on either side of the cups instead) it still doesn't really look like a bra, it looks like more of a bandeau top you've worn to cover a bra up.
What do you think of Wild Parsley's Multiback bra? How would you wear yours?