Disclosure: I received this bra free of charge from Wild Parsley to review. 
I featured Wild Parsley's new Multiback solution bra on the blog recently. I recommend you go check out that post if you'd like to find out more about the concept behind the bra, but to summarise it's a novel bra with an interchangeable band at the back designed to be worn with sheer, low-backed or backless clothing.
Although I own some low-backed clothing and I think the backless look can be really glamorous, I've tended to avoid buying anything with a low back because I don't like how it looks with my bra on show, and I don't like the lack of support from not wearing a bra either. So I was really interested to give this bra a go and see if it could be the perfect compromise, offering support without obviously being a bra.
Wild Parsley sent me the cups, which are sold separately, and a choice of two bands – I went for the plain black cotton and the denim-look one, although these are also available in a range of fun colours and prints.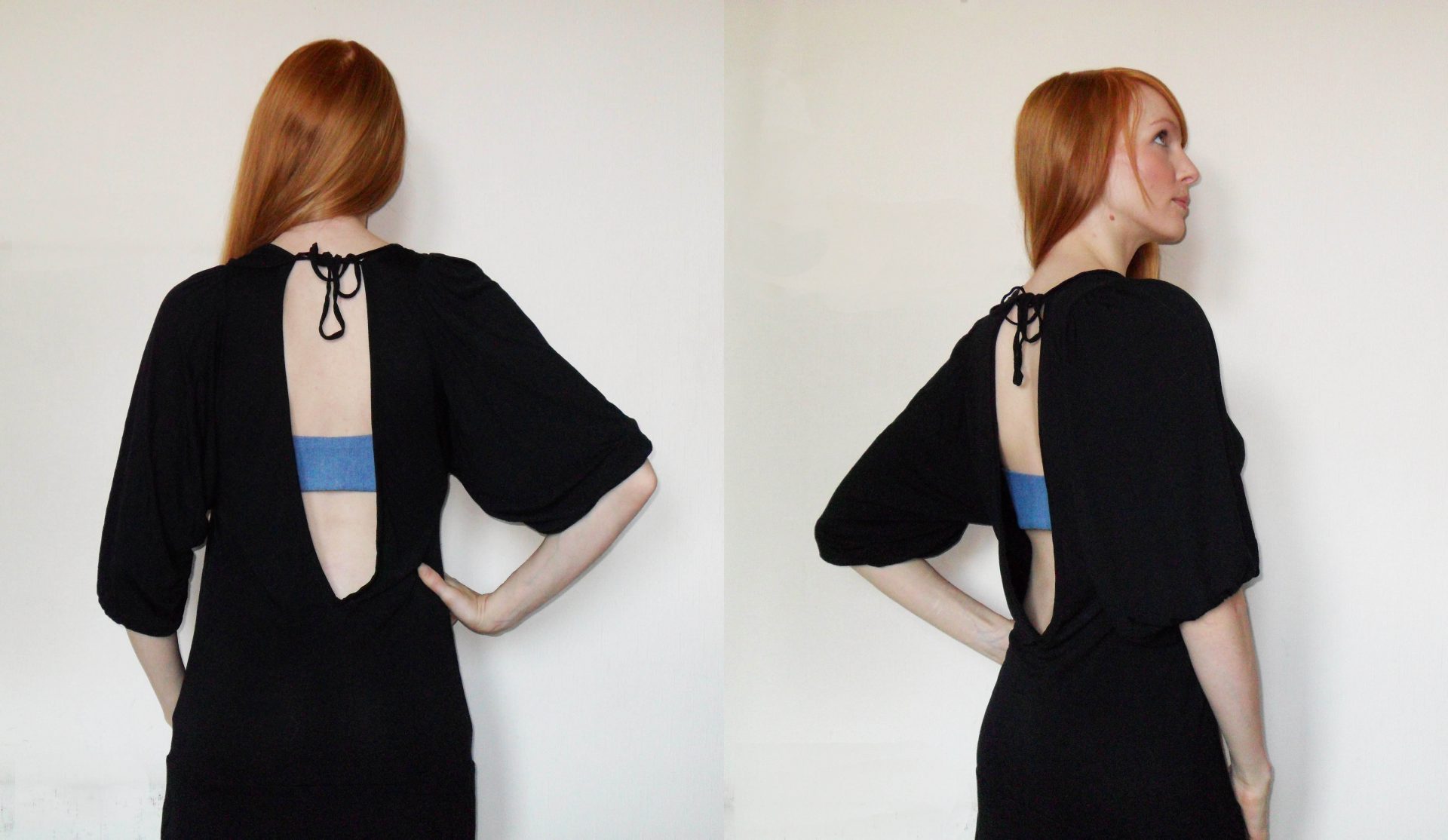 Pictured here: denim band, with the straps worn the normal way.
Pictured above: black band, with the strap worn halterneck style.
Worn halterneck, the band sits much lower.
Appearance
A crossover between a solution bra and a fashion bra, the cups are intentionally plain in order to provide a smooth line under clothing, and then the band can be as plain or as bold as you like. The cups do have some decorative details though – a strip of lace across the tops of the cups, a ribbon bow at the centre and picot edging below.
The very first thing I thought when I saw the bra on Wild Parsley's website was "I wish it came with more luxurious band options, like satin and lace!" and lo and behold, they're about to launch a range of silk satin bands and will also be introducing lacy and embellished ones at some point too.
So from a fashion point of view, with the plain cups and cotton bands it's not really my style, but from a solution-wear point of view I like it a lot more. The black band perfectly blended in with my black low-backed dress, and the denim was a fun contrast that looked more like a bandeau top than a bra. It does the job it's intended to do very well.
Verdict: 7 / 10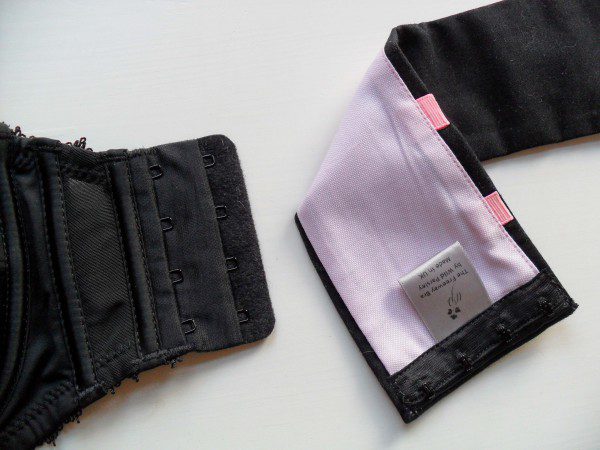 Construction
My first impression upon receiving the bra is that the cups are very well made. It's also nice to see that the bra is made in the UK!
The cups are a moulded, lightly-padded style, with removable fillet inserts and a three-part cup design that is supportive for larger cup sizes (the cups are sold up to a 38E).
The bra comes with a set of normal straps and a halterneck strap, and there are two loops for the straps to attach to inside each cup plus two loops at either side of the band. If I attach the straps at the outermost loop on the cups it's right by my underarm, which may seem a little odd but means this bra can remain completely hidden under clothing with a very wide neckline (it's not a plunge bra though, so not for low-cut necklines). The same goes for the back with very wide cut-outs or wide backless styles.
The one thing that surprised me about this bra was that the bands were non-stretch, since I expect all close-fitting lingerie to have some degree of elasticity. However that didn't affect the fit as much as I expected it to (more on that below).
Verdict: 8 / 10
Fit
My usual size is a 30F but in brands that start at a 32-band, I often sister size up to a 32E and that's fine. Originally, I asked for a 32E for the cups but they came up very big. I swapped them for a 32DD (cup volume equivalent to a 30E) and the fit is much better, although without the removable fillets the cups would still be a tad too big for me.
Regarding the band size, because it's non-stretch and a size too big for me it was a little loose, and when wearing the bra halterneck style I felt like the only support I was getting was coming from the halter strap (the band is supposed to provide the majority of support in a bra). With the straps worn regular-style though, they anchored the band in place to an extent and the bra was somewhat more supportive.
If however a 32-band was my usual size, the band would have fit tighter and been more supportive. So this isn't a criticism of the bra, just a warning that if you don't fit into the Multiback bra's 32-38 band sizing range then this probably isn't the bra for you.
Verdict: 5 / 10
Washability
The Multiback bra is hand-wash only and is simple and easy to clean. Personally, I think it would hold up just fine to a machine wash on a delicates setting.
Verdict: 9 / 10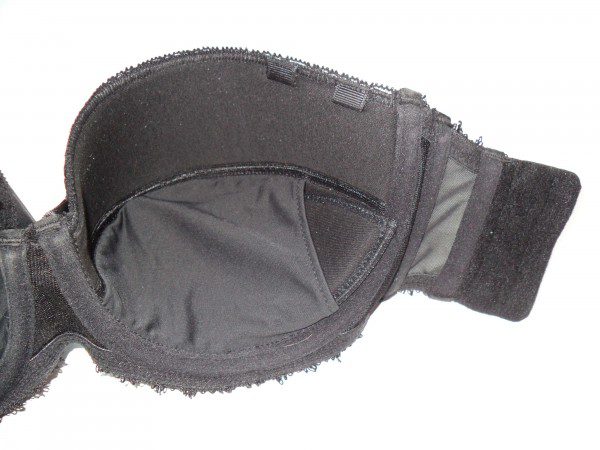 Value for Money
The great thing about this bra is that the more bands you buy, the more looks you're getting in one bra and the better value for money each look is. To buy a set of cups plus one band in cotton comes to a total of £52, but then additional cotton bands only cost £14 (i.e. if you bought the cups with 3 bands it's sort of like buying 3 bras that were under £27 each).
Verdict: 7 / 10
Would I recommend it?
Yes, provided you wear a 32-38 band size normally. If you're after something to wear with low-backed or sheer clothing that doesn't look like a bra yet offers all the support of one, this is really the only suitable option that I know of!
I would recommend buying your usual band size and one cup size smaller than normal. The bra is available to buy here.
---
I'd love to see Wild Parsley offer the cups in white as well as black, to wear with lighter-coloured clothing, and I can't wait to see what the silk and lace/embellished bands look like and maybe pick a couple up for myself!
What do you think of this bra? What fabrics or prints would you love to see the band made in?