Disclaimer: This set was bought with my own money and neither Pleasure State nor Zalando Lounge requested a review. This blog post contains affiliate links.
Pleasure State is an Australian brand who landed on my lingerie radar when they released this frankly gorgeous printed bra. I spotted this Glimmer set for sale on Zalando Lounge and couldn't believe it was from the same brand – Pleasure State do have some very lovely lingerie designs, but this one looks extra luxurious and, in my opinion, way more expensive than anything currently in their premium Couture collection.
Obviously, I bought it there and then. And I have not been disappointed!
Appearance
Okay let me start by saying that my pictures do not do this set justice, it really needs to be seen to be appreciated. Set against a champagne-white satin, the lace you see is a mixture of guipure embroideries and scalloped eyelash lace, all of it sprinkled with copious amounts of Swarovski elements. The way these sparkle when they catch the light is something that the product imagery couldn't get across, so when I received the bra set I fell even more in love with it than I had been to place the order.
There is also a thorny woven lace trim around the waist of the knickers and sides of the bra, and a grosgrain ribbon bow, so all in all more textures coming together than you would typically find in a single lingerie set.
Verdict: 10/10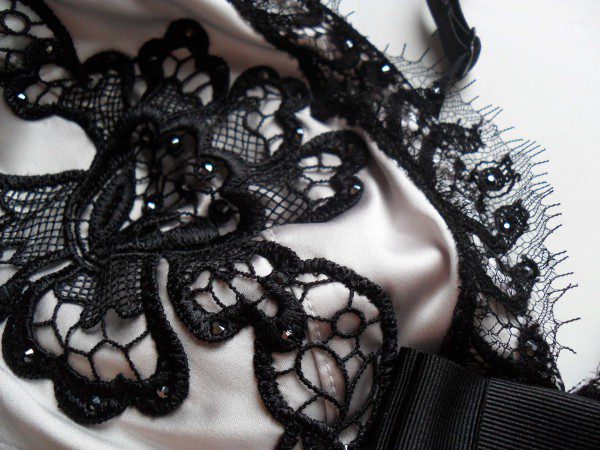 Construction
Overall the set is impeccably put together, with flawless stitching. The bra has a mesh lining to prevent the stitching rubbing where the guipure has been applied. Bizarrely the knickers don't have any backing even though they have exactly the same stitching inside, though personally I haven't noticed any discomfort as a result.
I did have to glue one of the Swarovskis back on after only a couple of wears and I also noticed a tear in the eyelash trim recently; given that I'm pretty obsessive about caring for my lingerie (I store this set in its own box and have even avoided wearing anything tight-fitting over the top which could rub) this is a sign of a very delicate set. It's beautiful and probably not intended to be practical, but it's expensive so I'd like it to last better than this.
Verdict: 7/10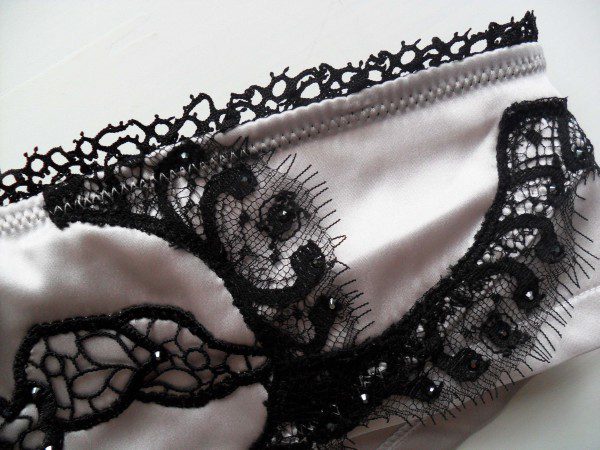 Fit
As I normally do with S/M/L sized bras, I went for the M to get the fit right in the cup and shortened the band to fit. I took 2.5″ off and should probably have taken another inch off to make it fit like a 30-band, so I would estimate that un-adjusted the size M bra fits a 34C-D. Adjusted, it's a pretty good fit for 30E me and does provide some support.
The knickers are a size S, for 90-95cm (~35-37″) hips according to Pleasure State's size chart, and they fit true to size.
Verdict: 8/10
Washability
The washing instructions are pretty strict – hand wash in cold water, don't leave to soak, don't wring or rub, line dry in the shade. I've followed these instructions to a T (which is basically how I normally wash my lingerie, except that I'm sometimes guilty of leaving things to soak for ages) and aside from the problems I mentioned above it's in excellent condition.
Verdict: 6/10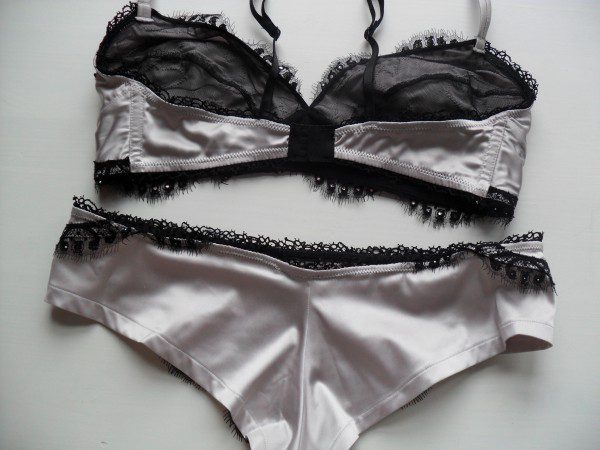 Value for Money
I always base this bit on the price I paid, which was £58. Originally the set cost £185. I am incredibly happy with this set because it looks stunning and fits great, but I was disappointed at how easily it got damaged. Still, I'd buy it all over again!
The satin is only polyester but when you take into consideration the fabrics overall, they're price-appropriate.
Verdict: 9/10
Would I recommend it?
I would, provided you are happy to give it lots of TLC! If you're going to pop it in a lingerie wash bag in the machine and hope for the best, you'll be disappointed.
The Zalando sale has ended but the knickers are available from Intimate Couture Australia for AU$89.95 (~£45). They also have a thong and underwired version of the bra available.
If you're quick, there are also some Glimmer pieces available at amazing prices on eBay: the soft bra in Large for about £19, the thong in Small for about £13
and the knickers in Small, on auction for just £1.99 and ending tomorrow
. If someone doesn't buy those, I'm getting a second pair!
What do you think of the Glimmer set? Have you ever bought from Pleasure State?