Disclaimer: This bra was bought with my own money and neither Von Follies by Dita Von Teese nor Zalando Lounge requested a review.
Burlesque icon Dita Von Teese has previously collaborated with Wonderbra and Frederick's of Hollywood, before launching her own range Von Follies by Dita Von Teese (which I believe is now known as just 'Dita Von Teese'). Impressively, the collection runs from a 32B to a 44E and UK 8-22 which is a huge size range for a relatively new brand, and it's also one of the few truly fashion-forward, mid-priced brands catering to 40+ band sizes.
Zalando Lounge recently ran a Von Follies sale, and I decided it was about time I give the line a try. This Star Lift set has been made in, I think, 10 different colourways so it's obviously popular with customers and I thought it'd be a good place to start.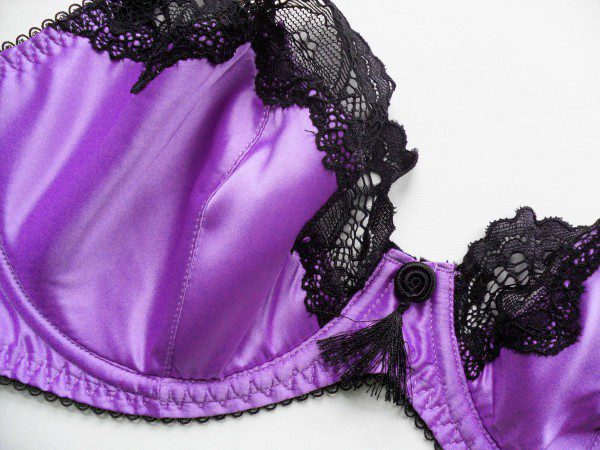 Appearance
The Star Lift bra has satin demi-cups topped with sheer, black, scalloped lace. The elastic straps are also scalloped with a picot edging, and the centre features a cute tassel. In contrast, the back is made from fishnet mesh and black elastic strapping which I think makes the bra very 'Dita' – glamorous, but with a bondage-inspired edge!
The thong has decorative panels in the same scalloped lace as the bra, and at the back it's finished with a tiny ribbon bow. I do wish the tassel on the thong hung straight rather than sticking out to one side, but it's not a major issue (and lots of product images show wonky tassels so I kind of knew to expect this).
Verdict: 7/10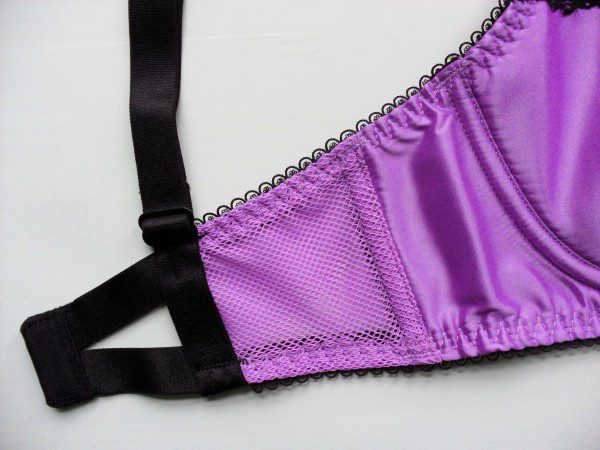 Construction
Wonky tassel aside, both pieces are very well made, with neat construction and good-quality fabrics, including a super-soft lining in the cup for comfort. The hardware, though coated in black to match the elastic, is actually metal – yay!
I don't know if I'd really call this a construction issue, but I found the bra's label scratchy and annoying. It's an easy fix, though I'm going to wait a few more washes and see if it softens up (I always feel like I'm vandalising clothing when I cut the labels out!).
Verdict: 8/10 
Fit
Sadly, the extensive size range doesn't include 30-bands, so I sister-sized up to a 32DD. The cups are a great fit. The band was a 'true' 32 – it doesn't come up at all small, so I found it rode up on me and I ended up shortening it by about 2 inches. Which is great if you're actually a 32 band of course, but if you're sub-32 and like your bands firm be prepared to get your sewing kit out.
As I bought this set on sale, the thong was sold out in a UK 8 and I went for a 10. It actually fits me pretty well but has a lot of stretch, so probably also fits true to size. I did notice that the label states UK 10 / EU 36 and all my UK 8 clothes have EU 36 on the label, so if you're in Europe you may want to size up in the thong/knickers.
Verdict: 8/10
Durability
The bra is hand-wash only, whereas the thong can be machine-washed in a laundry bag. I've been hand-washing both pieces, and they're colour-fast and easy to clean. The set looks as good as new so far!
Verdict: 9/10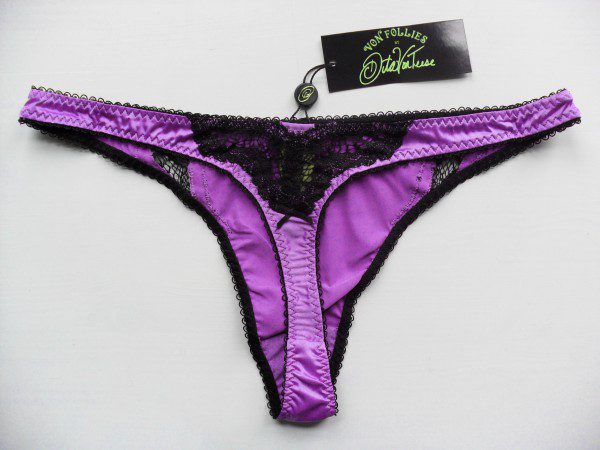 Value for Money
As mentioned, I picked the Star Lift set up on final clearance sale at Zalando, so I got it very cheap – £18 for the bra and £9.50 for the thong. You can see that a lot of attention to detail has gone into designing this set – I can't give it anything less than 10 out of 10 for what I paid!
The usual retail prices are £32 for the bra and £18 for the thong. In larger sizes the bra costs an additional £10 but has some helpful design tweaks – different straps and a plainer but more supportive band.
Verdict: 10/10
Would I recommend it?
Yes I would. It's pretty, it's comfortable, it fits well and anyway, who doesn't wish they owned Dita Von Teese's lingerie wardrobe? This is one place to start! I'd be happy to buy this bra again in another colourway – I'm holding out for a red-and-black version, pretty please?
You can currently buy the Star Lift set at ASOS in black, peach or turquoise – that last one is on sale and also in stock in the fuller-bust version.
Have you ever bought one of Dita's lingerie designs? What do you think of this Star Lift set in particular?