Disclaimer: This set was bought with my own money and neither Fleur of England nor Full Disclosure requested a review. 
Fleur of English is a luxury British brand that I've been wanting to try for ages, and since I decided that 2015 would be the year I finally bought from some of the brands I keep saying that about, I decided to treat myself in the summer sales.
Full Disclosure have an amazing outlet section and I picked up a few things over summer that I plan to review, including this utterly beautiful Heiress bra set. It wasn't quite available in my sizes but the price reduction was so massive and the set so beautiful I decided to risk it, and long story short I'm really glad I did.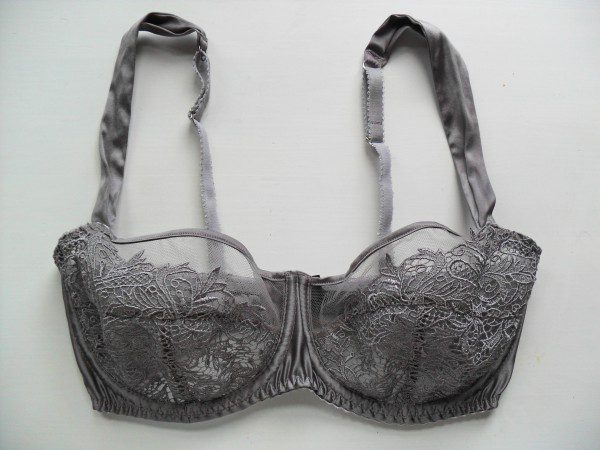 Appearance
As Cora from The Lingerie Addict pointed out recently, it was Fleur of England that started the current trend for barely-there sheer cups appliquéd with decadent lace and well, they're the original and the best. This bra is stunning! Pure, unabashed luxury.
The cups are made from a very fine tulle topped about 4/5ths of the way up with a thick, leafy embroidery. The rest of the bra is made from a soft silk satin, including the wide straps. The matching thong is lovely too, mostly made from silk with a tulle front and symmetrical lace appliqués.
The one thing I didn't like about the set is how the colour looks on me. It really does have a barely-there effect, looking more like cut-outs than sheer fabric, but the grey colour makes my pale skin look ashen. I'm a fan of grey lingerie, but I think next time I'll save it for opaque purchases and try an ultra-sheer mesh in rose pink or pale gold or something else that's closer to my actual skin tone.
Verdict: 9 / 10
Construction
Fleur of England is a luxury brand, and their construction lives up to expectations as such. There are a couple of loose threads here and there where the lace has been stitched on, but I'll forgive them that because everything else is perfectly put-together – small, neat stitches, unnoticeable stitching holding the appliqués in place, and a powernet mesh lining inside the bra's wings to add strength to the silk outer.
Verdict: 9 / 10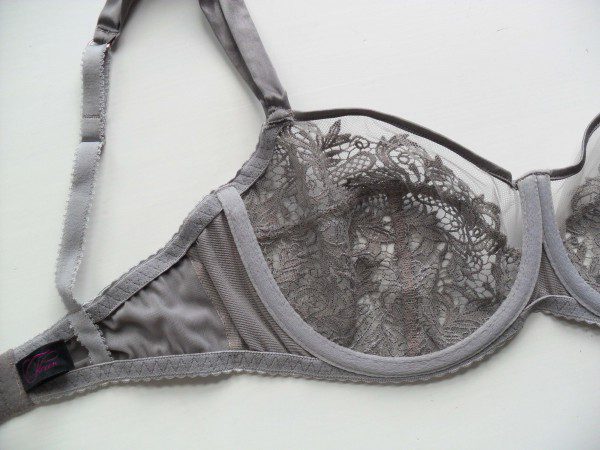 Fit
As mentioned, my exact size wasn't available, so I went for a 32DD bra (a band size up and a cup size down from my typical size) and a size Medium (UK 10-12) thong. The cups fit me really well and the band was about as tight (or loose, rather) as most 32 bands are on me, so I'd say it fits true to size.
The thong too – it's too big for me but I didn't have to shorten it at the hips as I was expecting, it just has more of a high-legged 80s shape on me, which I hear is coming back in fashion (though personally I'm no fan of anything to do with 80s fashion!).
Verdict: 8 / 10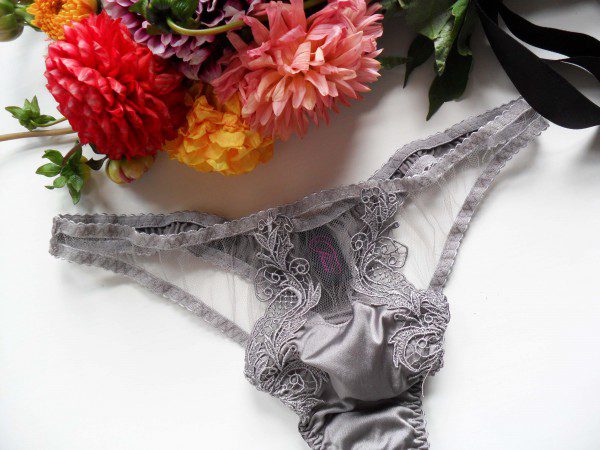 Durability
The Heiress bra and thong are both hand-wash only in cool water, and somewhat amazingly for all that silk, lace and ultra-fine tulle, ironable too! I wouldn't risk it personally (and I don't iron my lingerie anyway), but if you do iron it I'd pop a muslin cloth over the top first.
Luxury lingerie is often very delicate but whilst I wouldn't recommend throwing this in the washing machine or anything, it's actually pretty durable as far as lace bras go because the guipure embroidery is so thick! I have noticed a small amount of bobbling on the silk at the back of the thong, but overall it doesn't strike me as an ultra-delicate set (unlike another Fleur of England set I picked up after this – review to follow!).
Verdict: 7 / 10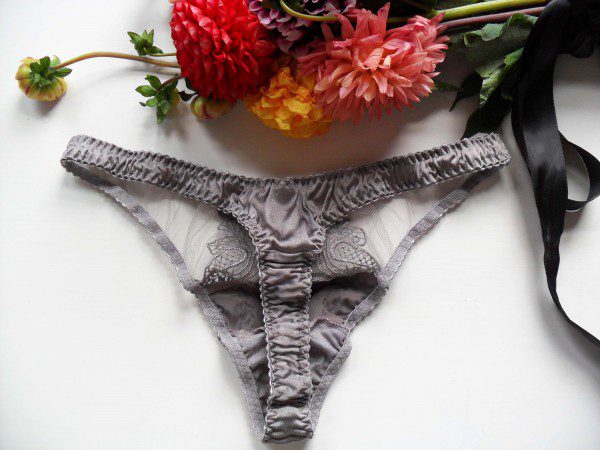 Value for Money
The RRP of these pieces is £109 for the bra and £69 for the thong. However, I got my hands on them at Full Disclosure for just £27.25 the bra and £17.26 the thong. Talk about a good deal! Quality fabrics, great fit and European manufacturing… what can I give it but 10 out of 10 for less than £50 the set?
Verdict: 10 / 10
Would I recommend it?
Yes, buy it!
Really, it's so beautiful and I'm so pleased with it that it took me all of 3 days to buy a second Fleur of England lingerie set. I'd have liked to have had it in another colour, but I love it all the same. Also, it's still available at those tiny prices from Full Disclosure if you happen to wear a 32E/36DD and M/L. Alternatively it's available full-price from Fleur of England where it would appear all sizes are currently in stock (including some 30-bands!).
What do you think of Fleur of England's Heiress bra? And are you a fan of the barely-there tulle with lace look that's popular right now?