Disclaimer: This set was bought with my own money and L'Agent by Agent Provocateur did not request a review. This blog post contains affiliate links.
Did you catch my previous L'Agent Marisela review? Despite my initial reservations about the brand, I loved that set and couldn't wait to get my hands on something more by L'Agent by Agent Provocateur.
So during their summer sale, I picked up a bunch of stuff including a thong and suspender belt to complete my Marisela, this Iana which I'd had my eye on for a while, and these Zanita knickers which were reduced to just £4 (that's right, I said four pounds!) because the matching bra had sold out, but they seemed like a good colour match for the Iana one.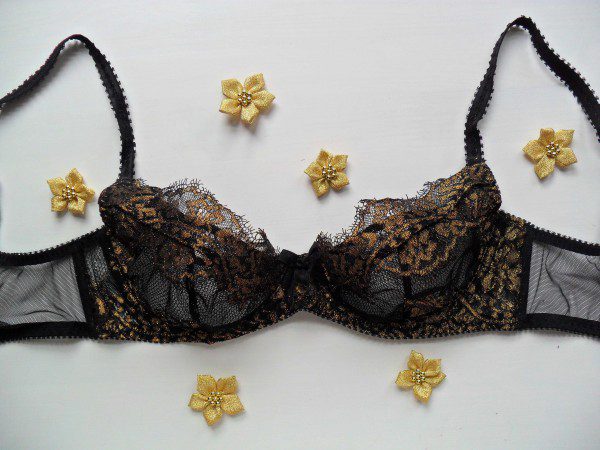 Appearance
The reason I wasn't initially wowed by L'Agent is because I felt it was lacking both things that make Agent Provocateur so memorable – luxury fabrics and unusual designs. Well, a few seasons in L'Agent is still somewhat lacking both of these things, but not Iana!
The gilded fabric with metallic embroidery and eyelash edging looks so beautiful, and combined with the gorgeous design that includes small cut-outs at either side of the thong, it really wouldn't look out of place on the shelves of Agent Provocateur despite coming in at a much cheaper price.
The Zanita knickers are quirky and fun – a high-waisted style in simple black mesh with sparkly black and gold tassels at the hips (I'm going through a bit of a fringe phase right now). Unlike the Iana stuff, these are clearly more of a budget item than mainline Agent Provocateur, but they're still pretty.
Verdict: 9 / 10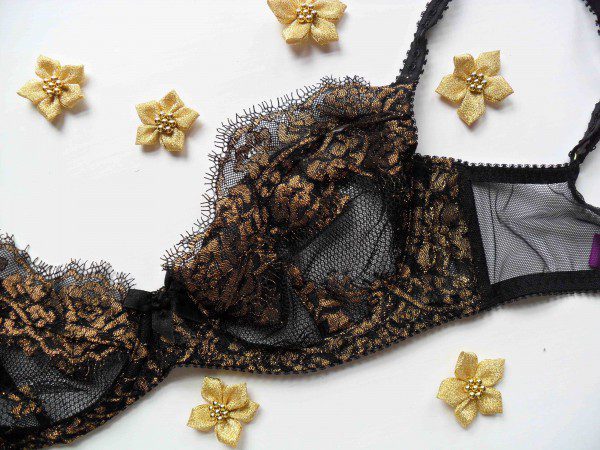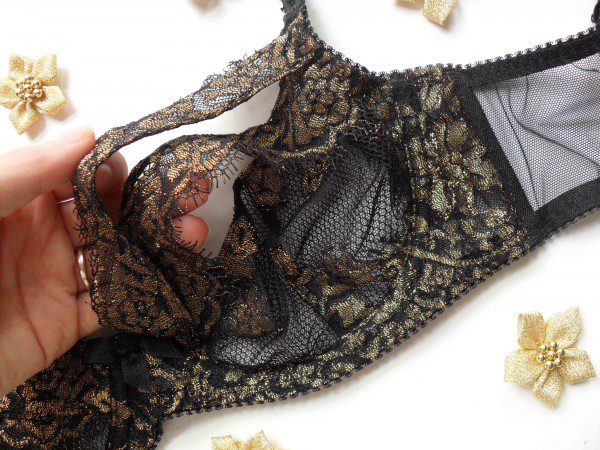 Construction
One of the reasons that I loved my L'Agent Marisela set was that it was equally well-made to anything I've bought by Agent Provocateur, and these pieces are too. Everything's beautifully put-together, and the Iana set in particular has pretty picot edging and is made from a lovely, wide-net tulle.
The Iana bra and thong are lined too in a finer mesh to stop the embroidery getting too scratchy, though it doesn't completely work – that metallic thread is not soft and the mesh lining isn't really either. I suppose that's testament to the fact the Iana set is just as stunning as something from Agent Provocateur, but at half of the price. Something had to give.
There's also an unusual bit of construction work on the bra – the gold embroidery you see trimming the top is actually two separate strips of lace, not attached to the cups. I don't know why they made it this way, perhaps it was to give the option of a naughty peekaboo effect (because stuff does slip out in this bra!) but it would be easy enough to fix the bands in place with a few quick stitches if you prefer them to stay where they are.
Verdict: 7 / 10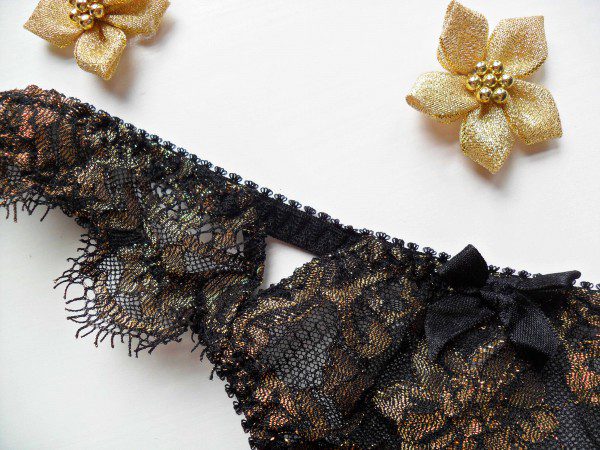 Fit
Because I bought this on sale, my usual sizes weren't all available – I plumped for a 32D bra, XS Iana thong and Small Zanita knickers.  And somehow, it all managed to fit me more or less perfectly!
Bear in mind that I have a larger-than-usual waist measurement for a UK 6, about 26″, which is probably why the high-waisted knickers fit me well in a size too large. And on the bra, those bands of not-fixed-in-place lace allow for a little flexibility because you can position them higher or lower to cover up overspill from the actual cups below.
Verdict: 9 / 10
Durability
The Iana set and Zanita knickers are all hand-wash only. I think it'd be okay to wash the Zanita knickers in the machine in a mesh lingerie bag. The gold embroidery on the Iana pieces however is much more delicate – there are already little metallic threads poking out all around the edges and I imagine they'd unravel really fast with anything more than a gentle soak and squeeze-dry.
Verdict: 6 / 10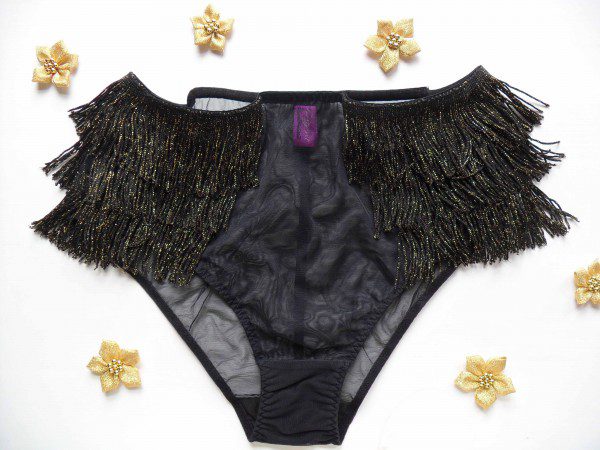 Value for Money
Originally, the Iana bra was £65, the Iana thong £28, and the Zanita high-waisted knickers £35. Though like I mentioned, I got an amazing deal on the Zanita knickers at just £4 and the Iana set wasn't exactly breaking the bank at £21. I do like a good AP(ish) sale!
I would point out though that Iana and Zanita are similar in price yet very different in how luxurious they actually look. At full price, I'd have called the Iana set incredible value for money but the Zanita priced 'about right for what you get'.
Full points for what I actually paid though!
Verdict: 10 / 10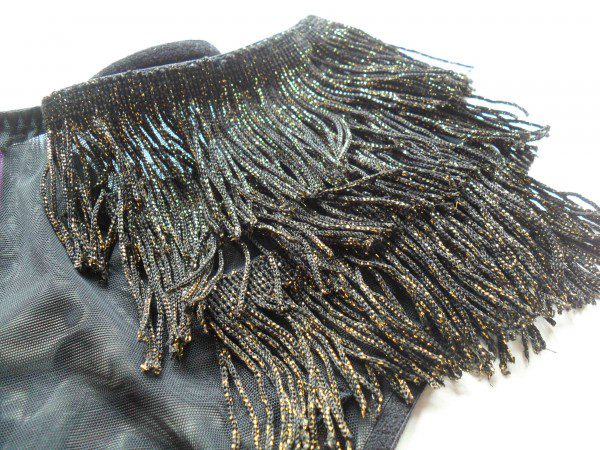 Would I recommend it?
Yep! Overall, I'm still not loving L'Agent by Agent Provocateur but there are gems hidden in the mix that are well worth trying.
Both of the ranges featured here are sold out at L'Agent, however the Idalia line is the exact same cut without the metallic embroidery (and therefore slightly cheaper too). You can get some Iana pieces on eBay
 though and also here in the US, and there are plenty of Zanita pieces at great prices on eBay too
!
What do you think of L'Agent by Agent Provocateur? Could you see this Iana bra set being a mainline Agent Provocateur design?