Disclaimer: This corset was bought with my own money and Rebel Madness did not request a review. This blog post contains affiliate links.
You might recognise this corset from this blog post I wrote just over a year ago. I haven't been able to get it out of my mind since, so a couple of months ago I finally took the plunge and bought it.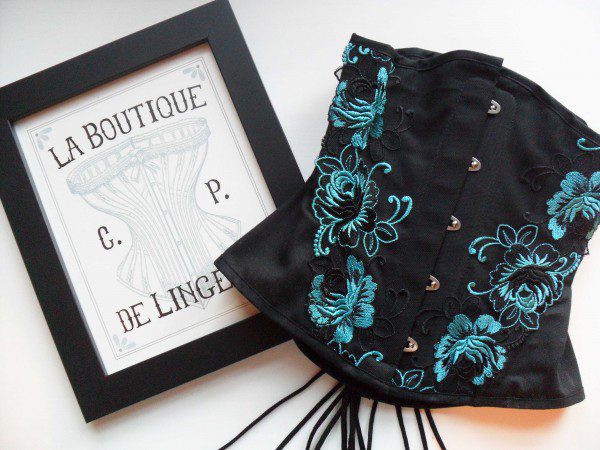 Before I get onto reviewing the corset, here's the bad stuff:
I bought this corset on August 7th via Etsy and it said 'ready to ship in 1-2 weeks'. 3 weeks later I enquired about it and didn't get a reply, but it was marked as dispatched later that day (August 27th). Another 3 weeks passed and I hadn't received it so I asked if there was a tracking number and received this reply from Rebel Madness:
"Unfortunately there is a delay in delivery process. The shipping company informed me that the parcel is on its way but it may take a few extra days until it will be finally delivered. Sorry for this inconvenience but it's out of my control."
Fair enough. I wasn't in any rush to get it and I know these things can happen. But when I finally received it, I checked the date on the parcel and the tracking number – it was posted the day after the above message (September 17th)! I'm an understanding customer, but I do not appreciate being lied to.
Okay, now that's out the way, here's the good stuff… 🙂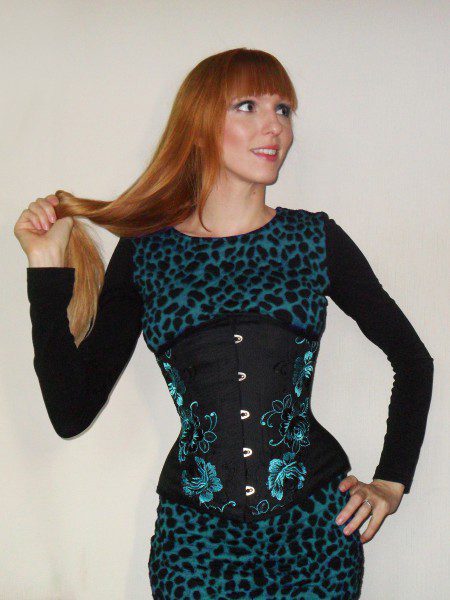 Appearance
Obviously what drew me to the Cyan underbust corset was the embroidery! It's such a vibrant, bold colour and stands out so well against the black.
The exact placement of the embroidery is different on my corset to the one in the picture, and it's not symmetrical on either – this is not a luxury corset in any way, but I don't actually think the lack of symmetry detracts from the overall look all that much.
Verdict: 7 / 10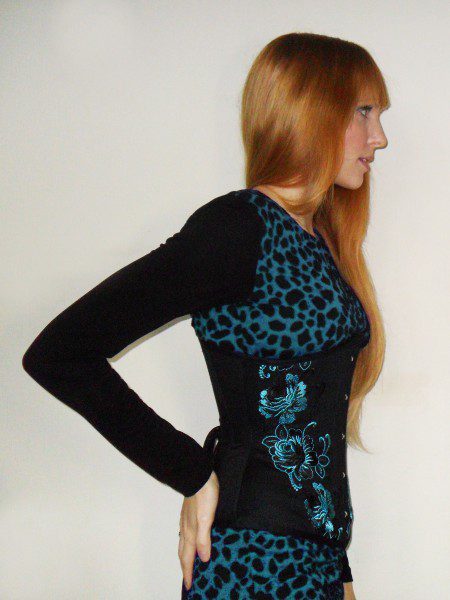 Construction
Rebel Madness' Cyan corset has 5 panels either side, with a total of 14 steel bones – 12 spirals (for comfort) and 2 flat ones by the lacing at the back (for added strength). There's a waist tape too.
The busk at the front is very wide – about an inch either side – and slightly flexible for a comfortable fit. The busk ends about an inch away from the top and bottom of the corset though and this means the ends pull apart when worn – luckily the modesty placket is wide enough to just about fill these gaps.
In order to keep costs down, the embroidery isn't appliquéd down. Instead, the mesh it's on covers the front two panels and the outer edge is held in place by the straight line of stitches at the boning channel, so the very edges aren't secured down. The lacing at the back is a shoelace style cord which does have a touch of stretch but does the job just fine.
One thing I love about this corset is the modesty panel, which turned out to be a floating one. It's the first of this style I've tried and it's so much easier to put on than one attached at the side, and also allows for it to be removed completely if you prefer.
Verdict: 7 / 10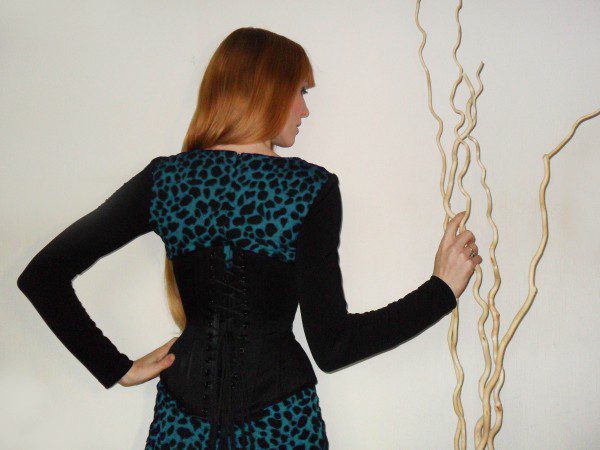 Fit
I ordered this in XS / 20″ which is 6″ below my natural waistline and I can lace it down to about 21″. The corset fits me perfectly at the ribcage, but as you can see in these photos it's maybe an inch too big at the hips. But most people do have a larger waist-to-hip ratio than me!
The length also is just right – I'm only 5'3 and usually find corsets are designed for someone with a longer torso, but not so here.
Overall, considering this was an off-the-rack corset, the fit is surprisingly excellent on me and (perhaps as a result) it's really comfortable too!
Verdict: 9 / 10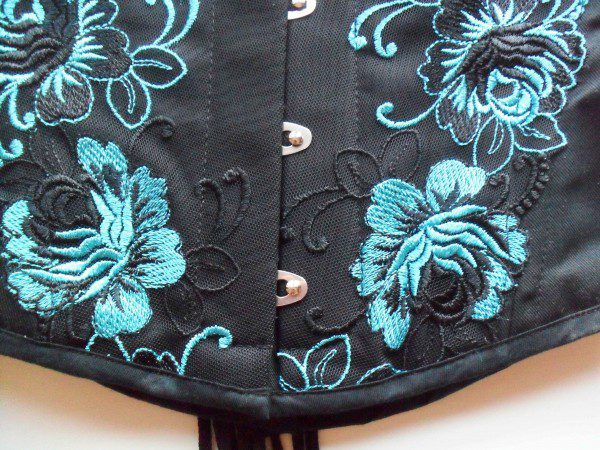 Durability
The Cyan corset can be hand-washed which is ideal if, like me, you never bother to get anything dry-cleaned. The only issue I've noticed is that when lacing up, where the shoelace rubs against the black cotton it leaves white marks – so you end up washing or at least sponge-cleaning it regularly!
Verdict: 7 / 10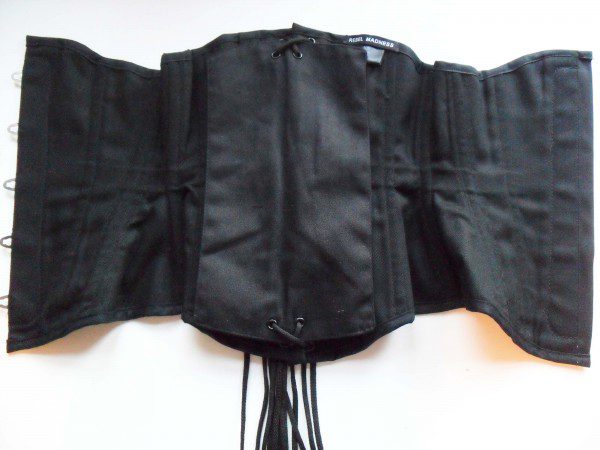 Value for Money
Okay, the embroidery wasn't the only thing drawing me to this corset – it's also incredibly affordable! It costs 300 Polish Zlotys, or about £52. Postage to the UK wasn't too bad either at under £9.
Despite the price, this corset is built to really cinch the waist in. It's also one of the only corsets I've seen in this price range with beautiful lace or embroidery detailing.
Verdict: 10 / 10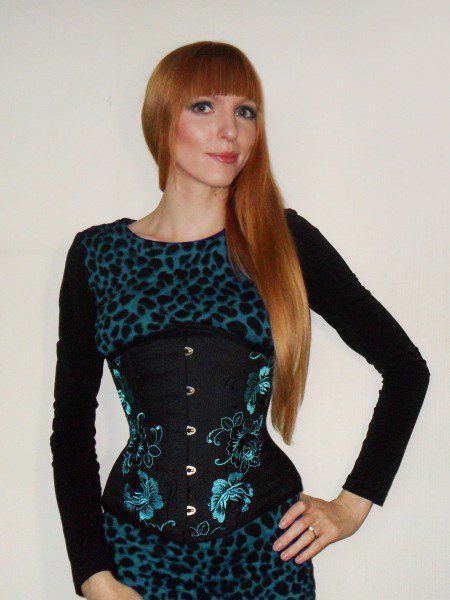 Would I recommend it?
I am really reluctant to recommend a brand with such poor customer service.
However, the corset itself is fantastic value for money, and there aren't a ton of good-quality, low-budget corset brands around. So what I would recommend is this: don't buy a Rebel Madness corset if you have a tight deadline, and if you decide to shop there use Paypal so it's quick and easy to get your money back if you have any major issues with delivery.
Since I bought the Cyan underbust, they've released it in purple too with a prettier embroidery (for slightly more money) which I would probably have chosen over the black, but oh well. This and this are also new styles that I quite like.
I'd love to know what you think of the Rebel Madness Cyan corset and the brand's other corset designs! Also, would you buy from a brand again after customer service like this?