Disclosure: I bought this set with my own money and was not asked to review it.
Pour Moi? is a British lingerie and swimwear brand offering on-trend pieces at affordable prices, with an impressive size range that spans 30AA to 44H (though this particular bra is a D+ one only). They retail through their own website as well as major retailers like ASOS and Figleaves, so they're fairly easy to get hold of (in fact Pour Moi? is the only 'fashion' brand stocked by my local lingerie boutique).
This Ditsy set has previously been released in a blush pink, and is currently available in both navy and this black.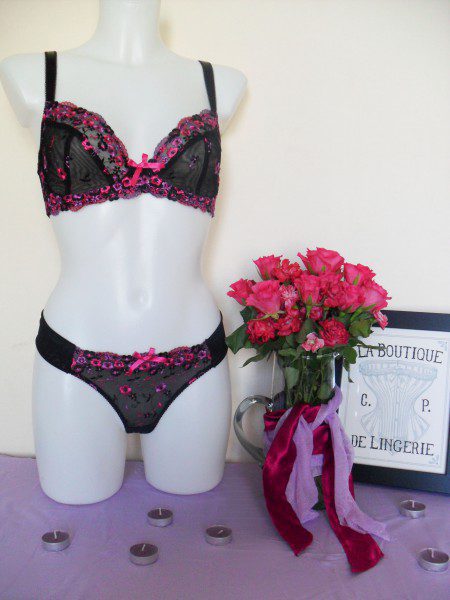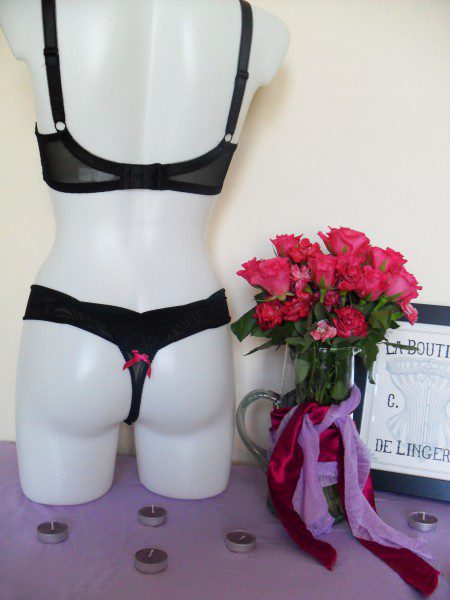 Appearance
I chose this black version because it's most 'me', combining together my love of black lingerie and bold, striking colours.
I also liked the lightly-ruched, mesh sides on the thong. However, what I was most drawn to on this set is the embroidery. Richly-coloured, intricate embroideries are a growing lingerie trend and one I'm absolutely thrilled about, but this often comes at a price. It's so rare to see such elaborate embroidery on a brand in Pour Moi?'s price range!
Combine that with the pretty, scalloped edges and the Ditsy set really looks like it's more expensive than it is. The back of the set is a little plain, but then let's be realistic, it's a £24 bra – it already exceeds expectations thanks to the front!
Verdict: 9 / 10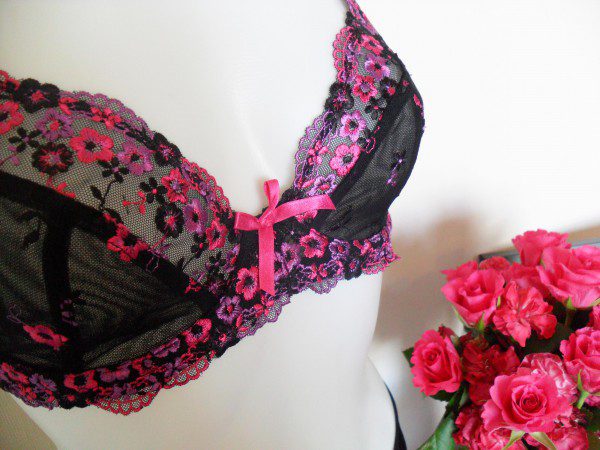 Construction
Not only does this set look good, it's nicely-made too. The embroidery on the thong is backed with soft, fine mesh; the upper section of the cup has no such lining but it's not at all uncomfortable. There's absolutely no scratching or irritation that you might expect with some embroidery.
Speaking of which, whilst I'm sure more luxurious embroideries exist, it's very nicely done – thick, neatly edged and very detailed (each flower has little flecks of contrasting colour in its petals).
Verdict: 9 / 10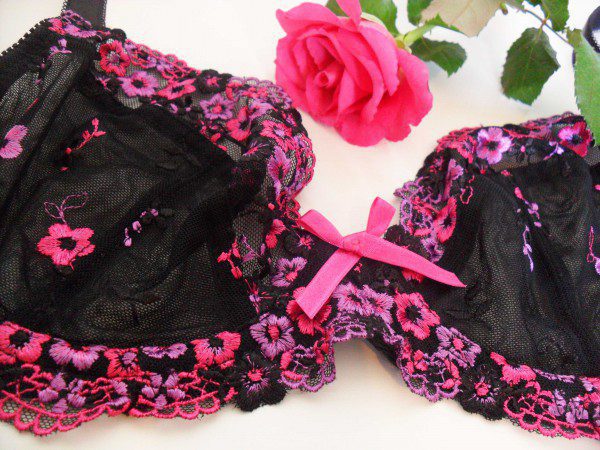 Fit
I bought my usual bra size of 30E, and a UK size 8 thong. The thong is a great fit, and those soft, wide mesh sides are oh-so-comfortable! They're pretty stretchy so there's a good amount of sizing flexibility.
The bra, unfortunately, is less perfect – it's cutting in a fair bit and I definitely need a cup size up from usual in this bra. It's not often I need a 30F nowadays, so chances are a lot of you will be better off sizing up too! The band on the other hand is a firm but comfortable fit and feels like a standard 30.
Verdict: 7 / 10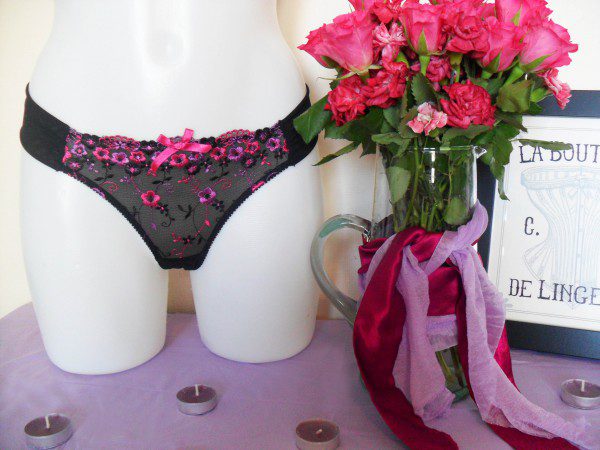 Durability
The Ditsy bra is hand-wash only, though the thong says it can be machine washed up to 40 degrees. The biggest worry with a set like this is that the embroidery could start unraveling, but I've been hand-washing it and it's held up perfectly so far. If you are going to machine wash the thong, I'd definitely pop it inside a mesh wash bag for this reason.
Verdict: 8 / 10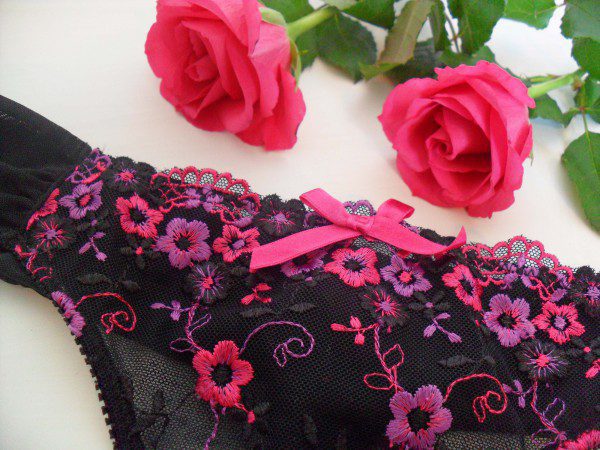 Value for Money
The Pour Moi? Ditsy bra set costs £24 for the unlined bra and £12 for the thong (though they're both currently half that price!), so it's not a super, duper cheap set but it is very affordable and a fair bit cheaper than most DD+ brands.
As mentioned, this embroidery is absolutely gorgeous and not at all something I expected to see in this price range – I'd definitely be happy to buy this set again at full price.
Verdict: 10 / 10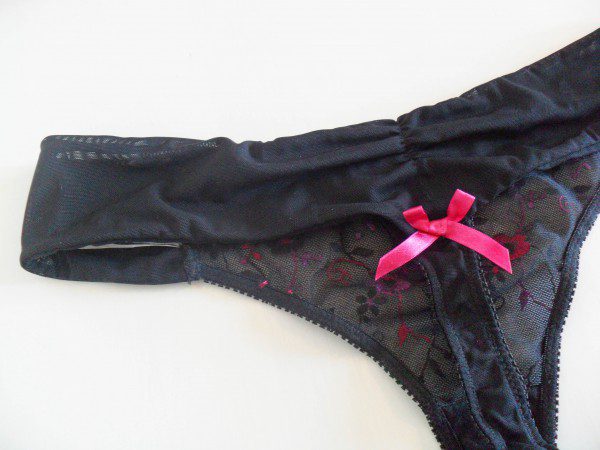 Final Thoughts
Overall I've been really impressed with this purchase, and I wouldn't hesitate to buy from Pour Moi? again. In fact I might have to buy this in the navy shade too…
If you like the embroidery but not the unlined style, there's also a padded version available, plus a short-style brief.
What do you think of this Ditsy set from Pour Moi? Have you ever bought lingerie by this brand before?