Disclosure: I purchased this bodysuit myself.
Back at Christmas I managed to pack a suitcase with almost no lingerie in it for a 2-week trip, so I had to do a bit of quick shopping when we arrived in Spain. After dragging my poor fiancé around all of the typical Spanish lingerie stores (Oysho, Women's Secret, Tezenis, Yamamay, Change…) and really not seeing anything I liked, I headed to good ol' H&M where I knew I'd find something worth buying.
Although not somewhere I usually lingerie-shop because of their size range, I've always quite like H&M's lingerie section – the brand uses a lot of lace for one thing, which is always a plus in my books. And I did indeed find the nicest thing I'd seen in the shops all day – as soon as I tried this bodysuit on I knew I'd be buying it!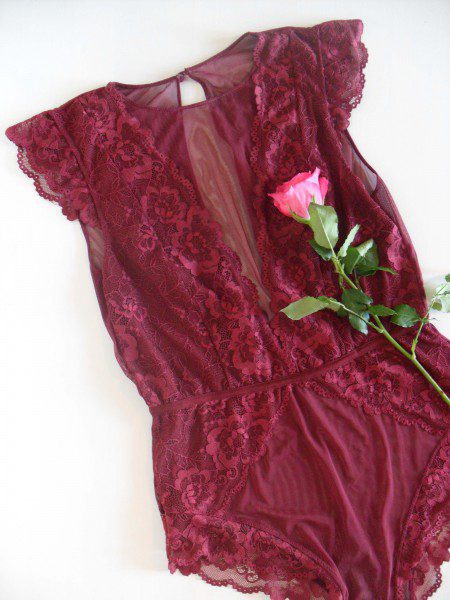 Appearance
Simply called "Lace Body", it's made from all-over sheer mesh, overlaid with lace. Four panels all converge at the waist, topped with a narrow band of satin, which helps to define and emphasise the waistline.
Of course, you're not going to find luxury laces in H&M, but I found this one really lovely for the price. I love the sweet little lace caplets on the shoulders, and the trim around the legline – I also found the relatively high cut really flattering, and I've always thought I hated high leglines!
This piece also works quite well as outerwear. The double-layered mesh/lace front is just opaque enough, though I'd probably wear a bra underneath if I were to wear it out of the house without a jacket.
Verdict: 6 / 10
Construction
The mesh used is super soft and the crotch is lined with 100% cotton, which makes this incredibly comfortable to wear. I like it under a robe for lazy lounging around on the weekends.
I'm also very glad to see a poppered crotch, +100 points for practicality! The stitching is neat and feels sturdy – I've always found H&M clothing to be better-made than other high-street budget brands like, say, Primark for example.
Verdict: 8 / 10
Fit
I bought a European size 36 or UK size 8. It's an excellent fit on me and the fabric has a lot of stretch to accommodate different shapes and bust sizes, though I would say you'll probably find it too short in the torso if you're very tall – I'm 5'3 and the crotch fastening has a single length setting.
Also worth a mention is the fact that this bodysuit has zero support at the bust.
Verdict: 8 / 10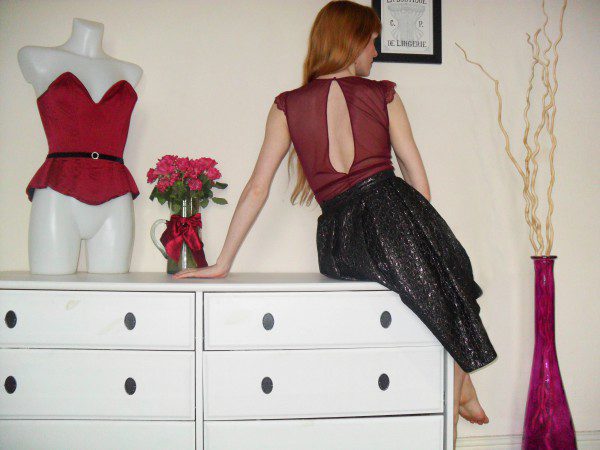 Durability
H&M's lace bodysuit is machine washable on a warm setting, so it's easy to care for. I've gotten a lot of wear out of it in a short space of time (it was the only thing I ended up buying in Spain, alongside the one bodysuit and bra set I'd remembered to take) and it's held up wonderfully.
One of the clear giveaways of cheap lace is that it has a tendency to bobble very quickly, but this still looks more or less brand new!
Verdict: 10 / 10
Value for money
I paid €24.99 for this bodysuit – it's £19.99 in the UK and $29.99 in the US.
It's well-made, durable and pretty, and whilst it may not be as fancy as the lingerie I'm usually reviewing here, it's worth every penny of its price tag. It wouldn't have looked out of place somewhere like Ann Summers for double the cost.
Verdict: 10 / 10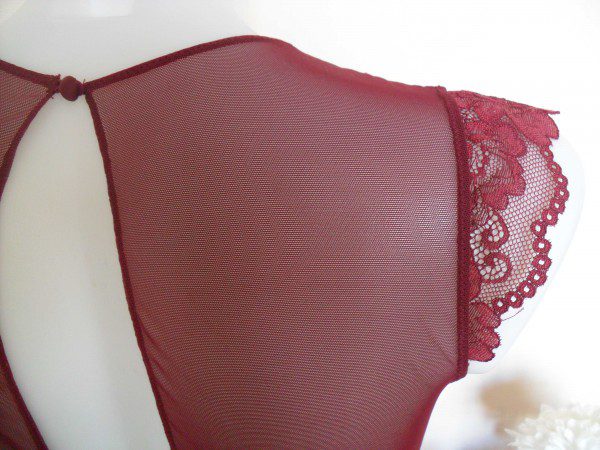 Final thoughts
I think this is a lovely little piece that looks and feels slightly more expensive than it actually is. If you're after a bodysuit that's comfortable, attractive and very affordable, give this one a go!
Unfortunately, the burgundy colour is now sold out online, however it is also available in black and powder (a light cream). Sizes left in stock range from a UK 10 to 16 / US 6 to 12.
What do you think of this lace bodysuit? And what are your thoughts on H&M lingerie in general?