Disclosure: I received these hold-ups free of charge from Luxury Legs to review. All opinions are, as always, 100% honest.
A while back I was contacted by Luxury Legs who asked if I'd like to pick something out to review. Luxury hosiery? Uh, yes please! But then came the hard part – which design to choose?
Luxury Legs stocks Fogal, the brand behind the best tights I have ever bought, so needless to say that was a strong contender. They also stock many other luxury brands I've tried and loved such as Wolford, Falke and Girardi, but in the end I decided it was a good opportunity to try something completely new.
Erica M. is a relatively young brand, launched in late 2012 but only brought to my attention within the past year, which creates unusual and intricately-detailed hosiery for women who like to make a statement. Although I admire all of the tights with their faux-knicker and faux-suspender detailing, tights aren't my favourite thing from either a comfort or a looks perspective, so I went for these awesome Kai hold-ups instead.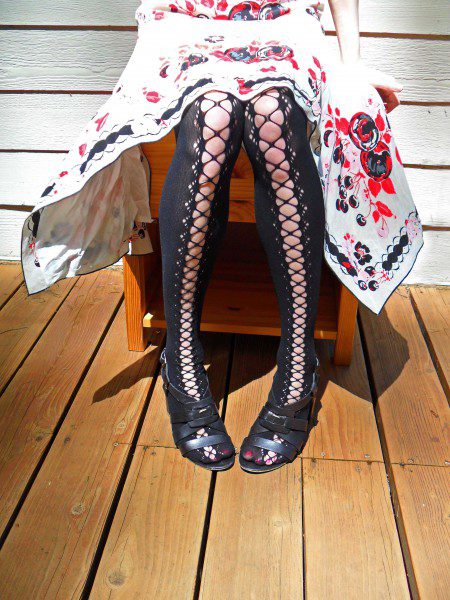 Appearance
Kai is such a simple and yet such an impactful design, with a row of little cut-outs all the way up the centre-front. They're designed to resemble lace-up boots. They remind me of my Wolford Bootlace tights, but whereas there's a lot going on in that design (the polkadots, the contrasting colours, the real ribbons, the foot detailing…) Erica M's Kai is more minimalist and really lets the faux-lacing do all the talking.
I love how versatile these hold-ups are! There's something quite edgy about them (they are designed to resemble thigh-high laced boots after all) so they're perfect when I'm having one of my grungy/gothic days. But with the edging detail around the main cut-outs being reminiscent of scalloped lace, they're also quite pretty so work with more girly outfit choices too.
Verdict: 8 / 10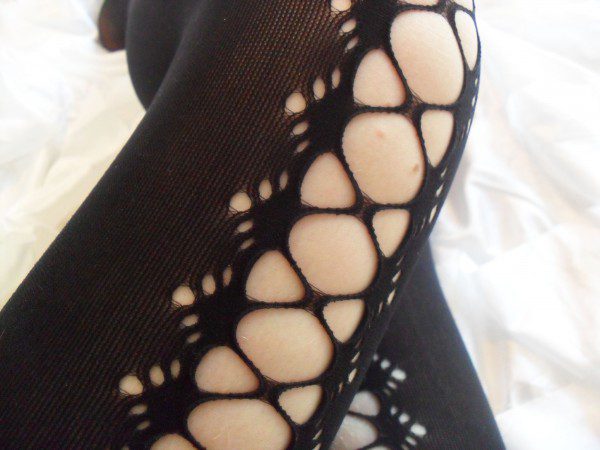 Construction
The Erica M Kai hold-ups are made from a wonderfully soft, thick, nylon knit. All of the holes are woven right into the design and the 'laces' are thick and durable. For some reason whenever I put netted hosiery on my toddler son just cannot resist pulling at them, but these haven't torn!
At the top, the Kai hold-ups feature a wide, smooth, elastic band with two bands of silicone inside. The silicone is very flat so it's comfortable to wear (silicone on cheaper hosiery is sometimes more of a raised ridge, which gets annoying after a while). Overall, can't fault the construction in any way!
Verdict: 10 / 10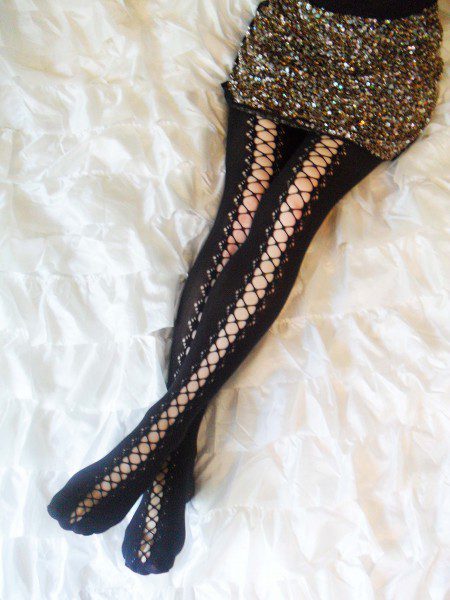 Fit
Erica M hosiery comes in (hosiery, not clothing) sizes 2-4. I couldn't find sizing information on Luxury Legs' website so that would be a good thing to add; instead I checked out the size chart on Erica M's own website and based on that I went for a size 2 / Small based mostly on my height. Normally I'd size up in stretch hosiery (hate feeling constricted) but with their weight bands going up in 10kg increments and me being exactly 10kg below the size 2, I figured I was already going up one size.
That may explain why these hold-ups are just so long on me. I have to be conscious of not pulling as much as I normally do when rolling them up or else they literally don't fit on my legs – I get to my crotch with inches of hold-up still bunched up in my hands! I can get them to fit by pulling less, but they're definitely top-of-the-thigh hosiery. I've worn them with little denim shorts on holiday and they just looked like tights.
For reference, I'm 5'2. If you're short like me and within or close to the weight guide, definitely don't go for anything larger than a size 2. Good news for the tall girls though – you are going to have zero problems getting these to sit high on the thigh!
Verdict: 7 / 10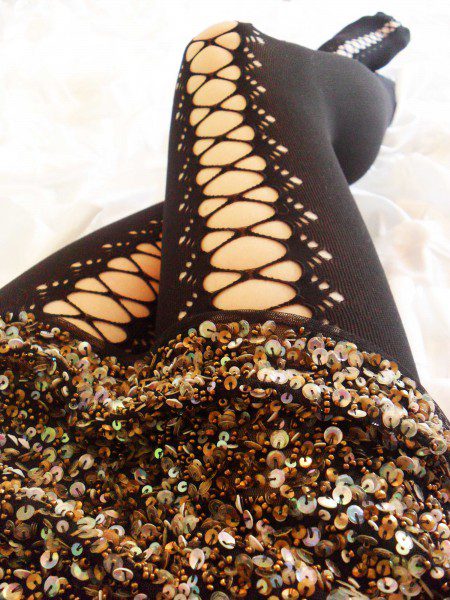 Durability
The Kai hold-ups should be hand-washed and dried flat. To be honest, I never dry my hosiery flat – I drape it over a clothes horse or a hanger – but they're in perfect condition nonetheless. And still staying firmly fixed in place, which is the most important thing with hold-ups!
Verdict: 9 / 10
Value for Money
The Erica M Kai hold-ups cost £49 from Luxury Legs. Whilst that's more than their price at Erica M in the US, they're in stock in the UK so you don't have to worry about customs charges or international shipping fees. Luxury Legs is the only UK stockist of Erica M.
I do think they're worth the price tag. The design is gorgeous and very unique, and the quality is fantastic – they're going to last you a long time so you'll get your money's worth in wears.
Verdict: 7 / 10
Final Thoughts
Admittedly I don't own many hold-ups, but these are definitely my favourite ones! And amongst my favourite hosiery right now too thanks to their versatile, eye-catching design and how soft and comfy they are to wear.
What do you think of this bootlace-style design? Have you bought anything from Erica M or Luxury Legs?