Disclosure: Links with a * are affiliate links.
Hey guys! I'm experimenting with a different review format. Less structured, more 'flowy'. Let me know if you prefer this, or like to have clear sections and ratings for fit, construction, durability etc.?
This is one of the looks I featured in my 2018 swimwear lust list, and the only one I've bought so far. It was both one of my very favourites and one of the most affordable, so it didn't take much to convince me. Shortly after I bought it, this bikini went on sale (isn't that always the way?!), making it now an even more budget-friendly £22.50*.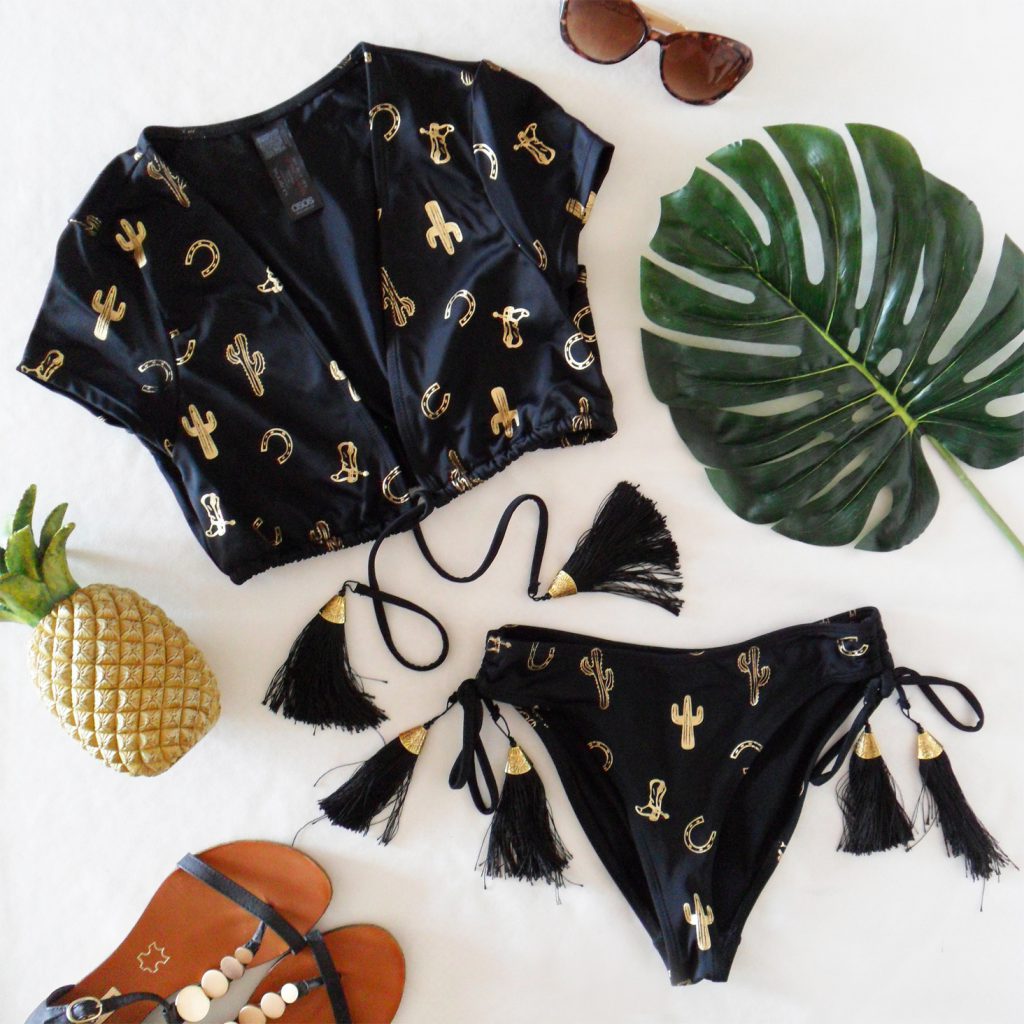 There is also a matching swimsuit* which I have only just now noticed has an amazing, O-ring racer back, and gosh I'm kicking myself because the swimsuit is even cooler than the bikini! ASOS also offers a full-bust version of the bikini top* for DD-G cups, but for some reason they made that one sleeveless. Last time I checked, sleeves don't affect the bust fit. But oh well.
What really drew me to this bikini is the print. I love a slight flash of metallic, all the more so when it's gold-coloured. The black fabric is covered with foiled cacti, horseshoes and cowboy boots – hence the product name, 'Western'. I also liked the tasselled details, and they turned out to be even prettier than I expected. Each tassel is held together by a stamped-metal end cap, topped by a little bead.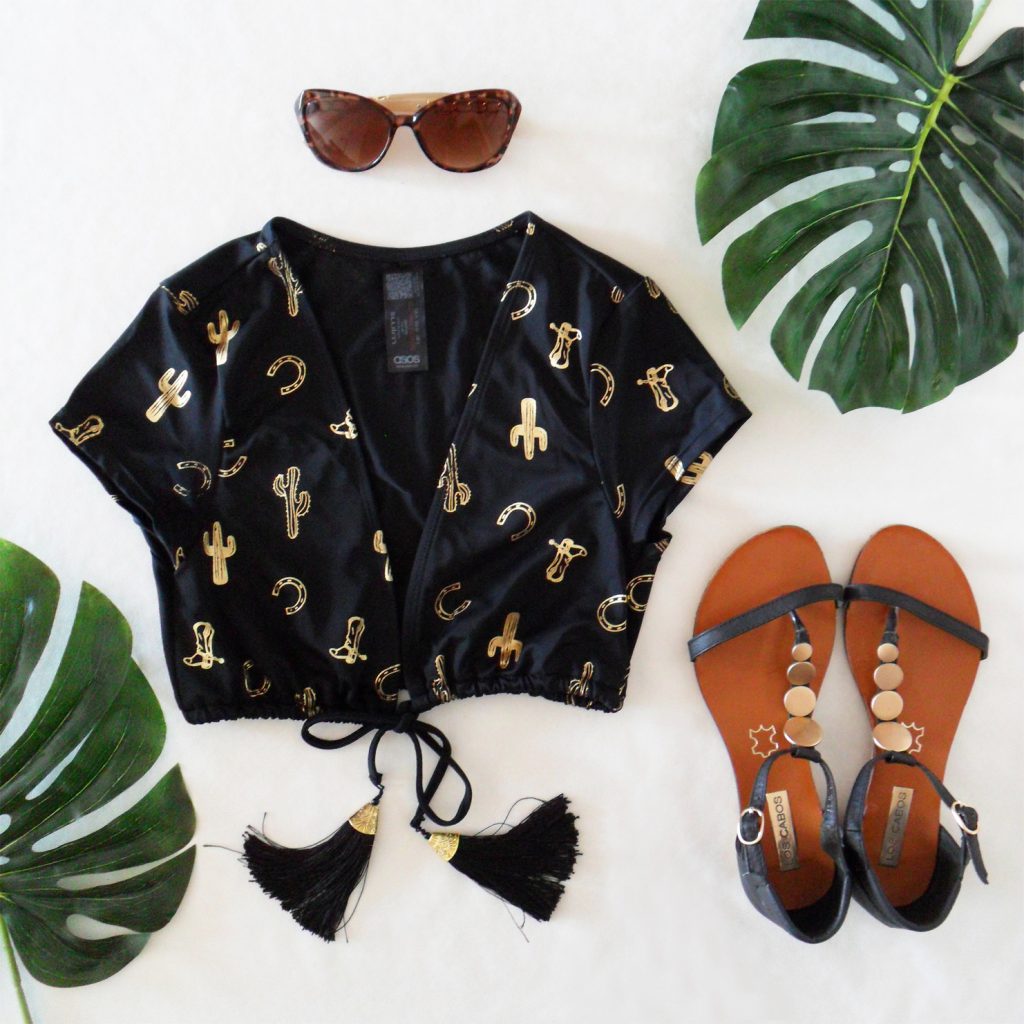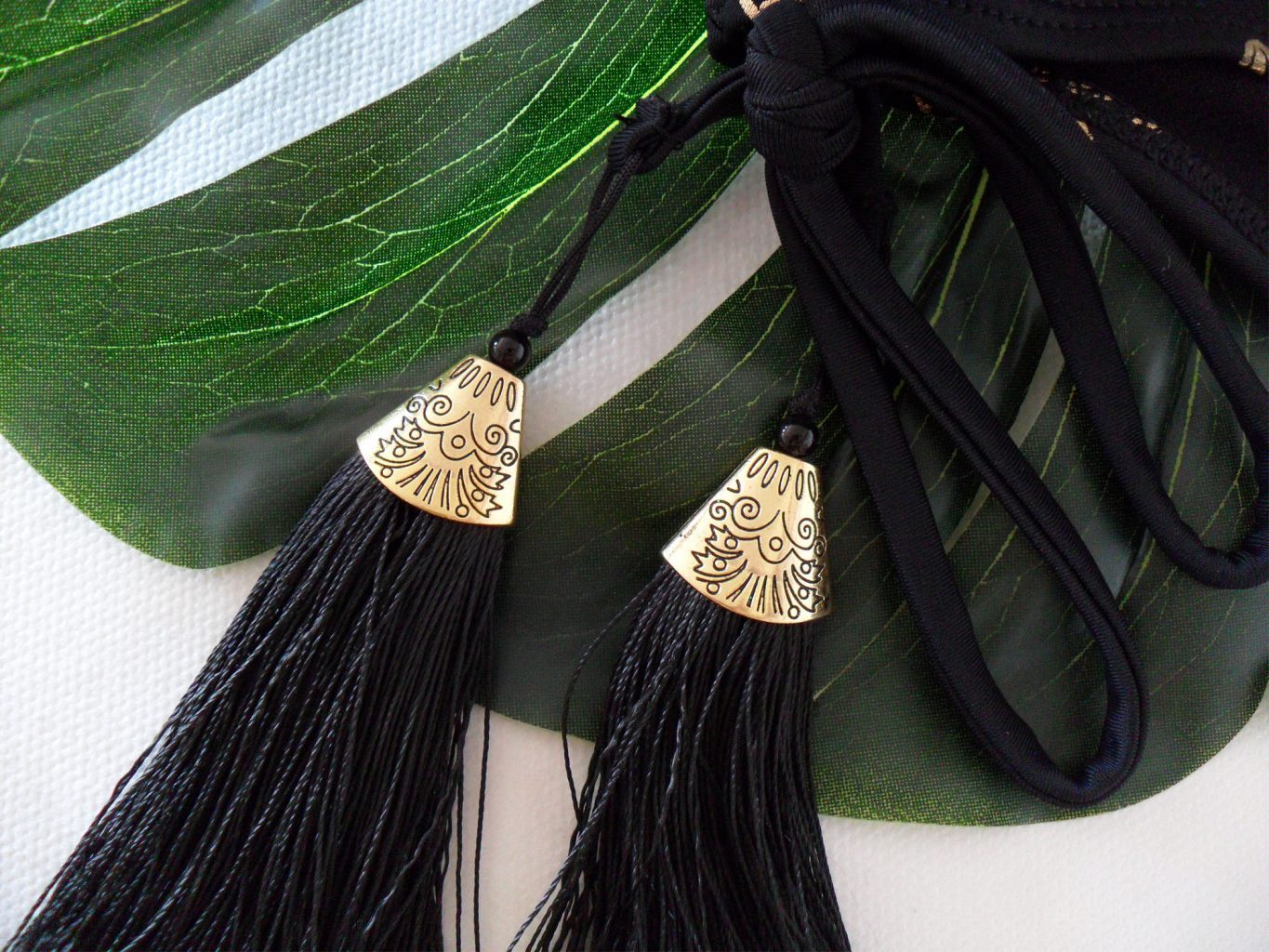 Unfortunately, the tassels are deteriorating pretty fast. I've worn this bikini out twice, and both times noticed a half-dozen tassel strings on my towel when I got up to leave. Another one even fell out just taking these flat-lay images! And you can see in the images that a bunch more strings are hanging down lower than the rest, like they're going to fall out soon. In better news though, the print is holding up fine so far. The bikini has been soaked in sea-water and hand-washed with regular detergent, and the metallic foil is as shiny as ever.
I bought a UK size 6 for the top and bottoms, which is my usual dress size. Although I loved the look of this bikini, I was a little unsure about the leg cut – it's really high with a 'cheeky' back, which is more revealing than I'd usually wear at the beach. As it happens though, it's actually the top I ended up being most self-conscious about.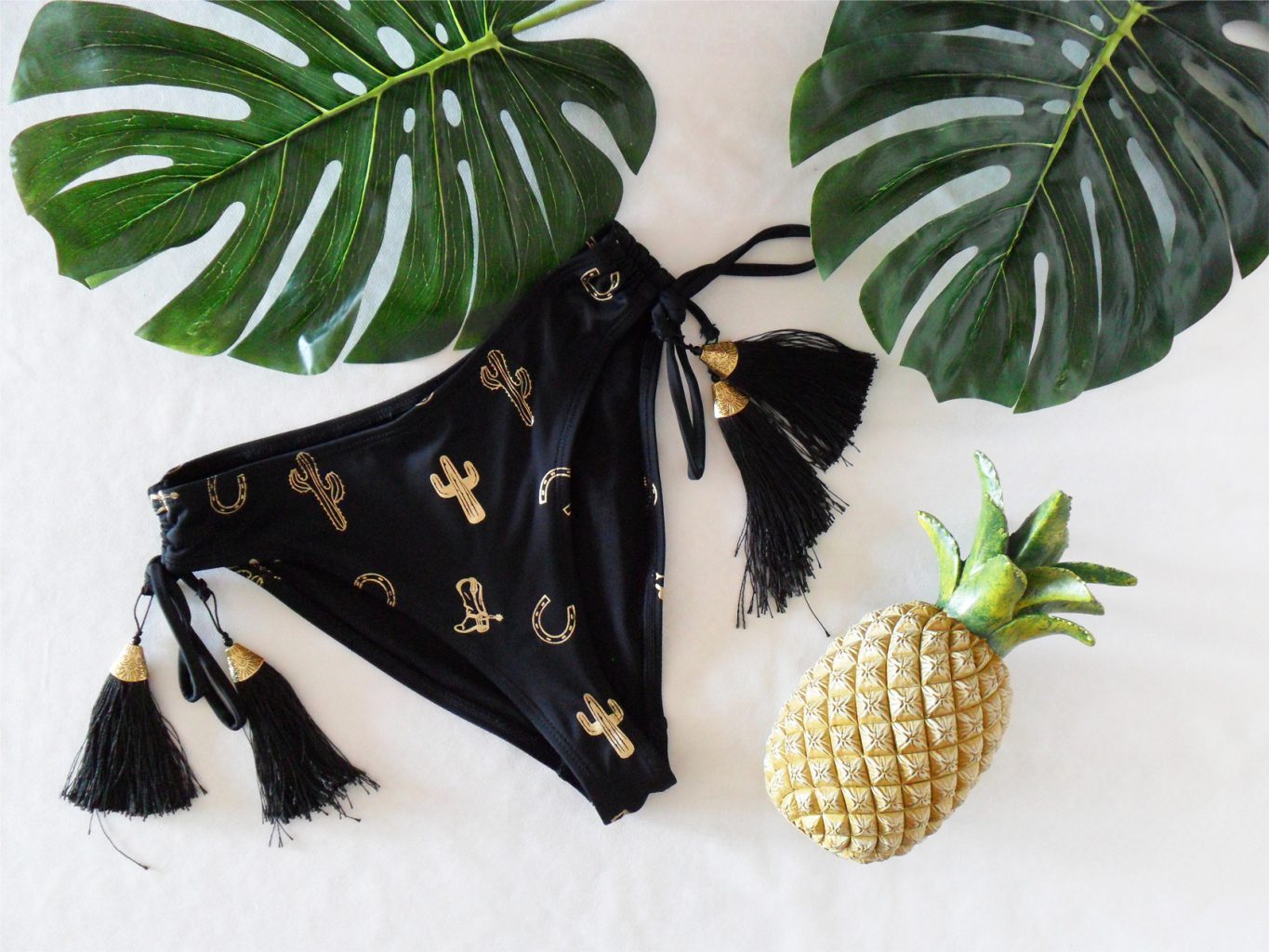 As soon as it gets wet, the fabric gets looser. And since the plunge neckline was barely covering my nipples to begin with, well, you can figure out the rest. I worked out that the trick to keeping it in place is to pull the back down really far – as far as you can – which keeps the front laying flat. But get caught by one big wave and it's baggy again.
Fit-wise though, I would say the top is true to size. The bottoms on the other hand felt ever so slightly small and honestly I wish I'd sized up to an 8, but they're wearable. Also, although the sides are sewn together, the way the string ties thread through both pieces of fabric (pictured below) means it wouldn't take much to add some inches to the waistband. Just a few careful snips of the thread holding the two channels together and voilà, bottoms with gaps at either side.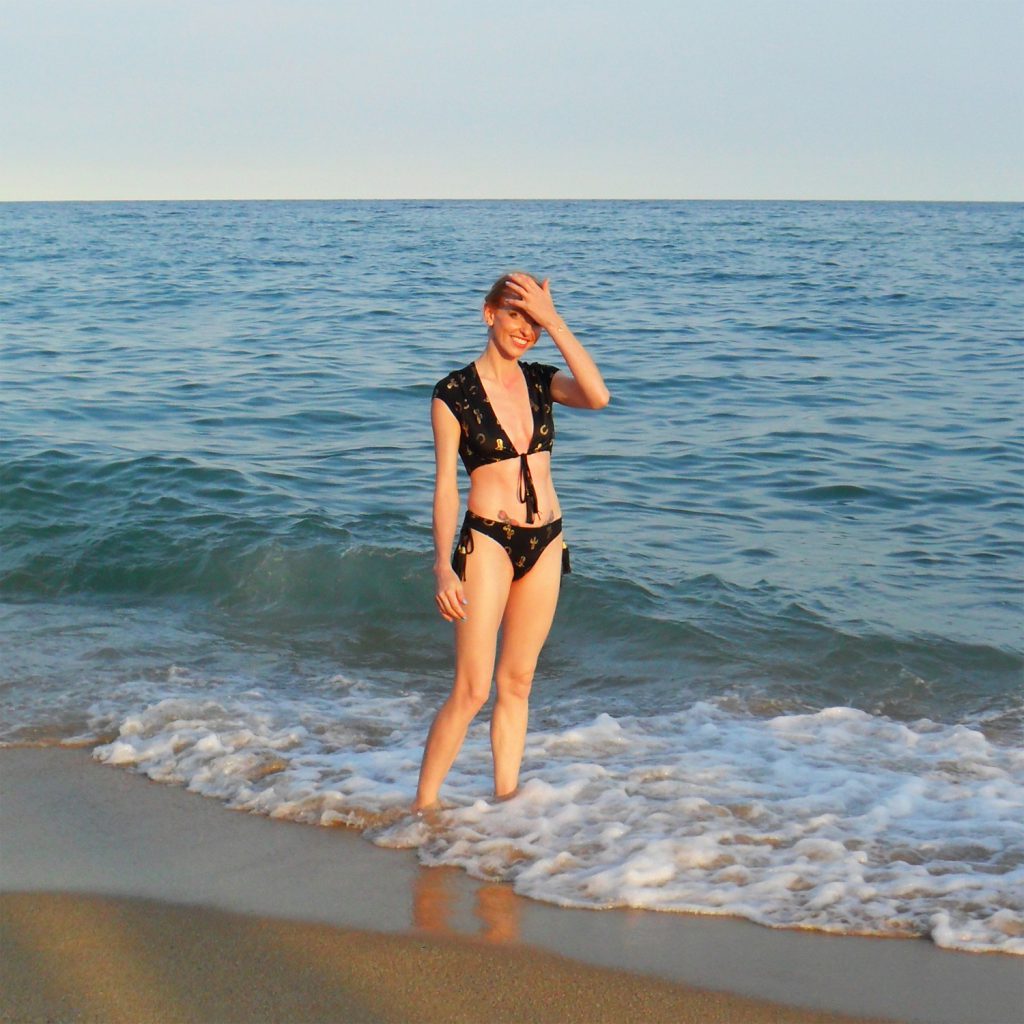 Overall, I do love this bikini. I wouldn't recommend it for swimming in though, if you're at all worried about flashing someone. It's more of a chilling-by-the-pool piece. Had I known the tassels were going to start falling apart so quickly though, I definitely would have waited to buy it on sale. But now that it is, a part of me is really tempted to go back and get the swimsuit too. Should I?!
What do you think of ASOS' Western bikini*? Have you ever bought any other ASOS swimwear, and how was the quality if so?