Disclosure: Links with a * are affiliate links.
Madrid is inching its way towards summer, and with only one week left until my son's off school, I'm already dreaming of all the beach trips we can finally make as a family – especially since I haven't been by the sea since pre-pandemic!
My swimwear collection is far smaller than my lingerie one. That's mostly just because I don't go swimming very often, so I have very little reason to buy it. But it's also because, while a bikini set and a bra set may share many design features, once you strip away the delicate laces, beautiful silks and sheer fabrics that I'm so drawn to on underthings, the result is (to my eyes, at least) just rather plain.
But I'm slowly coming around to appreciating swimwear in its own right. It's not just a water-appropriate bodysuit or bra set – it's a whole other garment type, one that's designed to be seen so why not have fun with it? I don't actually want my swimwear to look more 'luxury lingerie' like anyway (I'd feel too exposed), I just want it to have a similarly-striking visual impact. And since swimwear doesn't have to fit sleekly under clothing, it's the perfect opportunity to opt for big, 3D details that would be entirely impractical on underwear.
The 14 luxury swimwear looks below take dramatic ruffles, oversized embellishment and structured lines to the next level, whether it's a giant cascade of flowers flowing over the shoulder, or a bow that's even wider than your body. There is nothing plain about these swimsuits!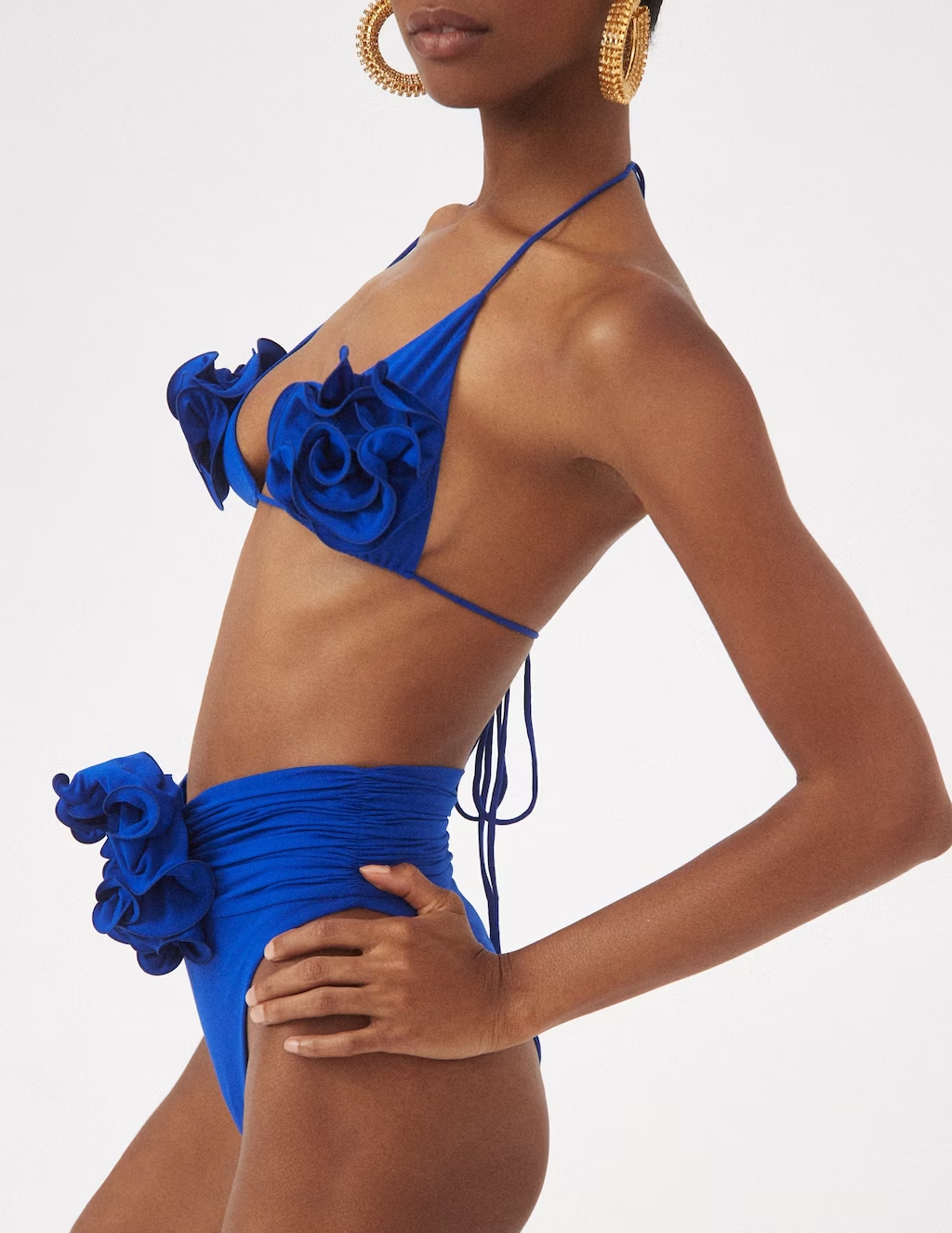 You may have noticed that even the least-dramatic styles here, including the high-street option above, are priced over £100. It takes good-quality, thick fabrics, used generously and manipulated with skill, to create these kinds of shapes and get them to stay that way; it's just not something you can expect to find at a very low price point. But if you can afford to buy or save up for one of these luxury swimsuits, the statement it makes will be worth every penny.
If you like what you see, be sure to click through and check out these brands' other items too. I could have filled a whole post just with styles by Victoria Cimadevilla, Bahía María and Maygel Coronel in particular!
So, which of these high-impact luxury swimsuits is your favourite or is it impossible to pick just one?