Summer is finally settling and one of my current concerns is to avoid wearing my two functional strapless bras for the entirety of the season. As many heatwave-appropriate summer dresses come with very thin straps, it is easy to decide to go for a plain solution bra, or simply braless if you are comfortable with that option. One thing I do not personally appreciate is constantly looking for ways to hide my bra straps and band.
However, summer is also the time to experiment with colours and accessories, to create fun and unique outfits. So, what if I told you that some designers have created bra bands and straps that are meant to be showcased as fashion statements within your outfits? Let's go over a selection of beautiful bras you might never want to keep hidden!
Option 1 – Lace and embroidery
Lace and embroidery have been used to adorn bra cups for the longest time. Oftentimes, I have found myself thinking that a particular pattern was too pretty to stay hidden under my clothes. While one can decide to wear a sheer top and let their bra show through it, it might be easier for most of us to choose a bra with a pretty lace back instead, to not risk showing our nipples in our everyday life.
Here are 7 bras with decorative backs in this style:
Emma Harris' Tiffany silk plunge bra features a strategically-cut lace panel at the back that can easily show while wearing a simple camisole.
The LIVY Batignolles triangle bralette is a very light bra in transparent tulle, with triangular detailing at the front, back and around the neck and collarbone area. This bra could easily be layered like a harness over a plain top, but I can see it worn under a high neck, open back dress for a more dramatic fashion statement.
The LIVY Bengal bra is designed to create a beautiful tattoo effect on your back, which makes it a proper fashion accessory that deserves to be showcased with an open back top or dress. The brand actually sells tops (such as this one) that are perfect for that purpose as well.
Being in Canada, I often hear that it is hard to find affordable yet fun full-bust bras. To that, I answer that brands like Panache and Bravissimo are following fashion trends and making them available to fuller bust customers for a relatively affordable price. For European customers, these brands are way easier to find, and I wish more people were aware of that.
Bras such as the Cleo by Panache Atlanta or Bravissimo Alicia offer full-bust support up to H and L cups respectively, with summer top-friendly back details. Whether you want to show it or not, the backs of these bras feature beautiful lace detailing that lies flat so can be discreet under clothing as well.
If you enjoy a Rococo aesthetic, and extra satin ribbons to accessorise your outfits, Avocouture's Josephine HCN+ bra is a great addition to your wardrobe. Styling tip: if you own a plain camisole in one of the colours of the bra (blue, yellow, olive, dark pink or taupe), you can easily hide the camisole straps under the bra straps, creating the impression that the bra straps are integrated in the camisole and making it way more sophisticated.
Stephanie Santos' Cuckoo 3D bra is a very modern fashion item in its fabrication. Although I put it in the embroidery section, it is actually 3D printed using recyclable TPU filament on top of nylon tulle. This technique is meant to add dimension to the garment. This garment can be worn as a bra or as a crop top and the tulle colour can be customised to match your skin tone.
Option 2 – Straps galore
Strappy bands are a very popular way to make bras a little more special, and that trend started a long time ago. Many brands have used elastics to make their bras more adjustable, as well as giving them a bondage-inspired look.
Here are 8 bras with strappy backs:
If you like the effect of horizontal lines on your back but also want a comfortable and soft look, Helen Valk's Thalia bralette is the way to go. Made in 14 different colourways and exclusively sewn from silk fabric, this bra can work as a summer top (think music festival) or as a supportive undergarment. It would also be easy to layer it under an ample sheer organza top this summer for added fashion drama. The thicker straps cancel our the bondage vibes a little, and instead make it look very cosy and playful.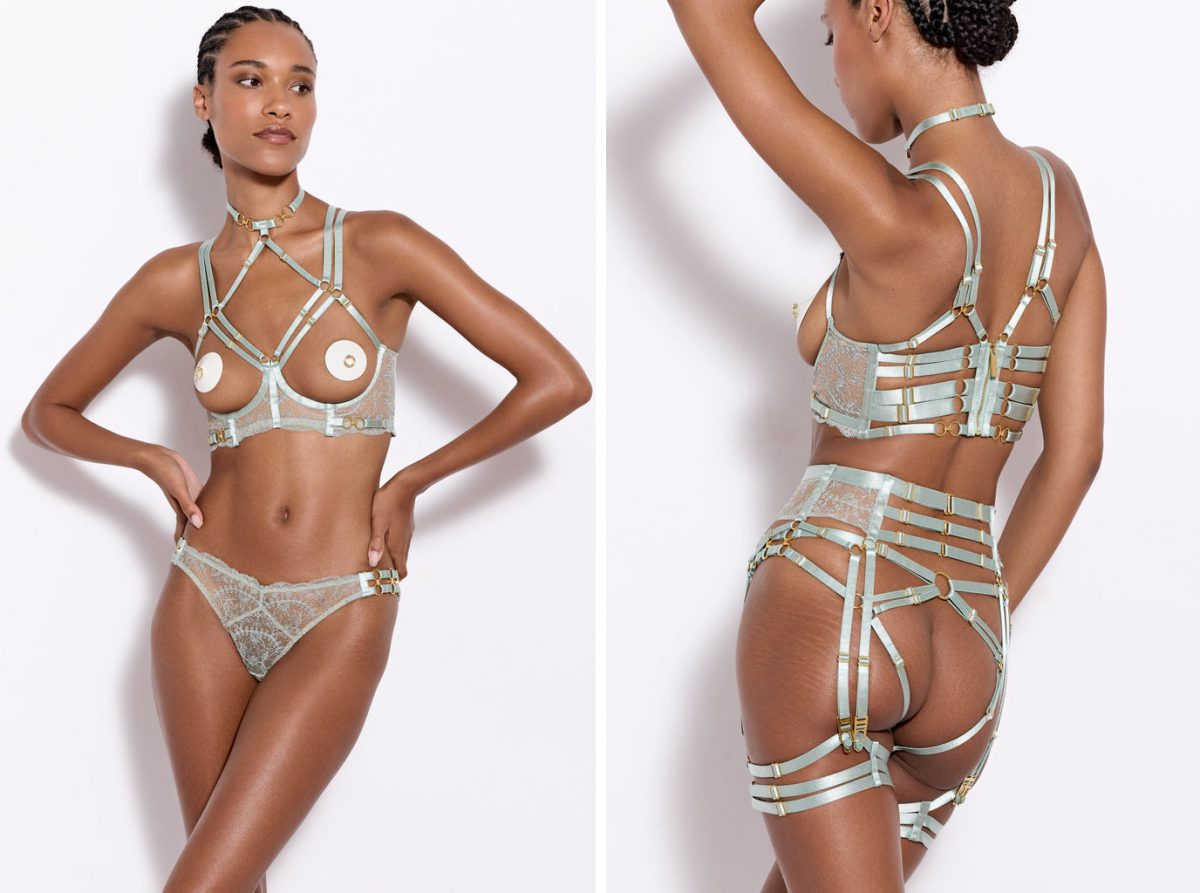 Bordelle is specifically known for its intricate strappy aesthetic. In fact, it would be a shame to fully hide a Bordelle bra under a top, if you ask me. Worn over a plain top or with a backless halter top, the Cymatic ouvert bra would get you all sort of compliments.
The Studio Pia Lena's silk satin-covered band is elegant and discreet, but the oversized bows adorning the shoulder straps certainly add a theatrical touch to this range's luxurious aesthetic. This bra screams abundance. It simply won't stay quietly covered under your clothes. It is a fashion statement in itself. Do what you will with that information.
HERVÉ by Céline Marie's Alcyone longline bra is a delicate piece with strong dark accents. The thin and thick velvet straps create beautiful triangles at the back, while the front of the bra features this precious French Leavers lace on illusion mesh (again, customisable to match your skin tone).
In a different style we have the Thistle and Spire Dryad bra, a golden summer beauty that can be as discreet or as loud as you want and won't fail to make you look like a goddess.
Keeping up with the goddess aesthetic, Avocouture's Skin on Skin collection is the perfect full-bust summer lingerie set. Light, and discreet under clothes but designed to make you look like a star when undressed, Skin on Skin highlights all the right spots with its golden elastics and super-sheer yet supportive mesh.
Posie lingerie's Arion is a beautiful longline bra that can certainly add colours to a more neutral summer look, with its electric blue straps and gold signature clasps. There is such a thing as intentionally showing off your straps!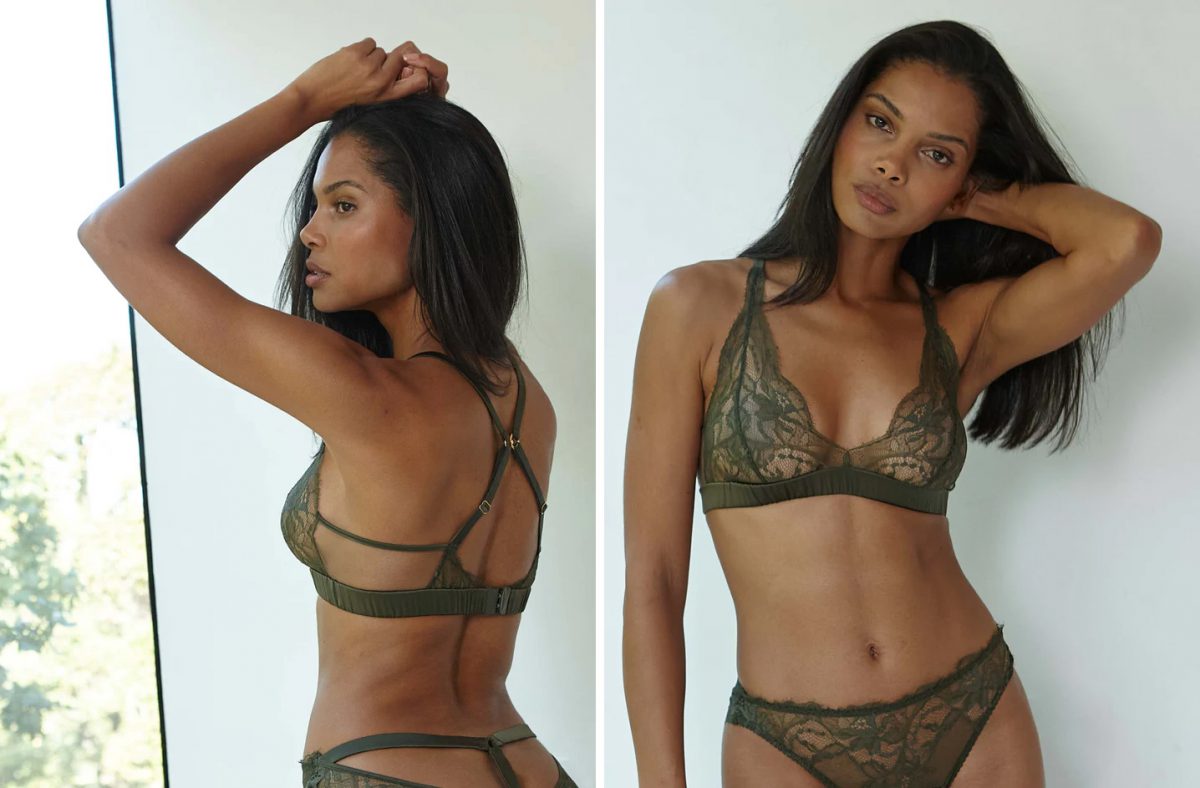 Fleur of England's Ingrid bralette is light and comfortable with its large elasticated band and racerback shape. These elements make this bra perfect to wear under light summer tops and beach dresses, or simply to relax at home when the weather is just too warm to wear any other layer.
Do you like styling your bra as outerwear during the summertime, or do you prefer to wear them as a secret superpower under your clothes?