Disclaimer: This blog post contains affiliate links.
Nothing is more frustrating than a succession of your favourite lingerie brands all launching sales in the few days before pay-day, especially when you know from experience that your size is one of the first to sell out.
For the more sensible amongst you who don't spend your month's salary within a fortnight of getting them and have a bit left over to treat yourself right now, here are my favourite 4 items from the Agent Provocateur sale that launched today.
Verronika Corset (Was £545, Now £110) – pictured above
The description for this item doesn't say if the boning is steel or plastic – the picture seems to say not but the original price says otherwise. I wouldn't have paid the full price for a plastic-boned corset but I was really impressed with how well the Agent Provocateur Nadia basque shaped for being plastic-boned, so at £110 I think this is an absolute bargain even if the bones are plastic and likely to fit really well, despite the rather odd note in the description that it need to be worn "higher than normal at the underarm". Plus the leavers lace is just stunning! This is probably my favourite non-Soirée item from the sale and I have my all my fingers and toes crossed my size is still in stock in a few days time…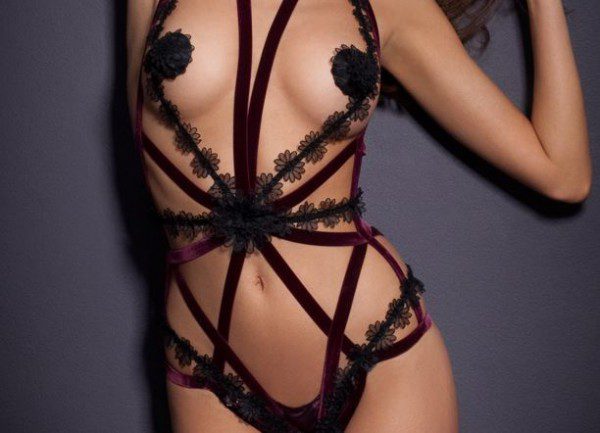 Christabelle Playsuit (Was £295, Now £150)
Not such a huge discount here as for the Verronika corset, but I do love this piece! I featured it in my Lingerie Lust List back in March and said I would "definitely" but it if I could afford it. Now it's almost half price I actually can, but I think I've got my heart set on the Verronika corset instead. Still, if strappy playsuits are your thing you can't get much more luxurious and unique than this one!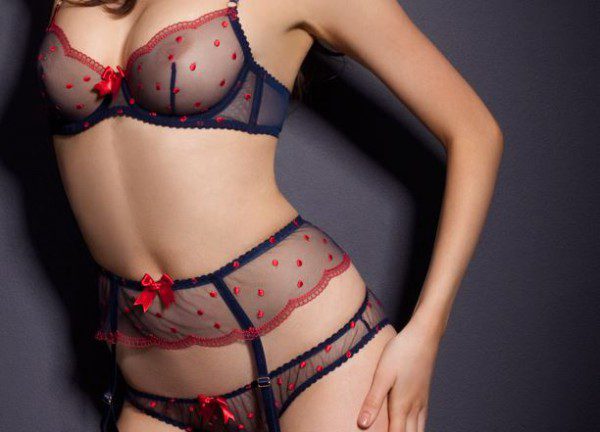 Winnie Bra (Was £75, Now £40), Suspender Belt (Was £75, Now £40) and Knickers (Was £55, Now £30)
There's no print I love more than polkadots, and I love that Agent Provocateur can take what is normally a very girly print and turn it into something sexy and grown-up. The navy and red colour scheme is gorgeous, as is the sheer fabric with embroidered-not-printed-on spots that won't fade in the wash – yay! The bra and suspender are also still available in a wide range of sizes which is always a rarity in the sales, and if the knickers are sold out in your size there's an ouvert brief and thong too.
Syble Gown (Was £345, Now £175)
Another example of the lingerie geniuses at Agent Provocateur HQ taking a not-typically-sexy print (these florals look like the ones on my Grandma's old carpets) and making it utterly desirable. (Edit: After writing this I checked the description properly and the print is actually dates back to the 1800s, so older than my Grandma's carpets!) I love the sheer silk chiffon and the feminine ruffled trim. This short-length gown is the perfect luxury loungewear to pop any lingerie set, or you can buy the matching Syble tie-side knickers, also on sale.
For those with a bigger budget to spend, there's also a Soirée sale on that includes much more decadent pieces knocked down to roughly the same you'd pay for a full-priced, non-Soirée Agent Provocateur piece. Which of the four above is your favourite, or do you have another favourite from the sale that I've missed out?