Disclaimer: This blog post contains affiliate links.
Today is one of my favourite times of the year again – the launch of the Agent Provocateur sale! There are lots of new designs now up to half price, plus lots of very discounted items from previous sales that are once again available to buy. With prices from £5, there's the chance to pick up an amazing bargain from this deluxe lingerie brand. Here's what I'd recommend the most…
The Really, Really Cheap Stuff
Roxie Bra – £15 (Was £75) (Update 25/12/13: unfortunately now sold out) – pictured above
I really can't recommend this bra enough! In fact, I'm wearing it today. I picked it up in their last sale and it's top of my list of best lingerie I've bought in 2013 – you can read my review here. The only downside is that it's now only available in a 34E, but if that happens to be your size, go for it! You won't regret it. On a side note, there are a handful of matching items available new on eBay
 right now too.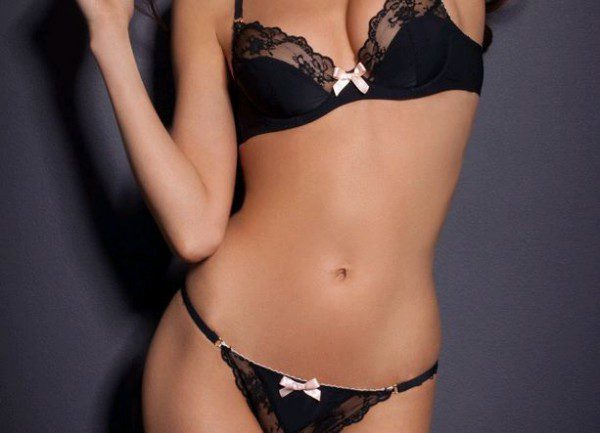 Joseline bra – £25 (Was £65) and thong – £20 (Was £45)
This bra set in the classic Agent Provocateur black and baby pink colour scheme is perfect both for everyday wear and for special occasions. The bra is available in a 32A and 36A and the thong is only available in the largest size but if it's too big and you have basic sewing skills this style would be very easy to make smaller – you just need to shorten the elastic strips at either side.
Mercy bra – £20 (Was £95) and waspie £35 (Was £185)
I really regret not buying this set last time it was on sale and when my size was still in stock! The lace is simply beautiful. The bra is currently available in a handful of sizes from 30C to 34B, and the waspie is still in stock in a range of sizes too. The thong is also available in every size but oddly isn't on sale, however if you want the whole set there are some Mercy bits and pieces on eBay
 to match.
Bargains Under £100
Lyla bra – £50 (Was £95) and tie-side knickers – £45 (Was £85)
I would be really tempted to buy this set if it were available in my size. I love the girly floral print which isn't typical of Agent Provocateur but they do it so well! Both pieces are available in a range of sizes (32B to 36DD for the bra) and there are some matching items also in the Agent Provocateur sale.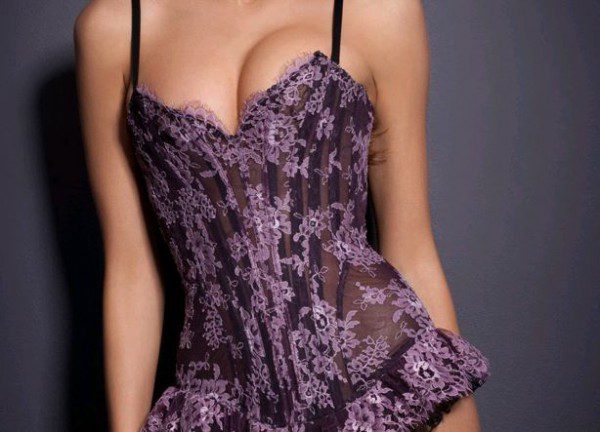 Verronika corset – £90 (Was £545)
I'm having an internal fight over whether to buy this corset, which is beautiful and a massive reduction on the original price, or put the £90 towards the sewing machine I'm planning to buy in January and unfortunately I think it's going to have to be the sewing machine (but hey, fiancé, if you're reading this it's almost Valentine's!). The corset is only left in the smallest and largest size but if either of those fit you, I don't think you'll find a more beautiful piece of lingerie for this price. I mean, just look at that leavers lace!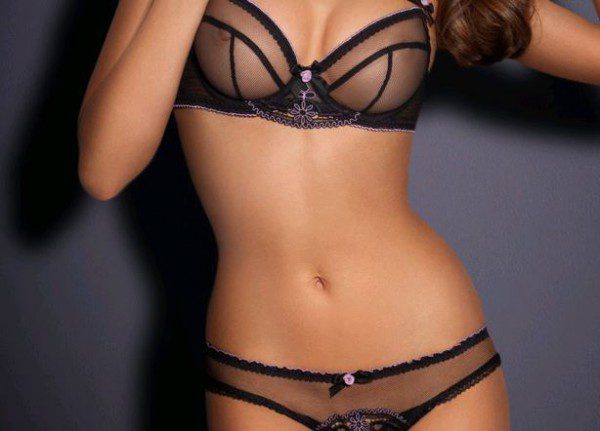 Juniper bra – £45 (Was £85) and thong – £35 (Was £65)
This is another one I'd consider buying if it were still available in my size. I love sheer bras and this one is particularly beautiful, with a scalloped lilac motif at the centre of the bust to match the thong. Almost all of the sizes are currently still in stock, just not mine annoyingly!
Cindy bra – £45 (Was £85) and knickers – £50 (£95)
For fans of big knickers, they don't get much more unique or gorgeous than these bright blue ones with a flattering 'V' shaped waistline! I saw this set up close at the Agent Provocateur boutique in Las Vegas and loved it – the net is a really unusual fabric choice for lingerie and the colours would suit any skin tone. Pretty much every size in still in stock right now.
Syble gown – £95 (Was £345)
Printed with a floral design dating back to the 1800s, this flouncy gown is perfect for fans of vintage lingerie – even the name Syble is old-fashioned! I absolutely love the print and think this would be perfect for lounging around the house come summer. It's available in all sizes but the smallest and the largest, although due to the loose fit and open front I think you could probably get away with buying one size up or down from usual and still be able to wear it.
Over £100, But Totally Worth It!
Gene corset – £475 (Was £950)
Okay, so even at half price it's still well out of most people's budgets (including my own) but if you can afford it, there's no Agent Provocateur design I'd recommend more than this one. I've professed my love for the Gene corset time and again, and wish I could have the ivory version for my wedding day – it's just the most beautiful piece of lingerie I've ever seen! Entirely made from thick, guipure lace, it's topped with silk satin to emphasise the waist. Available in all sizes but the smallest and largest. There's also a matching bra and knicker set available for £300.
Isabell bra – £75 (Was £295) thong – £55 (Was £175) and suspender belt – £75 (Was £245)
Here is a lingerie set I would definitely buy if it were available in my size, but unfortunately it only goes up to a DD cup. The whole thing is crafted from a beautiful, sheer lace that's topped with tons of small, appliqué flowers for a 3D effect. Simply stunning! Plus, at £130 for the bra and thong in the sale it's not actually that expensive for being part of Agent Provocateur's deluxe Soirée range.
Ester bra – £250 (Was £495) and knickers – £225 (Was £445)
Is it just me or is there something about this bra set that says 'dragons'? It's made from sheer navy chiffon and lace, with hand-sewn beads and sequins in firey oranges and pinks. The stand-out part however is of course those cut-away sides on the knickers!
Eviee bra – £75 (Was £295) and knickers – £75 (Was £295)
This stunning red lingerie set is sold out in a lot of sizes, and it's easy to see why – from the vivid lipstick red (my favourite lingerie colour after black) to the corded French lace and woven rope detail, it's incredible. The bra is still available in 36B-D right now.
Fareena corset – £195 (Was £1,450) (Update 25/12/13: unfortunately now sold out)
To finish, here's probably the biggest bargain in the Agent Provocateur sale – at £1,255 off, you won't find a better reduction than this and the corset itself is, of course, breathtaking. Covered with beads and crystals, it's beautiful and available in my size, but I really do need that sewing machine so I think this will have to go on my 'I really regret not buying…' list. Unless I happen to get some money for Christmas tomorrow, in which case it's totally mine!
So, these are my favourites but there's plenty more in the Agent Provocateur sale. Is there anything you plan to buy?