Disclosure: I purchased this lingerie set myself. Links with a * are affiliate links.
I have some rather exciting news to share on the blog today – you'll be seeing fewer one-off pieces by me for a while since, for a few months at least, I'm swapping sewing knickers for sewing babygros and tiny romper suits. Yep, I'm having a baby!
I love my baby bump, but obviously as a lingerie addict being pregnant does have its downsides too. For starters, in the space of about a month I went from having a collection of 50 or so lingerie sets to pick and choose from in the mornings, to having about three that actually fit me. First, suspender belts, corsets and basques were a no-go. Then high-waisted knickers. And finally, almost all of my bras, since I've gone up by somewhere between one and two cup sizes.
On the plus side of course, this can only mean one thing – new lingerie! So off I went to start researching maternity lingerie and I quickly came to the conclusion that on the whole (not all brands, just a lot of them), it's overpriced. Nursing bras obviously have a clear difference to regular bras, but maternity bras designed to be worn whilst you're still pregnant aren't much different to a regular soft-cup bra, just with a hefty 'maternity tax' added to the price tag.
So off I went again in search of a soft-cup bra that would be comfortable, be supportive, fit me now and hopefully in a month or two also, look great, and not cost a fortune. That's a lot to ask from a bra but I think I found it – the Playful Promises* Pippa Dandelion bra set. Although I bought this in their Christmas sale and it's now sold out, the Virgin Rose bra is the same bra in a different, equally-gorgeous print.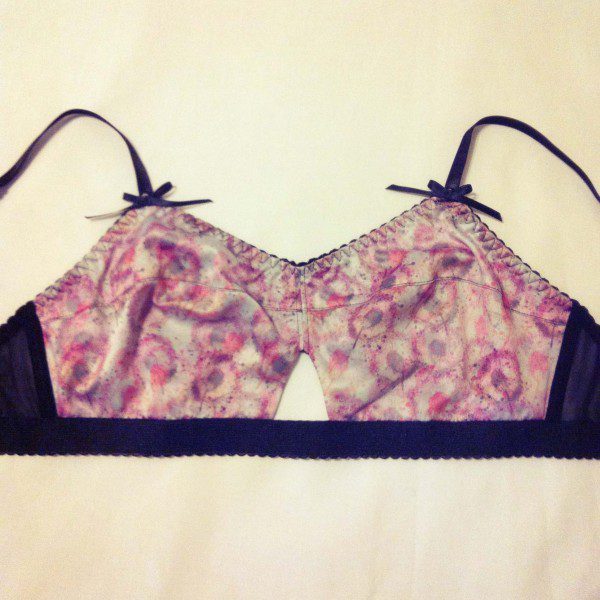 Appearance
The key feature of this bra is the limited edition dandelion print – it's gorgeous! I'm not usually keen on florals but this one is abstract enough that it looks like paint splatters from a distance. I love the upside-down V cut-out between the cups too which reminds me of my beloved Made By Niki Classics bra. It's not the most amazing bra set I've ever seen, but is sure is pretty.
Verdict: 7 / 10
Construction
In terms of construction, both pieces are perfect!
Verdict: 10 / 10
Fit
I'm now wearing a 30FF and figured the size small bra would be too small, so I bought a medium, plus size small knickers. The knickers fit great particularly as maternity lingerie – they're described as high-waisted but they sit lower than most high-waisted knickers so no problems with the bump! The bra fit is so-so; the band is a bit big as I expected but the cup size is right. The bra doesn't offer a lot of support but it's not very unsupportive either – it's just a nice, comfortable bra for everyday wear. If you wear a DD+ and like a bra that's supportive then this isn't the right bra for you, but as a wire-free, comfy bra for pregnancy it's pretty perfect.
Verdict: 6 / 10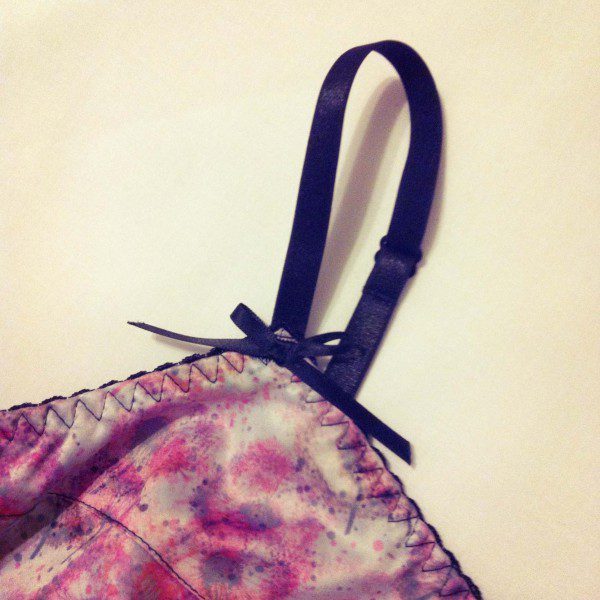 Washability
Both pieces are hand-wash only which I can only assume is something to do with the custom print (would it run if machine-washed?) because I can't see why else these couldn't be popped in a lingerie wash bag in a washing machine – they're made from a polyester-mix fabric and with nothing that could catch on other garments in the machine. Anyway, I've hand-washed the set a few times and it's as good as new!
Verdict: 8 / 10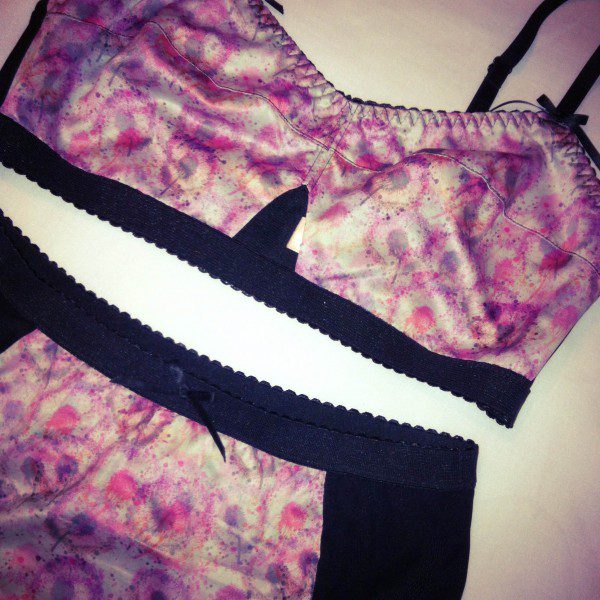 Value for Money
I paid £18 for the set in the sale which is an amazing price! I can't remember the pre-sale price now but I assume it would have been the same or almost the same as the current Virgin Rose print version, which is £30 for the bra and £25 for the knickers. That's probably a little more than I'd pay for this set since the fabric is only polyester and since it's not sold by band-cup sizes I couldn't get my ideal fit, but if you're more along the lines of Playful Promises standard sizing* and can get a good fit, I don't think it's overpriced. (My verdict below is, as always, based on the price I actually paid).
Verdict: 10 / 10
Would I recommend it?
Yes, I would. If you're looking for a pretty lingerie set for everyday wear and aren't that bothered about it being super supportive, it really is a nice lingerie set. And if you're after something nice and comfy for pregnancy, it's perfect!
Have you tried the Playful Promises Pippa bra set, or the new Virgin Rose version of the set? What did you think of it?