Disclaimer: I purchased this lingerie with my own money and Made by Niki did not request a review.
Now that I'm on maternity leave and out of hospital it's time to start catching up on my million pending lingerie reviews! I bought this Made by Niki set in their Christmas sale, which gives you some indication of how long I've been meaning to get round to writing this review for…
I actually already owned this set in purple and orange and loved the retro-inspired shape of the bra, so when I spotted the same set in an elegant ivory on sale for just £20 (£10 for the bra and £10 for the thong) I knew I had to have it. Made by Niki sent me the black version of the bra by mistake but Scott on their customer service team was really helpful and even sent out the correct colour before I'd returned the black one.
Appearance
As I already mentioned, I really love the shape of this bra with its ever-so-slightly pointed cups that are great for those who like the vintage look but don't want a full-on cone bra, its satin ribbon straps and its unusual cut-out detail at the centre of the bust that I don't remember seeing on any other bra before.
The fabrics are gorgeous too – a really fine mesh that looks nothing like the cheap mesh you often find with budget lingerie brands, and a lovely embroidered lace below. Bizzarely Made By Niki decided to sell the thong with only photos showing it from the side and back, but the front is beautiful with the same floral lace topped with a long satin bow.
This wouldn't be my personal choice for bridal lingerie, but there is something wedding-y about it; it's a set to consider if you're after understated beauty.
Verdict: 8 / 10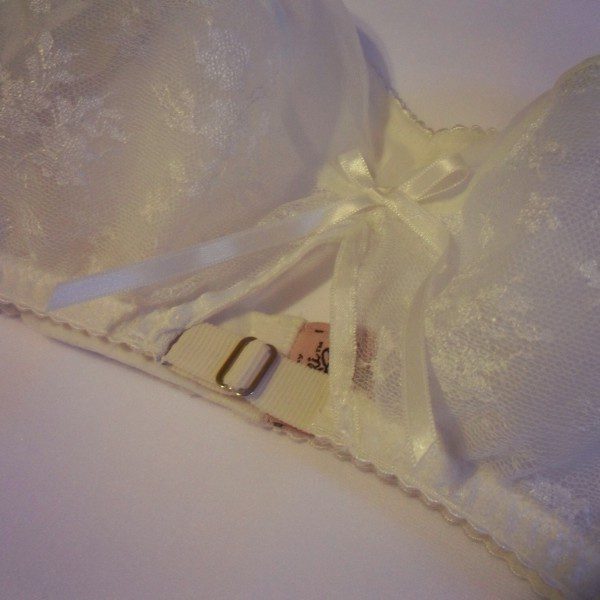 Construction
The bra and thong are both beautifully put together! The sheer mesh on the bra is double-layered and the lace panels are backed with mesh too for extra durability. The outer edges of the bra cups are lightly boned so that the bra keeps its shape when worn. I actually can't find a single fault to mention regarding construction.
Verdict: 10 / 10
Fit
The purple version of this set that I own is a 32E and UK size 8, however I'm a 30F (I bought the 32E in purple as 30F wasn't available) which is what I bought this time. The ivory thong was also sold out in a size 8 so I opted for a 10 instead.
Due to the super-stretchy waistband on the thong, it still fits me very well despite being a size up from what I usually buy. Unfortunately, the bra is another story. Even on the loosest setting, the band is incredibly tight and I couldn't wait to get it off at the end of the day. I laid it out in line with a 30-band Miss Mandalay bra and it's three inches shorter around the band. The Made by Niki band is a tiny bit stretchier, but not enough to make up for such a big difference in length. This is the tighest 30-band bra I own by far. The cups fit true to size at the time though (I've now changed sizes due to having a baby), so I'd say the bra fits more like a 28FF or even a 26G than a 30F.
However, the fit isn't all bad – this bra is incredibly supportive even for larger busts despite being underwire free! It must be the unusual cup shape; this feels nothing like my other non-wired bras which provided little if any support.
Verdict: 5 / 10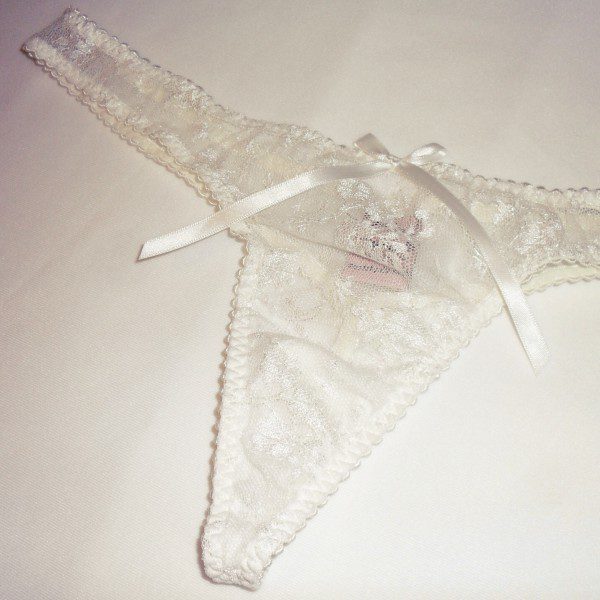 Washability
Both pieces are hand-wash only and due to the light colour should obviously be washed with only white/cream coloured garments. The set looks as good as new after quite a few hand-washes, and the fine mesh and lace dry really quickly.
Verdict: 7 / 10
Value for Money
Considering that this set would originally have cost £93.99, for £20 I'm really happy with it despite the fit issue (I can always buy a bra band extender). If I'd bought a 32E again I would definitely have given this a 10 out of 10 for value for money!
Verdict: 9 / 10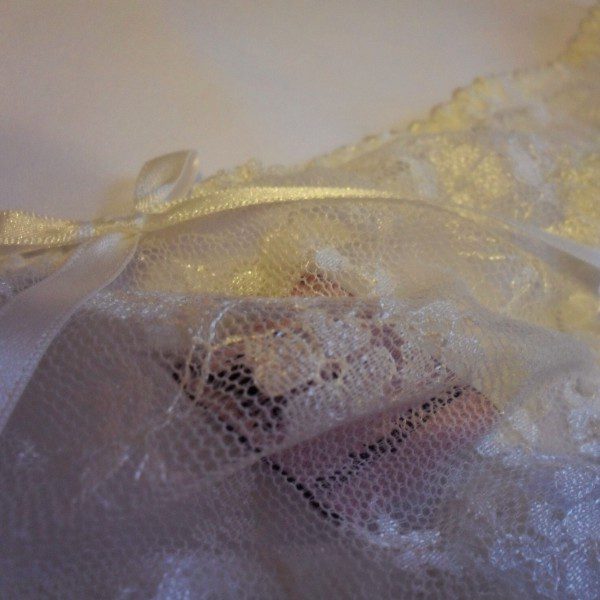 Would I recommend it?
Yes. The bra has gone up to £45 and the thong has gone up to £19 on the website, however Made by Niki are also selling the bra
 and thong
 for £29 and £17.50 respectively via their eBay boutique, also in a much wider range of sizes than are available on their website.
So it's not as ridiculously cheap as it was in their Christmas sale, however I do still think it's worth the cost if you go for a sister size up (i.e. a band size larger and a cup size smaller than you would normally buy).
What do you think of this Made by Niki Classics set? Have you tried it, or would you like to?