Disclaimer: This blog post contains affiliate links.
Bizarrely, for someone who loves lingerie so much, I'm not really all that interested in swimwear. Usually the two come as a package – most lingerie blogs I read feature swimwear quite regularly, at least in the summertime – but I just don't get excited by bikinis and swimsuits. Maybe it's because I don't live anywhere near the seaside or go on holiday in 'beach weather' more than once or twice a year, but I'm happy to buy my bikinis in H&M and I certainly don't spend as much on them, or own as many of them, as I do lingerie sets.
So I surprised myself when I looked back over all the 'lingerie' I've been bookmarking this month and realised a fair bit of it is actually swimwear! Now I'm not saying I'm going to be buying any of these but if money were no object and I did have a beach on my doorstep, here's what I'd be packing up with my flip-flops and beach towel…
Agent Provocateur Tricja Bikini Top (£245) and Bottoms (£250) – pictured above
This is well out of my budget for swimwear, but isn't it gorgeous?! Black and gold has to be one of my favourite colour combinations. The chains on both pieces are detachable, and the bikini top can be worn with regular black shoulder straps as well as strapless, so you get loads of looks in one – although personally I don't see why you'd buy this and then want to remove the chain details, unless it's to actually swim in.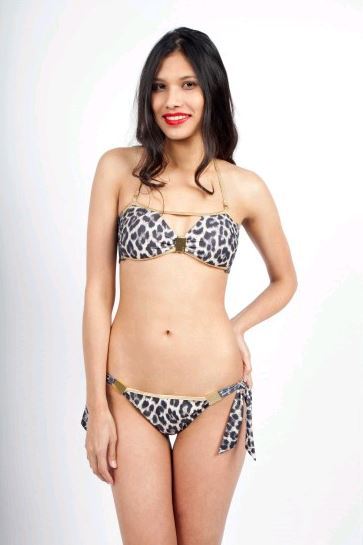 Dirty Pretty Things The Leopard Bikini Top (£80) and Bottoms (£80)
I love leopard print (when done well anyway – it can also look very tacky!) so although this bikini is my favourite thing from DPT's 'The Leopard' collection, I'd also put their floor-length chiffon cover-up and their super cool hooded swimsuit on my wish list. I love that they've paid attention to the finer details on this bikini set, such as the stamped 'DPT' hardware that gives it that luxury edge.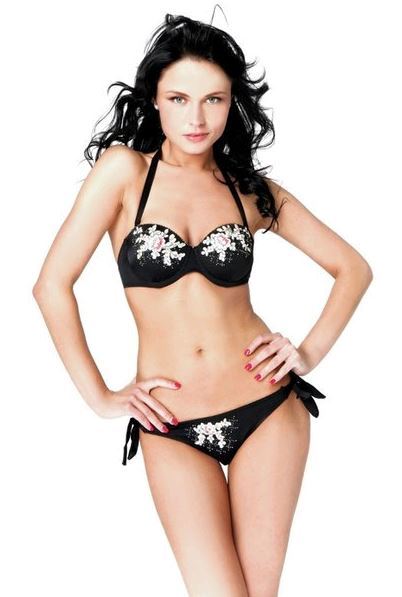 Carla Catherina Bikini Set (Approx. £85)
You don't often see swimwear with lingerie-inspired features like embroidery and beading, since it's not all that practical for bathing. But if you're just lounging on the beach, there are few prettier bikinis to wear than this handmade one by Carla Catherina with really beautiful, hand-beaded flowers!
Which is your favourite design of the three? And I'd love to know, do you typically spend as much on swimwear as on lingerie?